"You're doing SEO wrong." These words sound both familiar and unsettling to most content marketers. Especially if you realize that's true, you might dread to think how much potential traffic and how many valuable leads it may have cost you. But worry not! Content SEO is a game of continuous improvement — a never-ending quest to better understand search engines, indexing, and ranking. Today's best practices are often tomorrow's obsolete ones, which means the "winningest" SEO practices today will likely be the ones we look back on with regret tomorrow. But on the brighter side, it also means that you can always pivot and improve your strategy.
From Google's algorithmic changes to content marketing trends, content SEO has many variables you need to account for. To help you build a winning content SEO strategy, we're sharing some evergreen SEO best practices in this comprehensive content SEO planning guide.
Types of SEO content to include in your content strategy
How to build a content SEO strategy that delivers results


What is SEO content writing?
Content SEO or SEO content writing refers to the practice of optimizing your content to help it rank higher on search engine results pages. Content SEO begins from the moment you start planning your content and includes various activities such as keyword research, structuring, SEO copywriting, and more.
Search engine optimization can, however, be divided into on-page SEO, off-page SEO, and technical SEO. On-page SEO refers to the optimization that you can do on your content to ensure that it includes all the essential elements for better search engine rankings. Off-page SEO is the effort you can put in to build more authority for your content through backlinks, distribution, and amplification. Technical SEO is the optimizations you can do to your site to improve loading speeds and allow easier crawling and indexing by search engines.
When it comes to writing SEO-friendly content and helping it rank, we are more interested in learning what we can do for on-page and off-page SEO.
Types of SEO content to include in your content strategy
Website copy/ Product pages – Your website is the first and most important point of discovery for your business. So it goes without saying that the content on your website, product pages, and landing pages has to be optimized for search. A well-written search-optimized website copy can increase lead generation significantly.
Blog posts – The next most important platform where all marketers publish content with an aim to reach a target audience is the blog. Blog content allows you to answer your audience's questions, increasing your chances of being found online. But no matter how valuable your content is for the audience, without SEO it cannot drive organic traffic.
Articles – Any long-form or short-form article that you create for your website needs to be search engine optimized as well. Whether it is a news article, an interview, a product review, a feature, or any other content, optimizing it for search will increase its reach many folds.
Listicles – Listicles are a great way to compress a lot of information in a concise and structured format. These could be tools lists, tips and tricks, or any other list that could interest your audience. Listicles also tend to get more clicks as they are easy to scan through. So including search-optimized listicles in your content strategy can pay off.
Infographics – This may look like a strange choice, since infographics are visual content where SEO doesn't seem possible. But if you are particular about optimizing the rest of the page and adding proper alt tags to the images, infographics can be great to draw people's attention.
Videos – Videos are a great way to engage your audience. Also, since there is more written content on most topics, including videos on your site may help you rank better. But again, being visual, the principles of written content SEO don't hold good for the content on the video. So, you have to make sure that you pay attention to optimizing the description or transcript.
These are just a few examples of SEO-friendly content types you can create. But ideally, no matter what content you're creating, SEO should be a focal point in it.
Here's a quick video summarizing the key points from this SEO planning guide.
How to build a content SEO strategy that delivers results
SEO marketing starts even before you start working on a content idea. Here's a complete SEO guide to show you how to approach content SEO and what are the steps involved in both defining and refining your SEO strategy.
1. Define your goals, audience, and KPIs
When building or refining any strategy, the first thing you need is clarity in vision. What are you trying to achieve with this SEO campaign? How are you going to measure its success? Because your SEO efforts will be in vain if they do not yield any tangible results. So identify what your content SEO goals are. Goals could be to drive product sales, increase brand awareness, gain a wider audience, and so on.
You also need to define your audience personas before you set out on the SEO planning journey. Your audience determines what kind of content you need to create and how SEO can help you reach them.
Depending on your goals, you will have to decide on the kind of content you need to create and how you should optimize it for search. Once your content SEO goals are clear, it will also be easier to define your KPIs. For instance, if your goal is to increase sales then the number of leads generated from organic search and the number of leads converted could be a measure of success.
With this clarity now, you can start planning for content SEO.
2. Create an editorial calendar
The next step is to prepare an editorial calendar that lists all the content you plan to create for at least a month ahead. With your content SEO goals and the audience in mind, you should be able to decide what content to invest in. Having a content calendar makes sure that you stick to a fixed schedule and makes the rest of the journey easier. It also gives everyone on the team a direction to follow.
You don't have to decide on the topics just yet. Jot down some ideas and have a preliminary plan ready. Once you've finalized your target keywords, you can go ahead and solidify this plan with details. On Narrato's content calendar, you can add new tasks and mark their statuses for easy tracking. Just click on a date and add a task. You can also assign content tasks to team members from the calendar itself. It gives you a weekly view, a monthly view, and a board view as well.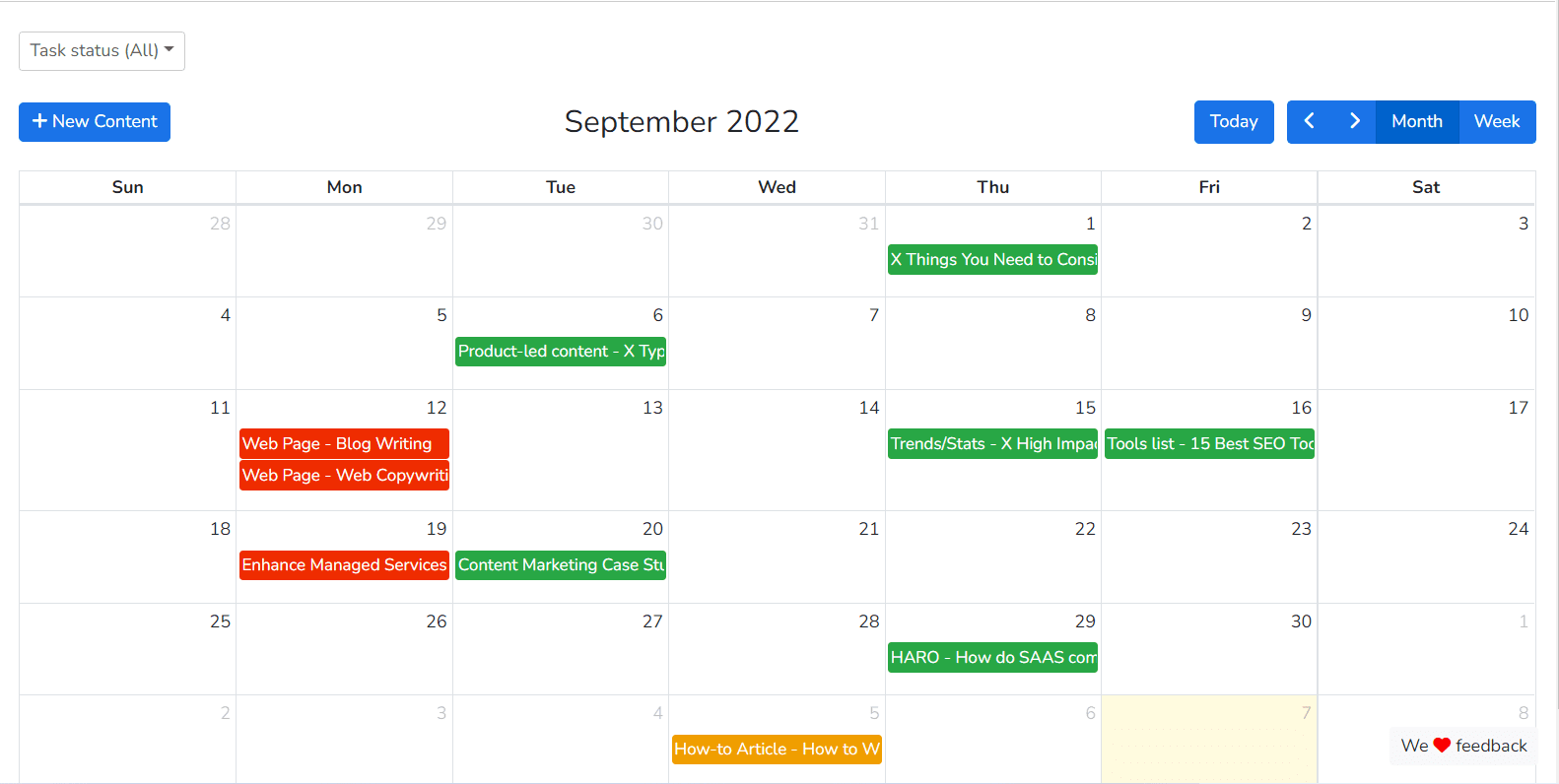 Having a roadmap before you start your keyword research will make it easier to decide which keywords to go after. However, don't plan your SEO content too far ahead. Certain topics or keywords that may be trending now or showing good volumes may not be as relevant 6 months from now. Your content goals may not remain the same 6 months down the line as well. So take one step at a time.
3. Keyword research
Now that you have a rough idea of what kind of topics you want to go after, it will be easier for you to choose your target keywords. If you've done your audience research right, you may already know what they are searching for or what their burning questions are. That is the beginning of your keyword research.
The best approach to keyword research is to first decide on primary keywords. Primary keywords will depend on the audience persona you're targeting, the topics/pain points you want to address, and so on. When choosing this primary keyword, it is best to check for its search volume and competition using an SEO tool for content planning like Google Keywords Planner.
Using the primary keywords, you can come up with interesting titles for your content. You can also use Narrato's AI topic generator to get fresh ideas.
Next, for every piece of content, you will need a set of secondary keywords or related keywords that you want to be found for. For this, you can generate an automated SEO content brief on Narrato. Type in the search term or primary keyword you are targeting and generate the brief. It only takes a few seconds for the automated SEO brief to be generated, complete with keywords and counts, questions to include, competitor links, target word count, and more.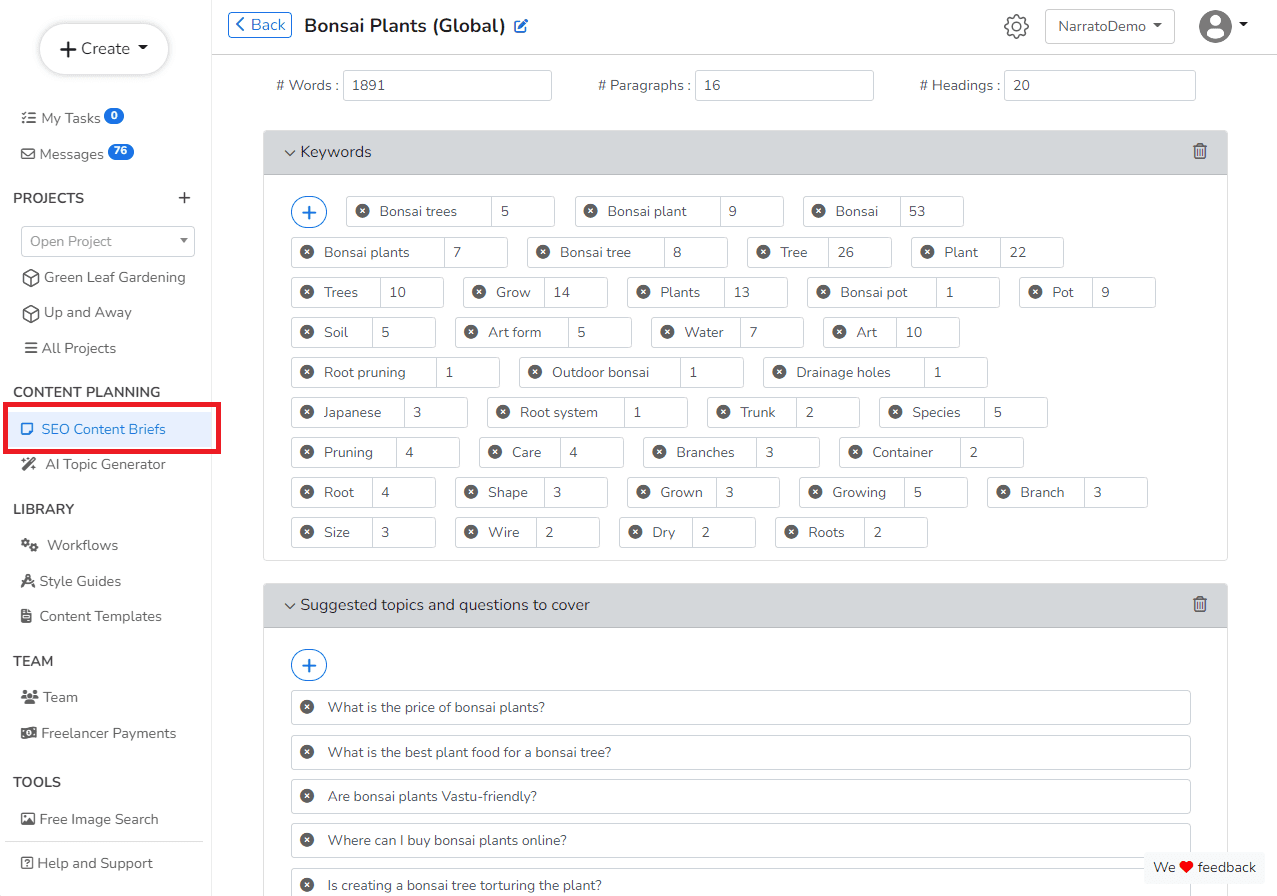 If you already have a running list of keywords that you'd also like to include in the brief, you can add those as well. The best thing about creating SEO content on Narrato Workspace and Narrato AI is that the brief is available right beside the content editor and the keyword counts are automatically updated as you start creating optimized content. So the chances of keyword stuffing or missing out on certain keywords are very rare.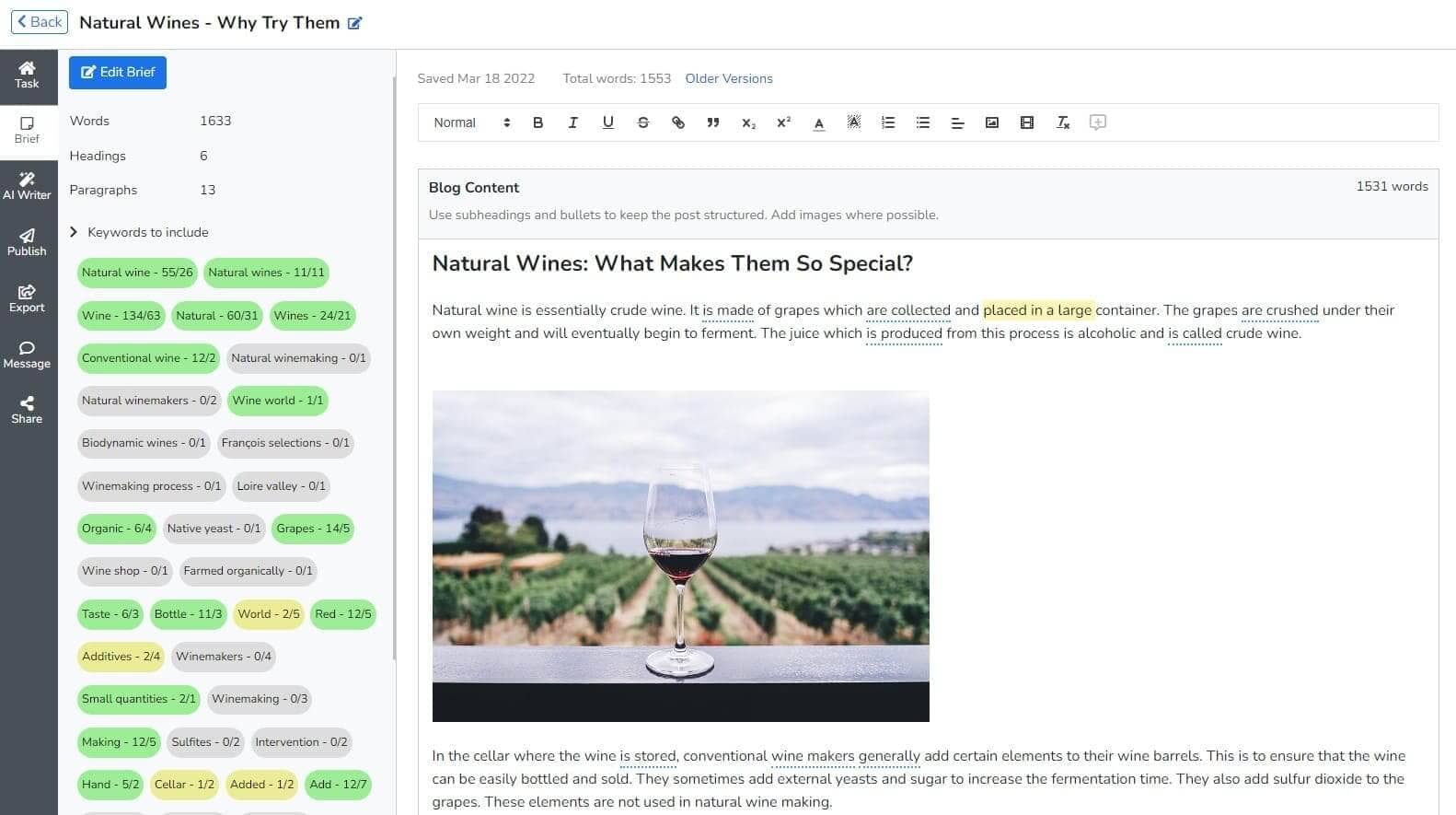 You can also refer to the competitor links on the brief and do competitor keyword research. Look at what keywords the top-ranking pages are using. Also, try to include some trending and some evergreen keywords wherever possible. This will give you the best of both, making sure that your content keeps ranking for longer.

4. Define a unique angle
One important aspect that we often overlook during SEO planning is that there are hundreds of other posts and articles on the same topic, targeting the same keywords. To make your content rank in Google search, competing with all those other articles, you have to offer something that no one else does. That is where defining a unique angle for your content helps.
Think of a title that no one else has used, but also contains the primary keyword and matches the audience's search intent. When creating the content take a unique approach. For instance, if you are writing about SEO there are obviously hundreds of articles telling content marketers what to do. To differentiate yourself, you could probably write about what not to do or list down SEO myths. You could also write a more focused article for your audience persona – such as SEO in e-commerce, or SEO for a local business – whatever your specific audience would find interesting or useful.
If not something different, you have to aim to create something better than the others. Make sure that your content provides the reader with more value than any of the other resources out there.
Having a differentiating factor, even when targeting the same keywords as your competitors, can help you rank better and increase your clicks. This is also your chance to garner attention from the right audience that can actually turn into leads or subscribers.
5. Create optimized, high-quality content
Your content SEO strategy should also include clear guidelines for the content writer. SEO is not just about adding keywords, it involves a lot more. The best way to ensure that content creators follow all SEO guidelines is by providing them with a detailed content brief. On Narrato, for instance, you can add 'Notes to Author' with additional guidelines on the SEO content brief itself.
When creating SEO content, here are a few things to keep in mind:
Include the main keyword in the title and subheadings
Use the correct heading tags like H1 for title tag, H2 for subheads, H3 for sub-subheads, etc.
Ensure meta title, meta description, and image alt text also contain the main keyword
Add structured data, bullet lists, and paragraphs to improve readability. It is important for both user experience and SEO
Optimize the image sizes to improve loading speeds
If you're wondering – Will plagiarised content for my website hurt my SEO? It definitely will. Use a plagiarism checker tool like the one on Narrato to ensure your content is original
Keep an optimum length of content. You could use the target length suggested by Narrato's SEO brief or could manually check the length of the top-ranking posts on Google search for your keyword, and exceed them.
All of these SEO tips should be clearly conveyed to your content team and followed for all the content they create.
6. Build a link-building strategy
Another extremely important part of any SEO strategy is link-building. Both internal links and external links to your content play a huge role in building authority for it. Not only do they direct readers to more of your useful content but also indicate to search engines that your site is an authority in its niche/area.
The best way to build more internal links for your content is by creating topic clusters. Topic clusters refer to a number of content pieces around a common theme. It usually has a central, high-authority pillar post that covers the topic in great detail. The other posts or the cluster content are related to the topic and may cover different aspects of it. Here's an example from Content Marketing Institute.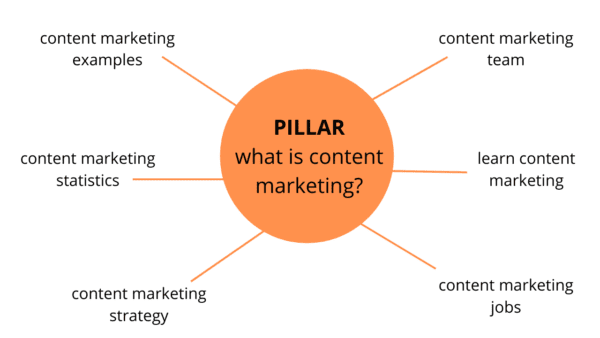 This strategy not only allows you to create more content around a topic, targeting more keywords but also gives you an opportunity to interlink all the posts in a cluster. By passing on authority to newer posts from older high-authority posts, you can strengthen the cluster. This interlinking also signals to search engines that your pillar page is an authority on the topic, helping it rank higher.
Apart from this, you also need an external link-building strategy that we will discuss next.
7. Create external backlinks to your content
External links to your content from other high-authority websites are also a good way to let search engines know your content is valuable. But unless you are already ranking quite high in the search results it is unlikely that other websites would voluntarily link to you. So you have to proactively look for opportunities.
One good way to build backlinks is through guest posting. Many blogs and publishers accept guest posts from contributors. Find some high-authority sites in your niche and offer to write a guest post for them. If their backlink policy allows, you can easily add links to relevant content from your site in the post. Make sure that the anchor text and the link are both relevant though.
Other ways of building backlinks can be through partnerships and collaborations with other content creators and marketers. These usually work as exchanges, where you give them one backlink in exchange for a backlink they build for you.
You can also actively look for high-authority sites that may have linked back to another resource on the same topic as yours. Then you could reach out to them explaining why your content can be a better resource for their audience and ask them to link to you instead. This cold outreach can be difficult, but it does yield results.
If you want to get more backlinks organically, you need to create content that people would want to link to. These have to be very high-authority pieces. Usually, original research or survey reports can get you valuable backlinks if done well.
8. Revamp older content on your blog
Content marketing SEO is not just about creating new content but also ensuring that the old, valuable content on your site keeps ranking in search. Updating and optimizing old blog posts is a good way to ensure that your evergreen content does not lose visibility. When you created these old blog posts, you may not have discovered certain keywords that they could rank for or the SEO trends may have been different. By revisiting these posts and identifying opportunities to improve them you can bring them back to life.
Check if the blog post is optimized for the right keywords based on current trends and volumes. Check for any broken links within the post. If there are any, replace them with new ones. Add links to some of your newer, high-authority content. You may also have to rewrite certain parts of the post to ensure that they meet your current quality standards and share up-to-date information.
Often content marketers are confused – Does rewriting the contents of a web page affect its SEO rank? Truth is, it does. Your CMS platform should, ideally, send the updated version for indexing immediately but search engines can take a long time to index your old web page. You can, however, prompt search engines to crawl the page again. If you have done some major revamp, you may want to republish these blog posts as "Updated for" or "Updated on". This will help new visitors find the post easily. It also indicates to search engines that the post needs to be crawled and indexed again. If you're not republishing a post but have made minor changes, you would want to submit an indexing request on Google Search Console.
9. Measure performance and make the content SEO process an ongoing effort
All the effort that you are putting in to make your content rank higher in search has to bear returns for it to be worthwhile. Remember we decided on content SEO KPIs in the very first step? It is very important that you assess your content regularly and measure these KPIs.
A content SEO audit every quarter or at least every 6 months is a must. This will tell you which of your posts are ranking well, which ones are getting more clicks, or which URLs need to be improved. Getting the complete picture helps you identify which strategies are working for you and what needs to be improved.
For instance, if you see a blog post performing well you need to boost it by building more backlinks for it or optimizing it further for the right keywords. If another blog post is getting enough impressions but no clicks, there could be a mismatch between the topic and the search intent. If a page has a high bounce rate, it could have loading speed issues for which you would need to optimize it.
A 'set it and forget it' approach to SEO won't get you very far. If you want to see steady outcomes from your SEO efforts, you have to invest time and effort in continuously enhancing your strategy.
Summing up
Search engine optimization is an elaborate process. Whether your content ranks in search is decided by the combined impact of content SEO and technical SEO. So making sure your website is optimized is crucial too, but that's a discussion for another time. For now, we hope these content SEO tips will help you build a better SEO strategy. Creating high-quality, SEO-friendly content may be effort-intensive but it will get you better returns than paid media in the long run. So keep working on it and keep learning as you go.