As bloggers, we often get so drawn into the rush and excitement of creating new content that we forget how valuable our old blog posts are. Tremendous time and effort go into creating a blog post and if you are not keeping your old posts alive, you are not leveraging your blog content fully. Updating your old blog posts and optimizing the content can bring a huge difference to your blog's performance.
In a survey conducted by SEMrush, 51% of marketers said that updating their existing blog content has proven to be the most effective method of improving content performance.
Is it worth it to update old blog posts?
Yes. Your old blog posts deserve just as much attention as the new ones you're going to create.
The reason is that older blog posts have matured over time. These are the posts that give you a steady flow of traffic over the years. This steady influx of visitors in the long term is much more valuable than the few thousand visitors you get immediately after publishing a post. In a Databox survey, nearly half of the respondents said that 80% of the organic traffic comes from their old blog posts.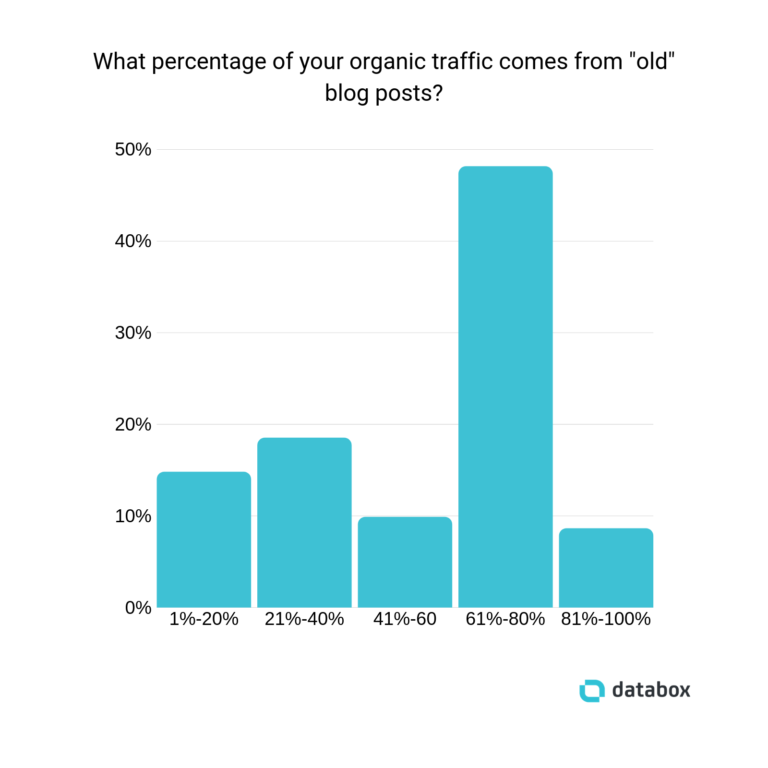 Updating and optimizing your old blog content is useful for both you and your audience. While you can drive more traffic, improve search rankings and generate more leads with these updated posts, your audience gets upgraded value from them.
How often should you update old blog posts?
It is a good idea to revisit your old blog posts or run a content SEO audit every quarter. This will give you a good idea about how your posts are performing, which of the old articles have better potential of ranking in search, and which ones need a complete revamp.
Having a content calendar can be a good way to organize your efforts. You need time to create new blog posts as well as revisit and optimize the old ones. A content calendar, like the one on Narrato Workspace, will let you add these as tasks directly on the calendar, assign them to team members, and visually track their progress.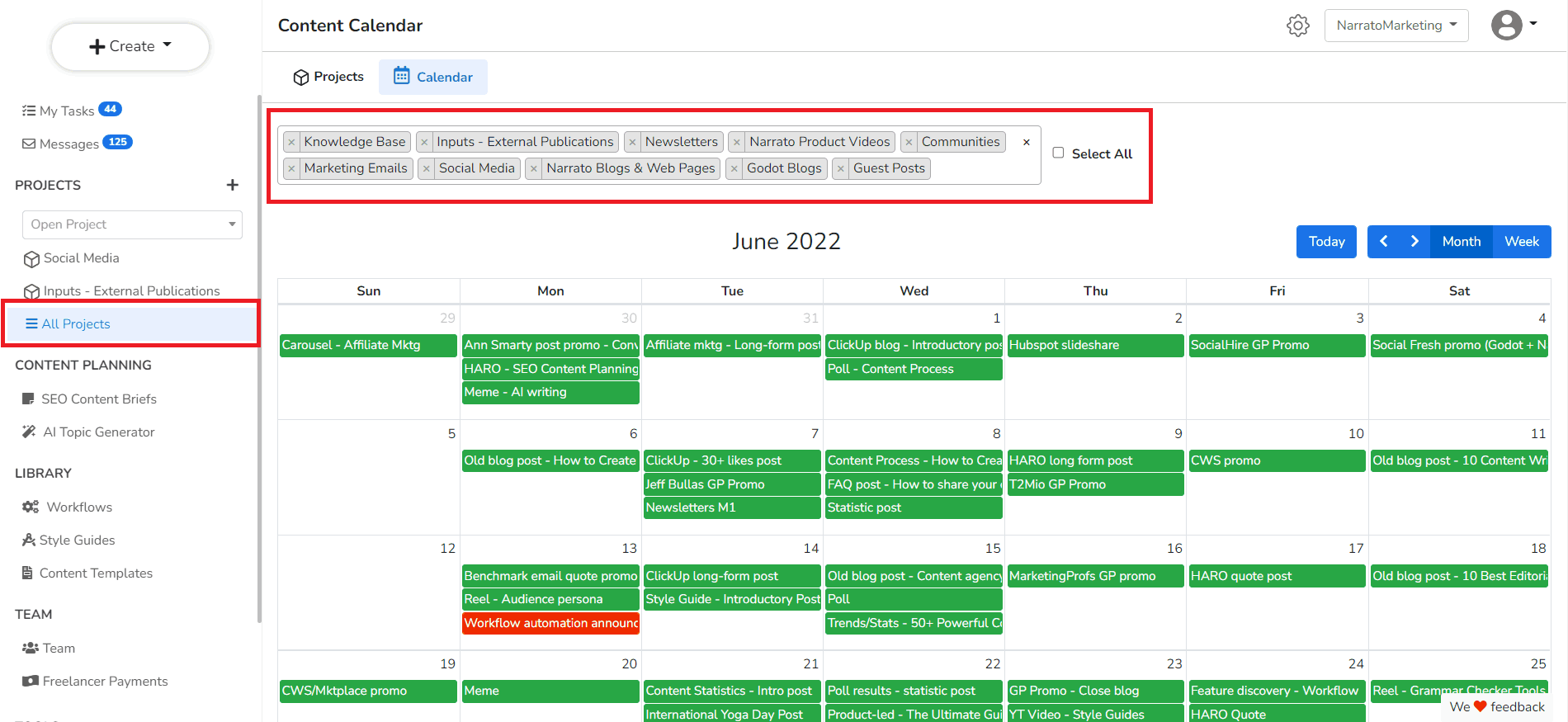 Updating old blog posts as a part of your content marketing strategy can work wonders for your blog, if you follow these simple steps methodically.
Steps to update your old blog posts to drive more traffic through search engine optimization:
1. Create an inventory of all old blog content
2. Review the chosen old blog posts for SEO
3. Update and add more substance to your blog posts
4. Look for any errors, broken links or outdated information, and fix them
5. Link updated blog posts from your recent and relevant posts and vice versa
6. Share your updated blog posts on social, email, and other channels
7. Consider publishing an old post as a new blog post
8. Submit an indexing request in Google Search Console
9. Keep these steps as a checklist


How to update old blog posts for SEO
The next question that you must be asking at this point is 'How do I update old content?'. Here are the key steps involved in updating old blog posts to improve their search visibility.
1. Create an inventory of all old blog content
There will be numerous old posts in your repository but not all of them are worth the effort. So, how to identify and refresh outdated content? Which blog posts should you update to ensure maximum impact? The posts that are more authoritative, have brought better conversions in the past, and are still relevant to readers are more valuable in this regard.
Use analytics to identify blogs with potential
You can create a spreadsheet listing all your blog posts with their titles and URLs. The next step is to see how these posts are performing. You can use Google Analytics to get an overview of your top-performing blogs. This gives you important insights like page views, average time spent on the page, and bounce rate among other things. You may add these statistics to your spreadsheet as well.
There may be some very valuable, evergreen posts from the past that are not ranking well now. The idea here is to choose these and other blog posts that have potential. There will also be certain posts that are loaded with relevant, valuable information and have had a tremendous impact on your business. While a few others are equally high authority but aren't performing as expected. It would be best to pick some from both of these categories.
Merge similar blog posts into one authoritative piece
Another smart approach is to look for old posts with similar topics, themes, and blog writing formats and find out which of these is performing best. Then combine the content from the weaker posts with the high-performing one to enrich it further and build its authority. This way you reduce the number of pages on the site making it more navigable and also create a longer, more authoritative blog post which would be great for blog SEO. You will also have fewer posts on your own blog competing for the same keywords, increasing the chances of this high-authority post ranking higher in search.
2. Review the chosen old blog posts for SEO
Once you've picked a blog piece to update, you need to find out what needs fixing in it. One of the most important parameters is the post's search rankings.
Find out which keywords the blog post ranks for
These keywords will give you an idea of what your audience is searching for to get to your post. If some of these keywords are missing in your content, optimize the old blog post for such keywords.
Also search for top-ranking pages on Google for the same keywords, that are publishing similar content, and compare your post with the competition. This way you'll find out what changes can make your content more valuable than the competing pages.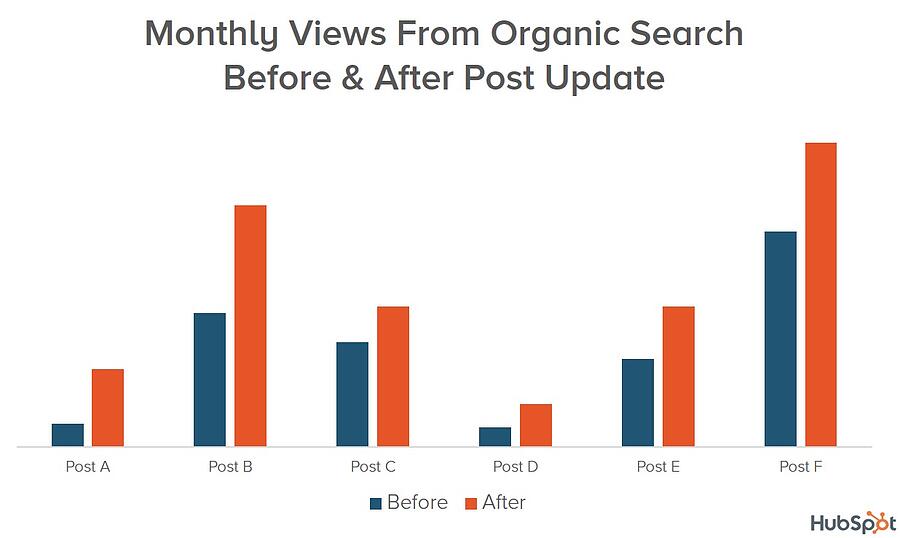 Hubspot updated and republished six blog posts and compared the monthly views on each post based on organic search through keywords. The results are quite evident, indicating that the keyword rankings have actually improved after the updates.
A good way to carry our this keyword and competition research is by generating an SEO content brief on Narrato for your old blog post. Just type in your topic in the SEO content brief generator and the brief will be automatically generated within a few seconds. It give you keyword suggestions with counts, questions to include, competitor links and other search engine optimization parameters. You can then add the old content to the Narrato content editor, with the SEO brief linked to the task. Best part is, you can even see the keyword counts updating automatically as you go on adding content.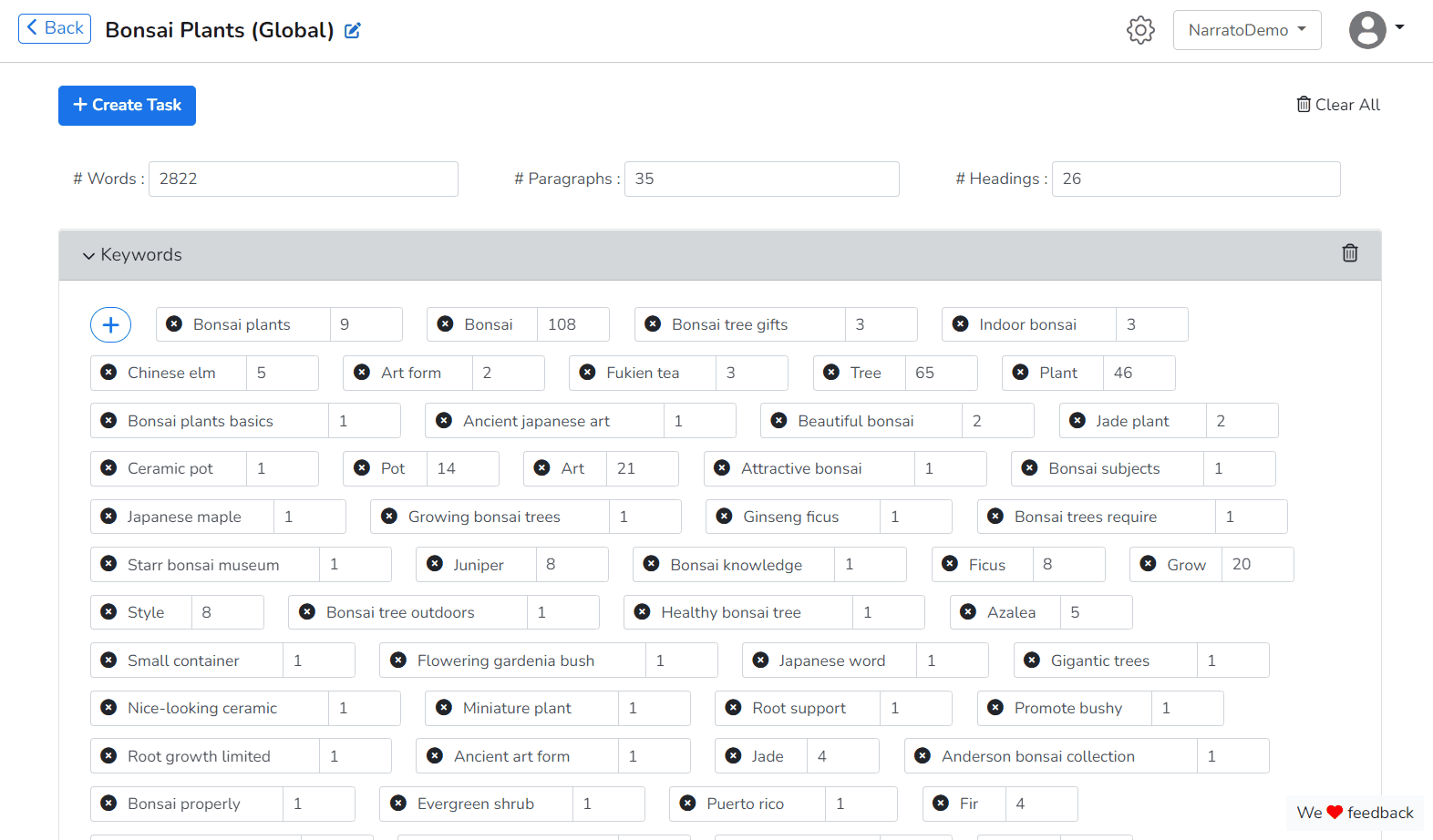 Optimize post title and metatags
Optimize the post title, meta title and the meta description of the blog post to include the target keywords. It is also a good idea to add the current year to the title of the post and the title tag. Since it is an old post and certain information in it may be time sensitive, a reader could scroll past it simply seeing the date of publishing. Mentioning the current year, say as [2020 Updated] or simply [2020], in the title can grab a reader's attention. It will also help you from the SEO point of view as search engines will consider this as a recently updated post.
Here's an example of similar blog post title formats, published in 2019.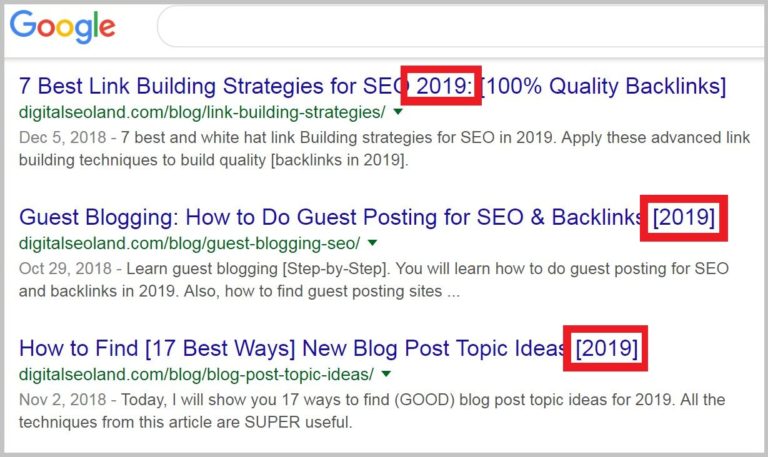 If you're unsure about the meta description, try generating one on Narrato's AI writer. With the SEO meta description use case, you just need to enter your post's title and target keywords to get the AI-generated meta description. More often than not, it perfectly aligns with your blog post's context and tone.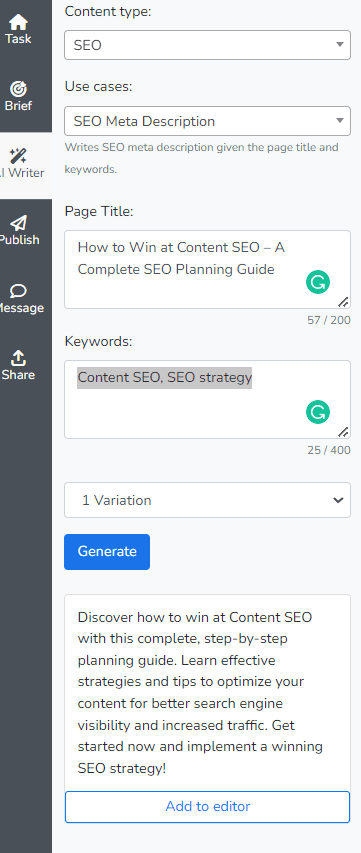 3. Update and add more substance to your blog posts
Lots of experiments and data analysis establish that longer blog posts rank better in search. This might not have been a factor when you first wrote the blog content so your older posts may be shorter. Now is your chance to add more substance to it.
If your blog post can be expanded by adding more relevant content, go ahead and do it. Add more bullet points, tips, or subheadings wherever possible. This also makes the content more enriching for the reader. Find new relevant questions to answer. You can get ideas for these by looking at the "People also ask" section in Google search results for your keywords. Narrato's SEO content brief is a rich source of questions to include in your content as well. Updating old blog posts to at least 2100+ words will bring better search rankings.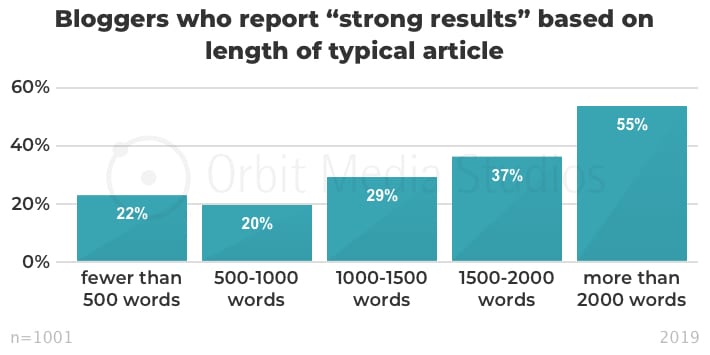 4. Look for any errors, broken links or outdated information, and fix them
After your content is expanded and you are done adding everything, look for any errors that may have slipped in. Some of the most common errors you would come across in an updated blog post are outdated information or statistics. Since the time you first published the content, it is highly likely that new research and statistics have surfaced. So remove the old ones and add the new information or data.
The resources you used initially may also have gone out of relevance now. Update the resources linked in your blog post to the most recent, relevant ones. Some pages you linked to may have been removed by the owner or may not exist, for whatever reason. These stay on your blog post as broken links and add no value to it. Look for such broken links and find better alternatives to replace them.
Check if your Call to Action (CTA) is still relevant. You may have launched a new software tool but haven't encouraged readers to try it out. Or your CTA asks readers to download a resource that you may have removed from your site. Make the necessary changes to ensure your CTA is updated and relevant to your goals.
Apart from this, check for any grammar mistakes, typos, or other errors in the updated content that might have escaped your attention earlier.
In case you used images or videos in your content, make sure that they too are up-to-date. Remove any old images that might be outdated and add the most recent ones, particularly if your blog post is about a product or an app.
5. Link updated blog posts from your recent and relevant posts and vice versa
Since more people will read the blog post once it is updated, it is a good idea to link it out from your newer and other relevant blog posts. You can also add links in this updated post to other relevant posts on your blog.
Internal linking not only improves the user experience but also helps your SEO. Also, it is important to make sure that you choose the right and relevant anchor text to influence a clickthrough.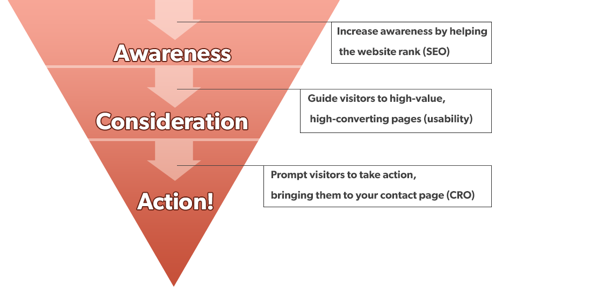 6. Share your updated blog posts on social, email, and other channels
When everything is done, you need to let your audience know that your old blog content has been updated. Without solid content promotions for your blog, people wouldn't usually come back to the post since they don't expect anything new out of it.
Promote your updated blog content on social media and with your email list, and tag or email people and industry sources you may have mentioned in the post.
7. Consider republishing an old post as a new blog post
In some cases, it might be necessary to republish the updated blog post as a new post. It is usually a more appropriate thing to do if your blog has changed a lot since you first published it. You may have a larger or new audience on your blog now, who may not have seen this piece of content before. In such a situation, publishing it again will bring it back to the limelight.
You can include a note at the end mentioning when the blog post was first published and that it has been updated to add new information. This will avoid any confusion among readers who may have seen the blog content earlier.
Note: Even if you're republishing the old blog post, make sure that you don't change the URL. The post may have been linked out on other pages within your site as well as outside. Changing the URL will deem all those links invalid.
8. Submit an indexing request in Google Search Console
Generally, Google will identify your blog post as updated and reindex it automatically. But why wait for it if you can get it indexed right away? Once your updated blog is published, you can submit an indexing request to Google.
All you need to do is, go to Google Search Console, paste the URL of your post in the search bar and click on "Request Indexing". This will make sure that your updated post is indexed and crawled again to help it rank in search.
9. Keep these steps as a checklist
If you've successfully updated and published an old blog post following these steps, you can save the steps as a checklist. Every time you are considering updating an old blog post, refer to this list and tick off the steps to make the process easier and faster.
In conclusion
Updating old blog content is an excellent way to increase traffic to your blog. It also helps you restyle your old content as your brand grows and evolves. However, be careful with the changes that you make to old posts. Avoid changing things that are already working great, be it keywords, titles, or parts of the blog content itself.
In addition, it is important to keep publishing fresh high-authority content to cover newer and fresher topics worthy of discussion.
This blog optimization may take time to get around at first, but will certainly pay off in the long run as it becomes an integral part of your blog content strategy.