As a content marketer, one of the biggest mistakes you can make is posting content irregularly or creating random and irrelevant content just for the sake of it. Creating content quickly isn't the only challenge. Keeping track of the content you post, its frequency, platform, and timing is equally taxing. Consistency with content creation yields the best results and builds successful content agencies. This is why editorial calendars are a marketer's superpower. The right content calendar tools can make it easier for your content and marketing teams to work together and plan everything effortlessly and in an organized manner.
In this article, we share ten types of marketing calendar tools you can use to streamline your content marketing schedule, simplify content creation efforts and improve team collaboration.
What is a content calendar tool?
Top 10 Editorial Calendar Tools To Use In 2022
What is a content calendar tool?
A content calendar tool is essentially a software that helps you organize your editorial plan, and schedule all your content-related activities across multiple marketing channels. It provides a visual workflow and bird's eye view of your entire content process and marketing initiatives, from the type of content and upcoming content themes to outline creation guidelines, platforms to publish, and content deadlines. Most of these editorial calendar tools come with a calendar view that makes it easier to see the content planned for specific dates. Some tools also provide a kanban board view, which is especially useful for tracking any changes in the content planning process.
Here are all the benefits of using a premium calendar management software –
Enables better collaboration among teams and ensures that everyone is on the same page regarding content projects
Identifying any gaps in content planning becomes simpler
Improved tracking of content performance, allowing you to make data-driven decisions on what's working and what is not
Saves time and reduces the risk of missed deadlines
Allows you to publish relevant and fresh content consistently
Top 10 Editorial Calendar Tools To Use In 2022
An editorial calendar or content marketing calendar is the perfect collaboration tool for ideation, marketing content planning, content creation, and promotion. So, whether you're an agency owner or a social media manager, a marketing editorial calendar can be a lifesaver for your business.
Here are some of the best editorial calendar tools, content calendar software, and social media content calendars you can choose from, based on your needs.
1. Narrato – AI-Enabled Content Creation Platform with a Content Calendar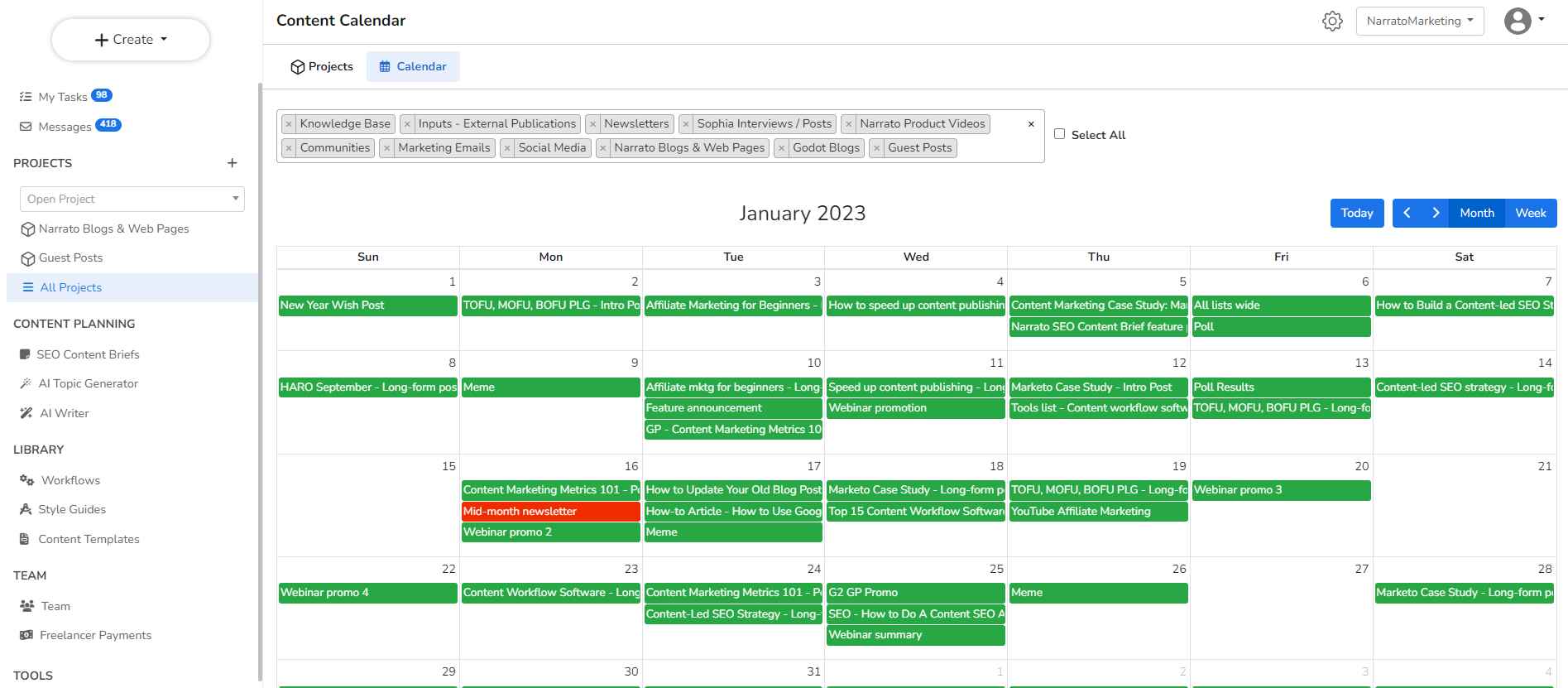 Narrato is an advanced tool that helps collaboratively bring your entire content process and workflow to one place. This AI-powered content planning, creation, and collaboration platform helps you collaborate with team members (writers, editors, creators, and other stakeholders) to assign, create, track, deliver, and publish content on a single platform. You can generate SEO content briefs to optimize the content on the advanced content editor, speed up content creation with the AI writer, and streamline your entire content operations from start to finish.
The most stand-out content planning feature of this tool is the content calendar, which allows the user to visually track the progress of all their content creation projects. You can create a content calendar for each project, assign content tasks, do content workflow management, and track the content statuses straight from the calendar view.
Here are the key features of this content calendar –
Create a content item: Tasks can be created and assigned directly from the content calendar.
Change the content deadline: Changing due dates for the tasks becomes easier. Just drag and drop a content task to the new date, and it's done.
Filter content items: Content items on the calendar are color-coded, based on the workflow statuses. Narrato's content calendar allows you to filter these content items by workflow status.
AI topic generator: You can also access the Narrato AI Topic Generator from the content calendar to brainstorm topic ideas for your projects.
Switch between weekly and monthly views: You can use the Month/Week buttons to toggle between weekly and monthly views.
Global content calendar: For a complete overview of all your content projects on Narrato Workspace, there is the option of a Global content calendar too.
Narrato also provides Kanban Boards, which are very much similar to its content calendar. These Kanban boards are available within each project on your workspace, and they make it easier to track the status of all content tasks or move tasks from one workflow stage to another.
Best suited for: Content marketing teams, digital agencies, web design agencies, bloggers, website developers, or anyone who has a content process to manage.
Price: Narrato pricing includes a free plan for individual content creators and teams just getting started. Paid plans, with a host of advanced content planning, creation, and workflow management features, start at $9 per user per month.
2. HubSpot Content Calendar
Hubspot provides free editorial content calendar templates or spreadsheet templates to help you manage your content team and organize the entire process—right from brainstorming ideas to finding relevant keywords.
Blog Content Calendar Templates: There are different formats of a blog editorial calendar for Microsoft Excel, Google Sheets, and a bonus one for updating your Google Calendar.
Social Media Calendar Templates
Content Editorial Calendar Templates
The free editorial calendar templates from HubSpot allow for easy customization. You can use them for planning and organizing digital marketing content for websites, social media, and more. They also come with written instructions for each template type. Besides that, you also get expert blog management tips to maximize your efficiency.
Best suited for: Agency owners: to manage large content projects; Freelancers: to manage multiple clients and content.
Price: Free
3. Trello Content Calendar
Trello is a versatile, easy-to-use, and agile content management application for content teams and agencies that need an online tool to manage multiple projects.
You can create multiple Trello boards to handle different teams and clients. With the flexible and highly-customizable features of the Trello editorial calendar, you can –
Add assignment cards
Monitor due dates
Handle activity logs
Add to-do lists and advanced checklists
All of these features help in eliminating the need for constant back-and-forth. It is extremely easy to get a comprehensive calendar view of your timeline and keep your content creation process on track.
Best suited for: Individuals, teams, and agency owners.
Price: Free, but the paid plan starts at $5/month.
4. Monday Content Calendar
Monday.com is a task management software that provides an ideal collaborative editorial calendar to plan, manage, and organize your content tasks and teams. With this content marketing editorial calendar, you can add and assign tasks with different priority statuses, add due dates, and view all the content data in timeline and calendar views.
There is an option to set automatic notifications and reminders. This ensures that your content marketing teams never miss a deadline, and all the content is published on time.
Monday's Groups: With this feature, you can group all the content items into months. This provides you with a structured and clear view of your content, month-by-month.
Monday content calendar also offers seamless integration with other calendar apps (like Google Calendar) to get an overall task overview in a single place for efficient management.
Best suited for: Individuals and agencies for efficient task scheduling.
Price: Free, but the paid plan starts at $8/seat/month.
5. Asana Editorial Calendar
Asana is a project management tool that comes with a built-in editorial calendar feature, which allows you to manage an unlimited number of projects in a flexible and collaborative way.
You can view the calendar with:
A list view: To assign tasks to individuals, organize them in a list, and add priority status and due dates. In the list view, you can track and monitor your content tasks by week/month.
Timeline: To get a complete overview of all the tasks and manage unscheduled, overlapping, and dependent tasks for better productivity.
Boards: Similar to Trello, these boards make it easy for your team members to focus on individual tasks at hand. This makes it easier for you to monitor and track your project by stage (drafting/editing/published).
An interesting feature is Asana Workload, which provides you with immediate insights into the amount of work every team member has. It gives you an opportunity to keep the work balanced across your editorial team. Besides this, Asana also comes with over 200+ integrations like Salesforce and Jira Cloud. This makes it easier to extend the app's functionality for efficient team coordination and collaboration.
Best suited for: Individuals and digital agencies.
Price: Free, but the paid plan starts at $10.99/month.
6. Editorial Calendar
Loomly is an advanced editorial calendar tool that allows you to collaborate with your team members, and organize, measure, and publish content. It positions itself as a brand management platform that allows its users to build a robust content workflow to stay ahead of the competition and foster their brand's success.
With the advanced features of this online content planner, you can –
Post content ideas
Manage assets in the content library
Ensure post and ad mockups
Seek approval from team members
Leverage automated publishing
Measure your success through advanced analytics
It's also an excellent tool for creating and posting social media posts and managing social media ads and campaigns.
Best suited for: Individuals, agencies, SMEs, and large corporations.
Price: The base plan starts at $29/month and $312/year.
7. Airtable Content Calendar
This editorial calendar comes with pre-made templates and a clean design to help you build customized content management systems.
It helps manage complex workflows and is an effective tool for team collaboration—allowing each member to view the calendar from multiple views, like the gallery, grid, calendar, or Kanban. Moreover, it automates workflows and processes by triggering notifications like due dates to streamline redundant work.
You can also integrate tools like Slack and Hootsuite to keep all your processes in sync across multiple teams.
Best suited for: Business teams, individuals, and agencies.
Price: Free, but the paid plan starts at $12 (billed monthly) and $10/seat/month (billed annually).
8. Evernote Content Calendar
Evernote offers a seamless user interface and is a great note-taking tool to organize content ideas and schedule tasks for different team members. It's quite easy to add images, PDFs, audio files, and documents to your notes, making the notes more useful for your teams. It comes with an indexing feature, which makes it easy to search texts in notes, emails, and images. In addition to that, you can easily access notes offline and sync them across multiple devices.
Like Trello, it's a perfect task management tool that allows you to schedule due dates, reminders, and flags to maximize productivity and avoid missed deadlines. Moreover, you can also connect it to your Google Calendar and organize your content calendar into hourly, weekly, and monthly logs.
Best suited for: Content managers, individuals, and website administrators.
Price: Free, but the paid plan starts at $3.33/month.
9. CoSchedule Calendar Organizer
CoSchedule is a versatile and affordable marketing campaign calendar, great for viewing, sharing, organizing, and scheduling your content management and marketing processes. Whether you wish to organize blog content or social media templates, this tool will make it easier to coordinate these tasks with your marketing team members and manage multiple freelancers.
One of its unique features is the custom views, using which you can share the "read-only" calendar view with your team. Another great feature is the ReQueue feature, which reshares your top-performing content at the right time to maintain consistency and drive engagement.
Best suited for: Individuals, content marketers, and agencies.
Price: $29/user/month.
10. SproutSocial Social Media Calendar
SproutSocial offers a comprehensive social media calendar and content management tool, which provides an effective visual blueprint of your calendar. With this marketing content planner, you can organize content across different roles, campaigns, and networks, and maintain oversight from a centralized hub. It also comes with a content schedule automation feature for streamlining your posting schedule.
The great thing about SproutSocial is that it lets you do a lot more than task assignment and monitoring. You can –
Manage all your social profiles
Analyze competitor profiles
Find the best time to post content on numerous social media platforms to drive engagement
All in all, SproutSocial is a noteworthy social media calendar example. The only downside is that the cost of this tool is a little too high compared to most other tools in this list.
Best suited for: Teams, practitioners, and agencies.
Price: $89 per user/month (billed annually) and $99/user/month (billed monthly).
Conclusion
It's safe to say that a content calendar is one of the most critical and valuable assets for both marketers and writers. A marketing content calendar makes content creation, scheduling, rescheduling, assigning, organizing, and publishing a breeze for all the stakeholders involved in the content process.
So, ensure to analyze your needs and choose a relevant editorial calendar from the list mentioned above to ace your content marketing game in 2022. Good luck!
Similar tools lists you may be interested in:
10 Free Grammar Checker Tools Online You Should Try
9 Best Content Planner Tools That are Not Airtable, Notion or Trello
10 GatherContent Alternatives and Why You Should Try Them
15 Best SEO Tools for Content Planning
15 Best Plagiarism Checker Tools to Help You Create Unique Content
15 Free Keyword Research Tools to Boost Content SEO
Author: Alex Garcia is a content editor and writer at Writers Per Hour. She enjoys writing (and reading) about small business marketing, entrepreneurship, and design. When she's not writing, she's probably learning a new skill.