As everyone is trying to build an online presence today, the need for content is constantly on the rise. To tackle this increasing competition and scale content creation, most businesses outsource all or at least a part of their content creation to content writing services. According to a Semrush survey, 49% of marketers outsource content creation. But how do you choose the best content writing service that can understand your brand's audience? What are the most reputable content writing services? Picking the best content writing agency is not an easy decision, because your brand image depends on the quality of content they deliver. We, however, plan to make this choice a little less tough for you with our carefully curated list of the best content writing agencies to consider.
Here are the 20 best content writing services you must know about.

Best content writing services to get quality content
TL;DR Here's a quick video sharing all the key points on the content writing services on this list.
Narrato Marketplace is a freelance content marketplace that serves clients across all industries and niches. The platform connects you with thousands of skilled and quality-vetted freelance writers. The smart algorithm on the platform matches your content order to the best-suited content writer on the platform based on their expertise and experience.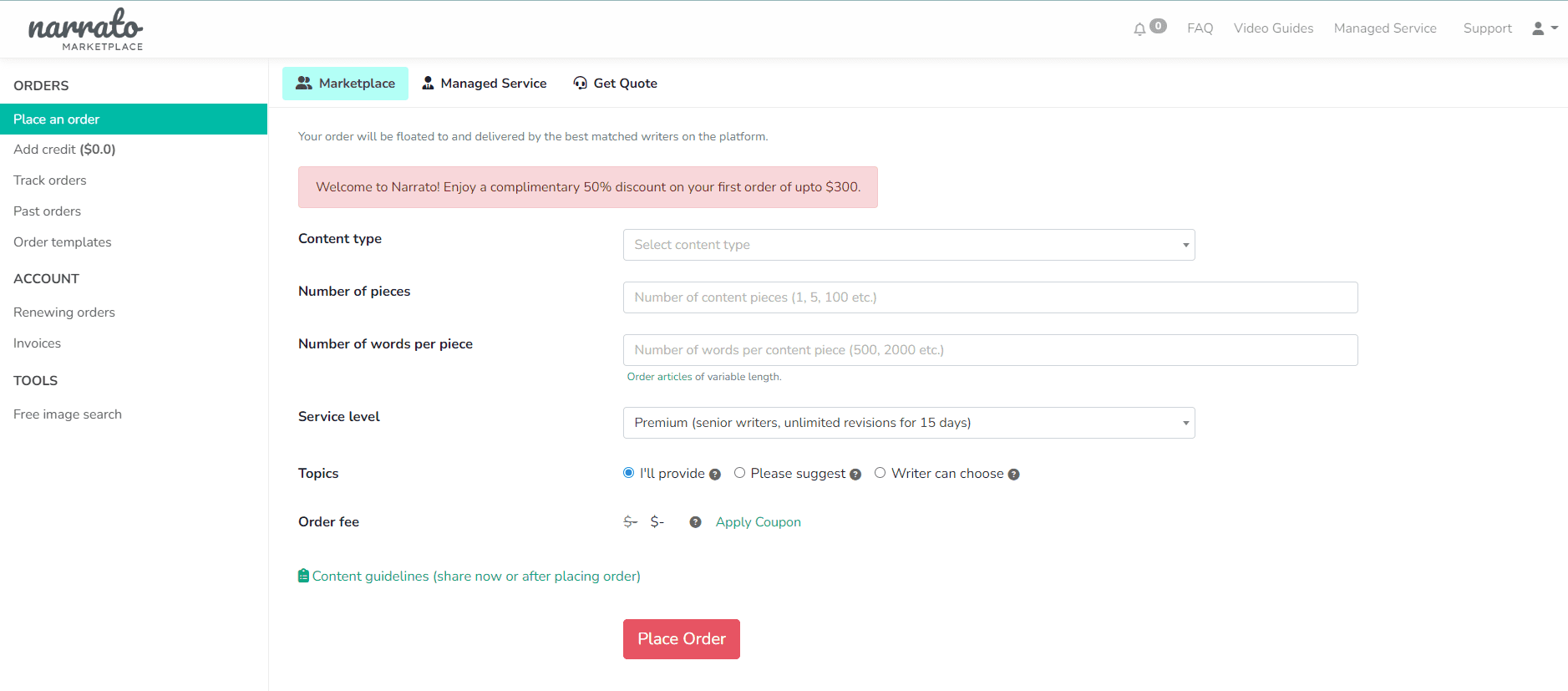 Narrato Marketplace also offers managed services in content writing, in which you are assigned a dedicated account manager. The account manager takes care of all your content orders, including assigning tasks to the best-matched writers. Under managed services, all your content goes through an editorial review to ensure high-quality content that is delivered through a premium dashboard. The team also helps you set up the dashboard and offers continuous support at every stage.
Narrato Marketplace offers content writing services in all categories including SEO content, blog writing, article writing, copywriting, product descriptions, and more. All the content goes through plagiarism checks before being delivered to you. If you have certain preferred writers on the platform, you can build your own team and float your projects to those select writers.
Apart from this, Narrato Marketplace also has a free image search tool you can use to find attribution-free images for your content.
Pricing: One of the best things about Narrato Marketplace is its affordable pricing. There are four flexible Narrato Marketplace pricing plans – Basic, Standard, Premium, and Elite. The starting price is $1.9 per 100 words and goes up to $7.9 per 100 words. The platform offers volume discounts on orders over a particular value. Depending on the plan you choose, you can have unlimited revisions starting from 7 days (on Basic) up to 30 days (on Elite) from the first draft.
2. Skyword
Skyword is a content marketing company that offers all-round content marketing solutions, including content strategy, content audits, and content writing. The platform hosts vetted content creators with experience in their respective domains, along with a team of editors who ensure content quality.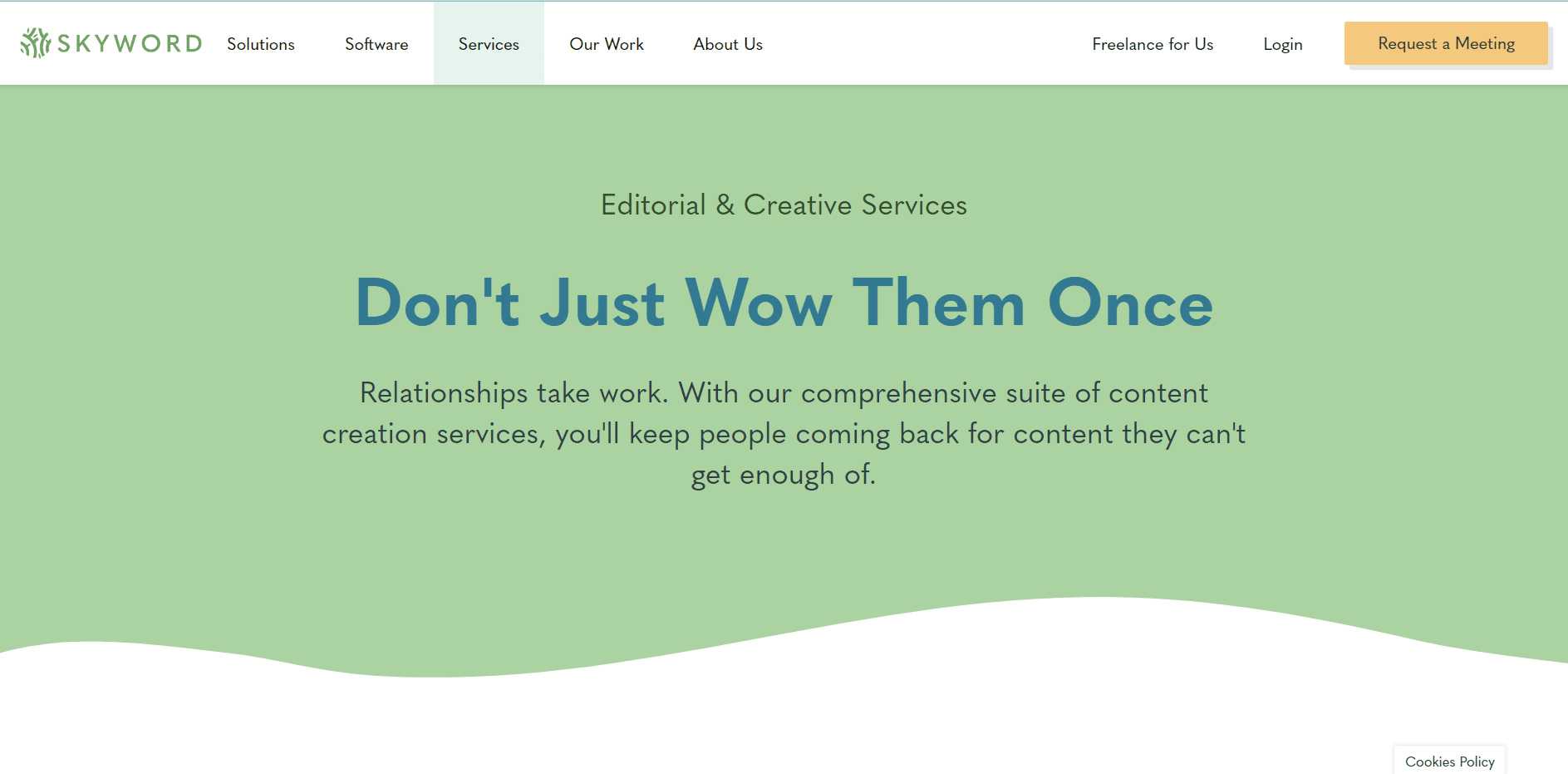 Skyword offers end-to-end editorial services starting with content ideation to editorial management. They hire subject matter experts and creative teams as per the requirements of a project. The content goes through three layers of review to ensure consistency in quality and branding.
Apart from this, they also help with the optimization of your existing content through their content audit service.
However, if you are looking for a plain and simple, no-frills content writing solution that delivers quality content, Skyword may be a little too complicated for you. It would be a better choice for businesses looking to outsource their entire content marketing and are willing to invest in it.
Pricing: Skyword pricing is available on request. You can get in touch with the team for details.
3. Brafton
Brafton is another full-service digital marketing agency that also offers content writing services. Apart from content writing, Brafton also offers video marketing, graphic design, and lead magnet creation services. As part of content strategy services, the agency helps with SEO, social media marketing, paid marketing, email marketing, and inbound marketing consultancy,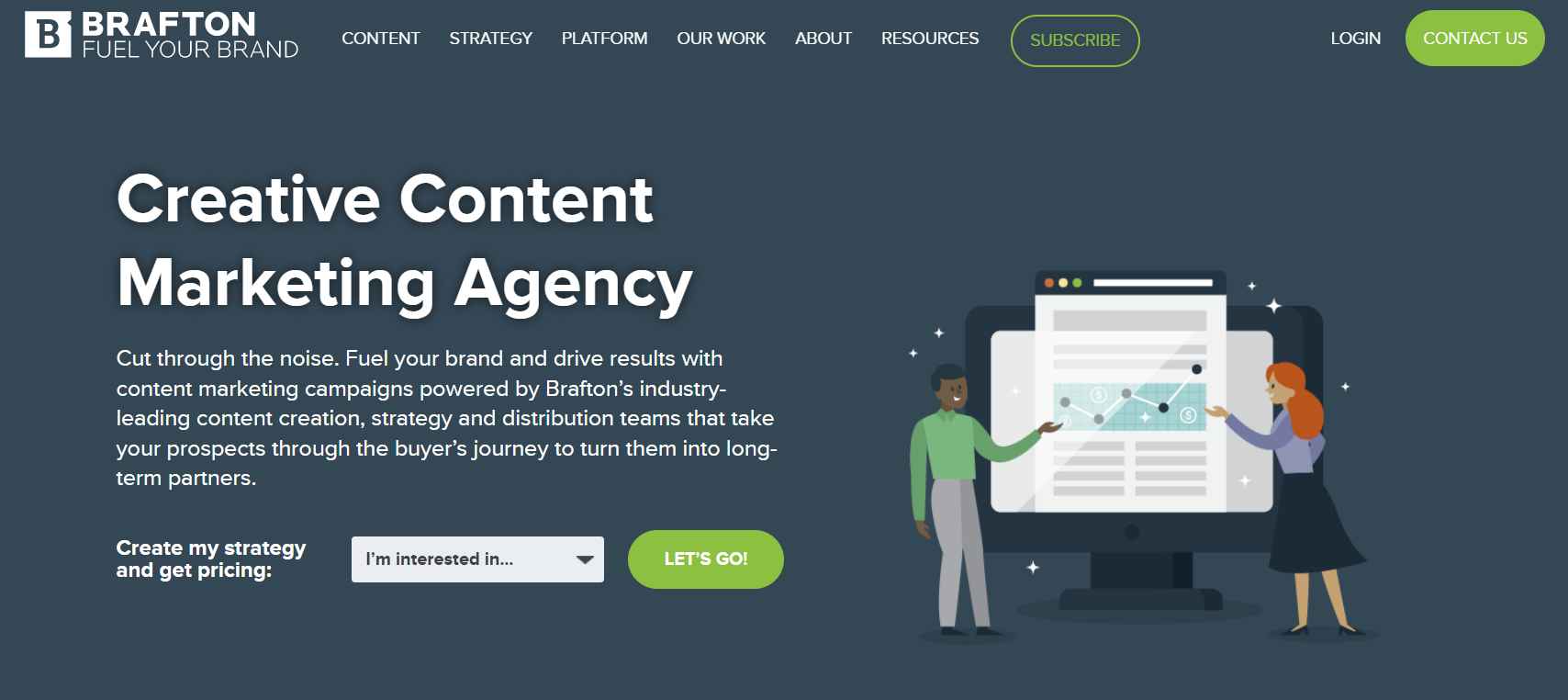 Brafton's content writing services cover SEO content writing, blogging, business copywriting, and article writing. The SEO experts at the agency conduct SEO research on the web to prepare a Search Performance Brief that guides writers with keyword data, SERP targeting direction, and more.
Again, like Skyword, Brafton is better suited for businesses that are looking for end-to-end content marketing solutions. For someone looking only for quality content delivered in a jiffy, this agency can end up being more expensive.
Pricing: Brafton's pricing for SEO content writing is approximately $1 per word, but the actual price is decided based on factors like length, design, and complexity of the content. To get a quote, you have to get in touch with the team.
4. Mint Studios
Mint Studios are a UK-based content marketing agency specializing in FinTech content. The agency helps create content for FinTech blogs with a focus on lead generation. The writers at Mint Studios make an effort to understand your audience and their level of FinTech knowledge to create content that is easy to consume. This is also a full-service FinTech content marketing agency, which means that they take care of everything on the client's blog, including content strategy, writing, publishing, content promotion, and tracking.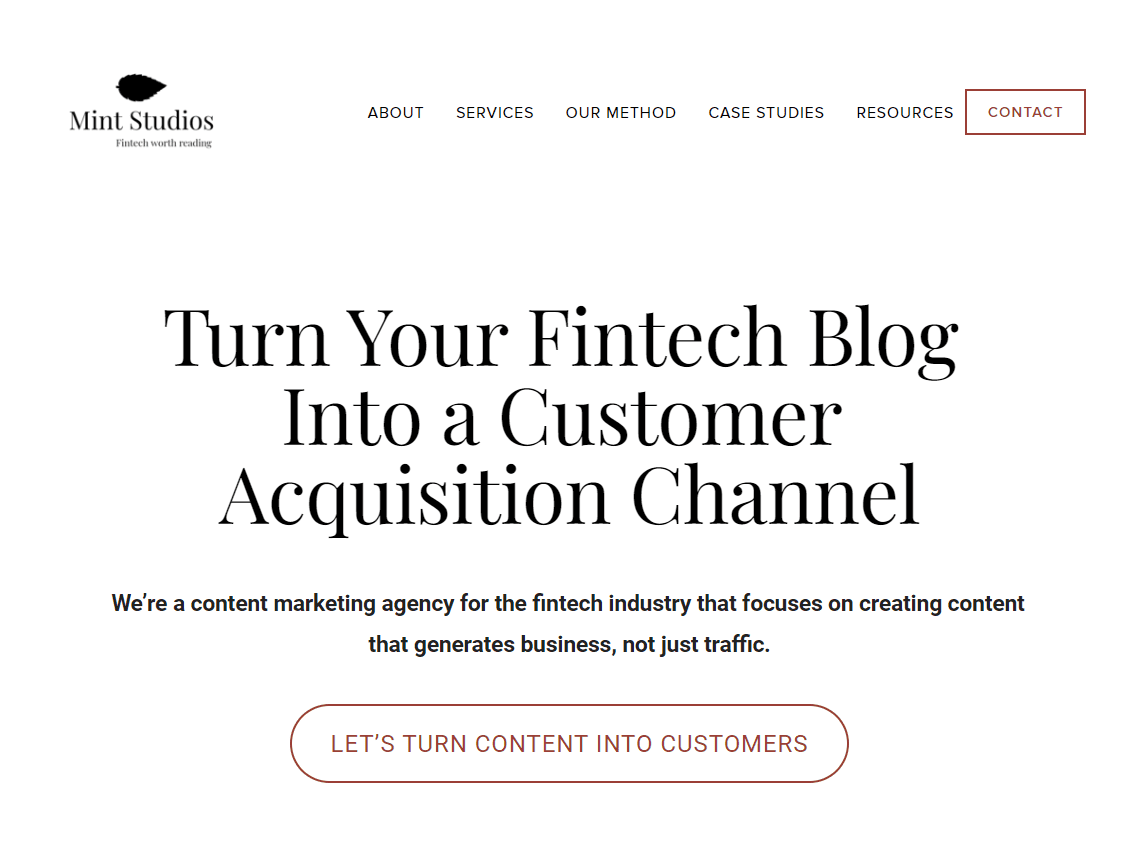 The Mint Studios team starts with detailed onboarding research to understand your requirements and creates a breakdown of the content strategy for the whole team. It then delivers three lead-gen and conversion focused articles every month followed by complete content management. They also have weekly content strategy calls with one of your team members for the first three months to ensure everything is on track.
You also get access to an analytics dashboard to monitor your content performance.
Pricing: Mint Studios pricing ranges from £4,000 ($4500 approx.) to £8,000 ($8900 approx.) per month depending on the kind of service you require.
5. TextMaster
If you are looking for a multilingual content writing service to target a local market, TextMaster is the right place for you. TextMaster offers multilingual content creation services and translation services. The platform has a wide network of writers specializing in over 50 domains and 50 different languages. They also offer proofreading services.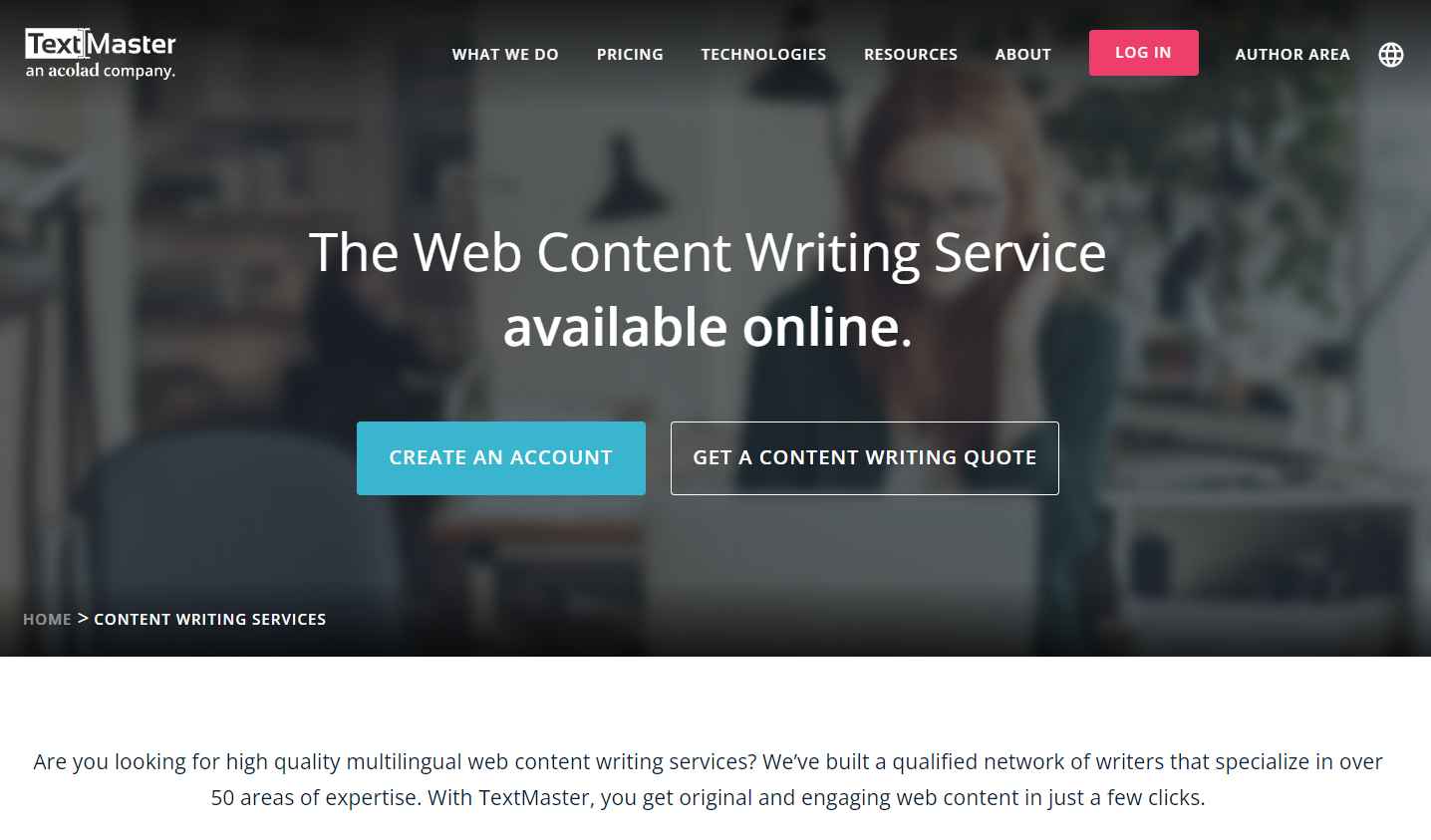 All articles are checked for plagiarism on CopyScape and you can directly communicate with the writers in case of any issues or queries. You can also customize your orders with extra proofreading, rush orders, or added expertise at an additional cost.
The agency specializes in branded content, travel content, e-commerce content, fashion content, web content, and SEO writing services.
Pricing: TextMaster pricing has two plans – Standard and Enterprise. The Standard plan starts from $0.066 per word while the Enterprise plan starts from $0.146 per word.
6. Edufficient
Finding writing agencies online specific to your industry is tough, especially for niche industries like education or EdTech. Edufficient, however, is one such content writing agency that specializes in creating content for educational websites. Digital marketing for educational websites can be challenging as the content often ends up looking like curriculum content and that is what Edufficient tries to change. It approaches content with the reader's challenges in mind rather the what the course offers, which makes it easier to relate to increasing chances of conversions.

The agency uses resources provided by clients, such as brand guidelines, demographic data, and content samples, to learn about the brand's tone and audience. Then the dedicated content manager employs the usual SEO practices and carries out niche-specific keyword research, writers create the content and run it through multiple rounds of reviews.
Apart from content writing for educational websites, Edufficient also offers overall digital marketing services, PPC, SEO, social media marketing, and marketing automation services.
Pricing: Pricing details are available on request. You can request a consultation on the Edufficient website.
7. Content Cucumber
Content Cucumber is a content writing service that pairs you with one of their experienced writers so you can have a consistent experience throughout your association with the agency. The agency offers up to 2000 words per week, a dedicated writer and editor for each client, and royalty-free images to go with the content.

Having a dedicated writer and editor allows them to understand your brand and create content that reflects your brand voice. The agency also has plans that give you 4000 to 8000 words per month based on your requirements. There are add-on services in the advanced plans as well, such as blog topic generation, personalized content calendar, and more.
Content Cucumber offers SEO content and ensures that writers follow SEO best practices in creating every piece of content.
Pricing: Content Cucumber pricing offers three plans – Fun Size, On Demand, and Hands Off. Fun Size is the basic plan that starts at $599 per month plus a one-time onboarding fee of $199. The advanced plans with add-on features are priced at $950 and $2400 per month respectively.
8. Rock Content
Rock Content is a content marketing agency that offers managed services and a content writing service as well. The managed services help with building and managing a content marketing strategy end-to-end. Like most full-service digital marketing agencies, Rock Content also assists you at every step of your digital marketing journey, providing you with strategic recommendations and identifying opportunities for growth.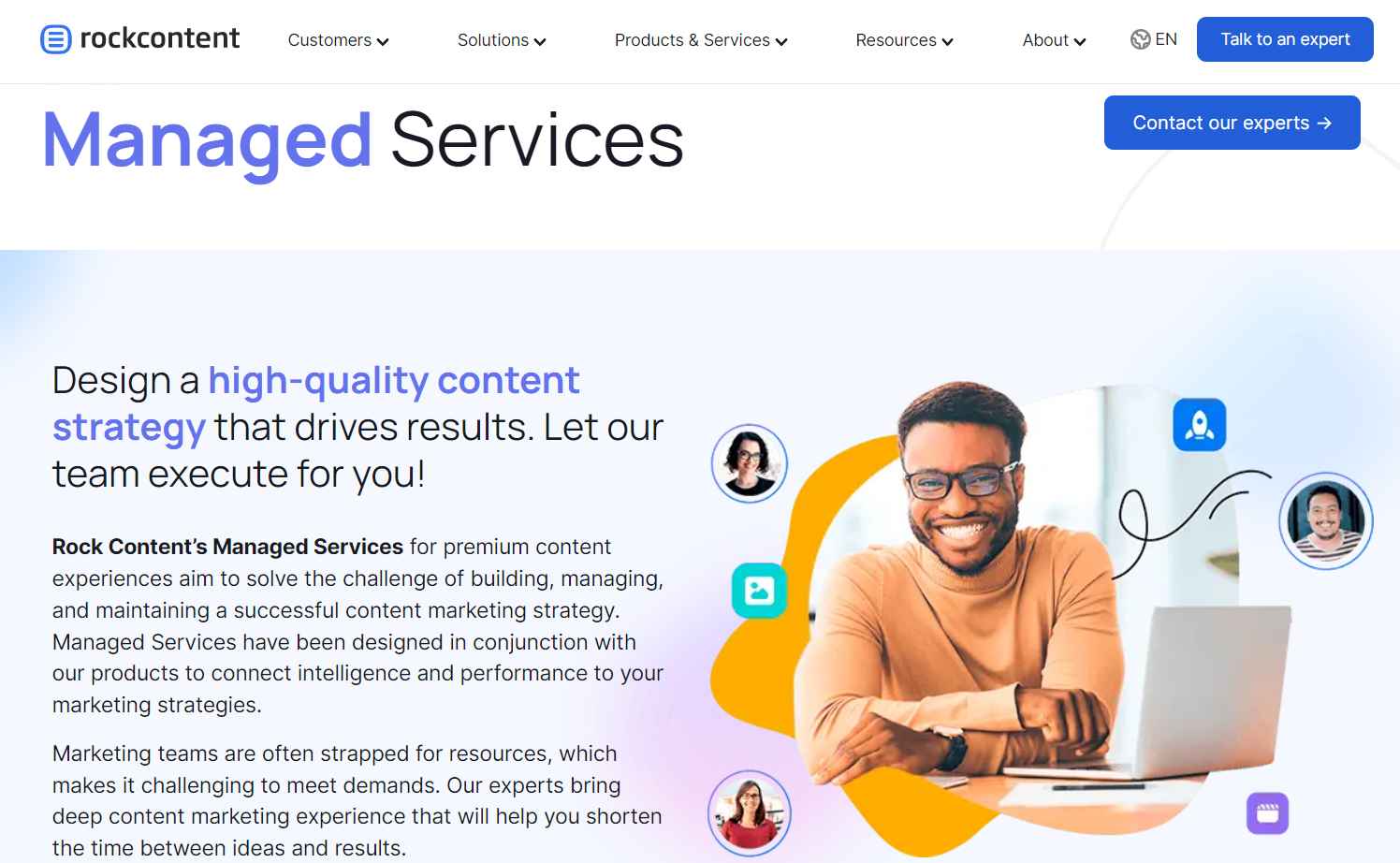 The content writing service on Rock Content has a talent-matching system that matches the best writers for each project. They also have a global talent pool that can create content in English, Spanish and Portuguese.
Apart from content writing, they also offer graphic design, video, and interactive content.
Pricing: You can book a consultation with the Rock Content team to discuss pricing details.
9. Get A Copywriter
Get A Copywriter offers content writing services for businesses, agencies, and e-commerce brands. They provide options for both ongoing monthly subscriptions and one-time on-demand content writing. All content writers on the platform are selected through a rigorous vetting process to evaluate their writing experience and skills.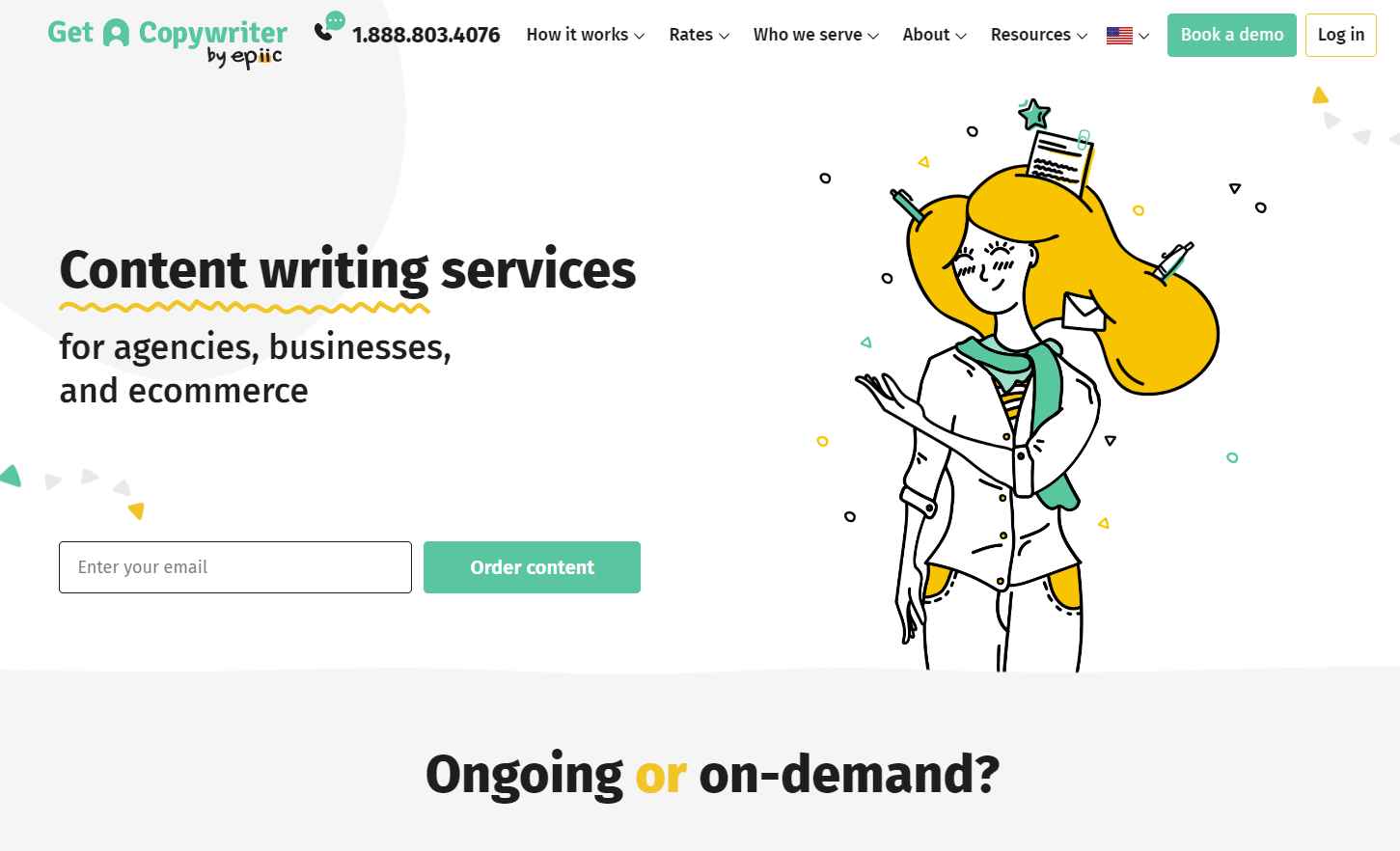 This platform also has smart writer matching that assigns content projects to the best writers. All content goes through extensive reviews and plagiarism checks before being delivered to the clients. You also get unlimited revisions on your content until you are happy with it.
Get A Copywriter offers content writing services for blog posts, web pages, press releases, product descriptions, and more, including custom content.
Pricing: The monthly blogging subscription on the platform has four plans to choose from, starting at $356 per month. The on-demand service has different rates for different content types, writer levels, and word counts.
10. Express Writers
Express Writers is a content writing service for agencies, brands, and marketers offering high-quality content at scale. The platform has a curated team of writers with expertise in various industries. Once you place an order, a content manager picks the best writers for the job and decides on the format. The professional writers create high-quality content that is SEO friendly and plagiarism free.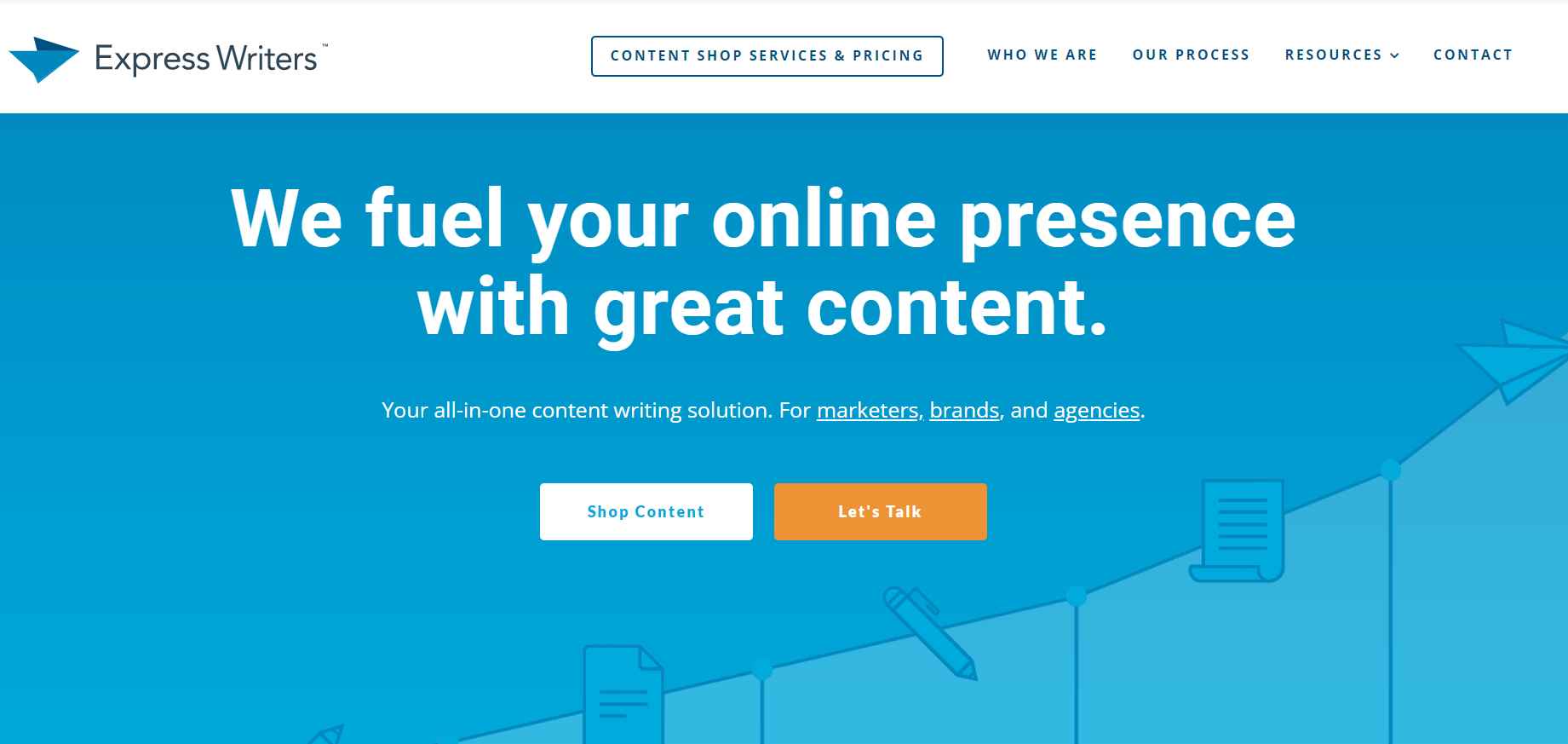 The agency specializes in expert blogs, specialty content, authority content, press releases, expert web pages, product descriptions, infographics, and more. Express Writers also provides content strategy services such as SEO keyword research and editorial calendar among other things.
Pricing: Express Writers pricing is different for different service levels.

11. Contently
Contently is a content marketing company offering both content strategy and content writing services. They have a global network of professional writers, designers, and editors. They build you a content team tailored to your content strategy and your audience.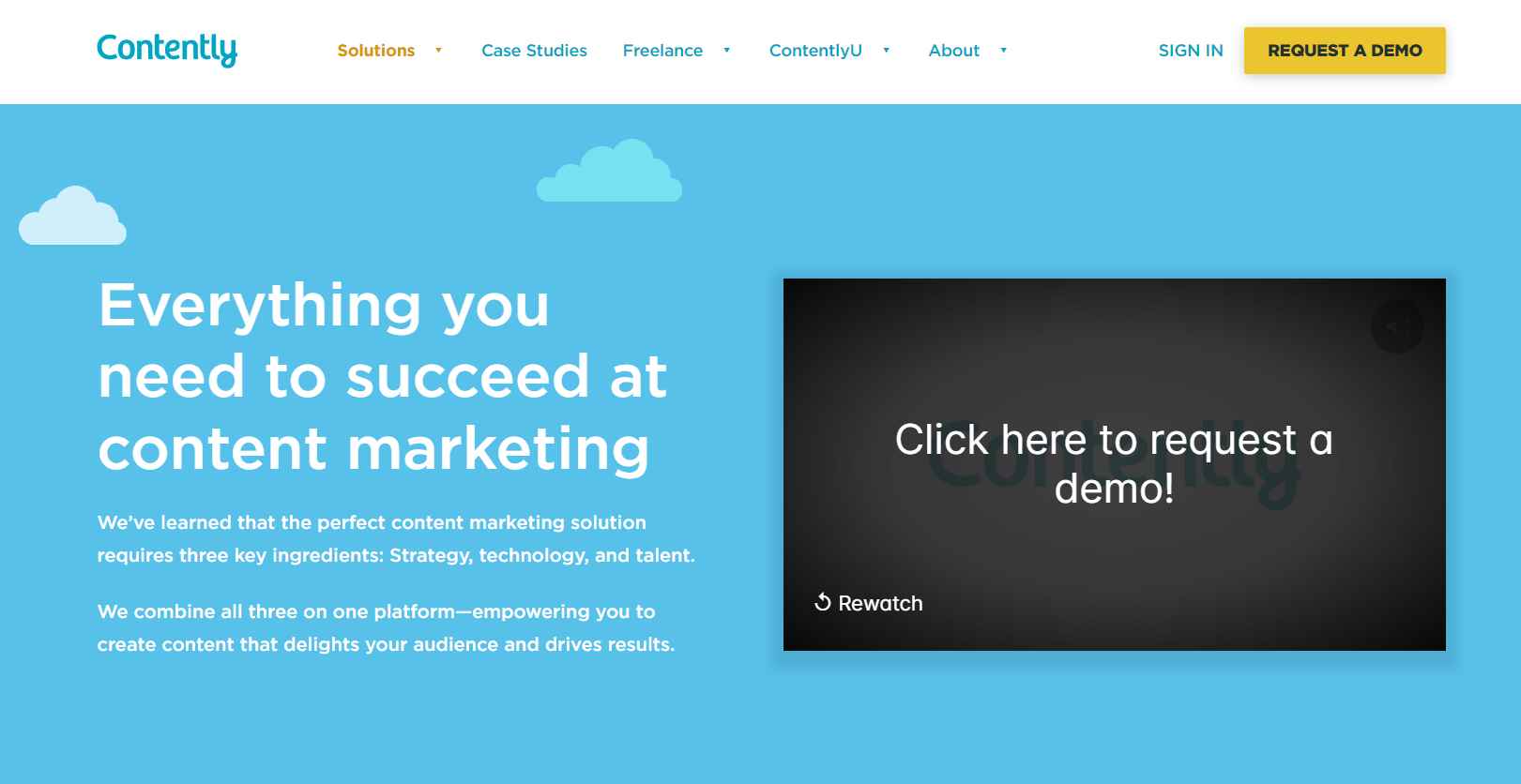 Content writers and designers on Contently create content on their own enterprise content marketing platform, and every contributor is trained to use the platform as well as work with different brands. The content marketing company has writers with experience in several niches, from financial services to technical governance and more. Contently offers content creation services for a variety of content formats including articles, white papers, original research, infographics, social videos, animated explainer videos, and more.
Pricing: To request a quote, you have to get in touch with the Contently team. This Contently menu, however, describes their pricing methodology. Overall the service can be quite expensive, with short articles (300 – 400 words) starting at $275.
12. Juris Digital
Legal content writing requires through domain expertise, which is what Juris Digital offers. Juris Digital offers legal content writing services supported by a team with years of legal marketing and SEO expertise. They have worked for clients in employment law, family law, business law, personal injury law, and more.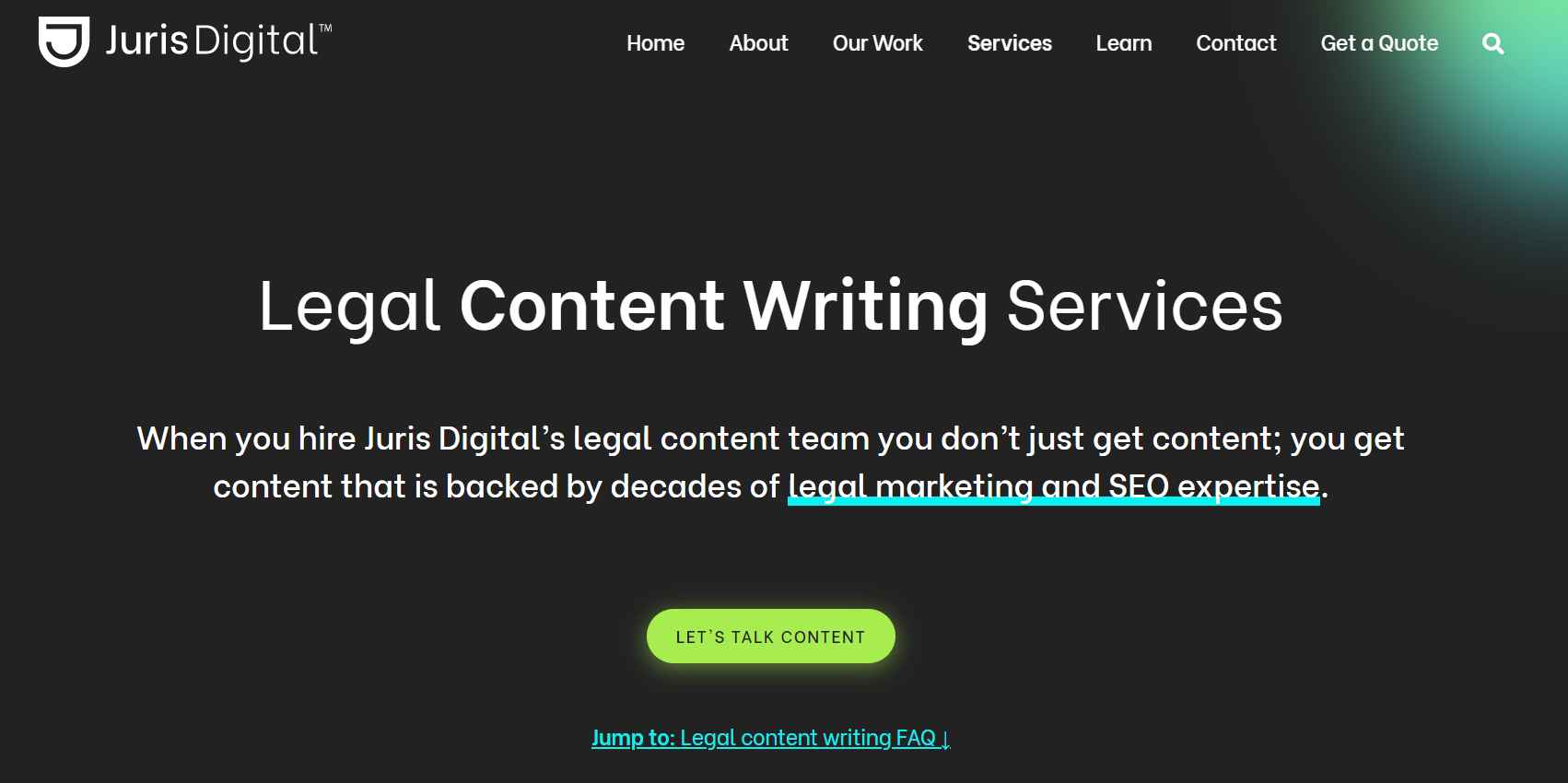 Apart from legal content writing, Juris Digital also offers services like Law Firm SEO, Website Design, Local Service Ads, and PPC. Under legal content writing, the agency specializes in informational legal articles, practice area pages, niche blog posts, and legal news recaps. Juris Digital services are available to big and small law firms, legal service businesses, solo practitioners, and others looking for quality legal content.
Pricing: There are three popular Juris Digital pricing plans – Words Only, Rank-Ready Content, and Max Traffic. The writing service, Words Only, starts at $0.50 per word.
13. Siege Media
Siege Media is another full-service content marketing agency that offers other services alongside a content writing service. The agency specializes in copywriting tailored to the customer's needs and brand image. It also assists with technical writing, sales copy, and branded content. The Siege Media team includes SEO strategists, experienced creative writers, editors, and PR professionals.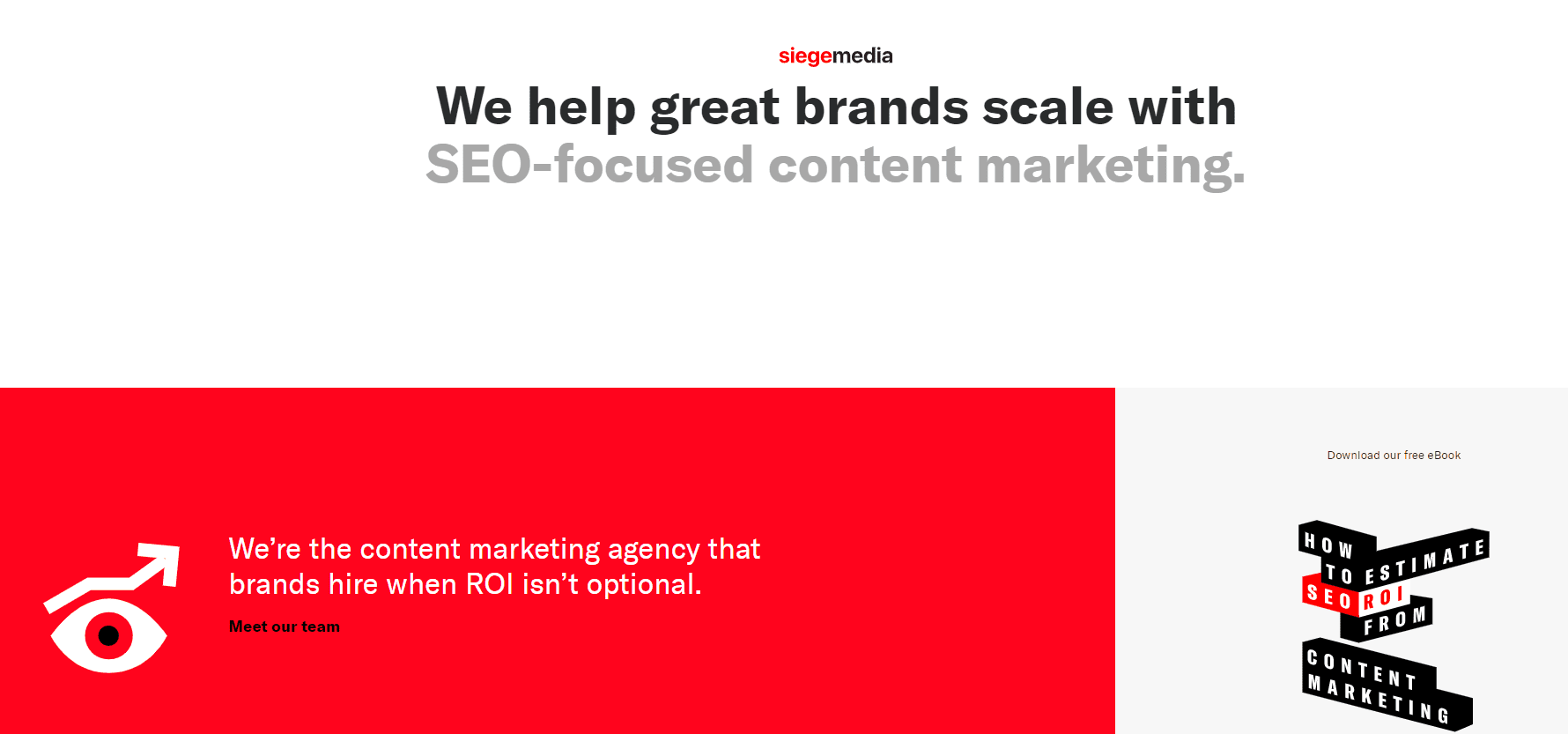 The platform has an experienced content writing team of over 40 in-house writers with expertise in a variety of domains. Copy editors on the team ensure that the content they deliver is high-quality and plagiarism free. Their usual process with a project includes discovery (getting to know the client and their requirements), ideation, writing, and editing before delivery.
Siege media also has a design team to work on infographics, animations, and other visuals. Other services offered by Siege Media include content strategy, blog design, link building, and video production.
Pricing: You can get in touch with the Siege Media team to know more about their pricing and plans.
14. ClickGiant
ClickGiant is a digital marketing agency that offers custom content creation services. Their client base includes businesses from diverse industries such as manufacturing, energy, finance, education, law, and many others. ClickGiant takes a conversion focused approach to content writing and creates content that people would actually want to read.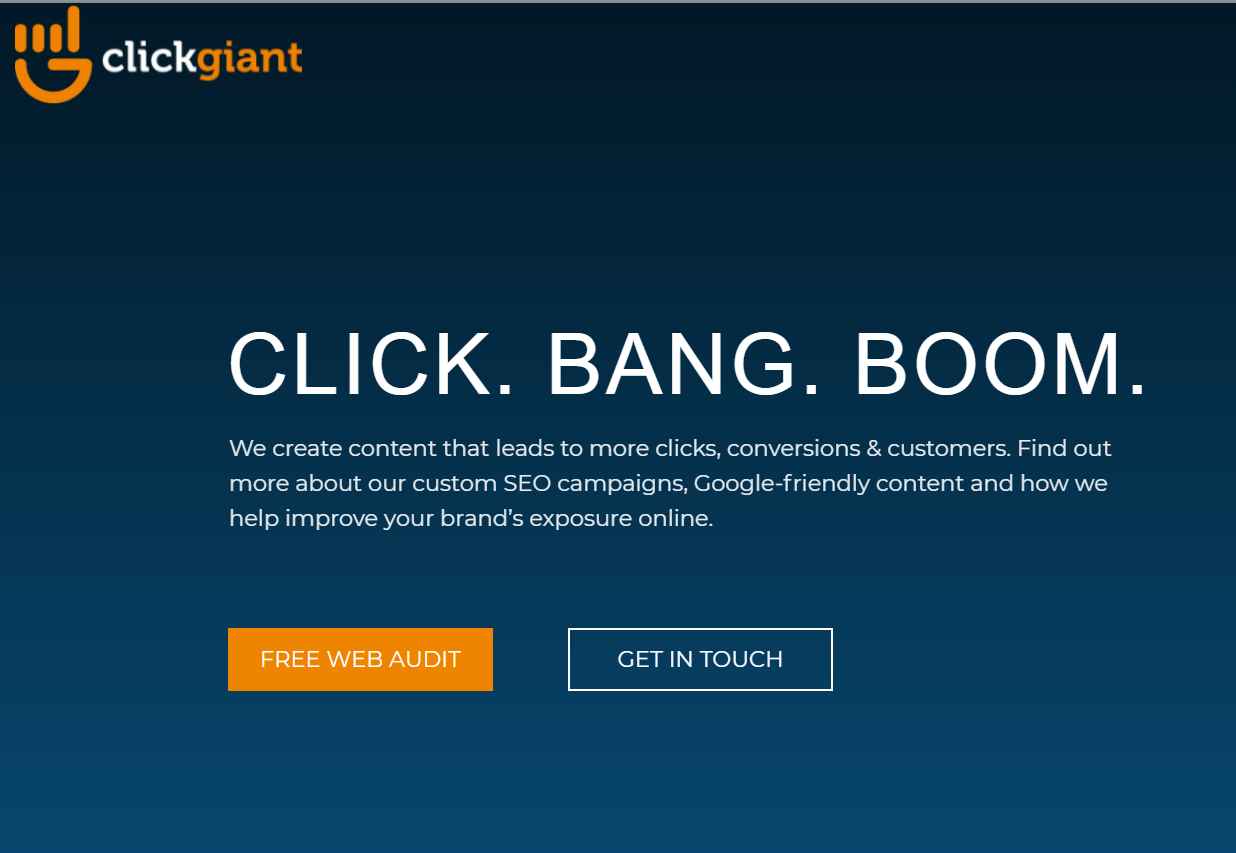 Apart from the content writing service, ClickGiant also assists with SEO, PPC, website design, social campaigns and local SEO.
Pricing: Pricing and plans are available on request. You can book a free web audit on their site.
15. Stunt & Gimmicks
Stunt & Gimmicks (S&G) is a content marketing agency that also provides a custom content writing service. Like most other digital marketing agencies, S&G also starts by first conducting a thorough research and discovery, followed by content creation and distribution. Their custom content services include blog writing, case study writing, editorial calendar development, e-book writing, news releases, white papers, and much more.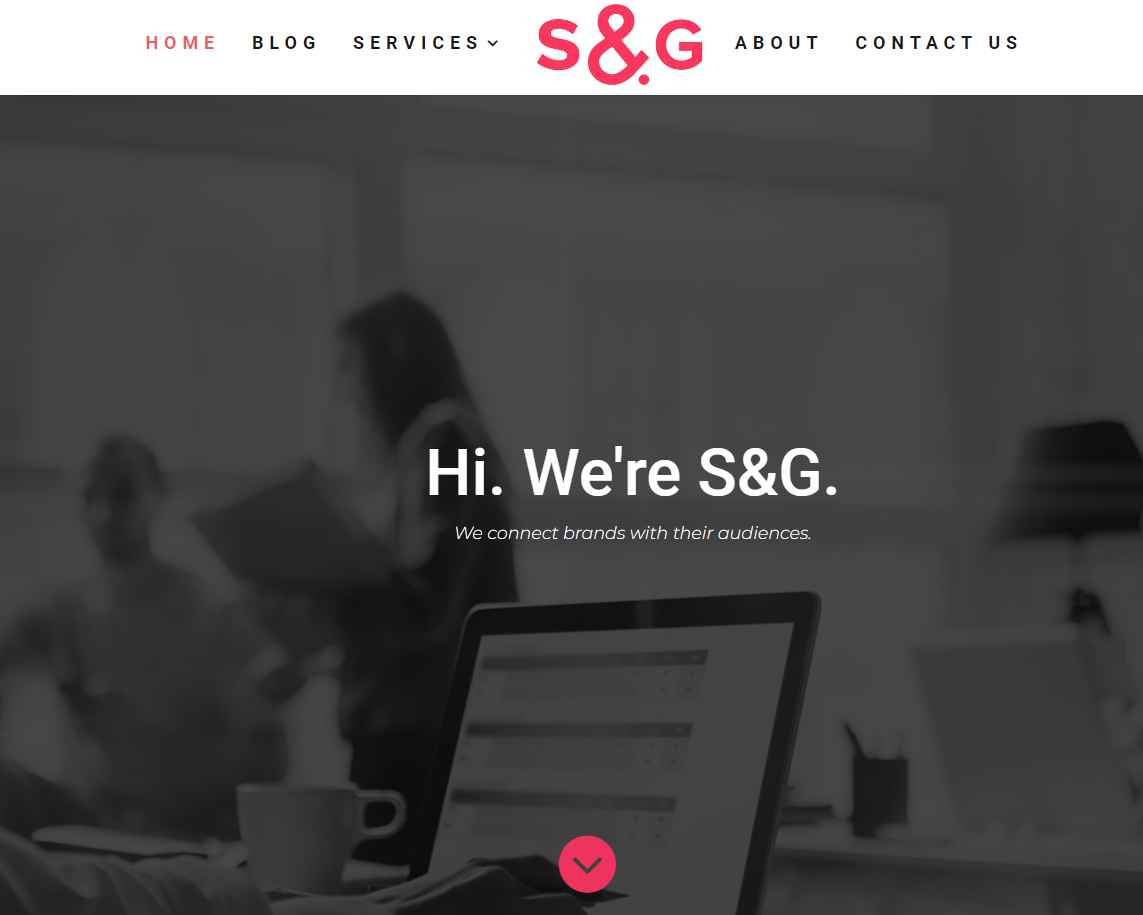 Apart from helping with scaling content creation, the agency also assists with content amplification, PR and media outreach and video production.
Pricing: You can contact the S&G team to build a tailored project with custom pricing to meet your requirements.
16. Eucalypt
Eucalypt is a digital strategy and content creation apps provider that offers a wide range of marketing and PR services. The agency also offers an a la carte content creation and execution service that includes both content writing and graphic design. They have a talented team of journalists and writers having experience in industries such as finance, healthcare, and technology.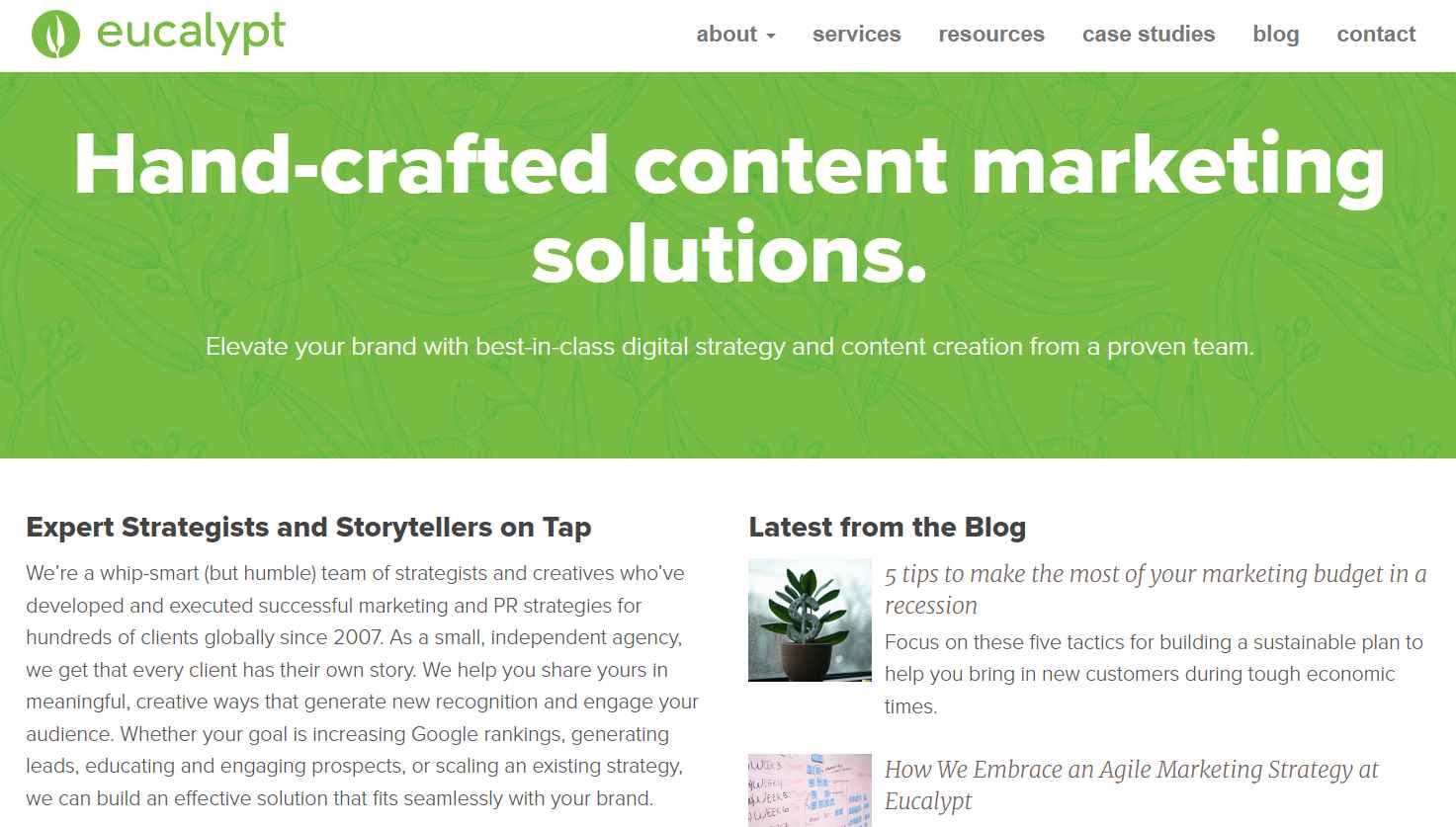 The a la carte content writing services on Eucalypt are primarily directed toward Marketing Directors, Content Marketing Directs, and SEO Directors at mid-sized businesses and enterprises.
Pricing: Eucalypt pricing varies for various service packages. The content writing service package starts at a base price of $5000.
17. North Star Inbound
North Star Inbound is an SEO content writing service that also helps with link building, content marketing and digital PR. The team includes content writers, editors, SEO strategists and graphic designers.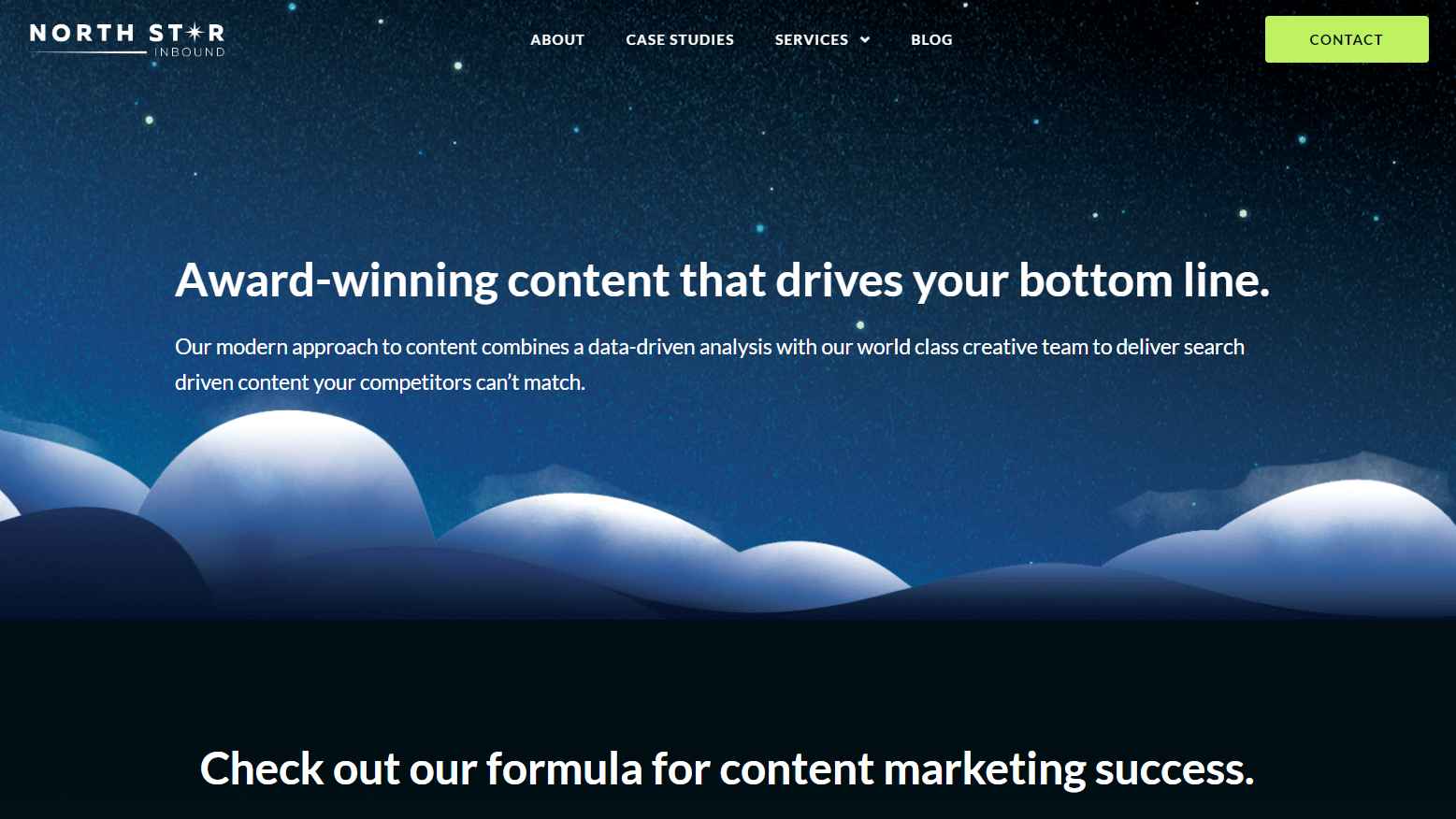 The content marketing strategy at North Star Inbound is focused on making your website competitive and user-friendly by providing the audience with a wealth of useful information. The team also helps with keyword selection, re-optimization of existing content, and complete overhauling of content to better meet SEO demands.
Pricing: Pricing details can be obtained by contacting the team.
18. Fractl
Fractl is an end-to-end content marketing agency that focuses on organic growth. Fractl offers content writing services, organic growth strategy, digital PR, and technical SEO solutions. Under content development services, Fractl helps ideate, create and execute content based on the most valuable search queries specific to your brand and industry.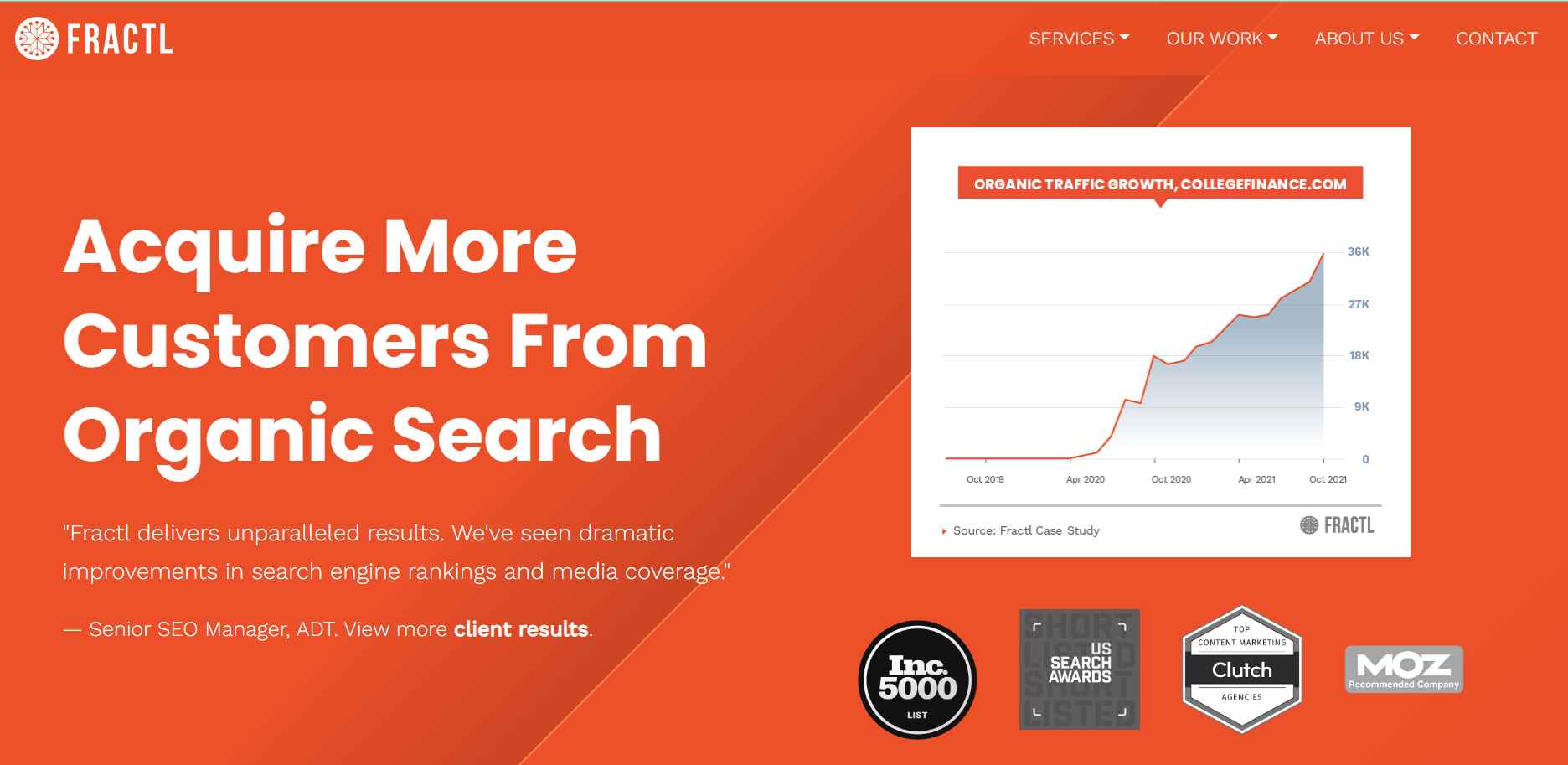 Fractl's idea behind content development is that content can be categorized into rank-worthy content and link-worthy content. To create rank-worthy content, they try to understand your audience's questions and answer them with authoritative content. To create link-worthy content, they help with creating original research, studies, and surveys on relevant topics in your industry. They use these original research and studies to create compelling marketing campaigns for their clients.
Pricing: Being a highly customizable service, Fractl pricing varies from project to project.
19. Fiverr
Fiverr is not a content writing agency per see. It is a freelancer marketplace that gives you access to freelancers in any field, but it also gives you access to a massive talent pool of freelance writers. You can select a category like content writing or SEO content writing and all the freelancers providing the service will be available for you to choose from.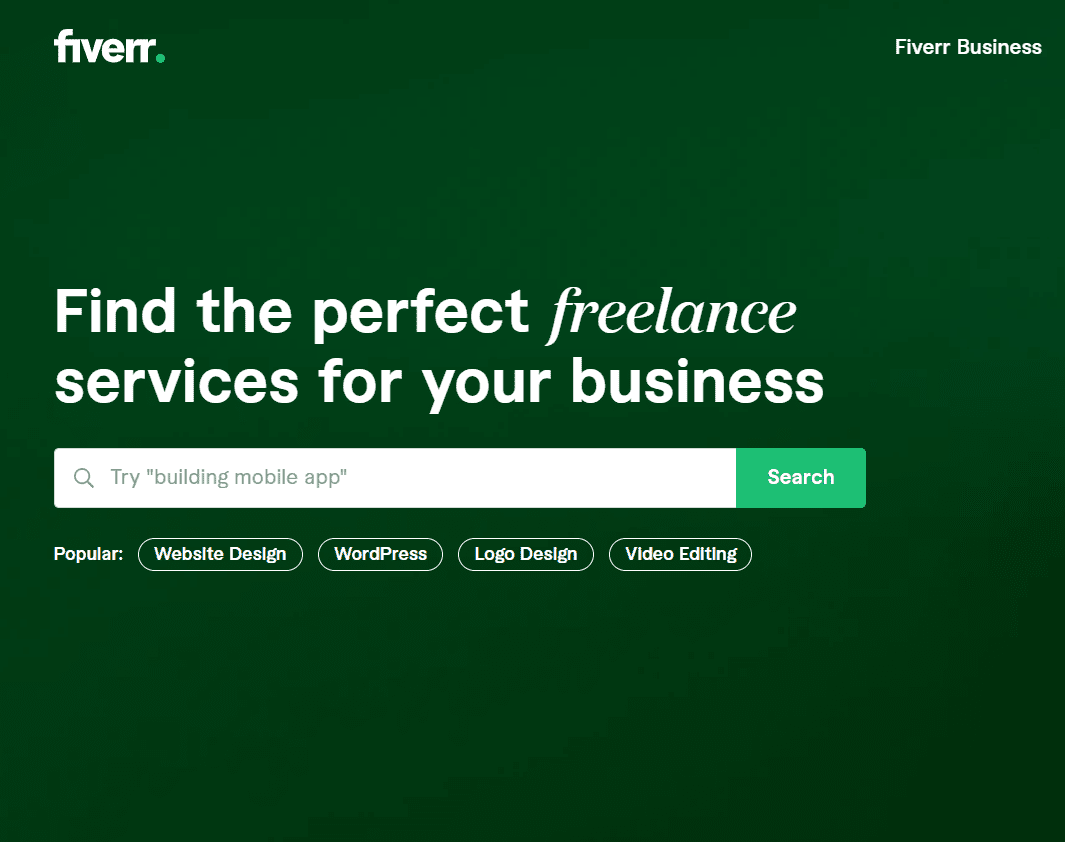 The problem with a generic freelance marketplace like this, however, is that the whole process of selecting the right freelancer and completing the project can be cumbersome. As you have to take care of everything on your own, from evaluating the writer to assigning tasks to ensuring quality, it is much more challenging that working with a content writing agency.
Pricing: Pricing can vary from one freelancer to another. Freelancer quotes their own prices for a Gig on Fiverr, and the platform also charges a service fee from buyers.
20. Upwork
Upwork is a freelance work marketplace, similar to Fiverr. It is not specifically for content writers but offers a good resource of talented writers if you can find them.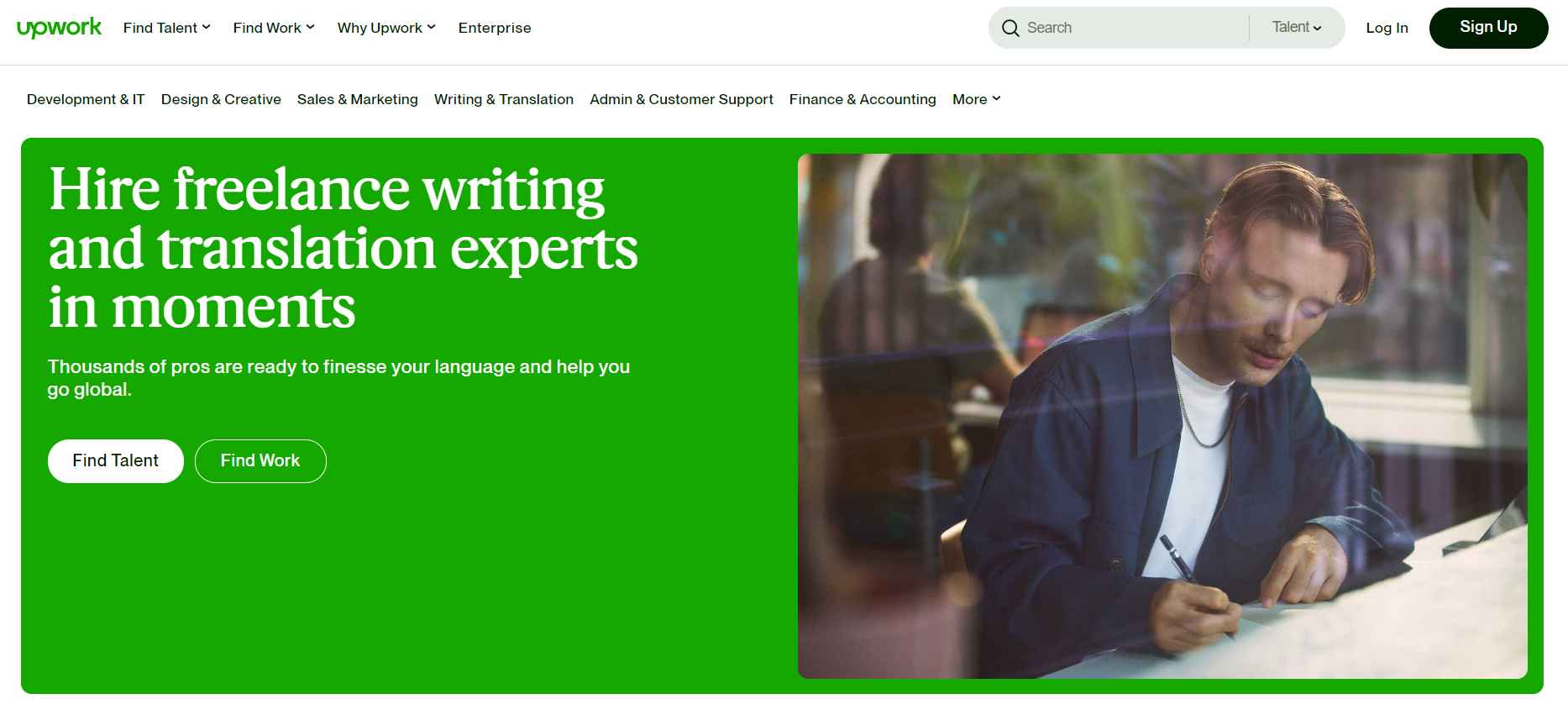 As in the case of all freelance platforms like these, finding the right talent on Upwork and ensuring quick, easy delivery of content can be a challenge. Working with a content writing agency instead is much more convenient.
Pricing: Freelancers quote their own fees based on the type of project. Upwork also charges a service fee.

Frequently asked questions
What does a content writing agency do?
A content writing agency provides quality writing services to businesses and individuals. An agency usually has a large team of content writers or freelancers with experience and expertise in various industries and subject matters. Content writing agencies provide content for blogs, articles, website copy, product descriptions, e-books, case studies, white papers, and more.
Do businesses need a content writing service?
Many businesses prefer to completely outsource content creation, or at least a part of it. Some businesses may have a small in-house content team but want to scale their content production without hiring new members. In such a case, a content writing agency can help them achieve these targets. Some other businesses may not hire any in-house writers and get content written entirely by agencies or freelancers at a content marketplace. Outsourcing to a content agency gives businesses more freedom to scale their content marketing efforts.
What are the benefits of content writing services?
Some of the common benefits of hiring content writing services are –
Reduces the load on the in-house content team
Helps scale content creation
Gives access to a wider talent pool with diverse experience
Gives access to add-on services like SEO, content strategy, and others, in some cases
What are the most reputable content writing services?
There are many reputable content writing services, but what matters most is what you are looking to achieve. There are many niche content writing services that offer content for only specific industries. There are both expensive and affordable content writing services. Depending on the type of content you need and your content marketing budget, you must choose a service that understands your brand and is reliable. Go through their client base, user reviews, and work samples to ascertain that the content writing agency is a good fit for you.
Choosing the best content writing agency for your business is a big decision. You are probably going to invest a significant amount of time and money working with the content writing service and you must ensure that it's worth it. We hope our list of top content writing services provides some clarity to help you make an informed choice.