You've been creating content year after year, but how do you ensure all of this content is performing as expected? Can your content compete with the newer more authoritative pages that are gradually scaling up the ranks in search engine results? While we agree that creating and distributing new content is the priority, tracking and monitoring your existing content is also important to ensure better outcomes. This is where a content SEO audit comes into the picture.
Every successful content marketing strategy includes regular content audits and technical SEO audits as part of the quarterly or half-yearly plan. A content audit not only gives you valuable information on how your existing content is performing but also gives you insights and metrics to improve your future content campaigns.
What content audit tools do you need for an SEO audit?
What are the steps involved in a content SEO audit?

What is a content SEO audit?
A content SEO audit is the process of meticulously analyzing the existing content on your blog, website, or landing page, and assessing how well it is optimized for search. An SEO content audit helps you identify strengths, weaknesses, gaps, and opportunities in your content SEO strategy. An SEO content analysis will allow you to further optimize your old blog posts or website copy to increase your chances of ranking.
The content audit also gives you a complete overview of your current SEO strategy. You can identify which tactics are working and what needs improvement.
In this article, we'll provide you with a comprehensive checklist for a thorough content SEO audit that includes everything from keyword optimization to link-building to more advanced SEO strategies.
TL;DR here's a quick summary of this article.
What content audit tools do you need for an SEO audit?
There are quite a few tools that can come in handy when conducting an SEO content audit. Before we dive into the details of the content audit process, here are the tools you'll need –
Google Search Console – When we talk about SEO, we have to accept it – we're actually talking about optimizing for Google search. And Google itself provides you with ample tools to monitor your site's performance. Google Search Console offers several useful features like keyword monitoring, search queries, clicks and impressions, core web vitals, page speed, and more.
Google Analytics – Though Google Analytics and Search Console are often confused to be similar tools, they both have very unique uses. Google Analytics primarily focuses on how your audience is interacting with your content. It provides features like custom reports, goal tracking, flow visualizations, etc.
Narrato – An AI-powered content planning and creation platform like Narrato has tremendous importance in the content optimization process. Once your content audit is done, you will need a platform like Narrato Workspace for keyword optimization, content quality improvement, plagiarism checks, etc. that can help enhance content SEO. If Google's tools help with the audit, Narrato helps with the implementation of the required changes.
What are the steps involved in a content SEO audit?
Here are the key steps involved in an SEO content audit process –
Set your content SEO audit goals
Choose the content you wish to audit
Analyze your content and collect data
Create an action plan based on the assessment
Revise your content SEO strategy
This sounds like a simple plan, doesn't it? But every stage here involves a number of different activities. A lot of thought and planning goes into choosing the content to audit, identifying issues and gaps, and deciding what actions to take. We'll discuss all the key steps in detail in the following sections.
1. Set your content SEO audit goals
Before you begin your SEO content audit, it is important to know what your content audit goals are. Depending on what you are trying to achieve, you can choose which content to audit and what parameters to assess. Though it may seem like everyone would have the same content SEO goals, that is not always the case. You may have different goals such as increasing your content's search rankings, improving audience engagement and average time on page, improving conversion rates, etc. Content SEO plays a key role in all of this and more.
Say your content SEO goal is to increase your site's search rankings, your website content audit will have to focus on keyword use, link-building, and so on.
Or say the goal is to increase audience engagement or user experience to increase dwell time. Your blog content audit, then, has to focus on improving the content quality, ensuring good readability, and making the content more valuable by answering the right questions.
Another goal could be to increase organic traffic to your site. In this case, your SEO efforts have to focus first on ranking higher and then on ensuring the topic, metatags, etc. match the target audience's search intent.
So choose your content audit goals carefully and smartly to align with your overall content marketing goals.
2. Choose the content you wish to audit
The next step is to decide which content you want to audit. Your blog or website is probably overflowing with valuable content but auditing it all in one go is near impossible. There's new content to create and other priorities that demand your attention too. So, it is best to pick only as much as you can handle efficiently at once. But how do you decide what to pick and what to skip?
This is where the content audit tools come in. You have Google Search Console and Google Analytics at your disposal. Depending on whether you are running your content SEO audit quarterly or half-yearly, you can generate reports for the relevant time period on these tools.
Using Google Search Console as a content audit tool
Let's assume you generate a Search Console report for the last three months. The report will give you data on the top queries that you're ranking for, the average ranking of pages on your site, and the clicks and impressions for each page/query, among other things.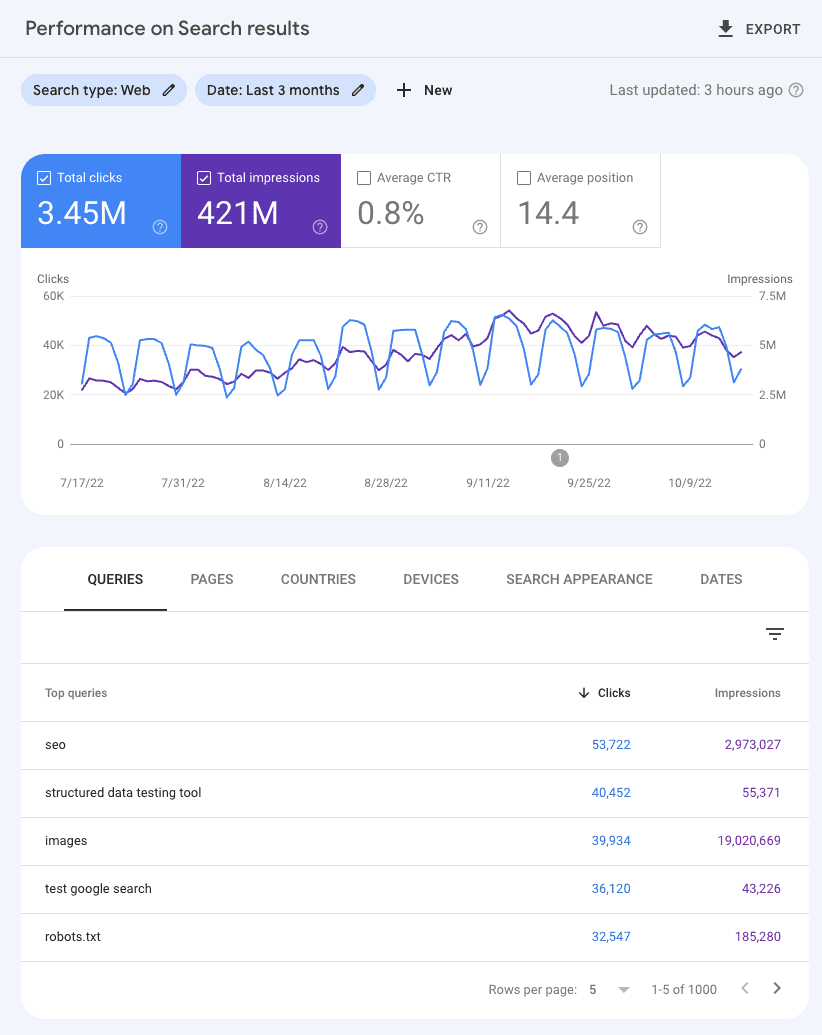 Source: Google Search Central Blog
This is a goldmine of data when it comes to shortlisting content for auditing. You can see which web pages or blog posts are performing best. Those pages probably do not need much modification. You may, however, need to build more links and ensure the content is still relevant, to maintain the search ranking of these pages and push them higher up. There will only be minor changes if any.
There are other pages that aren't performing well enough despite the content being valuable. These are the pages that you should be concerned about. If you're creating content that's worthy of ranking on the first page on SERPs but it's struggling to find its place, something's probably off.
A good strategy would be to pick some low-ranking blog posts, landing pages, and product pages along with a few top-ranking ones, identified from the past quarter's data. This will be a good balance as you can compare the low-performing pages to the top-ranking ones and identify where they differ. You will also be able to find ways to help the top-ranking pages maintain their streak through tiny enhancements.
Using Google Analytics as a content audit tool
While Google Search Console gives you data and insights on general SEO performance, Google Analytics can be an efficient tool to analyze audience engagement, bounce rate, and conversions. You can generate custom reports or refer to the default reports on the platform. The Page View report, for instance, tells you which pages on your website are getting the highest percentage of views. You can customize the report to show the bounce rate for each individual page on your site too.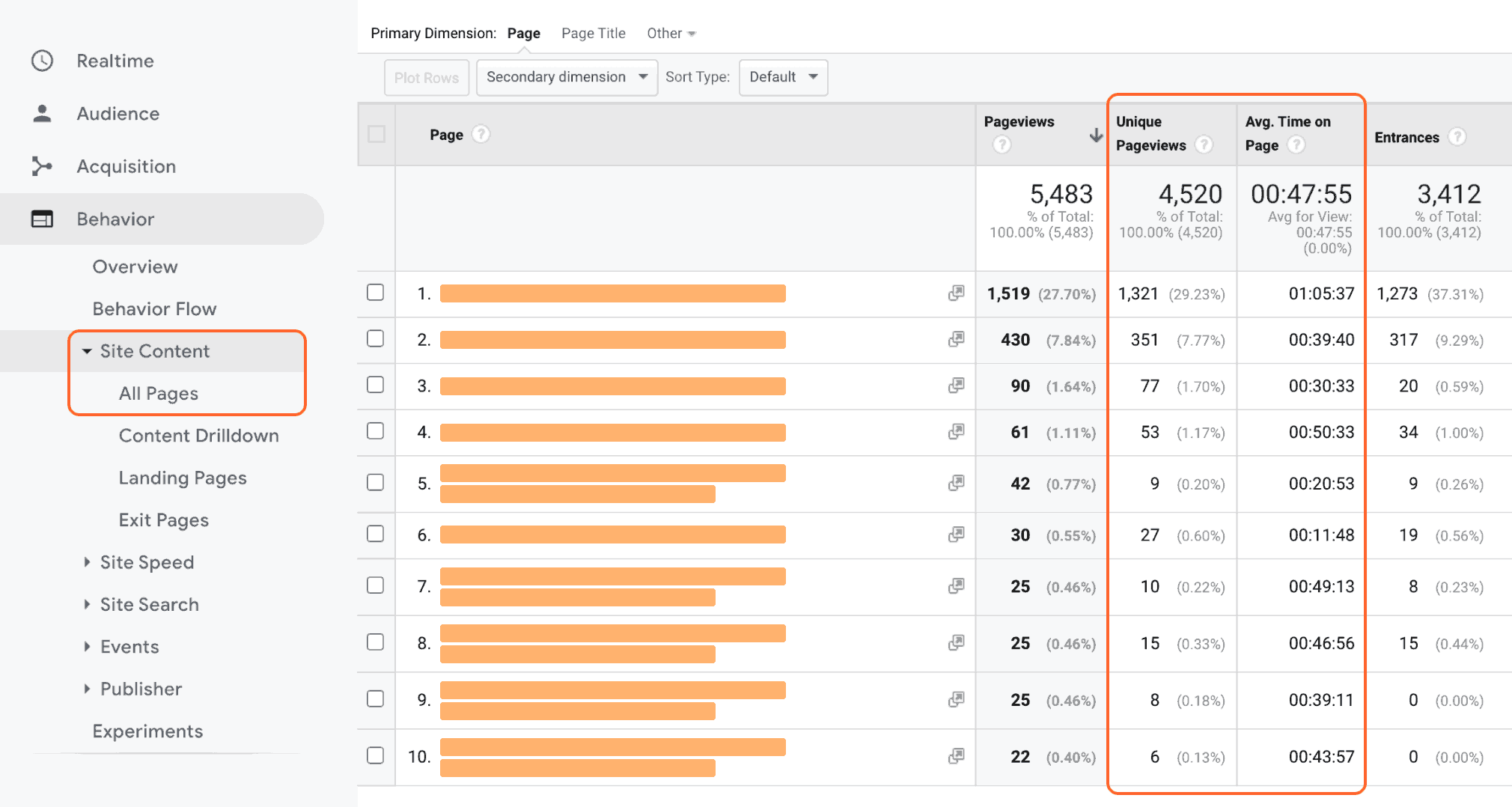 Source: Databox
If a particular page does not get enough views or the bounce rate is particularly high, then the content on the page needs a major revamp. It could also be because the content does not match the title and the audience's search intent. If the bounce rate increases your ranking on search engines is automatically affected since Google does not see the page as valuable to its users.
So, for your content SEO audit pick content with low unique pageviews, low average time on page, and high bounce rate.
Once you've shortlisted all the content to audit, it's best to organize them on a spreadsheet. You can enter the page titles, URLs, publishing date, category (blog, website copy, landing page, etc.), metadata, word count, and any other data that may help with the analysis. You can leave an empty column to add your comments after the SEO content audit as well.
3. Analyze your content and collect data
This is where the real challenge begins. That is analyzing every page thoroughly to see what's lacking and what's working in them.
To make the process more manageable, your content SEO audit can be broken down into the following stages.
Keyword optimization
On-page SEO
Internal links
External link-building
Local SEO
International SEO
Advanced content SEO strategies
Let's look at how to analyze the content at each stage.
Keyword optimization
One of the most important factors that impact your content's search rankings is keyword optimization. If you haven't used the right keywords enough times and at the right places, your chances of ranking with that content are sparse. There are many ways to go about this step of analyzing your content's keyword quality and count.
First, add the existing blog post or web copy as a new task on Narrato Workspace. You can create a separate project on the platform dedicated to updating old content and add tasks under the project. Next, generate an SEO content brief for the page/ blog post title. This brief gives you important keyword suggestions with counts, questions and topics to include, competitor links, and more. It also shows an SEO score for your content based on how well it meets the parameters set by the SEO brief.
You can use another keyword research tool like Google Keyword Planner in conjunction to further solidify your keyword research and modify the content brief by adding any relevant keywords you find using this tool.
Now, you have a clear picture of which keywords have been used and how many times within the content. Keywords shown in green have been used sufficiently as suggested by the content brief. Those in yellow have been used but haven't met the recommended keyword count yet. And any keywords in grey haven't been used at all. So you can add those keywords in, cut down on any excessively used keywords, and increase the count for the ones that haven't been used enough.
This method is a lot simpler than looking for keywords and keeping track of keyword counts manually.
Also make sure that the primary keyword appears in important places like the title, introduction, subheadings, conclusion, and metadata.

On-page SEO
On-page SEO refers to everything you can do on the content page itself to help it rank higher. This includes optimizing the meta title, meta description, header tags, image alt text, content readability and structure, image size, etc.
Check whether your title tags and meta description have the primary keywords in them. If you think the SEO meta description needs improvement, try generating one on Narrato's AI writing assistant. For the SEO meta description use case on this tool, you just have to enter the page title and the target keywords. The AI writer will automatically generate up to three variations of the meta description.
Here's an example.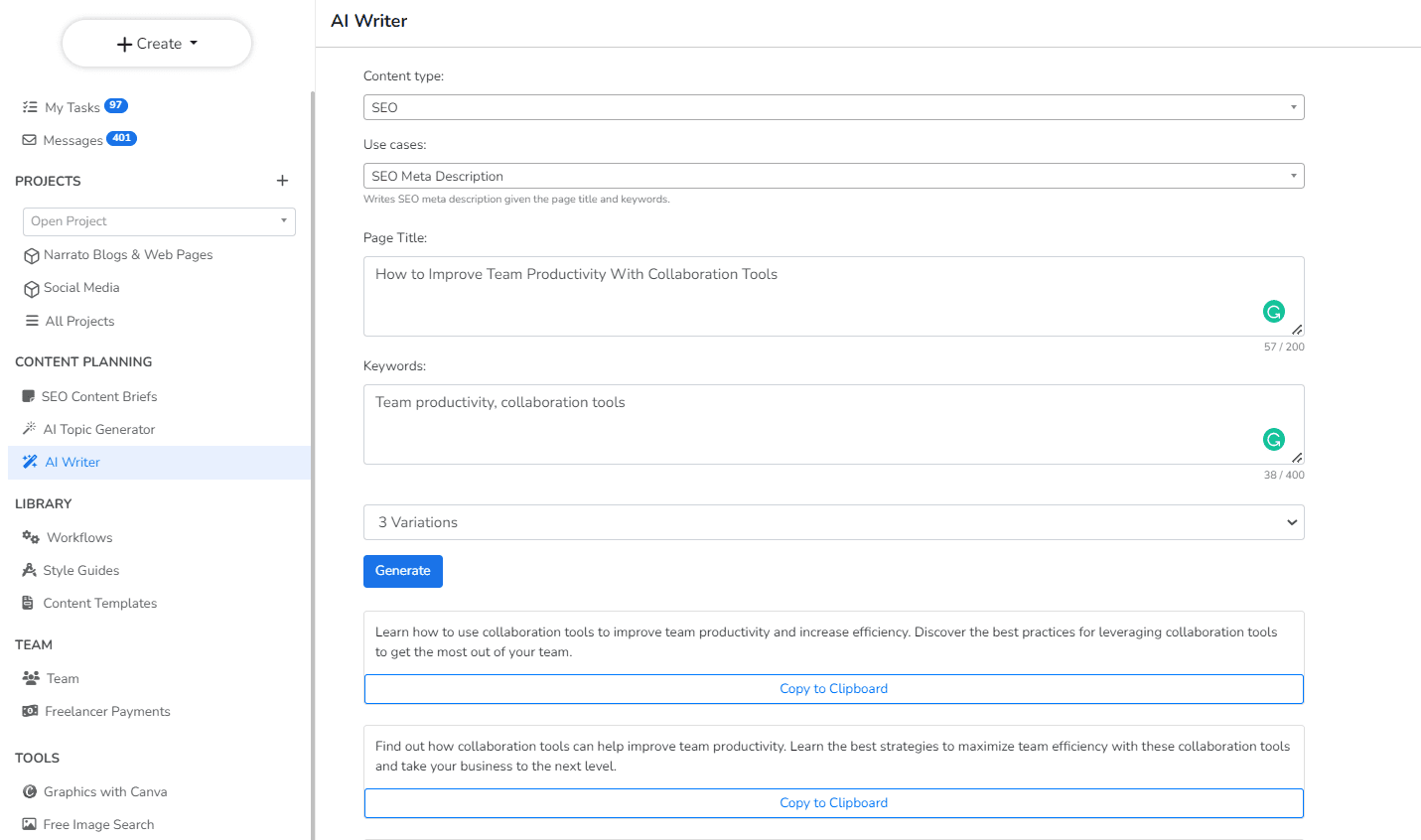 This can be a great time-saving hack if you have a huge lot to audit or if you're running out of words.
Next, check whether you have used the right header tags (H1, H2, H3, etc.) throughout your page. Ideally, the title should be H1, the main subheadings should be H2, and so on. This hierarchy is important for search engine crawlers to understand the structure of your content.
Also, ensure that you use short paragraphs and sentences to improve the readability of the content. Narrato's content editor has a readability tool that offers improvement suggestions and also shows a readability score for your content. It has a grammar checker tool too, that helps you detect grammatical errors in the content and improve content quality.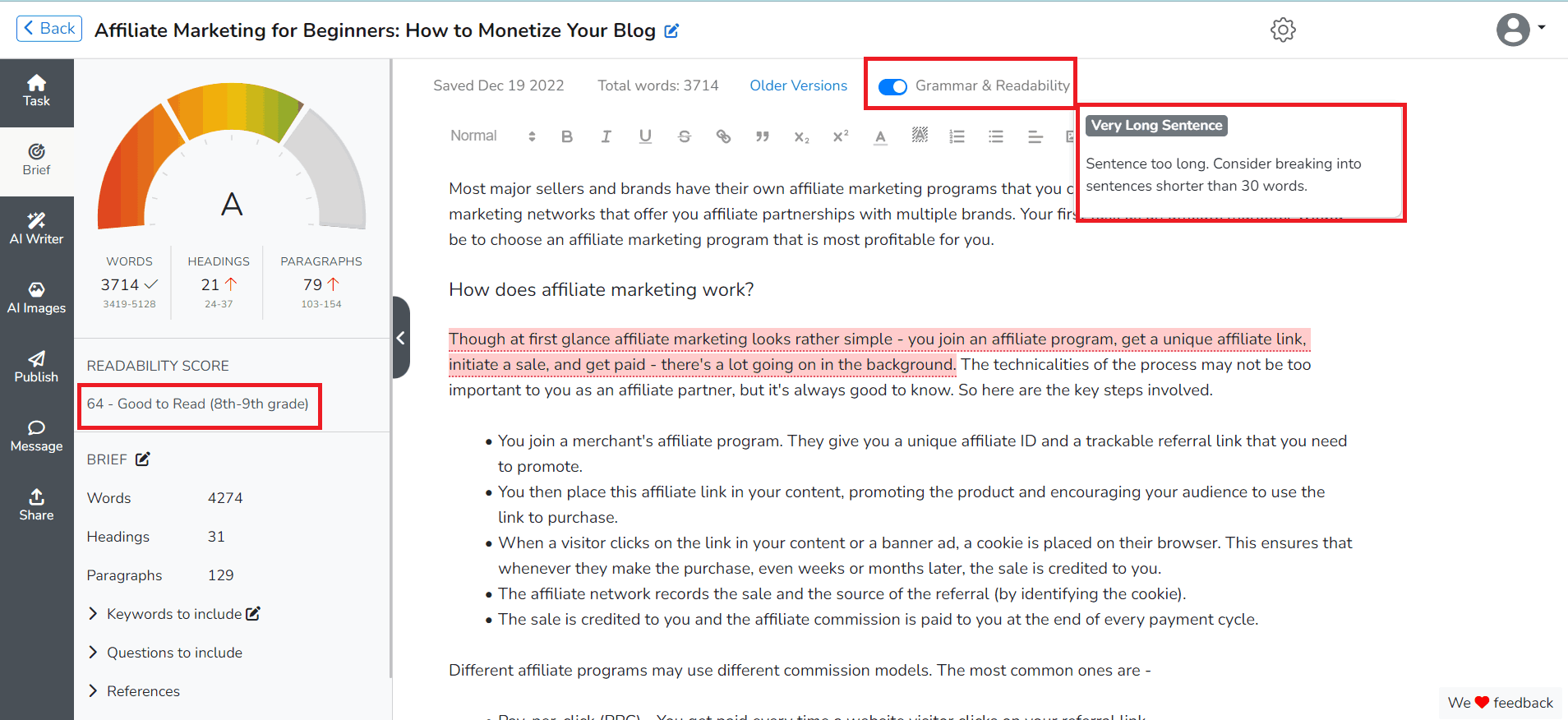 To improve readability and break the wall of text in your content, it is important to use good quality, relevant images after every few hundred words. But make sure that the images you used are optimized as well. The image must be compressed for quick loading. All images should have descriptive alt tags and the alt text should include the primary keyword too.
There are other factors that affect on-page SEO too, such as page loading speeds, responsive design, etc. But that falls under the scope of technical SEO and that's for another time.
Internal links
Next up is your internal linking strategy. Have you added enough internal links to and from your content? If it is a blog post belonging to a topic cluster, for instance, it must be linked to and from the pillar page, and the other pages in the cluster.
Even if it is not a part of a cluster, internal linking to and from other relevant pages within your site can boost SEO. Internal linking transfers authority from one page to another on your site. This gives search engines an indication that your site is an authority in the niche, and that it has several pieces of content around similar topics.
The higher your authority on a topic/niche the better your chances of ranking for relevant search queries.
Make a note of which internal links are already added to the content and look for other pages on your site that can be interlinked.
External link-building
An external link-building strategy is also equally crucial to your content SEO planning. Backlinks from high-authority websites can boost your domain authority. Getting backlinks organically from other websites is, however, tough. Unless your content is extremely valuable, ranks at the top of SERPs, or shares some original research or data, other sites may not voluntarily link back to you. And a low-performing page meeting any of these criteria is unlikely.
So you have to find other ways to build backlinks. Use a good backlink checker tool like the one by Ahrefs, Neil Patel, or Semrush. These tools give you a complete backlink profile for the URL you choose. You will be able to see which sites are already linking back to you and which links you may have lost. You can also use the tool to check which sites link back to the competitor pages provided by Narrato's SEO content brief.
Once you have this data, you can then reach out to new, relevant sites asking them if they'd be willing to link back to your page. Tell them why your content could be valuable to their audience. You can also reach out to the sites that have backlinks to your competitor's content and offer your own link instead, stating why your content is more authoritative.
Another way to build backlinks to your content is through guest posting on other blogs. Most publishers allow a certain number of links within the content, so you have a good opportunity here.
Local SEO
If your content is meant for a specific market/country, local SEO is going to play a critical role. Your content may be very valuable but it is probably not ranking in search because it is optimized for the wrong audience. Implementing local SEO tactics will ensure that it reaches the target audience, and they can connect with it.
Tedious as it may sound, local SEO is actually just a few simple things that you should take care of.
Firstly, when you are doing your keyword research, make sure that you specify the location on the tool. For instance, on Narrato's SEO content brief generator, you can choose your target country or a Global audience.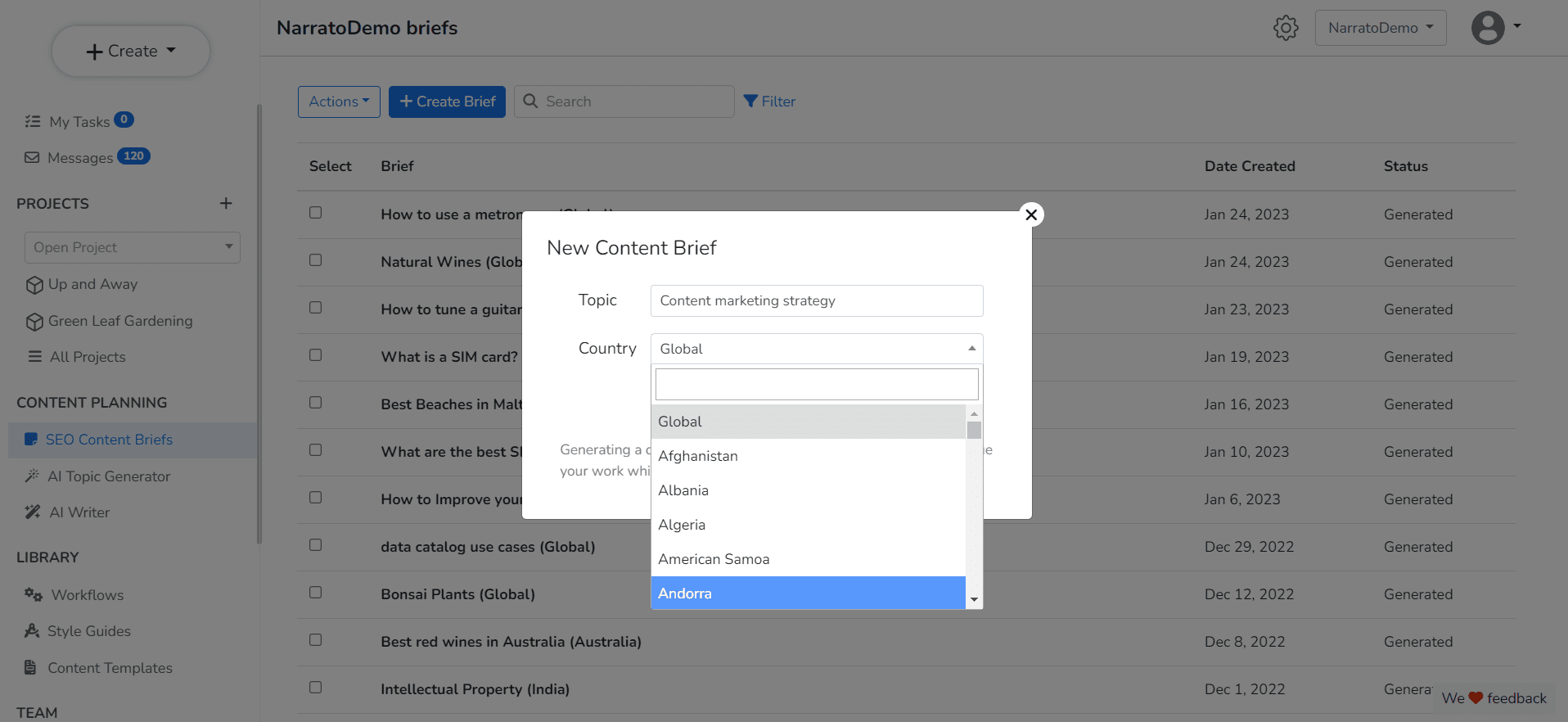 Narrowing down by country gives you keywords that have the highest search interest and volume in that specific region.
You also need to be careful that your content is in a language that the local audience can understand. Narrato lets you run grammar and readability checks in over 50 languages. Even if you are using English, be careful about whether your target market uses U.S., U.K., Australian, or some other variation of English. Any metrics or units of measurement that you use should also be as per the standards in your target country.
If you are including interviews or customer reviews in your content, make sure that these are from people within your target market. This will help your audience find a connection instantly.
Keeping note of these little things can significantly boost your content SEO and help the page rank higher in local searches.
Advanced content SEO strategies
Apart from these general SEO checks, your blog or website content audit also needs to employ a few advanced SEO strategies. Advanced strategies include optimizing the content for voice search, writing for featured snippets, and using AI and machine learning to optimize content, among other things.
Voice search is different from text search as people speak and write differently. While a written query may be short and not always coherent, having just enough keywords to make sense, voice searches can be more elaborate. Searchers generally use long-tail keywords, a lot of how-to queries, and a more conversational tone. Optimizing your existing content to satisfy these characteristics can increase your chances of appearing in voice searches too.
Some good ways to optimize content for voice search are –
Using natural long-tail and question-based keywords
Implementing local SEO best practices
Writing in a conversational tone
Using schema markup for structured data so search engines can understand your context better
Claiming your place in the featured snippets on Google can make a big difference to your CTRs and increase traffic to your page. For appearing in this special section of search results, your content has to be well-structured, must offer clear and direct answers to audience questions, and most importantly, must be highly valuable and relevant to audience search intent.
Some tactics for appearing in featured snippets are –
Using bulleted or numbered lists wherever possible (Use Narrato AI writer's paragraph to bullets use case to do this faster)
Answering the right questions (refer to questions suggested by Narrato's SEO brief)
Keeping audience search intent in mind when creating or reviewing content
Running a competitive analysis to identify content gaps in competitors' content that you can fill
AI and machine learning SEO tools
AI and machine learning in content marketing are making revolutionary changes. From AI content creation to content repurposing to content optimization, the use of these tools is widespread. Early adopters will have a significant headstart, so make sure you're including AI content tools in your content SEO strategy to get a solid competitive advantage.

4. Create an action plan based on the assessment
While we recommend making the improvements and changes as you go during the analysis itself, it is also important to make a note of the required changes in case you can't address all issues right away. On the spreadsheet that you created in the beginning, we asked you to leave a column for your comments. Add all your observations to that column. Some of your content may need to be deleted, updated, or re-structured.
You may also list the content by priority. Add deadlines for each page so your content SEO audit and consequent actions are on track.
Here's a good way to approach it.
Prioritize actions
In creating your action plan, first prioritize your actions based on the content audit goals that you laid out in the very first step. Priorities should be based on how these actions will help you achieve these goals, how much time they might take to complete, and how soon can they show results.
For instance, a simple action like adding more backlinks may take less time and effort but can have a solid impact on your website rankings. But actions like adding more content to a web page or creating a new page entirely can be time-consuming and may take a while to show visible results.
We recommend prioritizing tasks that will bring you quick results and then moving on to the slower, more effort-intensive actions.
On the spreadsheet, sort your content based on the priority you've set.
Create an action plan for each web page based on the content SEO audit
The previous step of prioritizing was for your entire website or blog. The next step is to create a separate action plan for each individual page on the website. Against each web page, you can list down the actions that need to be taken. These usually include one or more of the following –
Re-write, expand, or repurpose the content
Add fresh data and statistics
Re-structure with appropriate header tags
Add images/ videos with alt tags
Resize images already used in the content
Replace broken links with more authoritative links
Add internal links
Revisit and revamp the metadata
Optimize the page URL
Set a timeline for each web page, so the process can be smoothly carried out without any bottlenecks.
5. Revise your content SEO strategy
Lastly, based on your content SEO audit, you need to revise your SEO strategy for better results. Every quarterly or half-yearly content audit will give you some very valuable insights. It gives you an opportunity to correct the things that you may have been doing wrong. A content audit does not just help improve your content for short-term outcomes but also helps you assess and adjust your long-term strategy.
Take a step back and look at the bigger picture. Identify which elements of your content SEO strategy are doing great and which ones haven't been very fruitful. Figure out patterns. Have you had to revisit the link-building strategy for most pages? Were most of your web pages missing some important keywords? Patterns like these indicate that there is something lacking in the basic framework of your SEO efforts. The SEO audit will bring these deficiencies to light, allowing you to amend them and avoid further damage.
Measure the results from time to time and see if the changes have brought any improvement in the outcomes.
Wrapping Up
Content SEO audits give you a second chance at claiming your place at the top of search engine results pages. Making them a part of your quarterly content marketing plan and sticking to them diligently can make a big difference to your content SEO performance. Make sure that you have the right tools and follow the steps we've shared to make the process easier. If you're already investing time in content SEO audits, do let us know how they've helped your content marketing efforts.