Airtable is a SaaS company that is probably known to everyone who is familiar with project management tools. A big chunk of this success is undoubtedly accredited to the amazing products that Airtable offers. But a significant share of their popularity should also go to the Airtable content marketing strategy. Like most other successful brands in the SaaS industry, Airtable too puts a lot of thought and effort into content marketing which has helped them build a loyal following. In this content marketing case study, we will take a deeper look into Airtable's content strategy to understand what they've been doing right.
Airtable content marketing strategy
What we learned from the Airtable content marketing strategy

About Airtable
Airtable is a cloud collaboration platform that was founded in 2012 by Howie Liu, Andrew Offstad, and Emmett Nicholas. In just 10 years, Airtable has gone on to revolutionize the way people use spreadsheets and databases. It offered the same capabilities as a spreadsheet but made it more intuitive and allowed users to build their own customized databases.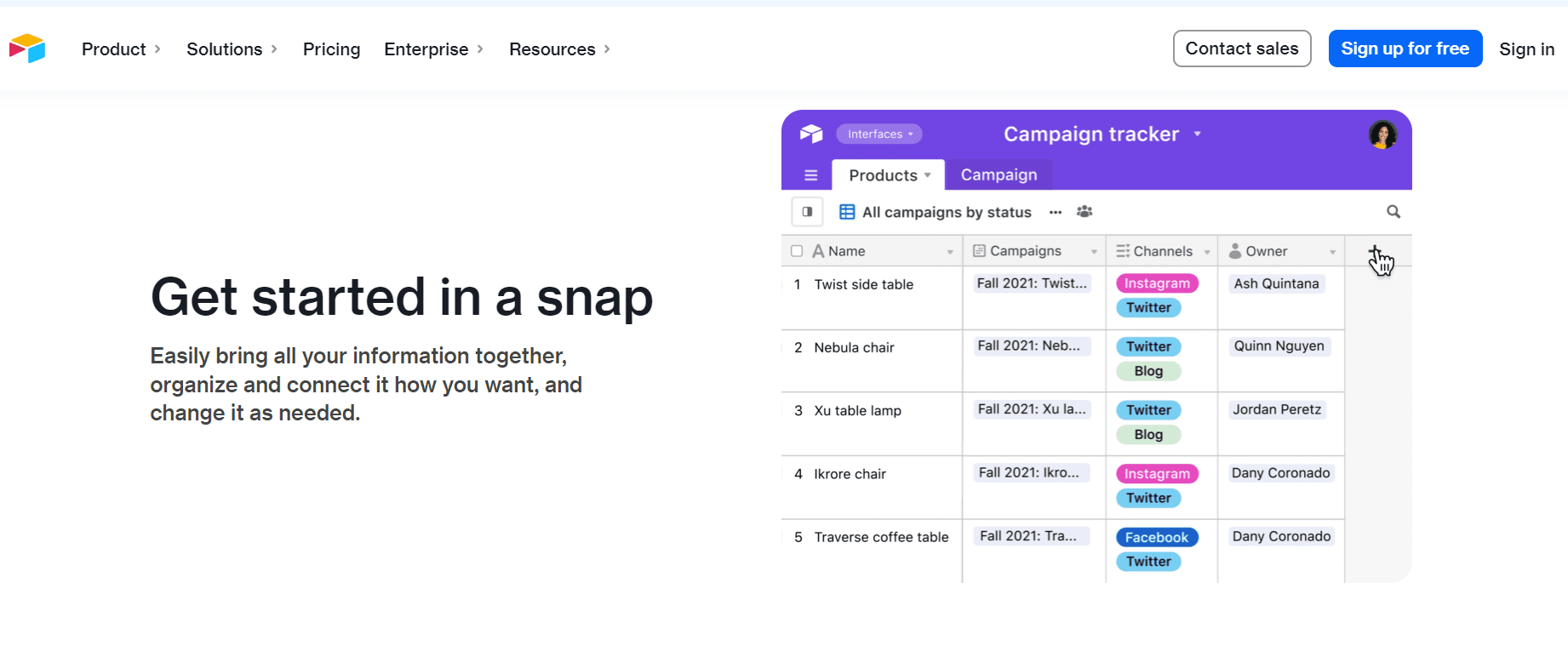 Airtable provides a collaborative platform with multiple views like a gallery, Kanban view, and others, to give teams a full picture of the project and the status quo. Users can also build custom interfaces, build workflows and automate them, and get access to hundreds of templates they can use to streamline their work.
What we're interested in, however, is how this powerful project management platform is backed by content marketing to spread the word and reach the right people.
TL;DR here's a summary video with all the key points from this case study.
Airtable content marketing strategy
In this content marketing case study on the Airtable content strategy, we are looking at all aspects of the Airtable content marketing model. From their extensive and eye-catching blog to their latest ad campaigns, let's dive into the different content formats they have invested in over the years.
Airtable resources
We start by looking at the 'Resources' tab on the Airtable website, which includes a list of all the different categories of content they create and publish. For someone looking to learn more about the platform or about project management in general, the Resources section is a treasure trove. Airtable categorizes its resources based on who might need them and why. They have educational material like guides, articles, blogs, and support docs. Then there are resources for developers that include the more technical content like API docs, custom extensions, and so on.
There are also separate sections like Inspiration where they share customer stories, templates, and industry news.
This neat categorization of content on the Airtable website seems to be a formula for content marketing success among most SaaS businesses. If you have read our HubSpot content marketing case study, you would have noticed how HubSpot's content is also beautifully categorized for its different target audiences.
This categorization of content makes it easier for website visitors to find the right resources they're looking for, increasing their dwell time on the site. When you make your content more accessible, people are less likely to bounce off your site.
Airtable content on the blog
All other resources aside, one of the most important content marketing platforms for any business is the blog. And on this front too, Airtable has never disappointed its audience. The Airtable blog shares all kinds of informational and educational content for its users including instructional posts, research reports, and more. The range of topics you'll see on the blog is equally impressive. They target different audience personas with each of their blog posts, from event managers to product managers to startup founders and more.
Apart from educational content, the blog also shares updates on Airtable's products and features, case studies, and uses for Airtable templates. Though we did not notice Airtable mentioning their product in most of their blog posts, we did see some product-led content marketing approach in their Articles section.
The articles provide simple but highly informative content like how-to articles, step-by-step guides, tutorials, and so on. These are primarily aimed at helping the audience learn basic concepts of data visualization, product management, product design, and related areas. Most of these articles, however, mention Airtable as a tool for implementing the solutions the content offers.
Here are a few examples.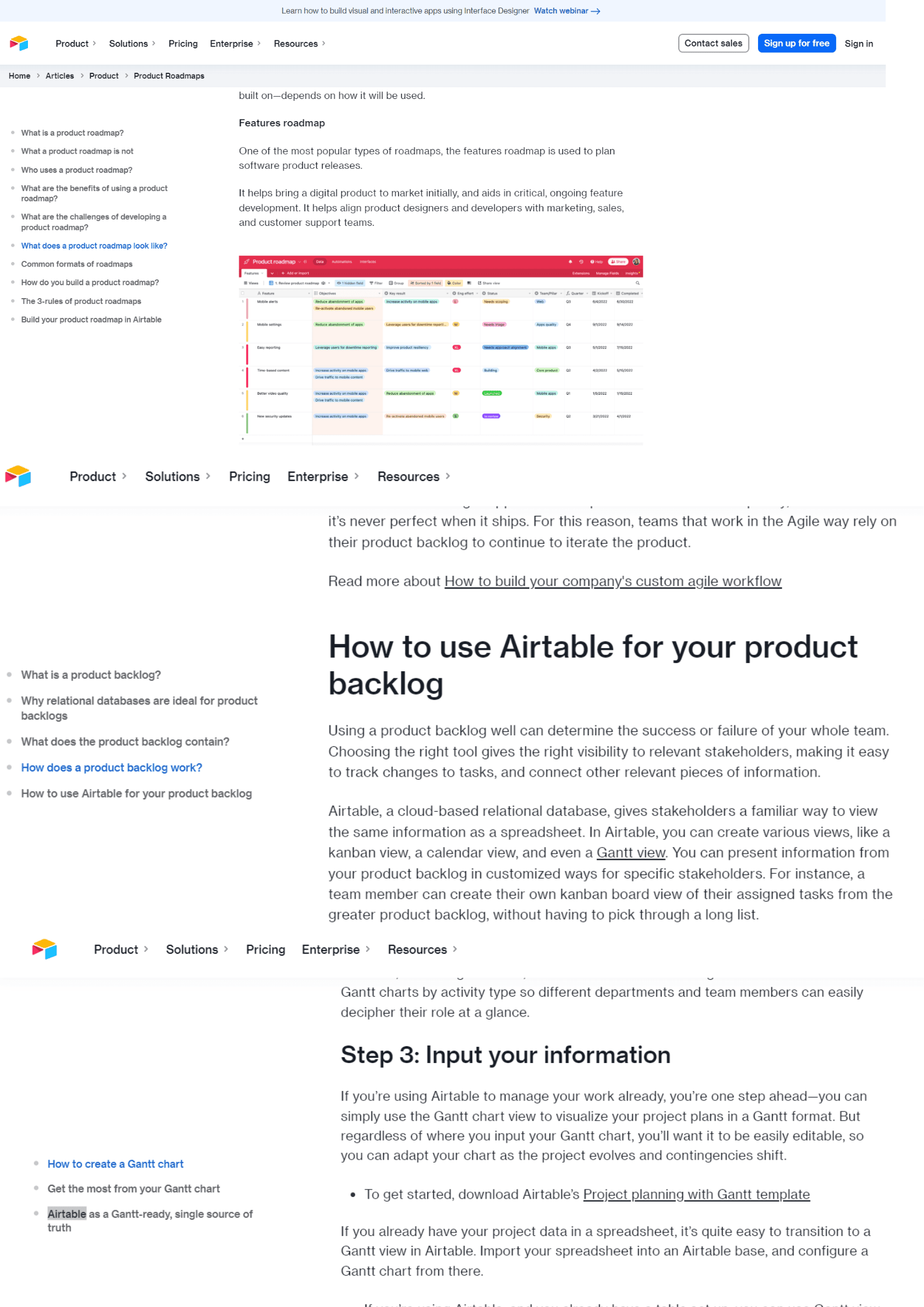 This is what product-led content is about – answering your audience's questions and delivering value but also making your product a part of that solution to build brand awareness. This is one consumer-side content strategy that most successful SaaS businesses are adopting today. Our ClickUp content marketing case study talks about how this industry-leading SaaS company also ditched traditional content marketing tactics and saw huge success with product-led marketing.
Inspiration for prospective Airtable users
Another thing that we found to be in common between how Airtable attracts users and other leading SaaS brands like Notion is their customer stories. Our content marketing case study on Notion talks about how Notion shares social proof in the form of Inspiration on its website.
Airtable does the same. There is an Inspiration section under Airtable resources as well, that shares customer stories and case studies. These stories talk about how different brands overcame their challenges and achieved success using the platform. Airtable even has case studies and customer testimonials from major brands like Netflix, Time, and GitHub.
These customer stories are a great way to build credibility for your brand. Your existing customers are the best advocates for your product and a few good words for them can go a long way in building trust among your audience. Companies like Airtable understand this and make sure to leverage these customer stories as social proof.
Airtable on social media
Airtable posts regularly on all the major social media platforms, including LinkedIn, Twitter, and Instagram. Their social media content primarily consists of blog post promotions, event promotions, and updates, particularly on LinkedIn. Unlike some other SaaS brands, Airtable does not share too many witty or funny memes and trending reels. But the brand has its own way of engaging its audience, while maintaining its brand image.
On their LinkedIn feed, you will often come across questions for their audience around how they are using Airtable. They frequently conduct polls which are also mostly related to Airtable use cases. These posts serve two purposes – driving engagement, as they start a conversation with their followers, and letting people discover more uses of Airtable as a platform.
Here are some examples from Airtable's LinkedIn feed.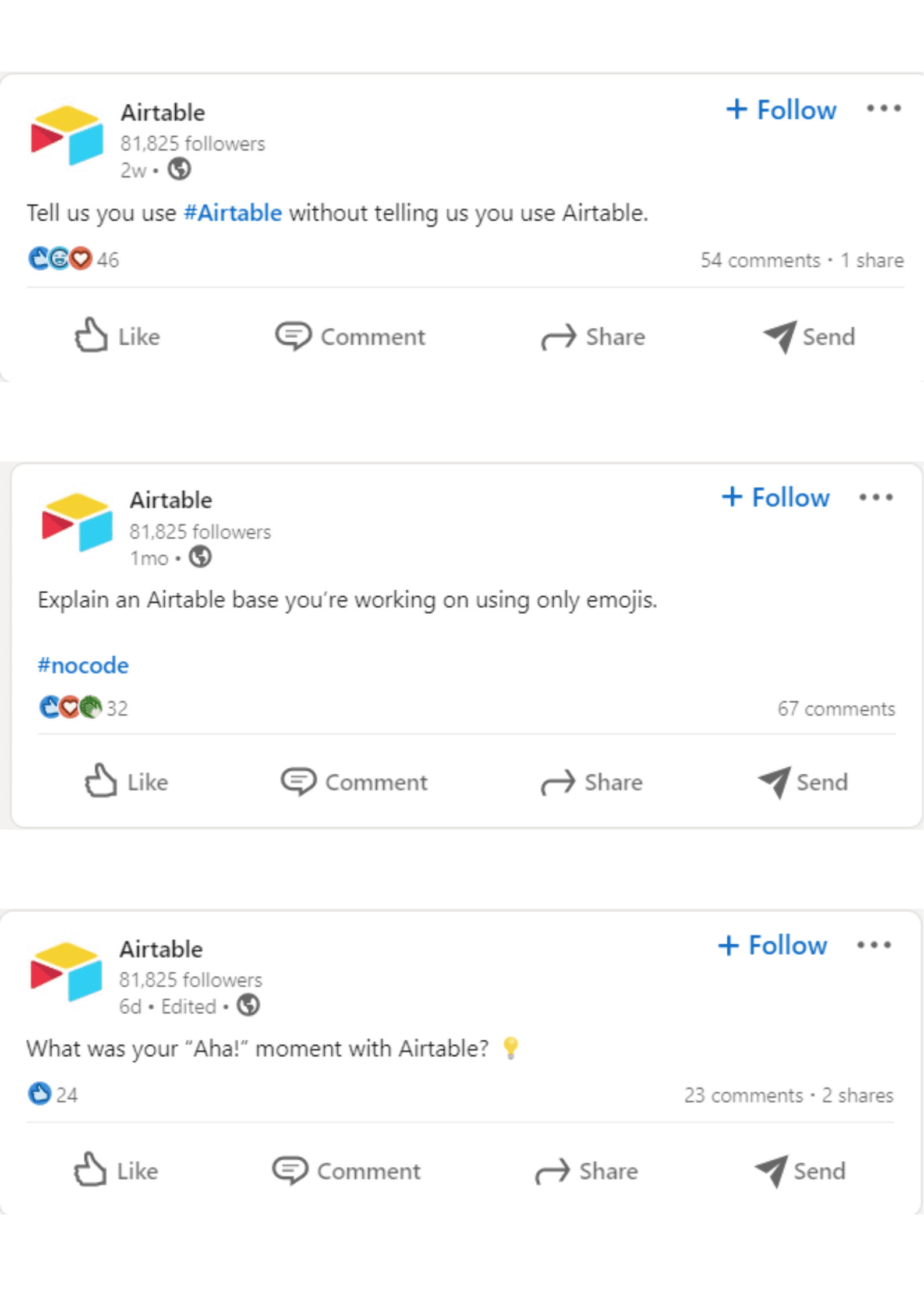 From Airtable's social media content it is quite evident that the brand focuses more on building a strong community around itself rather than running after virality. We observed a similar approach in our case study on Marketo's content marketing strategy. With content like this, your following may grow slower, but those who do follow you have intent and relevance.

Airtable on YouTube
YouTube is another major marketing channel for all brands and businesses today. So having a YouTube channel is undoubtedly a part of every strong content marketing strategy. But just having a YouTube channel is not enough. What content you publish here decides whether you will be able to outrun the competition in your niche.
With 18.6k subscribers, Airtable has surely done something right with YouTube content marketing. For any Airtable user or prospective user, the YouTube channel has an extensive knowledge base with various playlists to help them get familiar with the platform. There are several videos on workflow management and design, getting started with Airtable, tips and tricks, and more.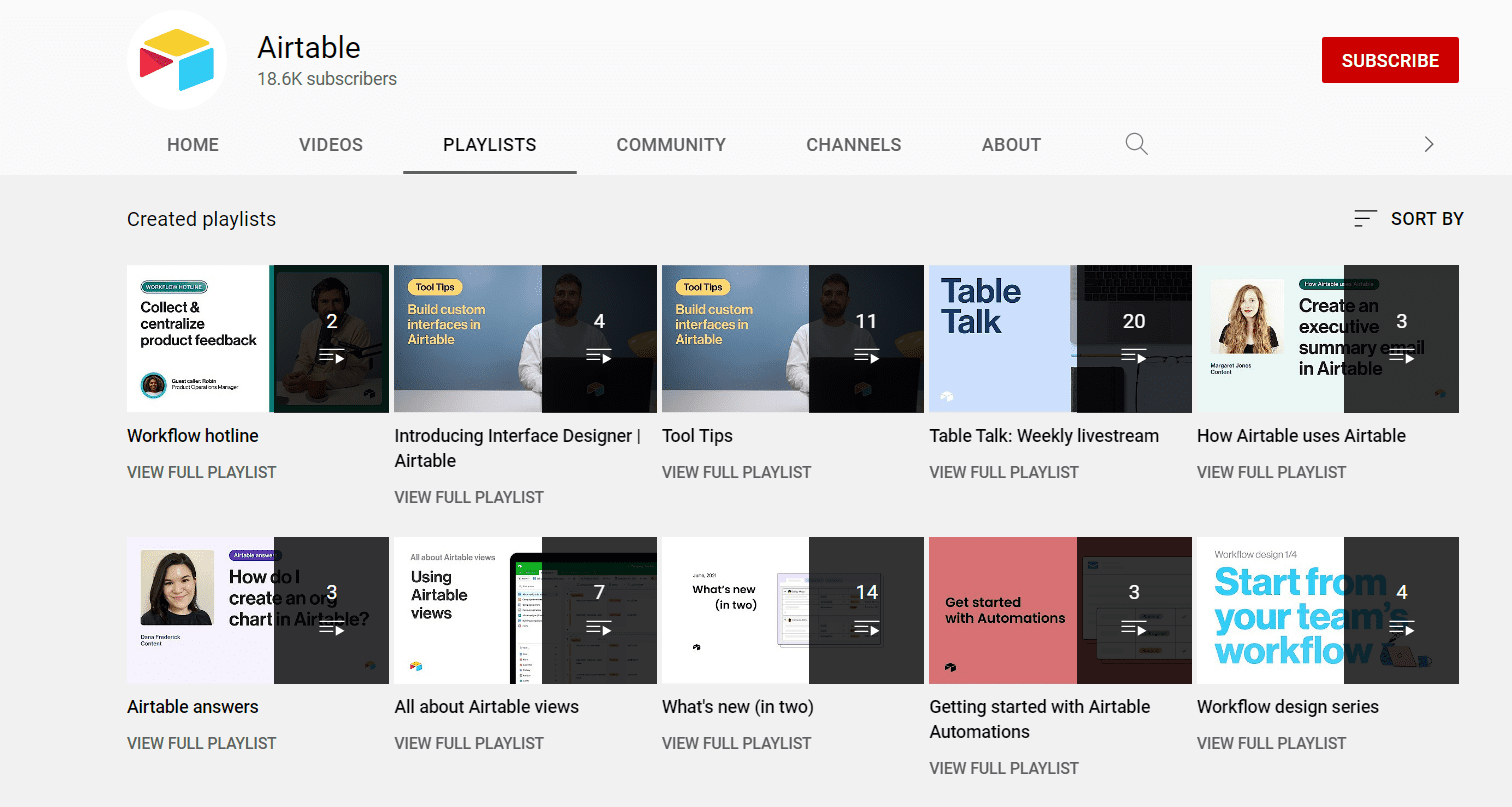 Their video content on YouTube also includes case studies. These are very tastefully shot interviews and behind-the-scenes with their customers showing how Airtable helped them transform their creative operations or product operations and so on. Because what's better than reading a customer testimonial? Obviously, hearing it from them.
The channel also has a 'Table Talk' series which is their weekly live stream. Their team members usually answer audience questions and share valuable insights on how to use the different tools, which is a great way to give a face to the brand. When people get to see the faces behind the brand or the product they're following, it immediately builds a stronger personal connection.
The Airtable YouTube channel basically ticks all the boxes when it comes to offering enriching and diverse content to its audience. Whether you're looking to streamline your content marketing workflow or build an organizational chart, there's something to learn for everyone on the channel.
Airtable's 'This Is How' campaign
One noteworthy thing on Airtable's YouTube channel that we did not want to club with their other video content is their latest 'This Is How' campaign. It is an ad campaign that shows different scenarios where Airtable can help a business grow. Every single 15-second ad takes you through these multiple environments where different professionals are using Airtable to achieve different goals.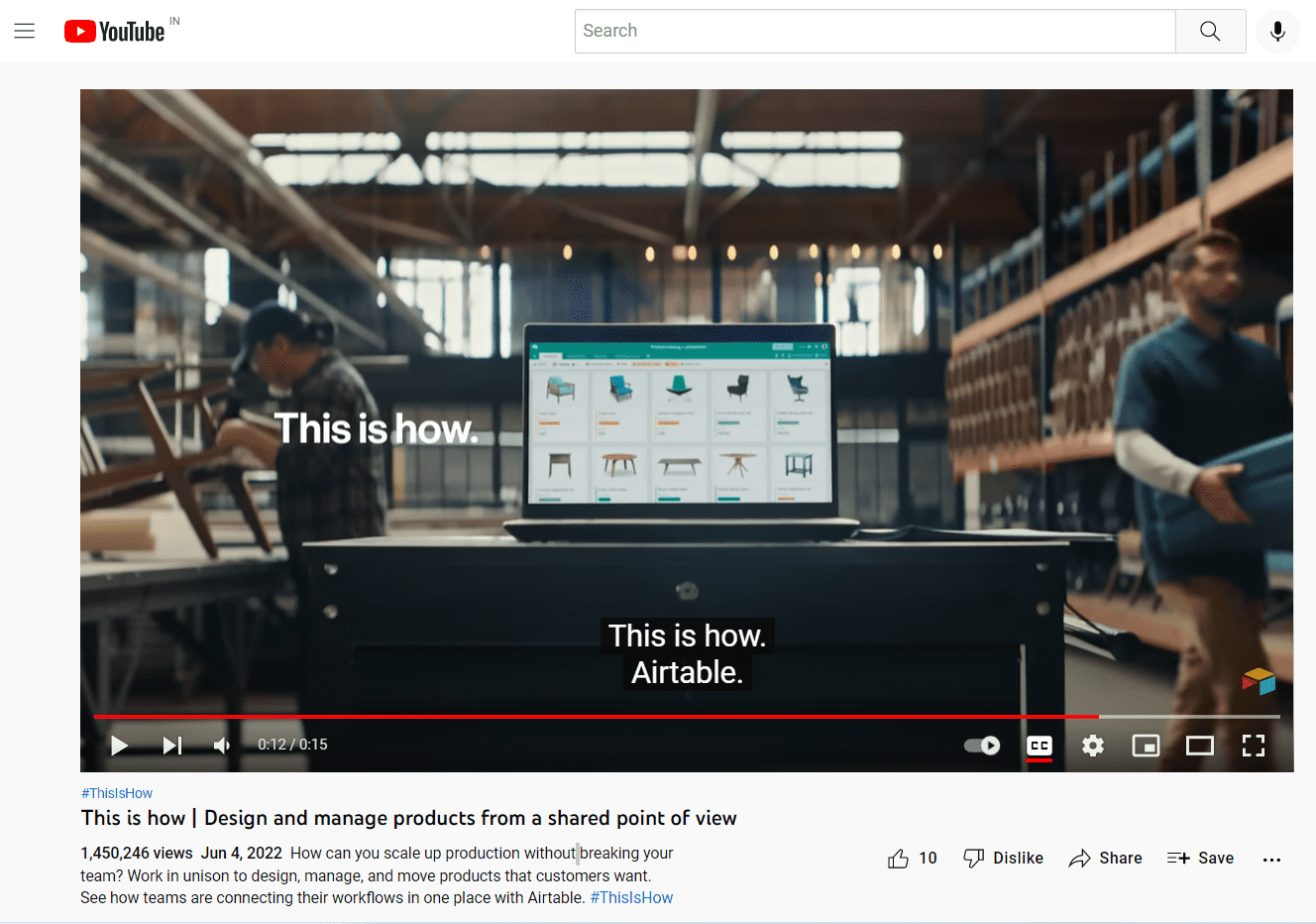 The ad campaign succeeds at positioning Airtable as a dynamic tool that any team can use to organize and streamline their work. Airtable's versatility and flexibility are something they have been promoting as their USP since the very beginning. And this campaign fits the bill perfectly.
The Airtable community
We've seen before how Notion leverages user-generated content from its user community as a way of supporting users. Airtable has a similar approach. The Community Forum on their website is very well categorized and quite active as well. Apart from regular announcements and updates, the community has categories like 'Ask the community', 'Show and tell', and 'Development and integrations'.
'Ask the community', for instance, lets users post questions seeking help for using and setting up Airtable. By getting their user community to interact, Airtable significantly reduces the load of content creation and customer support on their team. The 'Show and tell' category is even more interesting as this is where you would find most of their user-generated content. This category allows users to share knowledge, tips, and projects they're working on using Airtable.
This gives their audience a lot more practical and actionable content to engage with. Here's an example of the kind of content the community shares.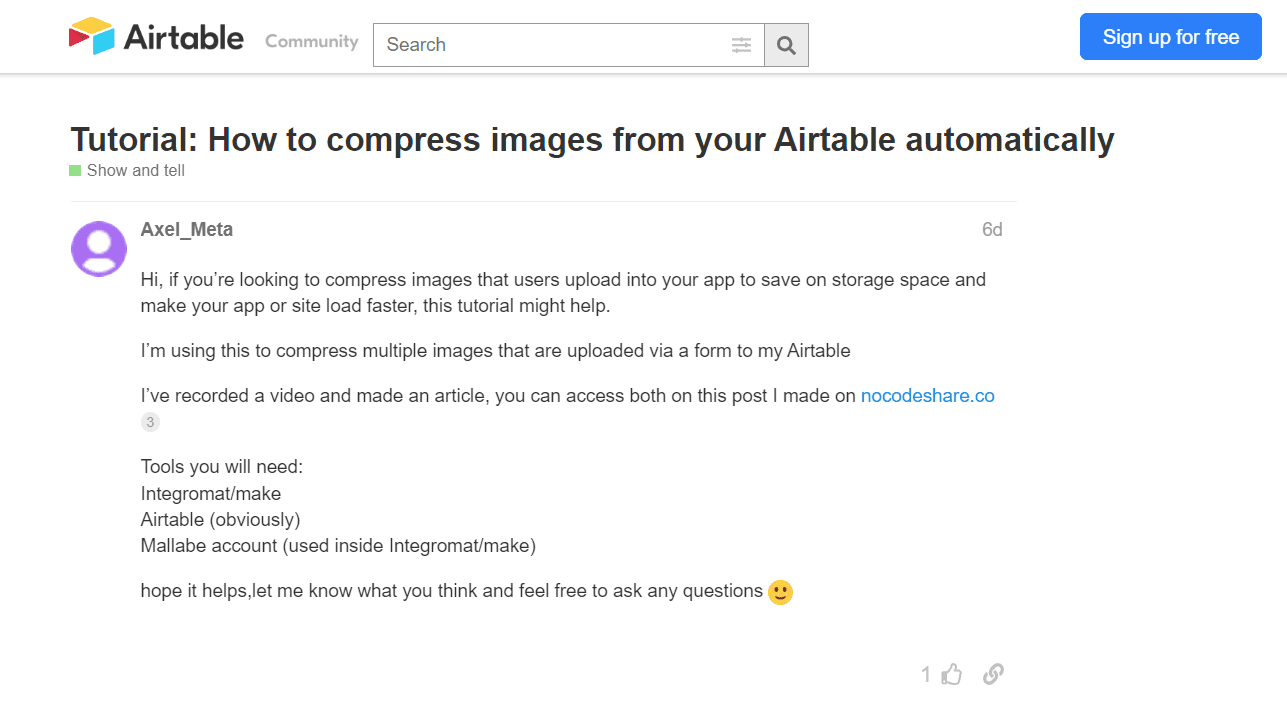 Podcasts in Airtable's content plan
Podcasts today are selling like hotcakes with the audience base growing at a steady rate over the years. And brands that have included podcasts in their strategic marketing plan have seen results, which is why 82% of marketers continued to invest in them in 2022.
Airtable may not have jumped onto this bandwagon yet, but the founders have made sure they feature in quite a few podcasts themselves spreading the word about their brand. From OpenView to Secret Leaders, Howie Liu has interviewed for many popular podcast channels in the recent past. He's been sharing knowledge on running startups, building new products and the future of low-code and no-code software among other things. Apart from being valuable to the listeners, these collaborations are a great way to reach a new, untapped audience for the brand.
Airtable templates
Templates are a significant and huge part of Airtable's content marketing plan. The easiest way to probably get a customer to use the product is by providing them a template that they can start with. It makes the job easier for them while also building goodwill for the brand. Airtable leverages this marketing strategy in every way possible.
Under the Resources section on the Airtable website, you will find a dedicated templates tab. And what templates does it store? Probably everything you could ask for. From editorial calendar to event planning to applicant trackers, there are tons of templates for all industries and niches.
This image shows only a small section of the range of templates Airtable offers.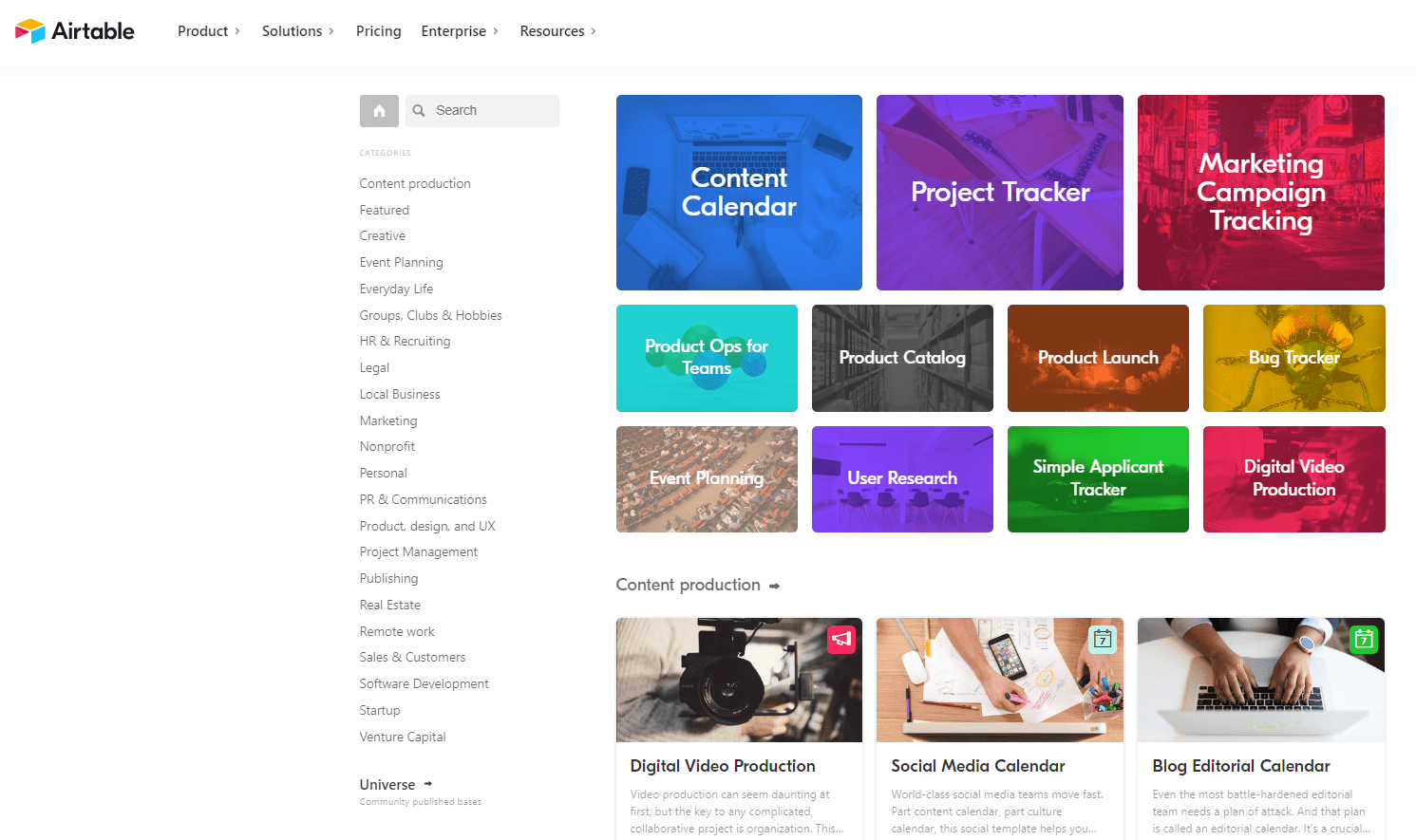 Airtable also publishes articles and blog posts recommending the best templates to use for a particular function. This is probably one of the smartest ways to generate product-qualified leads for your business.
Airtable already has a freemium model. That is, they have a free plan for users who want to explore the product. Giving them the right templates to work with encourages them to use the free tools. Once they see the real value the platform can provide, they are more likely to convert into paying customers. That is the whole purpose of product-led content marketing, which Airtable has mastered.
From an SEO point of view as well, these templates help Airtable make the best use of the audience's search intent. When you search for any kind of content marketing management, product management, project management, or other templates online, there will probably be at least one result from Airtable. Targeting these high intent keywords they are able to draw huge traffic to their templates landing page. Most of these visitors are bottom-of-the-funnel leads and very valuable.
What we learned from the Airtable content marketing strategy
From this elaborate and well-thought-out content marketing plan that Airtable is executing with great flair, here are a few key takeaways we'd like to highlight.
The primary goal of Airtable's content is to educate and support its audience, which is always a winning strategy
With tons of how-to articles, guides, tutorials, etc. Airtable is building authority while also answering its audience's most relevant questions
Video content plays a key role in brand building today. Introducing the audience to the faces behind the brand is a great way to build human connections and trust
Social media content does not always have to be viral. You can engage your audience through relevant conversation starters, questions, and polls like Airtable does
Airtable's ad campaigns are very much in tune with its brand positioning as a diverse and flexible project management platform
Product-led content plays a central role in Airtable's content plan like most other successful SaaS brands
Interviews and podcast features can be a great way to increase your reach and generate brand awareness
Airtable templates help them target high-potential leads and turn them into product-qualified leads
There's a lot that budding content marketers can learn from Airtable's content marketing strategy. We hope this content marketing case study helps you understand some of the brand's most successful yet subtle content marketing tactics that you can implement in your business as well.
Looking for an Airtable alternative for content marketing?
Airtable is a diverse platform that can help you organize your efforts in any field of work. But when it comes to content marketing, there is a lot more you need than Airtable can offer. Content teams juggle multiple tools for content planning, creation, collaboration, and publishing. Airtable can only help you with a few aspects of this effort-intensive process – as all you can do here is create sheets and databases. To consolidate your entire content process on a single platform, you need something like Narrato.
Narrato is an Airtable alternative for content marketing teams that brings all your content operations to one place. It offers content ideation tools, an SEO content brief generator, content creation and optimization tools, team collaboration features, publishing support, and more. Give Narrato a try!