For many professionals in the content marketing space and beyond, Notion has become a way of life. With its many tools and capabilities, which include note-taking, document management, content calendars, project management, and many more, it has become an indispensable asset for its users. And it's not just people in corporates who rely on Notion, but also students, entrepreneurs, freelancers, and so many others who vouch for this platform. So how does Notion's content marketing strategy contribute to the immense popularity the platform has gained among such a diverse audience? We try to find that out in this content marketing case study on the Notion content marketing strategy.
– The Notion content marketing strategy
– What we learned from the Notion content marketing strategy

About Notion
Notion is an all-in-one workspace that offers productivity and collaboration tools for all kinds of teams and for individuals too. From taking meeting notes to building project workflows and product roadmaps, there's a lot you can do with Notion. The idea behind building this platform was to minimize the hassle of juggling multiple open tabs and tools and blending everything you need for project management into one workspace. Pretty much what we at Narrato do as a content workflow tool for content teams.
But that is not all that has helped Notion build a brand and a firm ground for itself in the SaaS industry. Content has played a central role in all of Notion's endeavors. You will notice it the moment you land on Notion's website. From the way they have woven a story on their 'About Us' page to every article on their blog, it is evident that they are a step above most other SaaS businesses in terms of content creation and delivery.
Notion's audience does not include people from a single industry or role. They cater to an audience that includes people from small businesses, large enterprises, sales, accounting, HR, marketing, product, engineering, and others across various industries. Having such a diverse audience base and still managing to consistently keep them all engaged is commendable. So let's dissect Notion's content marketing strategy and gather some insights.
The Notion content marketing strategy
TL;DR Here's a quick video with the key insights into Notion's content marketing strategy.
A horizontal content marketing approach
Because Notion's audience is so diverse and wide, its product and marketing efforts had to grow horizontally. The marketers at Notion could not afford to pinpoint and focus their content creation efforts on a single niche or area. This is what you'll see in most of their content. Be it their blog or social media, Notion has been constantly putting out content for different audience segments and personas, and making them all equally interesting.
But while a diverse audience did present new opportunities for the marketing team at Notion, it also meant that they had lots of questions to answer through their content. Since there are so many ways one can use the tool, it is likely that many people struggle to get the hang of it. This meant Notion had to do very careful content planning and constantly look for gaps in their content that needed to be filled.
Audience segmentation and content planning
Notion's early stage content was more inclined toward educational and help content. But a content strategy cannot rely on educational content alone. They also needed marketing content to reach more prospects. It was only in 2020 that Notion's content marketing engine truly fired up, as Cory Etzkorn – Designer & Engineer at Notion – mentions in this article. Until then they had been creating very few blog posts and mostly focused on customer support and help articles.
When the content marketers realized the growing importance of marketing content, they started creating more blog posts, guides for potential users, and several new landing pages. In fact, they rebuilt their entire marketing site, which was an extension of the core app until then. And along with it came the need for audience segmentation.
Effective customer segmentation would help them decide what content types to focus on and which of their existing content to reuse. They needed to understand how different user personas could be working with Notion and what kind of content they could be interested in.
If you look at the Notion blog, their marketing content which is mostly clubbed under the 'For Teams' section, has blog posts for their different audience personas like startups, engineering teams, learning and development teams, and more.
There are still very few articles on their blog right now, but in the long run, this understanding of their audience personas will help them deliver more relevant content.
Creating helpful content that resonates with the audience
Audience segmentation would still be of no use if you are not creating great content that resonates with each segment. In an interview with Mission.org, Notion's Head of Marketing, Camille Ricketts, mentioned that great content has to be either helpful to your audience or must stir up emotions. And this is true even for B2B marketing, because the decision-makers, in the end, are humans.
This is probably why most of the articles on Notion's blog are how-to articles, productivity tips, guides, templates and the likes. Camille also mentions that for a small content marketing team with such a wide target audience, it is extremely important to use their resources well and focus on their strengths to drive results.
For this, Notion began by targeting a much broader segment that they knew would find value in their product and then went on narrowing down from there. This is quite evident from their content in the early days of their blog, which primarily targets Startups.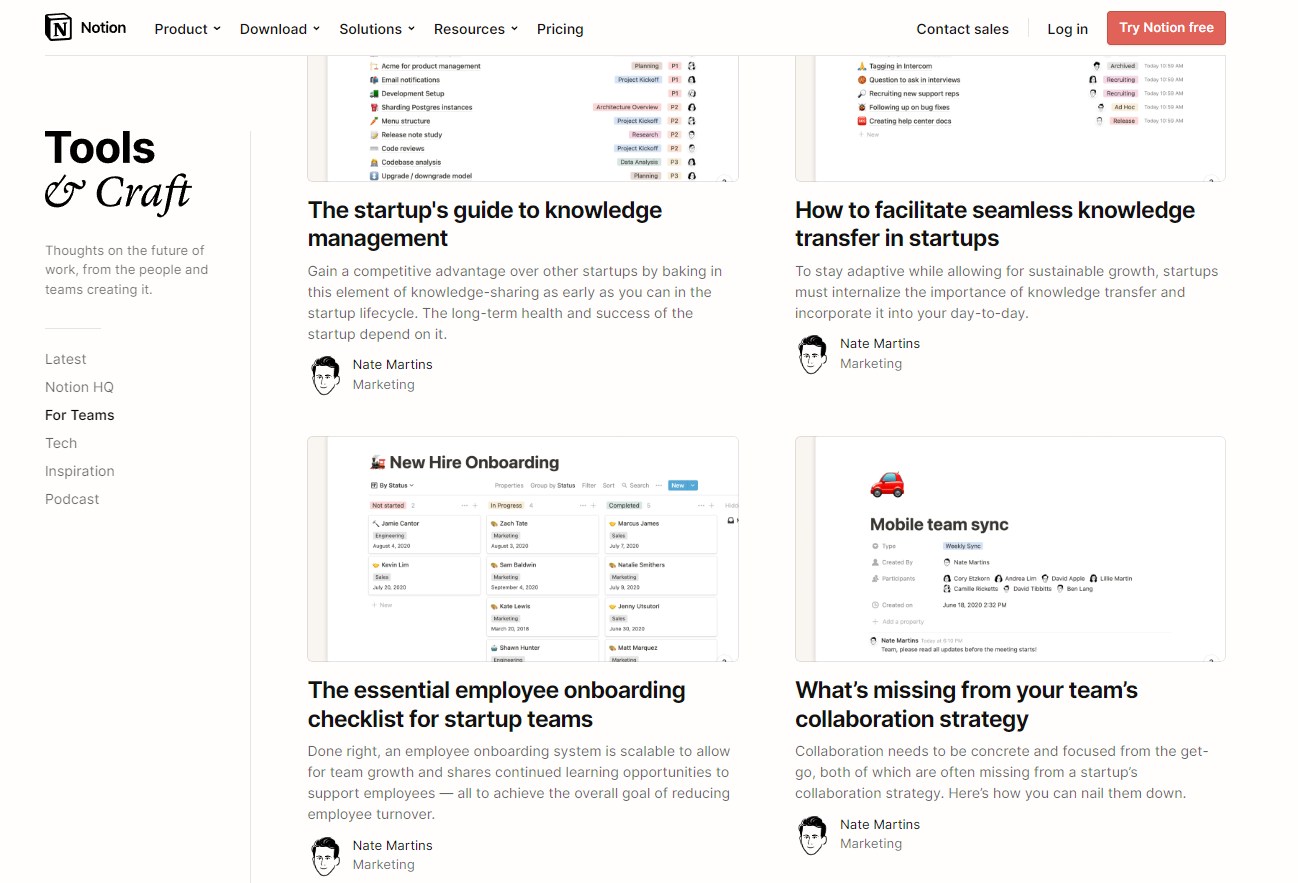 And as you navigate to the newer posts on the blog, they have content related to product management, project management, engineering, and so on. So the content creators and marketers on Notion's team are conserving their energy by focusing on startups as their primary target. And within this segment, they are gradually branching out and generating content ideas for various teams and corresponding use cases. This approach has helped them gradually scale their content production efforts, instead of going all guns blazing at once and exhausting their resources.
Product-led content that is customer-centric
One notable characteristic of Notion's content is that almost every piece of content has a mention of their tools. Through keyword research and meticulous content planning, Notion's content creators always come up with topics and content ideas in which they can seamlessly include their product. And given the wide range of use cases and DIY nature of the platform, it isn't very difficult to incorporate it under most topics.
Take this article on the Netflix Branding Framework for example.
The article is sure to kindle some interest in their target audience, which consists of startups and budding entrepreneurs looking to build a brand. But very early on in the article, they also draw attention to the fact that you can build a similar framework using Notion.
What a great way to promote the product while also helping your audience get something out of it! This is what product-led content marketing looks like and Notion has been doing it excellently.
Here's another example of an article on creating product launch checklists. Look at how the feature image of the article itself flaunts Notion's product launch checklist template. The article also includes a GIF on how to use the product launch checklist later on. You can also try the Free GIF to MOV converter from PlayStory.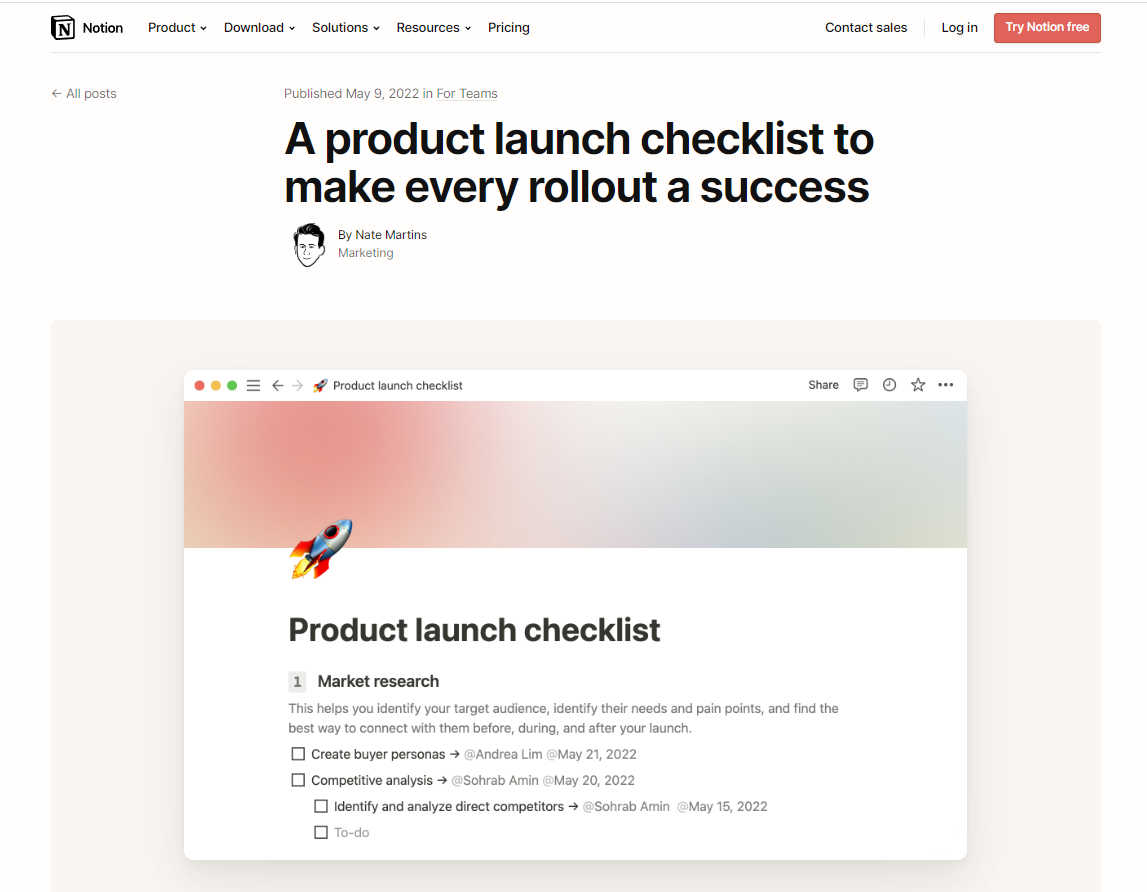 This is an approach that you would find most successful SaaS businesses to be adopting. If you've read our ClickUp content marketing case study or the HubSpot content marketing case study, you'd know that these companies also have a very strong product-led content strategy.
Moreover, the product-led content that these SaaS brands create is always customer-focused. They carry out extensive research on what customers need and weave their content around these needs to present their product as a solution. Notion's Camille Ricketts has reiterated this in many of her interviews, that quality content marketing isn't necessarily about pushing your brand or product. It is rather about finding out your audience's problems, finding ways your product can solve those problems, and offering those solutions through great content.
Blurring the boundaries between marketing content and educational content
Another commonality between most successful SaaS businesses is that their educational content is not entirely separated from their marketing content. On Notion's site too, you will find a lot of educational content in the form of guides and tutorials, webinars, and so on.
These guides are usually very quick reads and cover different topics right from 'how to get started on Notion' to 'how to build a wiki for your company'. Though it may not seem like marketing content to most people, this educational content placed alongside the marketing content plays a huge role in brand building.
It shows potential customers that the company offers ongoing help and support to its users, helping them discover new uses of the product. For existing customers, this educational content helps them find more value in the product. Eventually, it leads to both customer acquisition and customer retention in the long run.
Social proof in the form of Inspiration
Another very smart move that Notion has made is the Inspiration section on their blog. The Inspiration section is a way of sharing stories of other people who have achieved success in their fields building tools that propelled their growth. It is meant to inspire other readers on the Notion blog.
But if you look at these stories, you will find that most of them talk about how these people achieved success using Notion. So they're very much like case studies but presented with a different perspective. They talk about how other people are successfully using Notion, but with an intention of helping you find similar uses. A lot of this content in fact comes from Notion's community, which we'll discuss in a while. It is social proof at its best.
This tactic seems to be popular with most successful SaaS brands. If you've read our Airtable content marketing case study, you would find that they too have a similar section under resources that shares customer stories.
Notion's social media content
Notion has a presence on most of the major social media platforms, including LinkedIn, Twitter and Instagram. However, we noticed a significant difference between their social media posts on these platforms. Here's an example of a LinkedIn post by Notion.
While their social media content on both LinkedIn and Twitter is more inclined towards quick productivity hacks and tutorials with a short video or GIF, on Instagram their content is rather minimal.
This makes sense, as each of these social media platforms has its own set of audiences. People don't expect you to post the same long-form educational content on Instagram as you would do on LinkedIn, and Notion has taken note of that.
Notion's video content on YouTube is extremely interesting too. It shares everything from podcasts with industry guests to video tutorials on using Notion. Their video content is extensive and very useful for their users.
Building a community around content
One of the strongest points about the Notion content marketing strategy has to be the Notion community it has built to generate more content for the brand. With so many users of the platform across so many different industries all over the world, the community itself serves as a great resource for Notion users. There's no better way of leveraging user-generated content than this. In the Marketo content marketing case study, we found that Marketo uses a similar approach of building a community around their product through Marketing Nation.
Community members share templates they've created on Notion, host events and webinars, and exchange all kinds of trade tips that help the community grow.
With users supporting each other, we can assume that the brunt of content production on Notion's content marketing team is a little lesser. Also, their community support is not limited to their own platform but extends to Facebook groups, Reddit, Twitter, Clubhouse, Discord and other platforms too. This helps them reach out to more people and more potential users can discover Notion.
Some of the Notion Ambassadors also have their own YouTube channels and websites where they share tutorials and guides to Notion, with thousands of followers.
Dedicated design and development team for content marketing
One thing that has probably caught everyone's eye is the uniformity in the design on all of Notion's content. You look at their signature black and white sketches and graphics, and you can instantly tell it's Notion content. That is because Notion has a dedicated team of designers and engineers to work with their content marketing team, says their Head of Content.
This is extremely important for building a brand identity. It also gives them a lot more autonomy in terms of building great user experiences with content. The marketing team doesn't have to keep waiting for designers from other teams to be available to build and test their designs. So the content marketers and designers can readily build, test, and run all their content much faster and this has to have a positive impact on the outcomes too.
What we learned from the Notion content marketing strategy
After breaking down the Notion content marketing strategy from everything we see on the surface, here's what we observed.
Content marketing is not just about acquiring new users but also retaining the existing ones with ongoing support content, which is indeed the bigger challenge.
When starting out, aiming for a broader but relevant target audience gives you a better chance of connecting with more valuable leads. You can then draw your focus to smaller segments as you grow.
Product-led content is the star of all SaaS marketing strategies right now. Almost every SaaS business that has mastered it, like Notion, is hugely successful.
Finding innovative ways to include social proof in your content can be a great way to market yourself, instead of always using traditional tools like case studies and user testimonials.
Leveraging your community to generate new, fresh content not only eases the load on your marketing team but also gives you brand ambassadors happy to spread the word for you.
Looking for an alternative to Notion for your content team?
Notion is an amazing one-size-fits-all workspace for various use cases and there's no doubt about it. But content creators and teams have unique needs that very few generic project management tools can cater to. While you may be able to set up a few activities of your content operations on platforms like Notion, for most of the other tasks you'll need to rely on more disjointed tools.
Narrato is an alternative to Notion that is built specifically for content marketing teams. Narrato offers solutions for content planning, creation, collaboration, and workflow management, allowing content marketers to manage their entire content process on the same platform from start to finish. From content calendars to SEO content briefs to AI writing tools, there's everything content marketers could ask for. Give Narrato a try today!