Product-led growth is more than just a buzzword in the world of SaaS marketing today. If you have been doing your research on how SaaS companies market their products, you would have come across product-led content very often.
Product-led content marketing is an approach to content marketing where the product is effortlessly intertwined with the content while offering the readers a solution to their pain points. Unlike traditional content marketing, where you would think twice before sneaking in a mention of your product within the content, product-led content does it without hesitation. That's because even though you are putting the spotlight on your product, it is not blatantly promotional. Rather the product appears as a part of the bigger solution that your content is offering.
But creating product-led content is just as challenging as it is rewarding. Putting your SaaS product at the forefront of your content but not making it sound like a sales pitch requires some excellent storytelling skills. That's where product-led storytelling comes into play.
We've discussed all about What is Product-Led Content Marketing and Why You Should Care in our previous blog post. We've also shared some amazing examples of product-led companies that are winning at it such as ClickUp's content marketing strategy and HubSpot's approach to content marketing. The Notion content marketing strategy case study also talks about how Notion has been implementing product-led content marketing with impressive outcomes. If you haven't read these case studies yet, you certainly should.
So now let's get to the next step. How to create a powerful product-led content marketing strategy for your SaaS company.
How to build a product-led content strategy that converts customers?
Which are the best tools for a product-led growth strategy?
How to build a product-led content strategy that converts customers?
If you often ask yourself – What is the best strategy to market a low-cost SaaS startup? – the answer almost always would be product-led marketing. There are very few other SaaS marketing tactics that can generate more awareness around your product among a very relevant audience like product-led content does. Product-led content marketing is one of the most cost-effective methods of customer acquisition for a SaaS company. But to achieve success with it, you will need a solid strategy in place.
Building a content strategy that can drive results is not just about excellent writing skills or ranking in search. It is also about giving the reader a great user experience and generating product-qualified leads for your business. So your product-led approach to content would be a little different from traditional content marketing strategies. You have to convince the audience that your product is worth their time, while also giving them an unmatched customer experience that keeps them hooked to the content.
TL:DR Here's a quick video on the essentials of a good product-led content strategy.
What's the difference between content strategy, content design, and UX writing?
Content strategy includes every activity right from content planning and creation to the user experience that your audience gets out of your content. And when it comes to product-led growth, UX writing and content design become very much a part of the content strategy. Since a product-led growth strategy relies on improving the product and getting product qualified leads who have had a great first-hand experience with it, UX writing becomes an essential part of your overall content strategy as it contributes to that experience. You also have to decide on how your content flows on every channel you publish on, what visuals and imagery to use – which is nothing but content design.
Jonathan Colman, the Product Content Design Lead at HubSpot, shared this presentation Build Better Content when he was working with Facebook. In the presentation, he says that content strategy is not about good copywriting or content marketing alone. It is about designing interactions and user experiences. It requires design thinking. He also says that content strategy encapsulates everything, right from content planning to what your audience sees on the surface.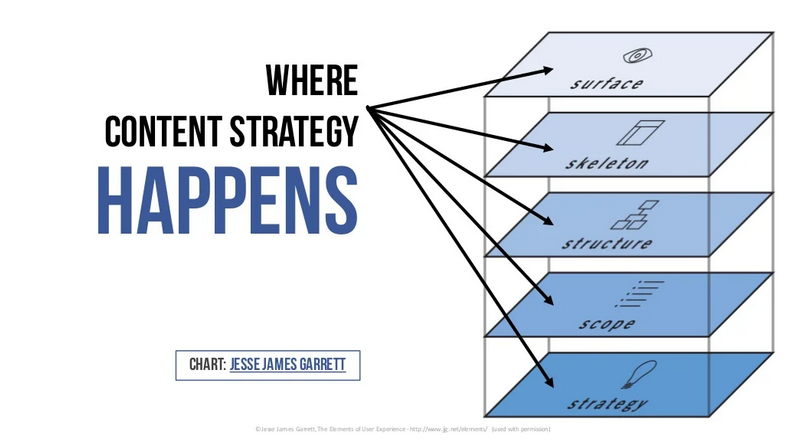 Source: Jonathan Colman on Slideshare
With product-led content, this approach is all the more important. You need to find ways of incorporating your product into the content without making it look like a misfit. You need to ensure the content flows and delivers value to the audience, answering the questions they're asking. And you need to make sure that your product is seen and recognized as a potential solution.
Here's how you can create a powerful product-led content strategy without compromising on the user experience and value.
1. Know your SaaS product inside out
To be able to really make an impact with product-led content, you will need to know what your product can do. A single SaaS product may have multiple capabilities and use cases. This means you can have diverse target audience segments and different potential customers to cater to with your product-led content marketing efforts.
But for this to be executed well, you have to have a thorough understanding of the product. This is where the marketing team needs inputs from the product manager and the product team. Knowing your SaaS product well will help you position it better, making sure that you are highlighting the right capabilities of the product in every piece of content. It will also ensure that what you create is relevant to the target audience and you are not promoting a feature that they have no use for.
At Narrato, for instance, all our marketing team discussions also involve our product team and customer success team. This ensures that we have a clear, holistic picture. Such as what stage our content creation platform is in, what changes and upgrades have been, what customers are saying about our product, and so on.

2. Understand your customers' challenges and needs
As with any other content strategy, understanding customer needs is equally important in PLG strategy too. The involvement of customer success and sales teams is quite crucial in this regard. They help you understand the pain points that are highlighted in their interactions with existing customers and prospects. Customer feedback can bring to light some of the deficiencies or opportunities in your SaaS product that you may have missed, which is very critical in product-led content marketing.
With these insights, the marketing team has a finger on the pulse of the prospective customers as well as existing customers. This means the content they create will be aligned with what the prospect/ customer wants to know.
3. Find the right topics to target
Just because product-led content marketing requires you to create content that can accommodate your product, you cannot pick any topic that meets this need. The primary purpose of publishing content does not change, which is answering the audience's queries and providing value at every stage of the customer journey.
So the next step in building a solid product-led content strategy is finding topics that will match your target audience's search intent and have a greater traffic potential. Because unless they can find your content in search, none of the other goals will be fulfilled – be it lead generation, customer acquisition, or customer retention.
A good practice here is to identify the target keywords that you wish your content to rank for. You can generate an SEO content brief on Narrato, by entering your primary search term. The SEO brief will give you other keyword suggestions as well as topics/ questions related to your search term.
Here's an example for email marketing best practices. We typed in the search term that we wanted to target and Narrato's SEO content brief gave us the following keywords and questions related to it. It takes only a few seconds to generate this brief and it saves us hours of research.
These suggestions can be used for content ideation for your blog or other content. You can also try the AI topic generator on Narrato, which offers some very relevant suggestions as well.
Here's something we tried as an example.
Once you have identified potential topics or keywords, you can use Google Keywords Planner to find the search volumes of these queries. This will help you narrow down your topics based on user intent and traffic potential.
4. Determine how to position the product in your content
Once you have identified the topics you'd like to create content on, you need to plan how your product must be positioned in each of these articles. The topics you choose may be targeting prospective customers at different stages of the customer journey. Or they may be meant for existing customers. In some topics, your product is probably the only good solution to the customer's pain points. In others, it may be one of many solutions or a part of a bigger solution.
For instance, if we at Narrato are writing an article on 'How to Create High-Quality Content for Your Blog', we could say that a content creation platform like Narrato is all you would need. It has SEO planning tools, content ideation tools, and other content optimization tools that are required to create a high-quality blog post.
But if we are writing a post on, say, 'How to build a good website', Narrato would be a part of a larger tool stack here. Web design agencies use Narrato for SEO planning and content creation, but you would also need other tools for building a complete website.
There may be other topics where our product can only be superficially mentioned or cannot be included at all.
When you know how well you can weave your SaaS product into the content, you will be able to prioritize content topics on the basis of their business potential. The more opportunity you have to position your product as the hero of the content, the higher it should be on your priority list.
5. Create, distribute and promote your product-led content
With everything else taken care of, only the execution of your content strategy remains. Pick your topic and start creating content. You can experiment with different product-led content types. But it is important that you make the best use of your product-led storytelling skills here. Find every opportunity you can to mention your product in the content seamlessly.
It is also a good idea to include screenshots, videos, or GIFs showing your audience how a particular feature works. This will break down the wall of text into smaller sections and also help them visualize the product better.
Apart from creating content, distribution and promotion of your product-led content are also very important to SaaS success. You need to identify the right channels where you can distribute your content. Other than your own blog, your product-led content may also be received well in relevant communities on social media, Slack, or other platforms. Identify communities and forums where you will find prospects who could be interested in the topic.
Choosing the right distribution and promotion channels increases your chances of generating some product-qualified leads. Because when you put content out in front of the right people, they will find the content helpful, try the product and witness the product's value first-hand, increasing the likelihood of a conversion.
Which are the best tools for a product-led growth strategy?
If you are planning to adopt a product-led GTM strategy, you will need to add a few tools to your arsenal.
Content collaboration platform
Every product-led company can benefit tremendously from investing in marketing automation and content collaboration platforms. Your product-led content strategy will require the coming together of different departments in your business such as the product team, sales team, and customer success team with the marketing team. A content collaboration platform will help them all work together under one umbrella, without going through unnecessary back and forth across multiple apps and tools.
On Narrato, for instance, you can add users to different roles with different levels of access to content projects. Whoever needs full access to all the content can be added as an Admin, while others who need to work on only specific projects can be added as Project Managers. Content Creators and Editors, on the other hand, will have access only to tasks assigned to them.
A content collaboration software like this gives you better control over the content process and makes it much easier for you to manage your teams in one place. Plus all your content planning and creation efforts will also be taken care of on the same platform with Narrato, which is a huge upside.
CRM platforms or customer feedback platforms
Another very critical part of product-led growth is gathering customer feedback to improve both your product and your product-led content. A good CRM platform or a customer feedback tool can help you with this. Some good examples are Refiner which is a customer feedback and survey tool, and Verint Foresee which helps gather customer feedback and offers insights to improve user experience.
Product analytics tools
Product analytics tools can tell you how your users are using your SaaS product and how it is performing. These insights can be very valuable in product development and product marketing. In product-led content marketing, these tools can help uncover different use cases of the product and user experiences in these cases, giving you more content ideas to explore.
Mixpanel is a good example as it gives you various interactive reports on the use and performance of your product. LogRocket is another similar platform that provides session replays, performance monitoring, and product analytics to help you gain insights for improving user experience.
Screen recording and graphic designing tools
In any content marketing campaign, visuals play a huge role. And if you are trying to promote your SaaS product through content, you are going to need a lot of visuals, particularly screen recordings, GIFs, and the likes. So having a good visual content creation platform is a must.
You can try tools like Clipchamp for your screen recordings and videos. Screencast-O-Matic and Screencastify are good tools for this purpose too.
For turning videos or images into GIFs, you could use tools like Kapwing or Giphy which are both easy to use and popular.
Summing up
With a powerful product-led content marketing strategy by your side and the right tools in your tech stack, creating product-led content that drives real results will be an adventure. If you haven't tried your hands on product-led content yet as a SaaS company, you are missing out on a huge opportunity. Product-led content marketing is one of the fastest and most cost-effective ways to drive customer acquisition and retention. So take our word for it, start building a solid strategy and execute it to perfection. Great outcomes will follow.