While search engine optimized content in any form can generate valuable leads, it is product-led content that has the power to convert these leads. SaaS marketing is gradually being revolutionized by this tactic and businesses are seeing great results from product-led marketing. But many SaaS marketers are still a little unsure about how their product can play a central role in their content. Isn't good content meant to answer audience queries and solve their problems? Are you allowed to promote your product in your content?
The beauty of product-led marketing with content is that you can do both – provide value to your audience and also draw attention to your product without blatantly promoting it. There are several types of product-led marketing content that can help you with this. Though you can introduce your product in almost any type of content with some smart and discreet placement, there are some types that make it a lot easier.
Here's what we discuss in this article.

Types of content that drive conversions in product-led marketing
For any marketer unfamiliar with the product-led growth marketing approach, it might seem like a product can only be the highlight of content on a website or on a landing page. But you can actually weave your product into your marketing collaterals quite effortlessly as well. Here are a few types of content to include in your content strategy that can be easily turned into product-led pieces.
1. Case studies
Nothing else gives you an opportunity to turn your product into a hero as a case study does. By creating a case study on how a client overcame a major challenge using your product, you're practically telling your potential customers why they should invest in it as well.
Case studies are a great way to show your audience what kind of value your product can provide, along with valid proof from existing users. A case study usually starts by outlining what the customer does, what their major pain points are, and what they had been doing so far. It then goes on to show how the customer achieved better outcomes using your product or service. It is, however, important to support these claims with solid figures and numbers if you want to win the audience's trust.
In our Narrato case study on how a content marketing agency replaced their entire tool stack with Narrato Workspace, for instance, the agency states that they were able to reduce content and process errors by almost 80%. Having these details reinforces the fact that your existing customers are getting tangible results using your product.
Here's another example of how ClickUp shares statistics and figures in its customer stories to build trust among its prospective buyers.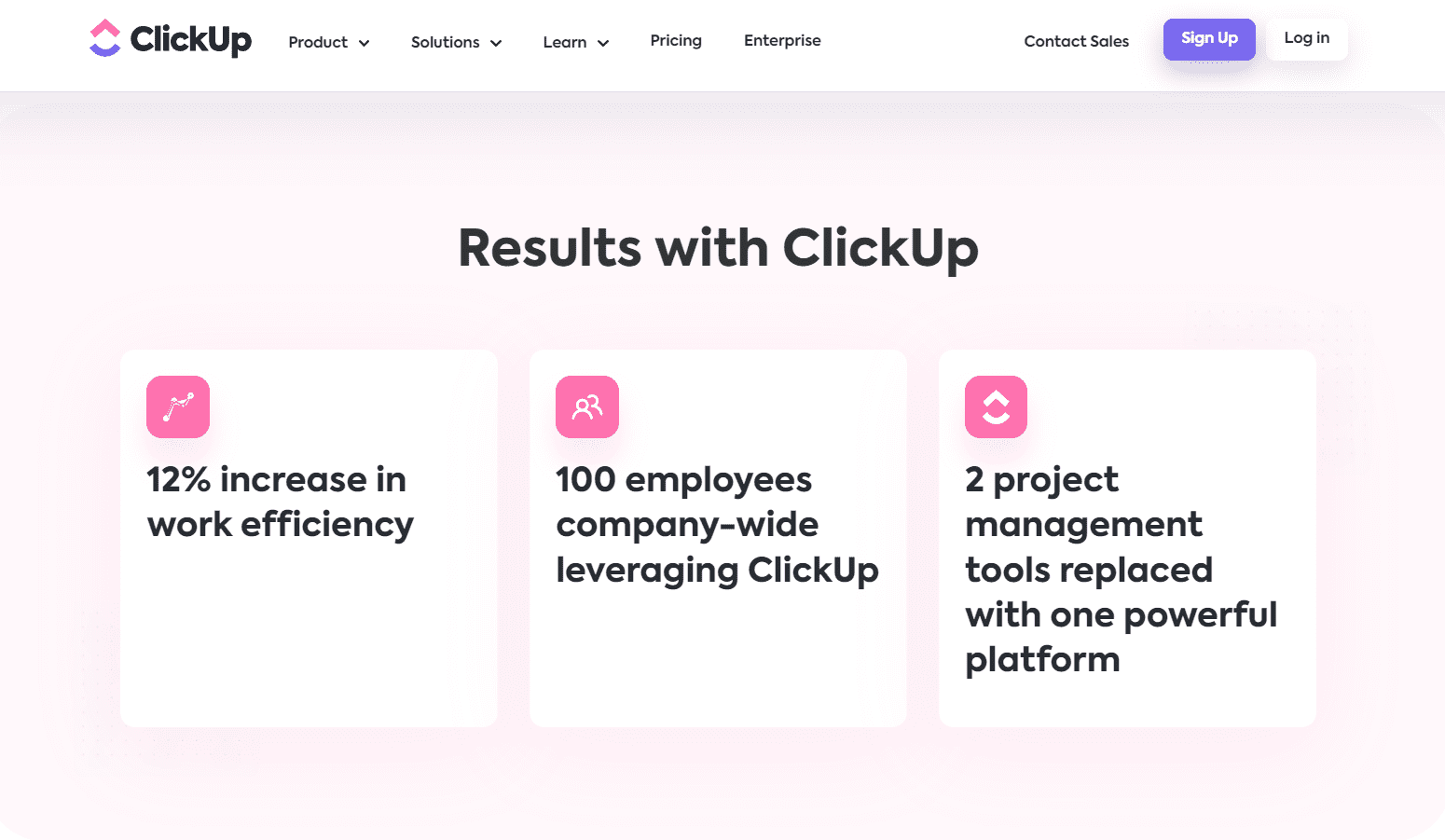 In our content marketing case study on ClickUp, we have indeed mentioned how this SaaS brand manages to turn every piece of content into a product-led piece. So there is a lot that other SaaS marketers can learn from their product-led content strategy.
Another major advantage of publishing case studies as part of product-led marketing is that potential customers may find them relatable. If someone shows an interest in your case study, it is likely that they share the same pain points as your other customers. Reiterating these pain points through the case study can generate a sense of urgency in the reader and seeing a solution (that is your product) at hand, they would be more eager to try it out.
However, case studies are more often a middle- or bottom-of-the-funnel content. This means that the audience here is probably already looking for a product to purchase and weighing their options. This content can be a good way to influence their purchase decision.
But what about those potential customers who are not yet aware of their pain points or that your product is a possible solution for them? This brings us to the next type of content in product-led growth marketing.
2. How-to articles
This is one of the best types of content to target potential customers who are simply out there trying to learn something. These articles can answer your target audience's basic questions, offer valuable solutions, and also show them how to implement these solutions using your product. In fact, how-to articles are more likely to be found in search by the right people because the title itself matches the search query most of the time. So if you are providing the right answers, chances are that you could capture some very promising leads right at the beginning of their customer journey.
There is no dearth of ideas that you can generate for a how-to article that is relevant to your audience. From 'how to write grammatically correct content' to 'how to use Search Console data' – you can create these articles for all levels of audience.
So how do you turn a how-to article into product led marketing content? It's simple – you're offering a solution, just demonstrate it using your product.
Kinsta, a WordPress hosting service, does this for almost all of their article and serves as a good example here. In this article on How To Create The Perfect Sticky Header for Your Site With WordPress, for instance, they offer some very handy tips to the readers but also do not forget to show them how to do it on Kinsta itself.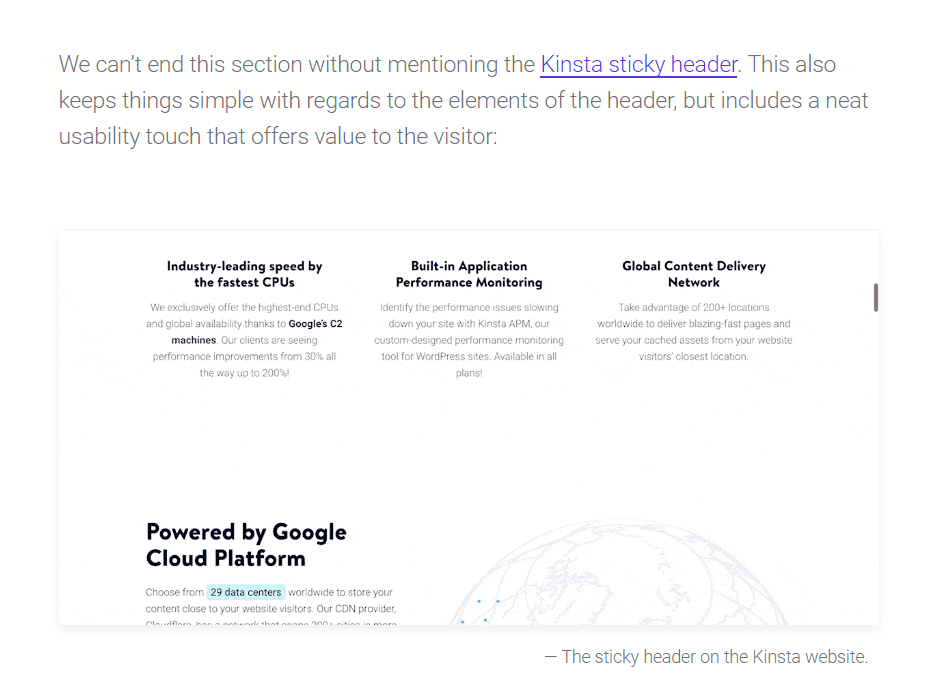 And doing this is extremely easy with how-to articles for most businesses. All you have to do is pick your topic carefully. The best way to approach this would be by first identifying some of your target audience's major pain points. Then you need to determine how your product/service can help overcome these pain points. Next, think of a title that will address one of these issues and can seamlessly accommodate your product too. That's it.
You can also make your how-to articles more interesting and relatable by turning them into personal stories. For example, instead of 'How to Outrun Your Competitors With Solid Keyword Research' you could write 'How I Outran My Competitors With These Keyword Research Hacks'. This will not only build your audience's curiosity but will also give you an opportunity to demonstrate how you use the product to achieve said outcomes.
Whatever you choose to create, it is important for your how-to articles to be customer-centric, though. The primary aim should be to answer their queries and not promote the product. So make sure that you are providing all the value you can, so it does not end up looking like a sales pitch.
3. Listicles
Product lists can be both extremely valuable and quite tricky as product led content. Valuable, because what better way to highlight your product than in a listicle of relevant tools? You could simply pick a theme or an area that your product works in and build a list keeping your product right at the top.
But it is also tricky because you will be placing your product alongside other tools, which means there will obviously be competition. So if you are creating a listicle on 'The Top 10 Email Marketing Tools You Must Try' you have to add other email marketing tools to the list that would be direct competition for you.
In such a case, it is important that you list your product higher up, preferably at number one. Next, try to list the pros and cons of all the tools listed. This allows you to show in which areas your product can perform better than the others. Make sure to list a few minor cons of your products too, to come across as unbiased, but keep them to a minimum.
Here's a good example from Buffer. They've created a listicle on The 20 Top Social Media Management Tools, adding themselves at number one. Instead of a pros and cons section, however, they have included a "Unique Value" section for each tool, which allows Buffer to differentiate itself from the competitors.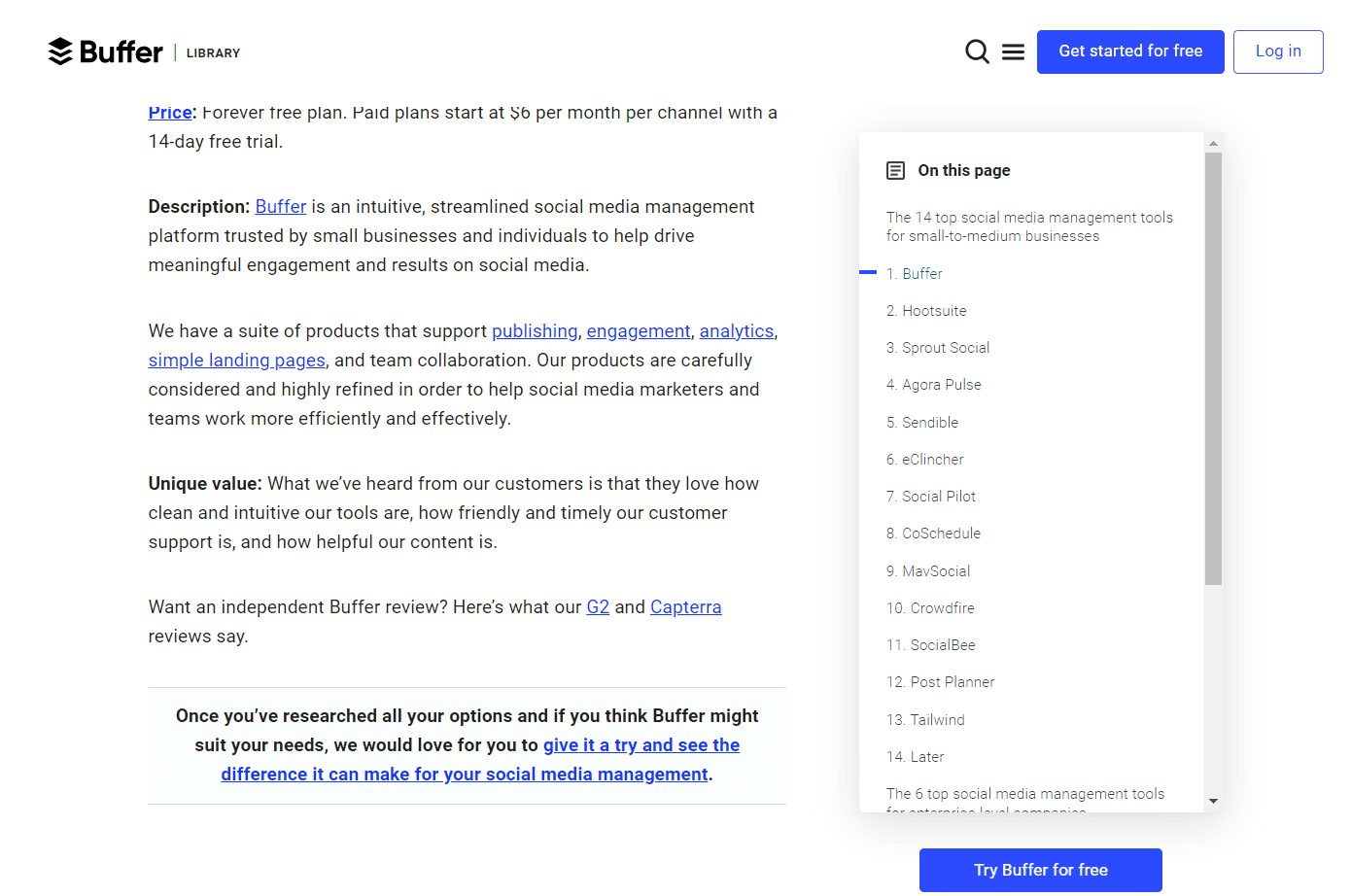 These tools lists can be great for those at the decision-making stage of the customer journey as they provide a good comparison between the available options.
4. Guides
Guides are extremely valuable, long-form content offering innumerable opportunities to weave your product into the narrative. A guide allows you to elaborately discuss a topic, provide extensive tips and solutions, and demonstrate many of these points using your product.
Here's what Semrush did in this SEO Basics guide. The beginner's guide discusses at length about what is SEO, why it is important, and how to go about it. But it also demonstrates these steps using screenshots from Semrush's own SEO tool.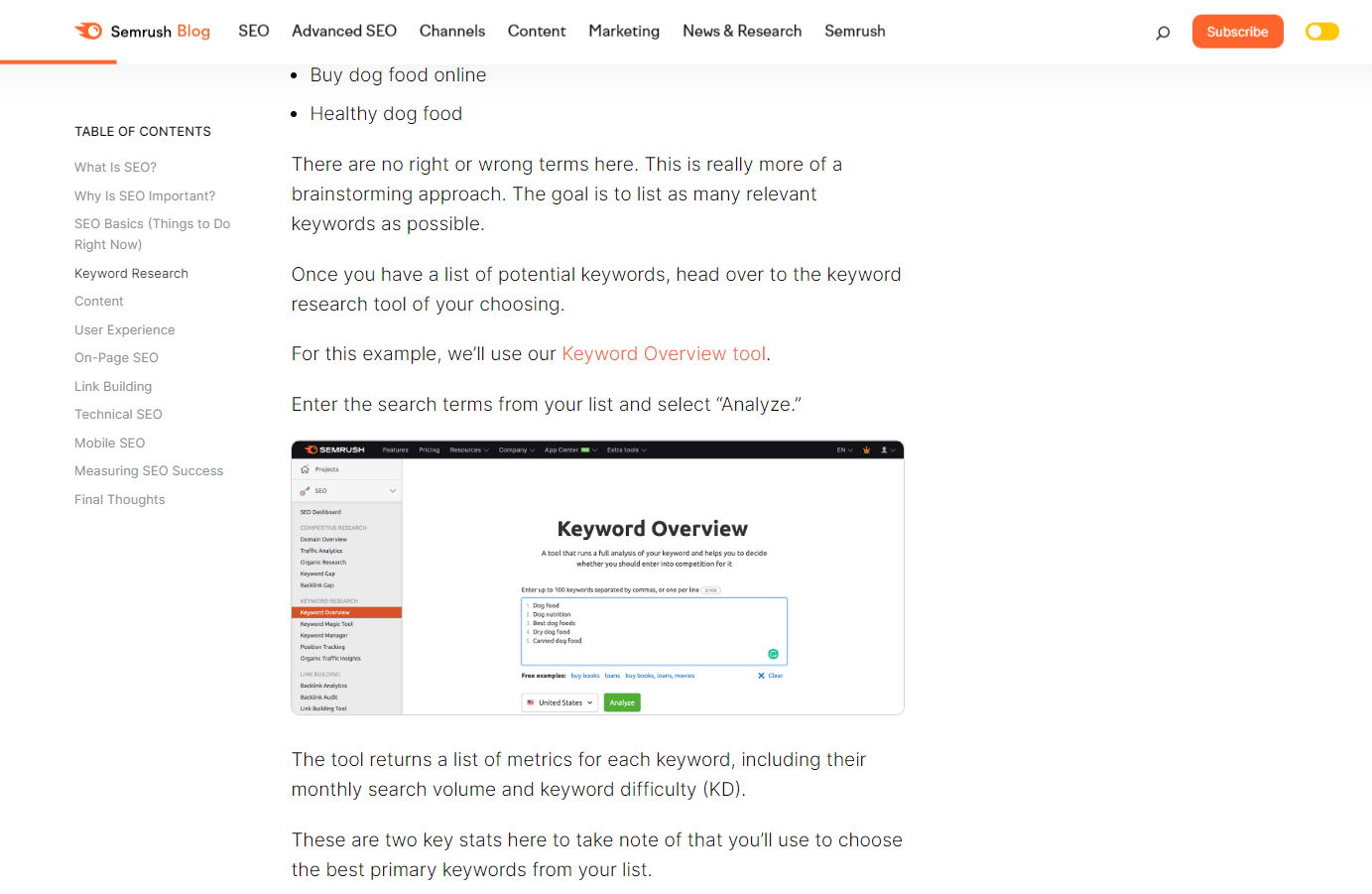 These guides can be very valuable for the audience too. You can, in fact, create product-led guides for any stage of the customer journey. For top-of-the-funnel, you could create a beginner's guide that discusses the basics of a topic like the one mentioned above. For middle- and bottom-of-the-funnel, you can create more in-depth guides, sharing solutions to more complex problems.
You can also create guides for your existing customers that help them find new uses for your product. This kind of content can actually help increase customer retention, which is one of the primary goals of product-led content.
To make sure that your guides get the clicks they deserve, however, you have to make sure that they are unique. Try to find out what others in your niche are creating educational content on and identify gaps in this area that you can fill. Writing about what everyone else is writing won't get you much traction. Since creating product-led, long-form content like guides is effort-intensive you would want to keep it valuable, click-worthy, and share-worthy, increasing your chances of conversions.


5. Social media content
Product-led content does not necessarily have to be long-form content like blog posts and elaborate guides. Something as simple as a social media post may be product-led content as well. How? Just think of an angle where you can pitch for your product in a post. Many big brands are doing this. We're doing this too.
For instance, we often run polls on LinkedIn and Twitter where we ask questions related to areas where Narrato as a tool can help. Once the poll closes, we share the results and put in a few words about how Narrato could have helped the poll participants with their content marketing woes. Here's an example.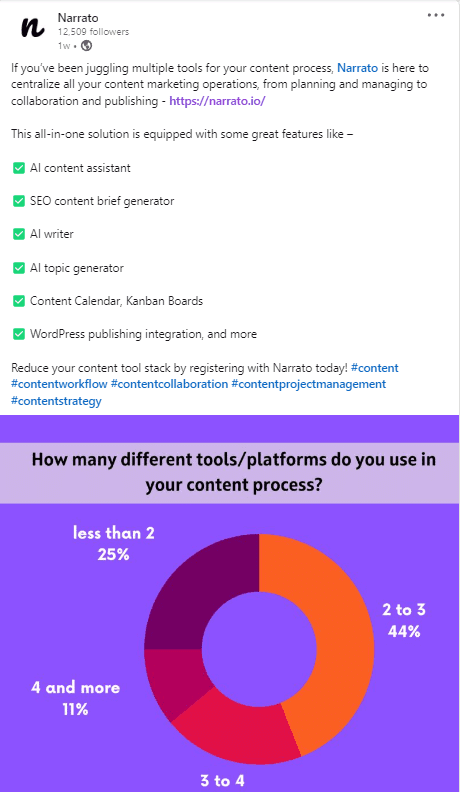 Many other renowned brands adopt the same strategy with their social media content as well. If you look at Notion's LinkedIn feed, for instance, almost all of their posts are product-led – highlighting a feature or a use case.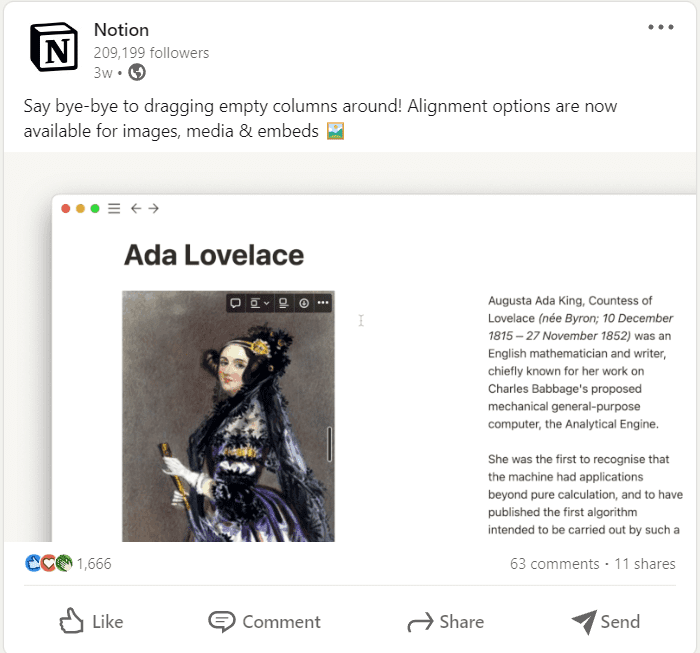 So don't shy away from introducing your product in your social media content. It is one of those platforms where your content can go viral in very little time. If that happens, you wouldn't want to miss the opportunity to garner some attention for your brand and its offerings.
6. Webinars
Webinars may not have the same reach as blog posts or social media posts, but they are a much more influential form of content. Though your audience here is limited, you have a much better chance of making an impact on them when you are interacting with them live. That is why finding ways to introduce your product in webinars or other live interactions is extremely crucial.
The idea here is the same. Think of an audience pain point that your tool can address and decide on a solid webinar topic around it. Make the webinar very comprehensive and information-packed. And similar to what you do with other product-led content, demonstrate the solutions using your own product.
So assuming your product is a no-code graphic design tool, you could host a webinar on 'How to create amazing graphics for your social media posts' and show some great examples using your tool. This way, the attendees would learn all they need to about creating stunning graphics and also get to know that you have a tool that makes it easier.
With webinars, the biggest advantage is that the attendees could be highly valuable prospects as they have opted in for the content. Combine this with a freemium or a free trial on your product and you could get some excellent product-qualified leads.
7. Video tutorials
What's better than screenshots of your SaaS product and written instructions? Your product in action. That is what videos do for you. Video tutorials on platforms like YouTube can be an amazing opportunity to show what your product is capable of.
Videos are also more engaging for the audience, so it is likely that they would be interested in consuming this content rather than reading a really long blog post. Just make sure that you are able to hold their attention till the end.
HubSpot provides some of the best examples of product-led video content on its YouTube channel. In this video tutorial on creating a content marketing plan, for example, HubSpot shows you how to do it with one of their planning templates.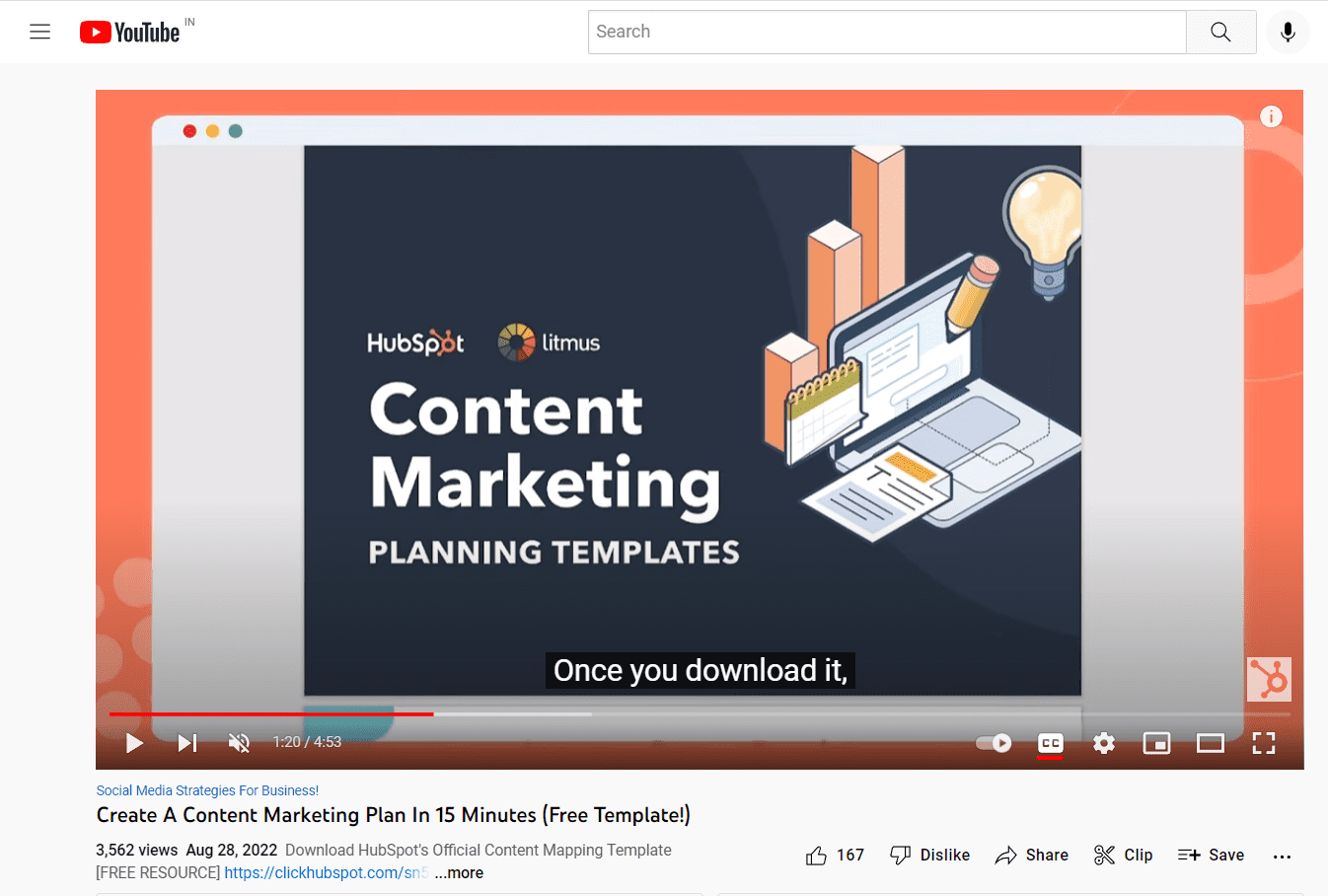 If you've read our case study on HubSpot's content marketing strategy, you would know that they too have a primarily product-led marketing approach.
Educational product-led videos may be a little more effort-intensive than a blog post, but the outcomes can be equally rewarding. So they're sure worth a try.
8. User-generated content
User-generated content has not one but many advantages for your brand. Firstly, it eases the load of content creation on your team. If you can gather at least a few pieces of UGC from your existing customers, your team would be left with a significant amount of time to invest in other areas. Apart from that, your audience is more likely to trust the information provided by real users rather than claims made by the brand itself.
This is where building a community around your product can help. Community members can share some content on how they use the product for different use cases, what problems they solve, and so on. In our content marketing case study on Notion, we've discussed how Notion leverages its community of users to gather content and offer support to new entrants and potential customers. This additional support also works great for customer retention.
But even without a community, you could ask a few of your customers to share some content describing their experience with your product or how they're using it to achieve new outcomes.
Conclusion
When creating your product-led marketing strategy, don't look at content just as a brand-building asset. It can be a very powerful lead generation and customer acquisition channel too. This thought process will help you reimagine your content strategy to include product-led marketing content that can aid and accelerate customer acquisition as well as retention. Hope these 8 types of content we've listed give you a head start in your product-led growth journey. And as you gather experience along the way, you'll be able to easily turn every piece into convincing product-led content.