When you talk about a killer content marketing campaign, what is the first name that comes to your mind? For most of us in the content world, it is probably HubSpot. You run a quick Google search on anything content creation and marketing, and there is at least one HubSpot article among the top 10 results. This SaaS marketing company has become one of the most trusted sources of information and a well-known name for content marketers the world over. From in-depth B2B content marketing guides to their state of marketing reports, HubSpot has gradually grown into a go-to knowledge hub for both new and seasoned content marketing professionals. This HubSpot content marketing case study takes a closer look at HubSpot's content marketing strategy over the years, how they took inbound marketing to a whole new level and what we can learn from this winning strategy.
TL;DR Here's a video on the HubSpot content marketing case study to give you a quick glimpse:
A brief history of HubSpot
It was in 2004 that two fellow MIT graduates, Brian Halligan and Dharmesh Shah, noticed a changing trend. They noticed that modern consumers no longer wanted to be bothered by pushy sales calls and emails. They had, in fact, learned how to ignore these attention-seeking bids from businesses and do their own research to make well-informed purchase decisions. Thanks to the internet, they could learn a lot more themselves than what a salesperson could tell them about solving their problems. They wanted to see honest product reviews, compare products and get their hands on unbiased, genuine information.


The inbound revolution
Brian and Dharmesh saw this as an opportunity to change the course of marketing and make use of what is called the inbound marketing strategy. Inbound marketing does not sell a product but rather offers a solution to the consumer, and helps them discover the product on their own. No harassment from innumerable unsolicited calls and emails. This idea gave birth to HubSpot in 2006.
HubSpot's intention was to create a level playing ground for smaller businesses and startups that did not have the means to spend on huge advertising and outbound campaigns. It started off as a small community offering consultation for inbound marketing to startups but began to grow rapidly, catering to bigger businesses as well. Gradually HubSpot's solutions ventured into all aspects of inbound marketing including social media, website optimization, SEO, and more. By 2010, HubSpot's revenue grew to $15.6 million and this was its first big step towards becoming the multinational company we know today. It released multiple free tools for inbound marketing and there was no stopping them from this point forward.


HubSpot's content marketing plan
Well, if they were helping others win over customers with inbound marketing, HubSpot had to practice what they preach. So, like any other inbound marketing plan, they first needed to identify their target audience from among the masses. They had to decide whether their company caters to B2B customers, B2C customers, business owners, or individual marketers. They started off by focusing on small and mid-sized business owners and marketing managers.
Their aim was to offer a solution for inbound marketing which their software tools already did. But they realized that their customers can only implement inbound marketing effectively if they knew the fundamentals. This urged them to make the first move in their inbound content marketing plan – starting the HubSpot blog.
But that was not all that HubSpot did to add some real value for its prospects.


Types of content in the HubSpot content marketing strategy
Blogging has been central to HubSpot's content marketing plan, but with time they have diversified and included several other forms of content in their strategy too. In fact, the very reason why HubSpot content marketing has seen such immense success is because they did not just stop at blogging or rely on a single channel for creating brand awareness.
HubSpot content is presently categorized into the following sections on their website –
Blogs
Newsletters
Videos
Podcasts
Resources
Social Media Content
Let's take a better look at what HubSpot has done with each of these categories of content.
Blogs
HubSpot took its blog very seriously, right from the start. As a visitor to their site, you would be instantly impressed by the fact that they have categorically separated their blog content for different niches. There is a different set of posts each for –
Marketing
Sales
Service
Website
Industry news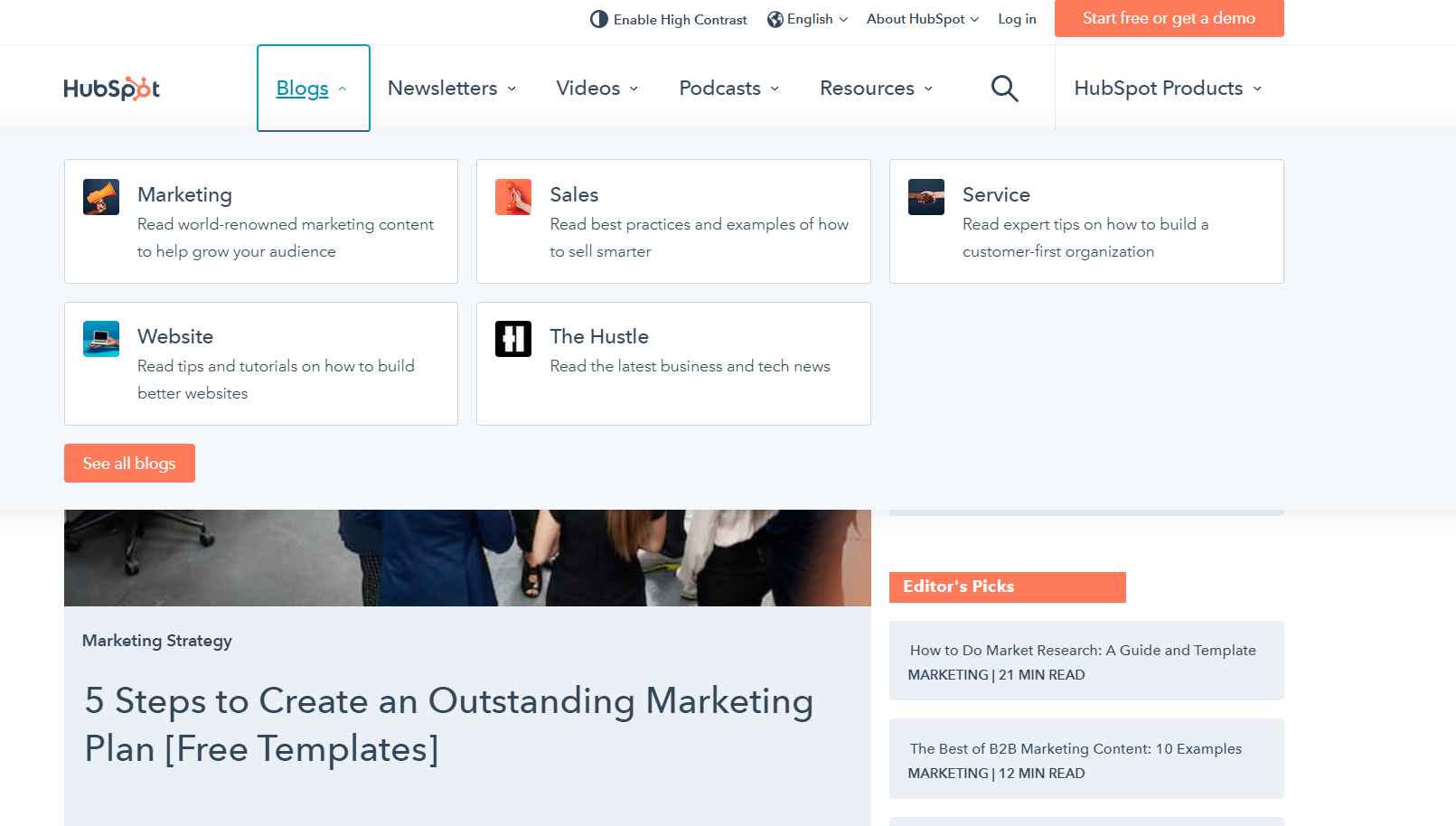 Apart from simplifying our search for relevant content on the blog, this segregation had its own benefits for HubSpot's segmentation too. By separating their sales and marketing content, HubSpot was able to capture leads from different segments of their audience. People from marketing backgrounds who want to learn more about attracting an audience and generating leads would engage with the Marketing blog posts.
People from sales who are responsible for converting leads into qualified prospects and then into paying customers would go to the Sales blog to learn more about smart selling. The same goes for customer service and website optimization.
HubSpot has software products for all of these categories. Based on which visitor engages with which category of content of their blog, HubSpot can generate an appropriate strategy for pursuing these leads. So they're not only providing more purposeful content to the prospect but also recommending the right products, increasing their chances of conversions.
Categorization of blog content is a crucial step in audience segmentation and we've witnessed this in our Airtable content marketing case study as well.
Newsletters
The next category of content is their newsletter, The Hustle, which shares business and tech news to get you updated in just 5 minutes. But HubSpot has not left the newsletter's content exclusively hidden behind a subscription. They also share news and updates on their site.
This again serves as a smart way of appearing in searches for recent industry news and events. People who are interested in industry updates may be potential customers, making this yet another opportunity for capturing leads for HubSpot. The news page has an opt-in form where readers can sign up for the daily 5-minute news roundup that is their newsletter.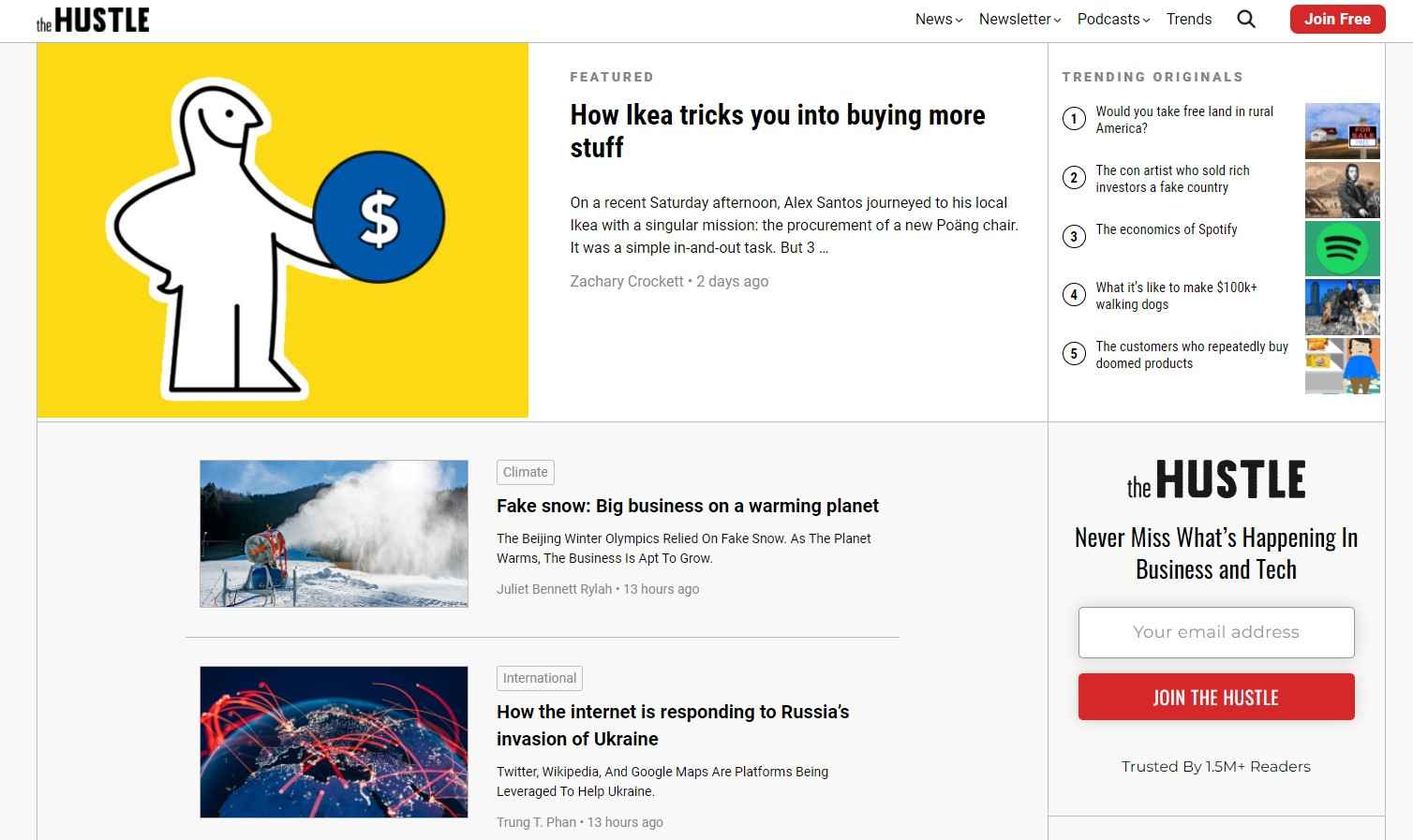 Videos
HubSpot's visionary content marketing strategy is evident from the fact that the company has not stuck to traditional content marketing and has adopted different content formats quite early on in their journey. Statistics show that textual content alone is no longer enough to engage your audience and other formats like video and audio content are quickly catching up. The demand for online video content has almost doubled since 2018. But as many other businesses were still contemplating the value of videos, HubSpot understood it more than a decade ago. The HubSpot Marketing YouTube channel was launched as early as 2007, and currently offers over 400 free marketing tutorials.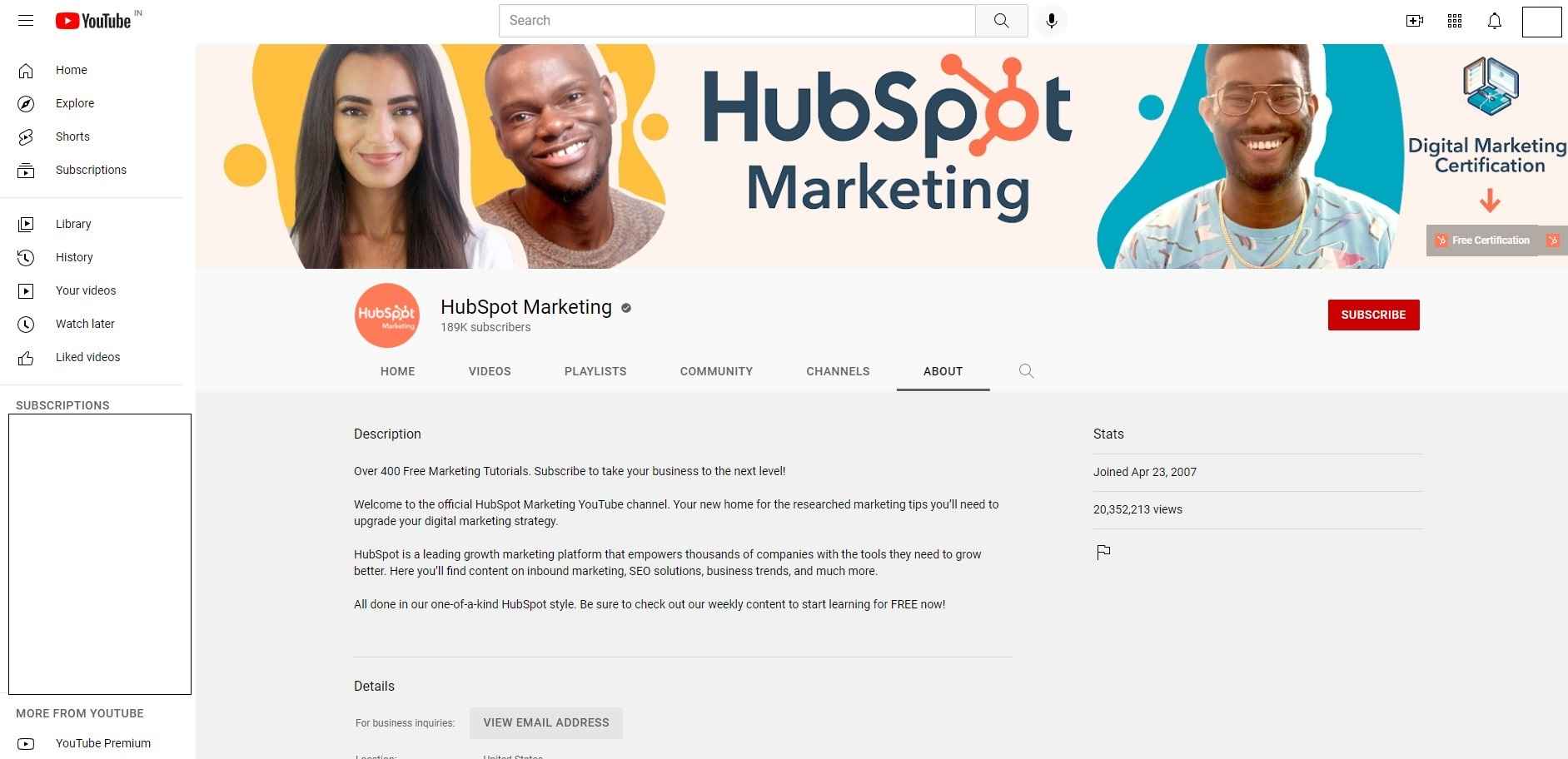 They have another YouTube channel for HubSpot that focuses on promoting HubSpot Academy and HubSpot's software products. HubSpot Academy is the company's educational hub for inbound marketing, sales, and service, offering both free courses and certification.
YouTube content seems to play a vital role in a company's content marketing success. In our case study on Notion's content marketing strategy, we found that Notion too shares a significant amount of educational and informational content on their YouTube channel, which audiences love. If your YouTube strategy is still in its early stages, these companies could serve as a great example.
Podcasts
HubSpot has also hopped onto the podcast bandwagon sooner than most other brands. Podcasts are the new rage in content marketing. Podcast listeners have grown by almost 29.5% in just 3 years between 2018 and 2021. And HubSpot is not letting this opportunity pass. Statistics from the U.S. show that more than half of podcast listeners in the country are between the age of 12 and 34 years. Though their podcast section is relatively new, HubSpot has made sure to connect with this younger section of their audience through a channel they have been increasingly engaging on.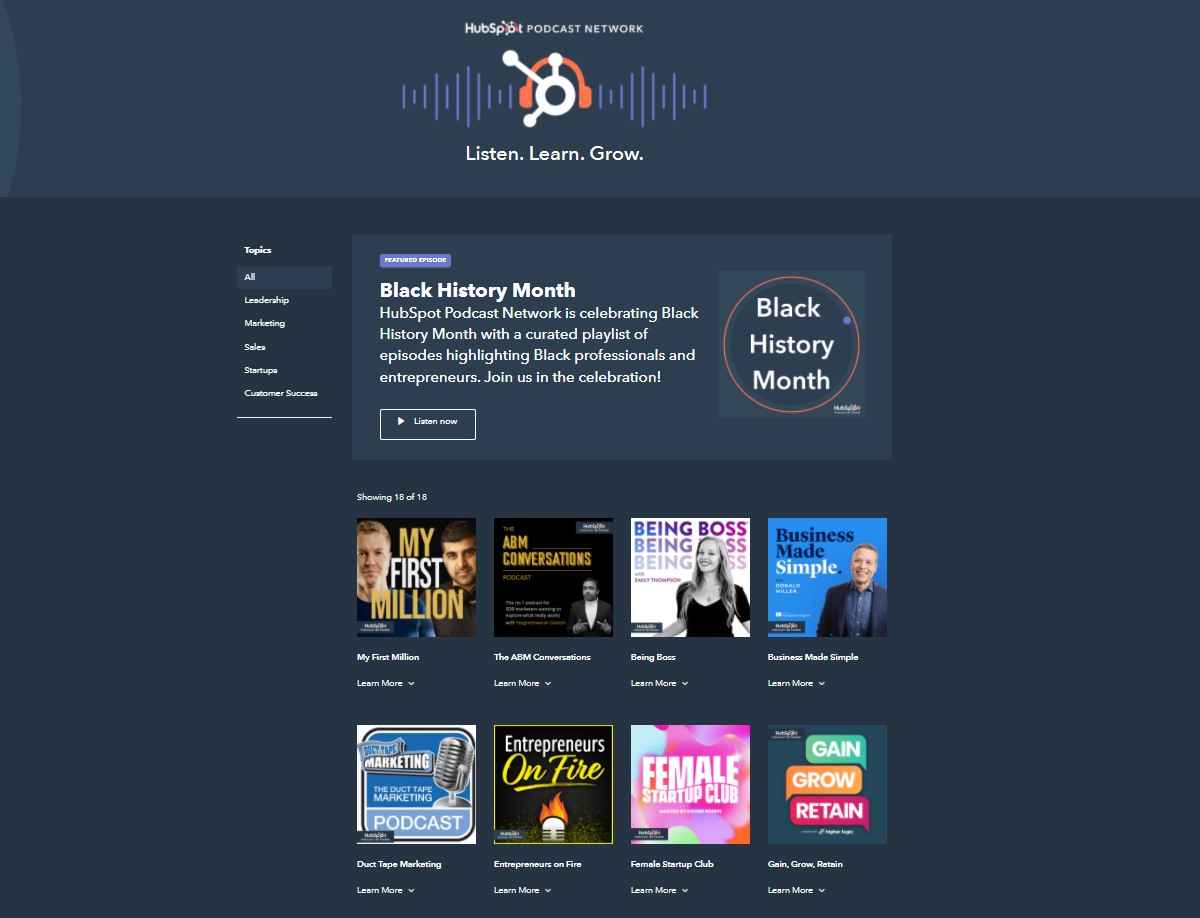 Resources
Apart from creating highly authoritative blogs and articles filled with content marketing stats and data, HubSpot also invests considerable time and effort in creating other insightful resources for its audience. The Resources page lists everything that their customers could ask for, from free tools to templates, ebooks, guides, and more. So if you Google for a blog post template or an ebook template or a social media marketing guide on Google, there is every probability that you will land on Hubspot's resources page.
HubSpot also conducts its own research on various areas of digital and content marketing each year and publishes the reports as gated content on its website.
Social Media Content
HubSpot's social media content strategy is on point as well. It has a widespread presence on almost all the popular social media channels, from Facebook to LinkedIn. The social media accounts are very active, making sure that they don't just have a presence but are seen often by their followers.
Their social media content is rarely self-promotional and more educational, with lots of quick tips and valuable information for marketers, business leaders, and other prospects. Apart from the occasional event promotions and company news, they mostly share content that their audience would be drawn to because of its relevance and value. For instance, a common theme we noticed was sharing tidbits and quotes from HubSpot's leadership. Here's an example from their Facebook page.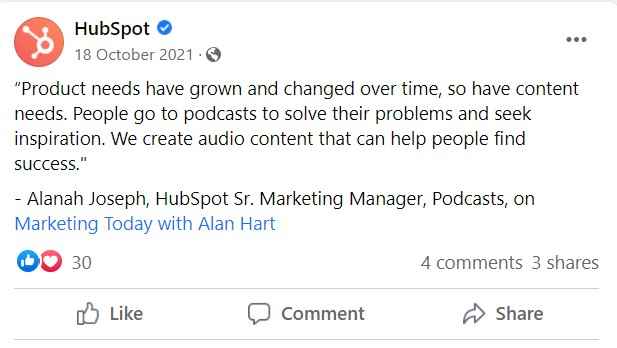 There are more from their CEO, Marketing Director, CPO, and others. This is certainly a discreet way of promoting their content (like the podcast in the post above) while also sharing these nuggets of information with people who can benefit from them.
HubSpot also banks on humor and wit to make its social media content more engaging. Here's what we're talking about.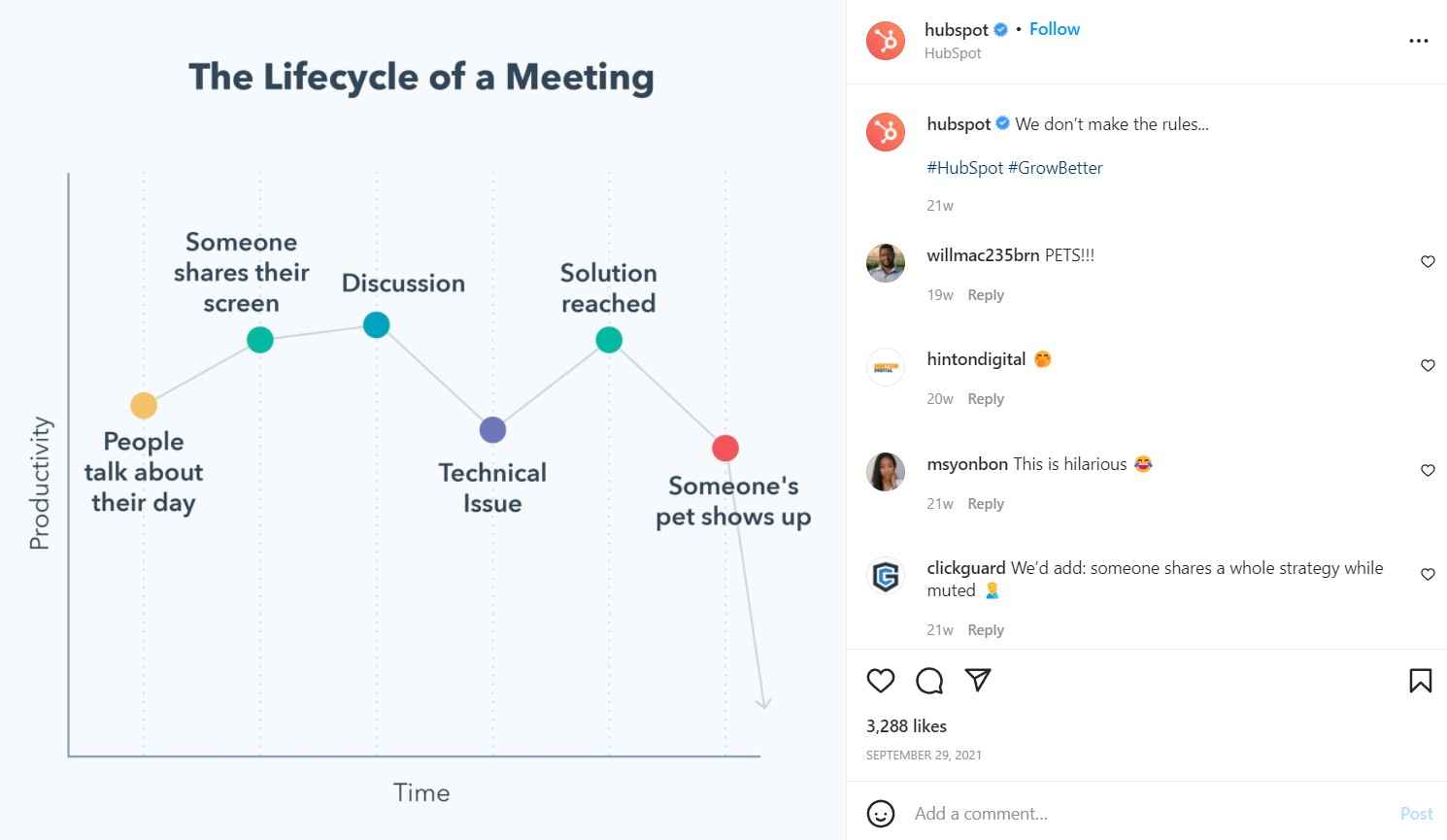 This post from their Instagram feed is both funny and relatable to their audience, given the current remote work situation everyone is dealing with.
Overall, every different type of content that the company creates for every channel is very closely aligned to what they call the 'HubSpot Customer Code'. The tenets of their customer code always dictate them to put the customer's interest ahead of the company's.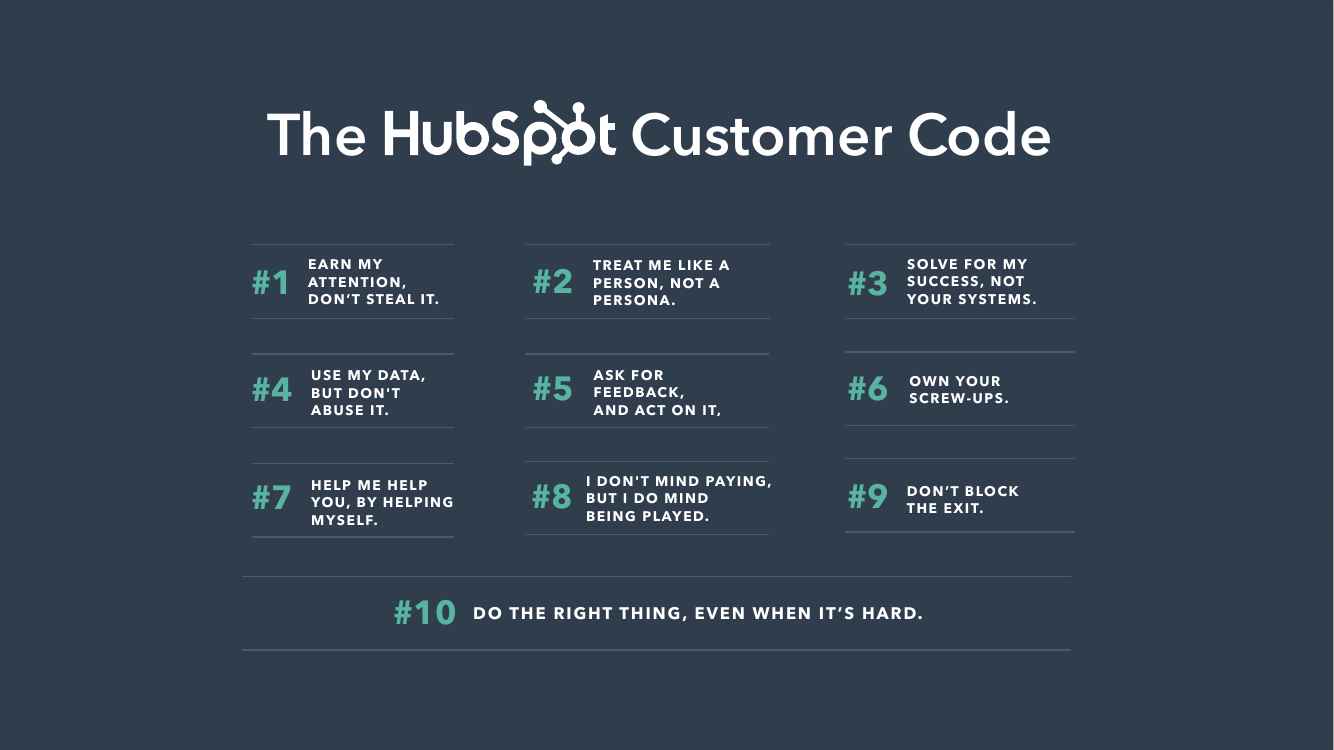 These principles that HubSpot lives by and advocates were formed after conducting extensive surveys to learn what their customers wanted. But bringing this customer-first approach into content marketing is not an easy task.


How does HubSpot pull off such an elaborate content marketing strategy?
Here's what we observed when researching their content across various channels for the purpose of this content marketing case study on HubSpot. HubSpot's content marketing strategy relies heavily on the following content marketing tactics:
1. Thought leadership content
2. Content repurposing
3. Updating existing content
4. Creating well-defined audience personas and segmentation
5. Creating high-quality, valuable, learning-focused content – HubSpot Academy
1. Thought leadership content
HubSpot went head-on into building its image as a thought leader in the industry. Thought leadership is at the heart of HubSpot's blog content strategy. Their content tries to explain complex concepts in a highly simplified way to marketers, irrespective of their industry. From detailed guides to how-to articles to articles based on their own experiences and internal strategies (like the one below), HubSpot has never failed to deliver something worthwhile and new to its audience.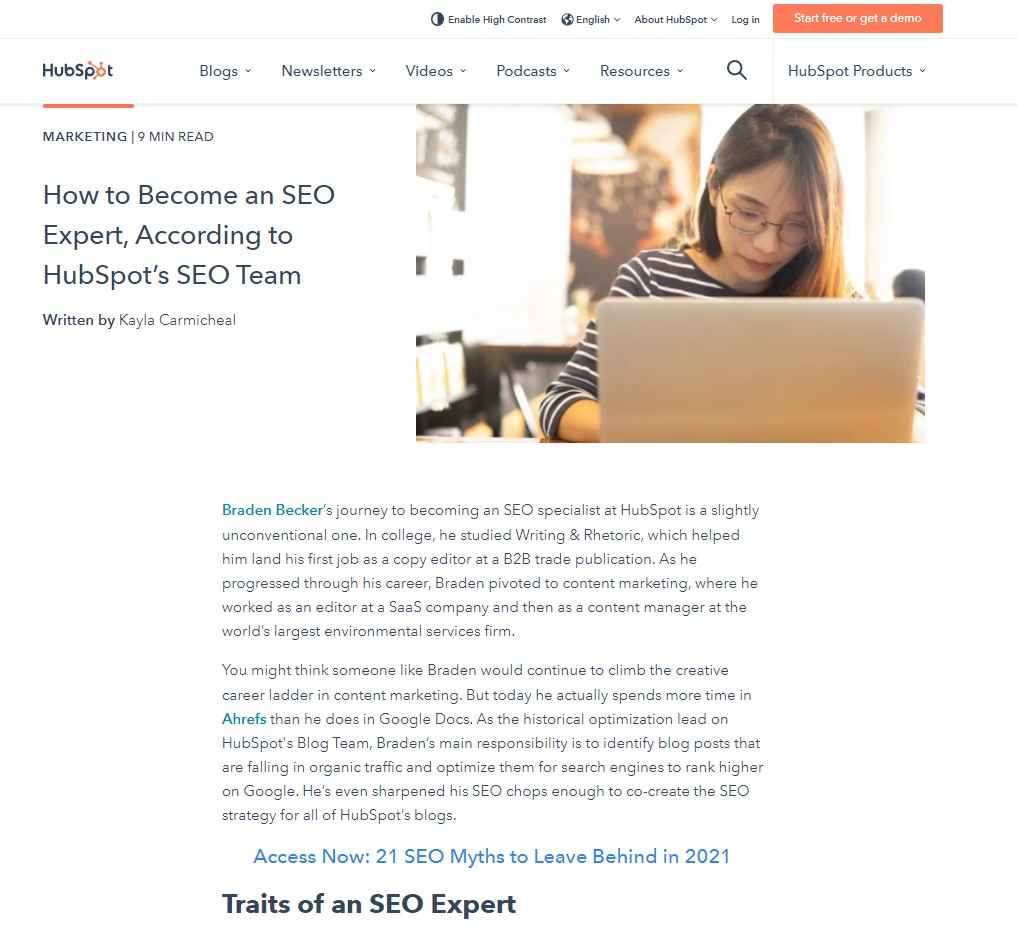 They have insightful and relevant content for each stage of their audience's journey, be it for beginners or managers and leaders at an advanced stage in their careers.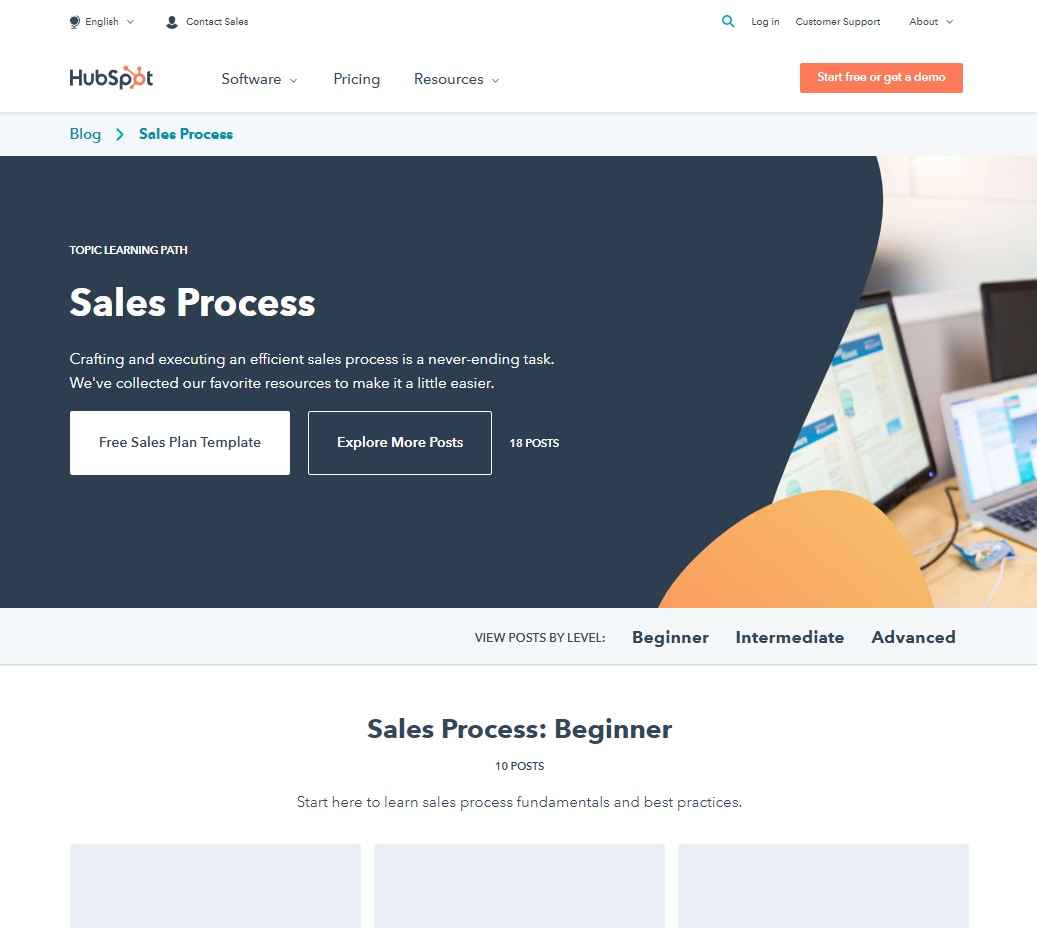 HubSpot's content tries to answer all their questions, share research and data that people find worth linking back to, and thus, build a loyal following for the brand.
2. Content repurposing
Nothing can be achieved without hard work and effort, but HubSpot also does some smart work. The HubSpot blog is their biggest asset and it is managed by a big team. And they make good use of their blog content through content repurposing. A large part of the video content on the company's YouTube channels, for instance, is repurposed from their high-authority, long-form blog posts or research reports.
Take this video on the Top 7 Email Marketing Tools on the HubSpot Marketing channel for example.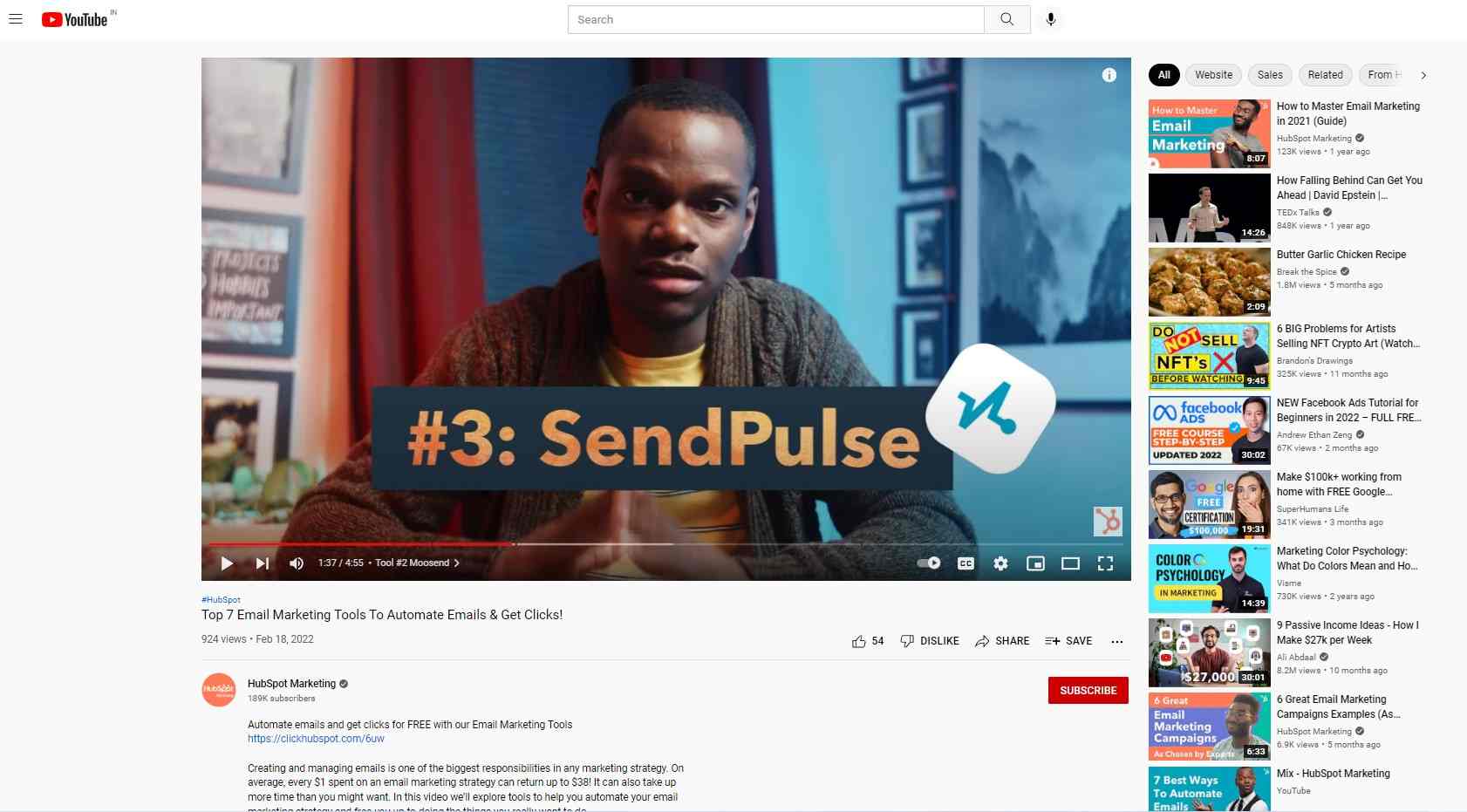 This video is repurposed to discuss the top 7 tools from a longer list they shared in one of their blog posts (refer image below).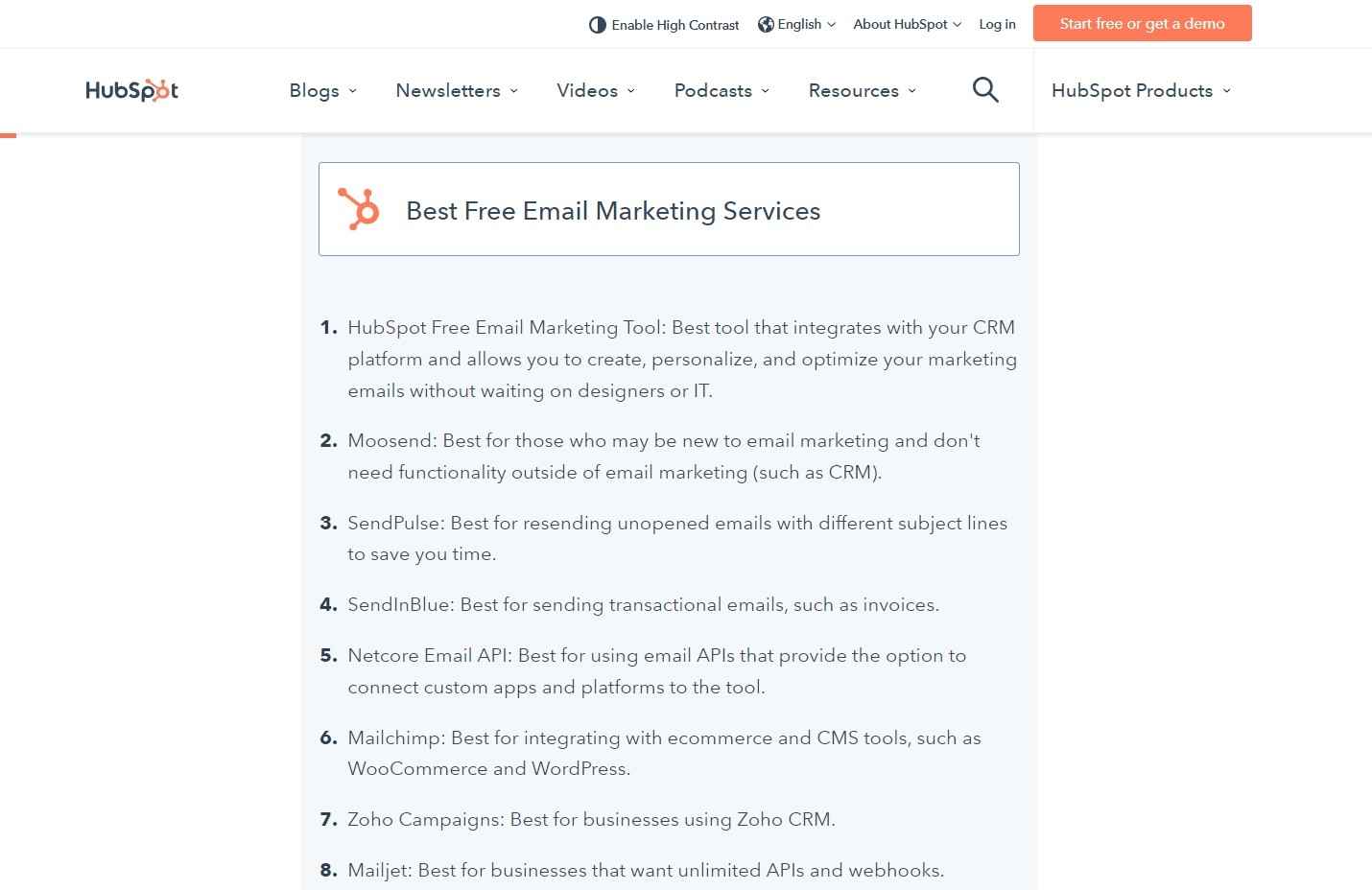 They have also been repurposing their research reports into various formats, including blog posts with engaging graphics, ebooks, and more. They also repurpose videos from their Inbound Marketing conferences into more easily accessible YouTube videos.
So, content repurposing takes a major load off their shoulders, especially when creating videos or social posts.
3. Updating existing content
Another very important thing that HubSpot has realized over the years and implemented very effectively is the practice of updating old content. Search engine algorithms keep changing and what was good for SEO a few years or even a few months ago, may not be enough for ranking at the top today. Back in 2014 itself, HubSpot discovered that 76% of their blog's page views are of their old posts. This means their old posts are ranking well but it is likely that most of the data and information in these posts are outdated. This could cause the post to drop in search rankings.
To prevent this, HubSpot carries out what they call 'historical optimization'. Historical optimization is the practice of optimizing old posts to update all the information and generate more traffic and conversions from them. The post need not necessarily be years old. It could even be a month old, but if there is anything that can add more value to it, HubSpot doesn't shy away from updating it.
Here's an example.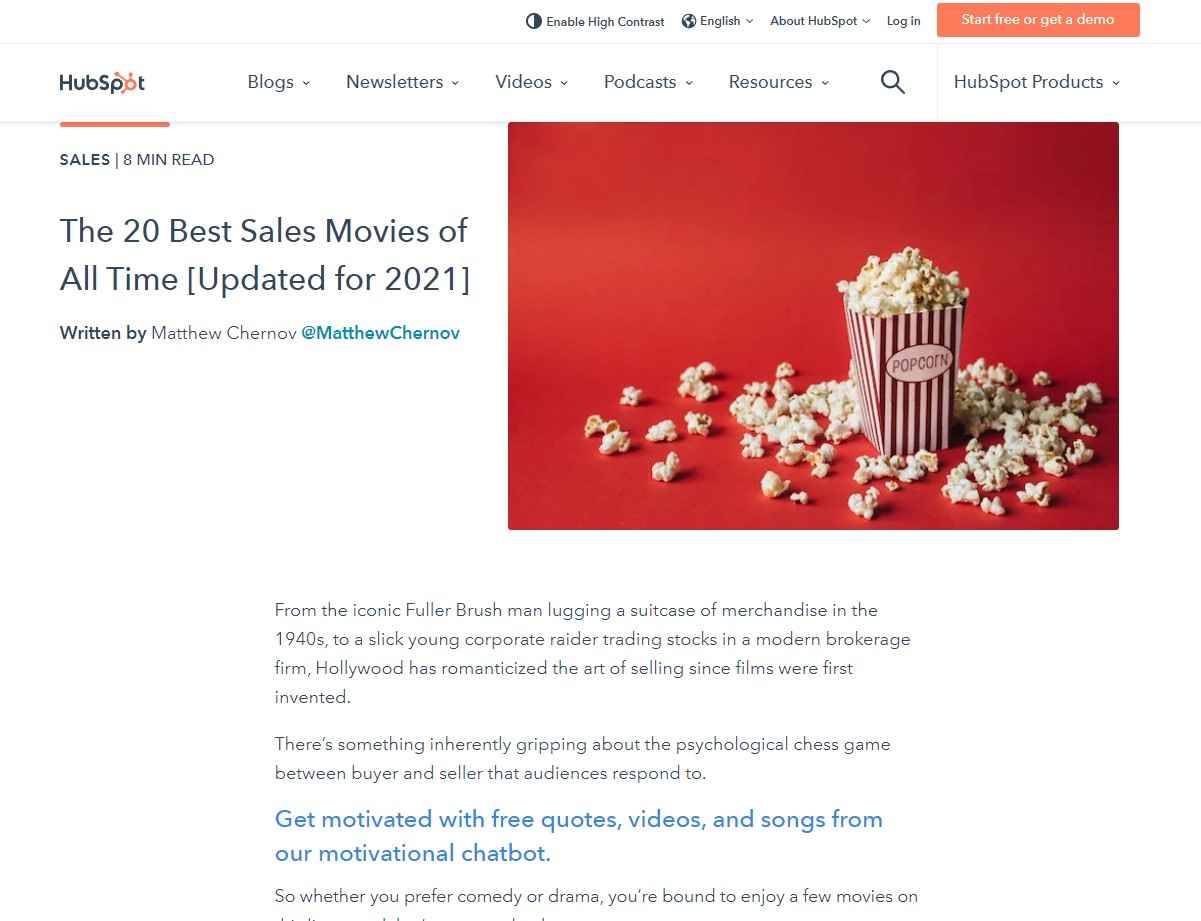 Take a look at the time stamp on the post below.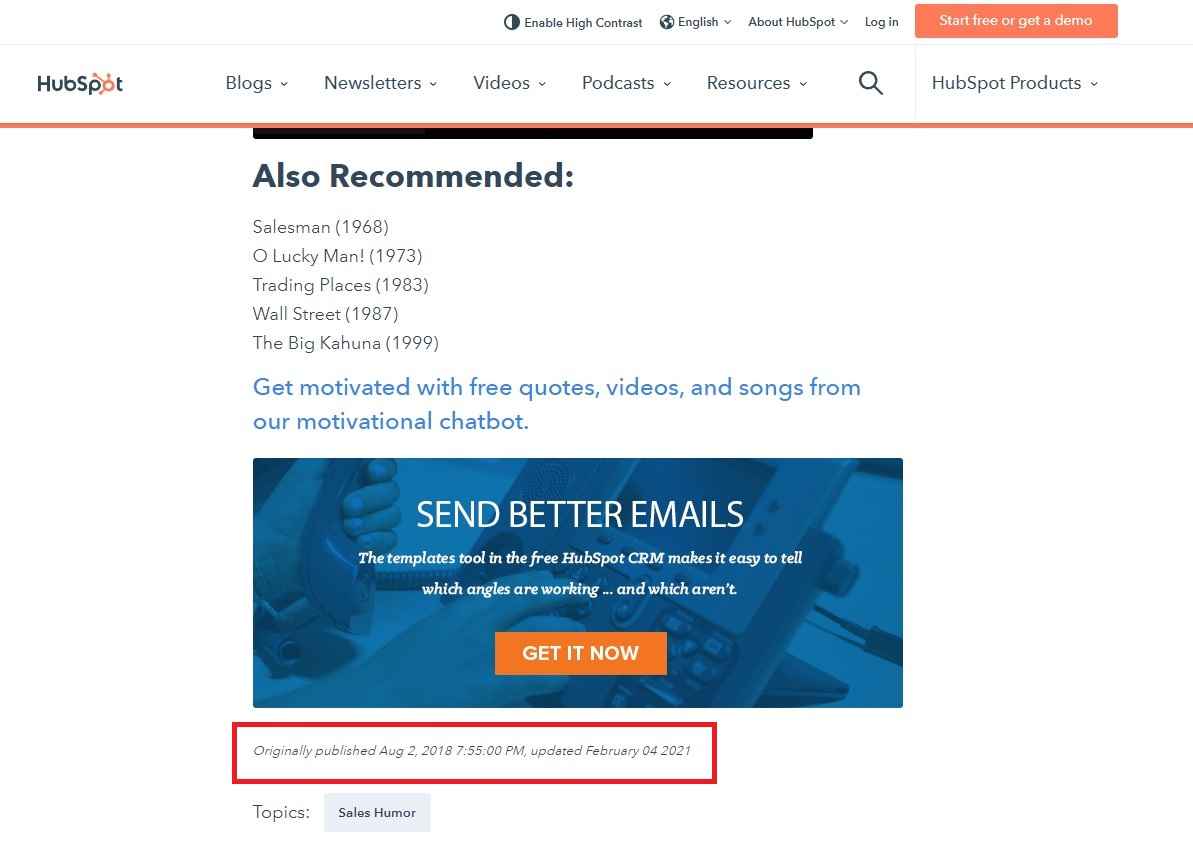 The HubSpot blog team has been able to increase views of old posts from organic search by nearly 106% through historical optimization.
4. Creating well-defined audience personas and segmentation
Every HubSpot content page that you look at, you are bound to notice how neatly segregated their content is for different audience personas. Be it the blog or the podcasts, there are well-defined categories for marketing, sales, leadership, startups, and more. This practice of having clear audience personas that the content marketing team can understand has paid off for HubSpot.
It has allowed them to create engaging, relevant content for each of their audience/customer segment. Their approach to creating content for marketers is different from that for salespeople, giving them more clarity on the kind of content they need to create. When the audience persona is well-understood, your content goals are clearer, and creating quality content that aligns with these goals becomes easier.
5. Creating high-quality, valuable, learning-focused content – HubSpot Academy
Lastly, a common theme that you will notice throughout HubSpot content on all channels is that they are rarely pushing their products. Content marketing for HubSpot is more about helping its audience learn. The free and paid certification courses that they offer through HubSpot Academy also work on this principle.
The purpose of the content is to educate the participants, and they are later required to practice what they have learned with the help of HubSpot tools. This way they are able to capture new users on their free tools, through valuable content alone. When users experience first-hand what the tools have to offer, they are more likely to trust the products and convert into paying customers.


What we learned from the HubSpot content marketing strategy
This HubSpot content marketing case study was a learning effort and a fruitful one. The one crucial lesson that we learned from HubSpot's content marketing strategy and its success, is that building credibility among your audience is the key. With honest, authoritative, and high-quality content it is only a matter of time before your brand earns a solid reputation among its audience. And for this, the first thing that you need to do is understand your prospective users. Knowing what your audience's challenges are and creating content that can offer a solution, or help them find their own solutions, helps earn their trust.
Also, creating content that you can use and reuse saves you a lot of effort. HubSpot earns a major chunk of its traffic from repurposed and updated content. So when you are creating something authoritative, keeping it evergreen and having repurposing ideas ready will definitely help you gain more traction for the same amount of work.
HubSpot has also shown us the importance of breaking legacies and experimenting with new content formats. Even for an established brand like HubSpot, staying relevant in the eyes of an evolving audience is important, hence their efforts to include podcasts and interactive social media content in their strategy.
HubSpot shows other content marketers that, even if you start small, being found by the right audience and trusted by all is possible. All it takes is an investment of some effort, time, and the will to deliver an excellent experience to your audience above everything else.
If you liked this case study, check out our ClickUp content marketing case study and Marketo content marketing case study to learn how these SaaS companies became well-known names in the industry with product-led content marketing.