Content is at the front and center of marketing today, and some companies truly understand its potential in brand-building and business growth. Rocketlane is one such company that has established itself as a thought leader in its industry with its informative and fresh content. This SaaS platform has grown to achieve immense popularity not only because of its unique product offering but also because of the way they have woven their product and content together while also keeping it valuable to their audience. Our content marketing case study on the Rocketlane content marketing strategy will cover all aspects of their out-of-the-box growth marketing tactics with content at the forefront.
– Rocketlane content marketing strategy
– What we learned from the Rocketlane content marketing case study

About Rocketlane
Rocketlane is a B2B SaaS startup offering a platform that makes managing client-facing projects 10X more efficient and seamless. The platform aims to deliver a consistent and delightful customer onboarding experience that will minimize the time to value by accelerating this phase of the customer journey.
Rocketlane has seen commendable growth in its target market and a major chunk of the credit must go to the content they create. The Rocketlane team has been growing its content arm parallel to the product. They have understood the importance of good content in growing the product, building a brand, and generating leads very early on.
Rocketlane's content has been a hit among professionals and industry experts in the post sales process including customer onboarding, implementations, customer success operations, PS, and others. In this content marketing case study, we'll be looking at how Rocketlane's blog leverages product-led content while offering valuable guidance and information to its audience. We'll also take a look at the other content formats that they invest in, including their podcasts, webinars, social media content, and more, to see how they drive lead generation through these channels.
So without much ado, let's take a deep dive into the Rocketlane content marketing strategy.
TL;DR Here's a video summary of this content marketing case study.
Rocketlane content marketing strategy
Rocketlane's content marketing strategy includes the following key elements –
Blogs – Thought leadership, product, and SEO content
Webinars and workshops – Thought leadership and product discussions
Video series – Thought leadership and product videos
Newsletters – Company news, announcements, and updates
Community-driven content – Webinars, blogs, and newsletters
In this content marketing case study, we'll try and cover all the bases of their content strategy and find out what they do differently. Let's start with the Rocketlane blog.
Rocketlane blog
Rocketlane's blog is by far one of the most important channels for lead generation and customer acquisition for this SaaS startup. And this is evident from the sheer amount of blog content they've produced so far. We all know that for building a following and carving a niche for your brand with content, the frequency of posting is very important. The first thing we noticed on the Rocketlane blog is that their blog content calendar is pretty full. They publish at least two blog posts every week. This ensures that they are putting out enough content to keep their audience engaged and also draw the attention of new prospects.
The blog covers a wide range of topics, from thought leadership on customer onboarding to step-by-step guides to product tutorials.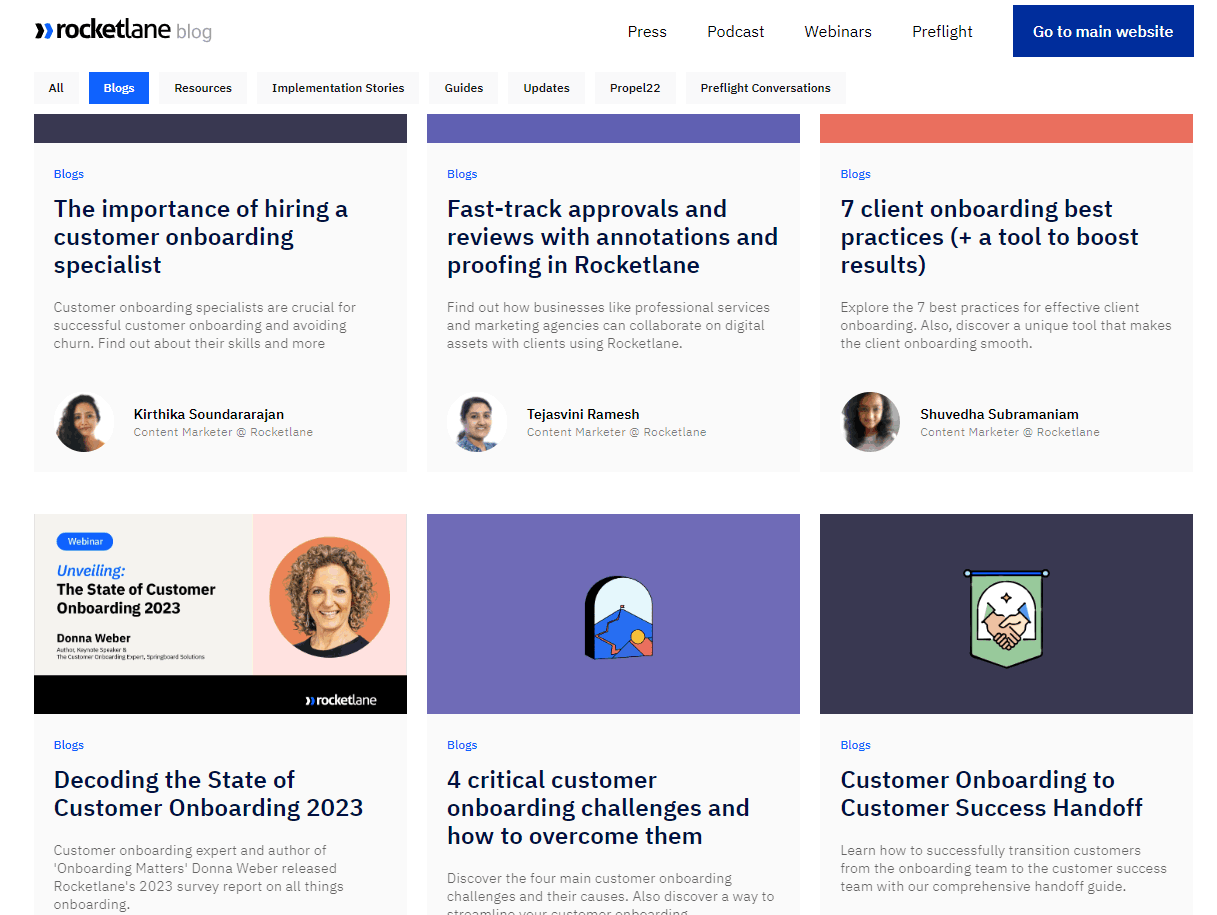 One of the key indicators of quality content is that the blog posts here are extremely detailed and very well-structured. Jump links to different sections of a post from the TOC make it easy for the reader to quickly jump to important sections if they're short on time. Great for the reader experience!
Also, they never miss a chance to mention Rocketlane as a customer onboarding solution in their blog posts – what product-led content marketing for SaaS should be like.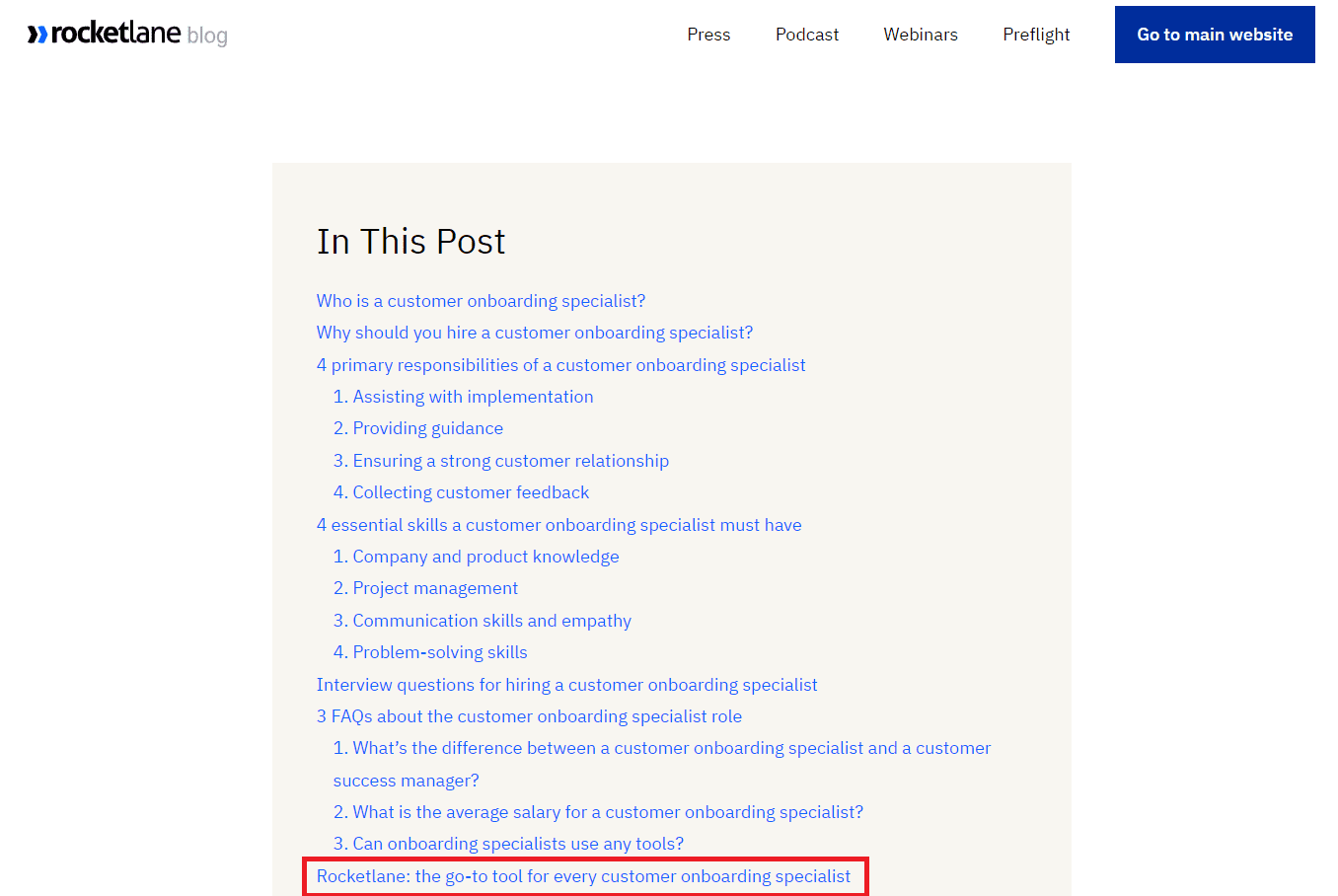 You must have seen this in our ClickUp content marketing case study or Notion content marketing case study too – how leading SaaS brands never fail to weave their product into the story. Rocketlane has mastered this art from the very beginning of their content journey.
Rocketlane's resources
Apart from their in-depth blog posts that help readers get familiar with the client onboarding process and related activities, Rocketlane also shares tons of resources on their site. These resources include client onboarding templates, checklists, guides, expert advice, and more.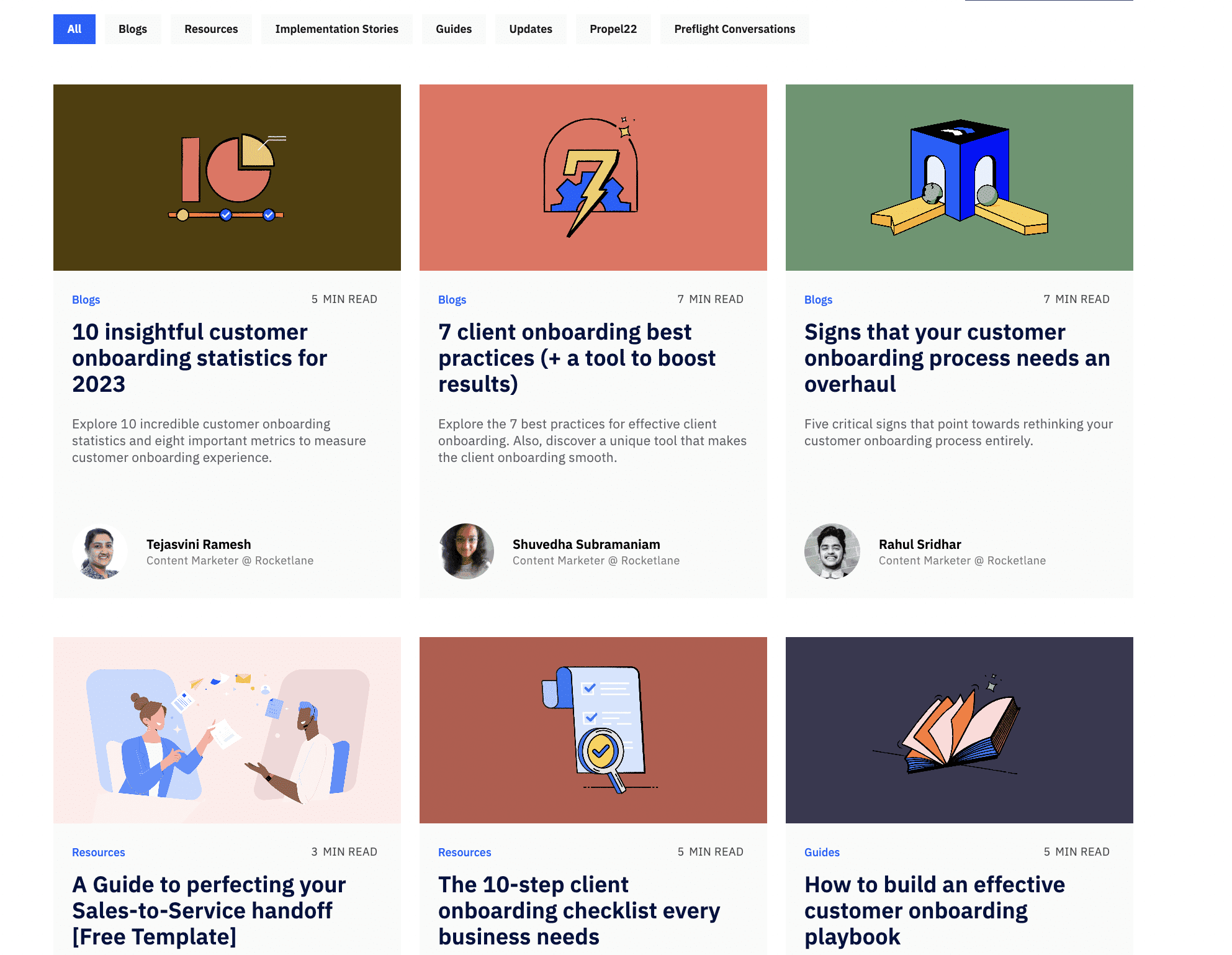 These resources play a very important role in helping Rocketlane increase their chances of appearing in search. That is because people looking for client onboarding solutions will often search for templates, checklists, guides, tutorials, etc. Creating content around these keywords and providing the audience with useful assets to employ in their own customer onboarding process is a sure-shot way to gain some visibility and goodwill.

Customer onboarding guides
Rocketlane also publishes a host of guides on all things associated with customer onboarding. Be it handling escalations during client onboarding or picking the right customer onboarding software for your customer success and services teams – whatever your query, there is probably a guide on their site for it. Though the frequency of publishing these guides is not as high as their blog posts, they are still extremely helpful and the collection is growing.
The best part about it is that Rocketlane team has people who have themselves worked in customer onboarding and project management. This makes their thought-leadership content and guides even more valuable as their advice comes from real-world experiences and expertise.
This guide on crafting an effective customer onboarding methodology, for instance, is by Rocketlane CEO, Srikrishnan Ganesan, who is an expert in customer onboarding and revenue growth operations.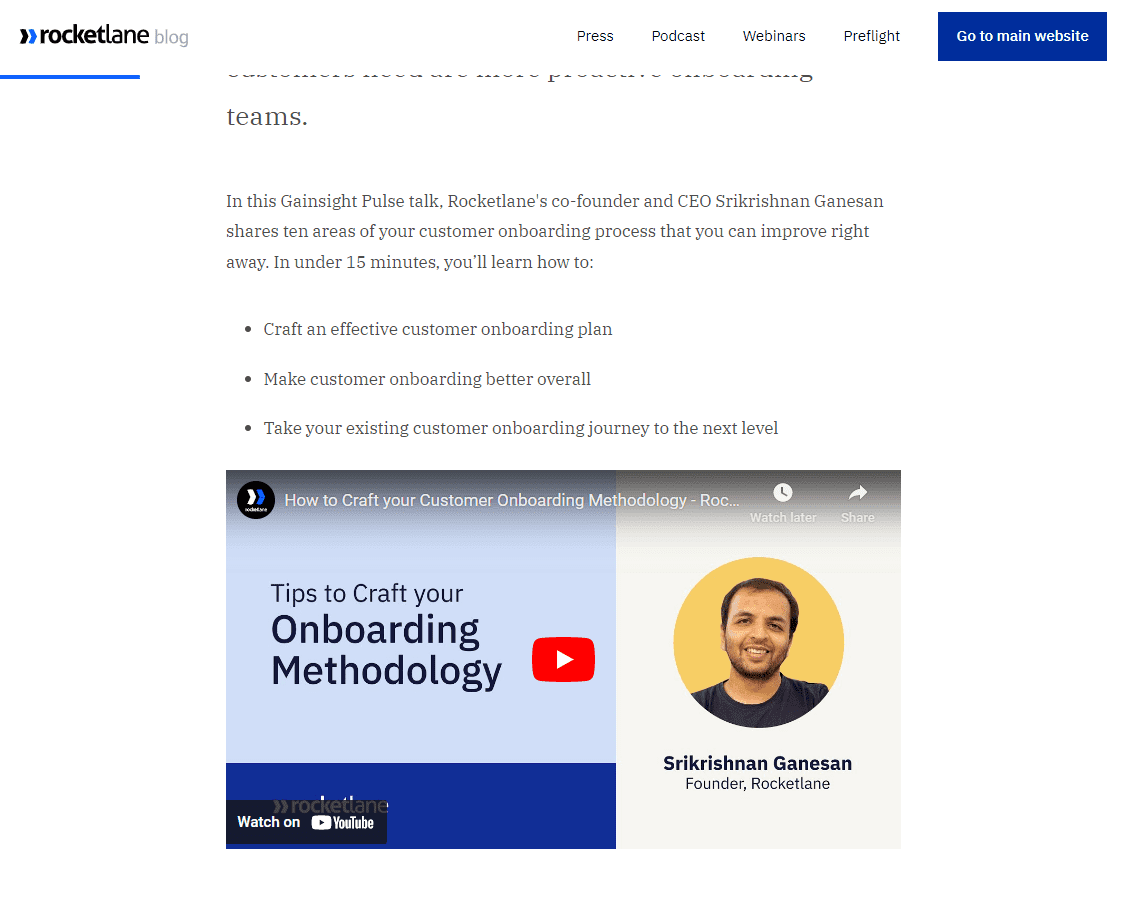 Rocketlane implementation stories
Implementation stories is an interesting series started by Rocketlane that shares the different approaches companies take in implementing client onboarding successfully. These are excellent resources with some great practical advice from Customer Success Managers, Enterprise Onboarding Managers, and the likes at successful companies.
They usually share detailed accounts of how they improve the onboarding experience for their customers and what tactics they use.
While most other SaaS companies would focus their energies on publishing customer stories and case studies, Rocketlane stands apart by providing its audience with these highly useful implementation stories. Most of these stories do not promote Rocketlane as a tool, but are shared purely with the intention of helping their users.
Here's an example of one such Implementation Story on their site.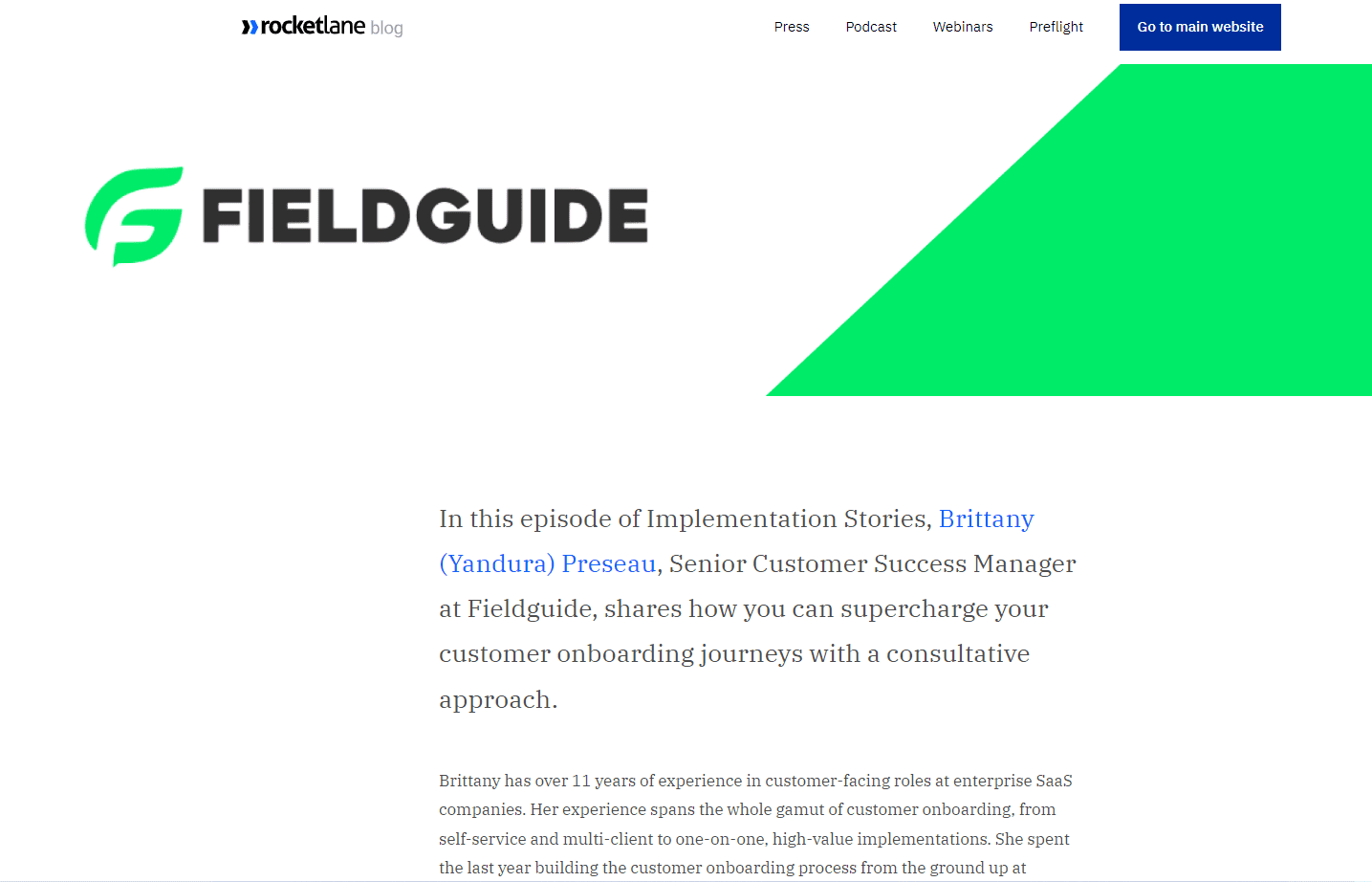 Preflight conversations
The founders of Rocketlane have also founded a community of leaders and practitioners in customer onboarding, implementations, and value delivery called the Preflight Community. The Rocketlane content marketing strategy also leverages some insightful content created by community members. This category of content on their site is called Preflight Conversations.
Preflight conversations include expert advice, tips, information on customer onboarding roles, and much more. This community-driven content is all the more valuable because the Preflight community hosts experts in customer onboarding from top companies like Zendesk, Freshworks, Chargebee, and others. So, without a doubt, the kind of conversations that happen here are extremely insightful and helpful for Rocketlane's audience.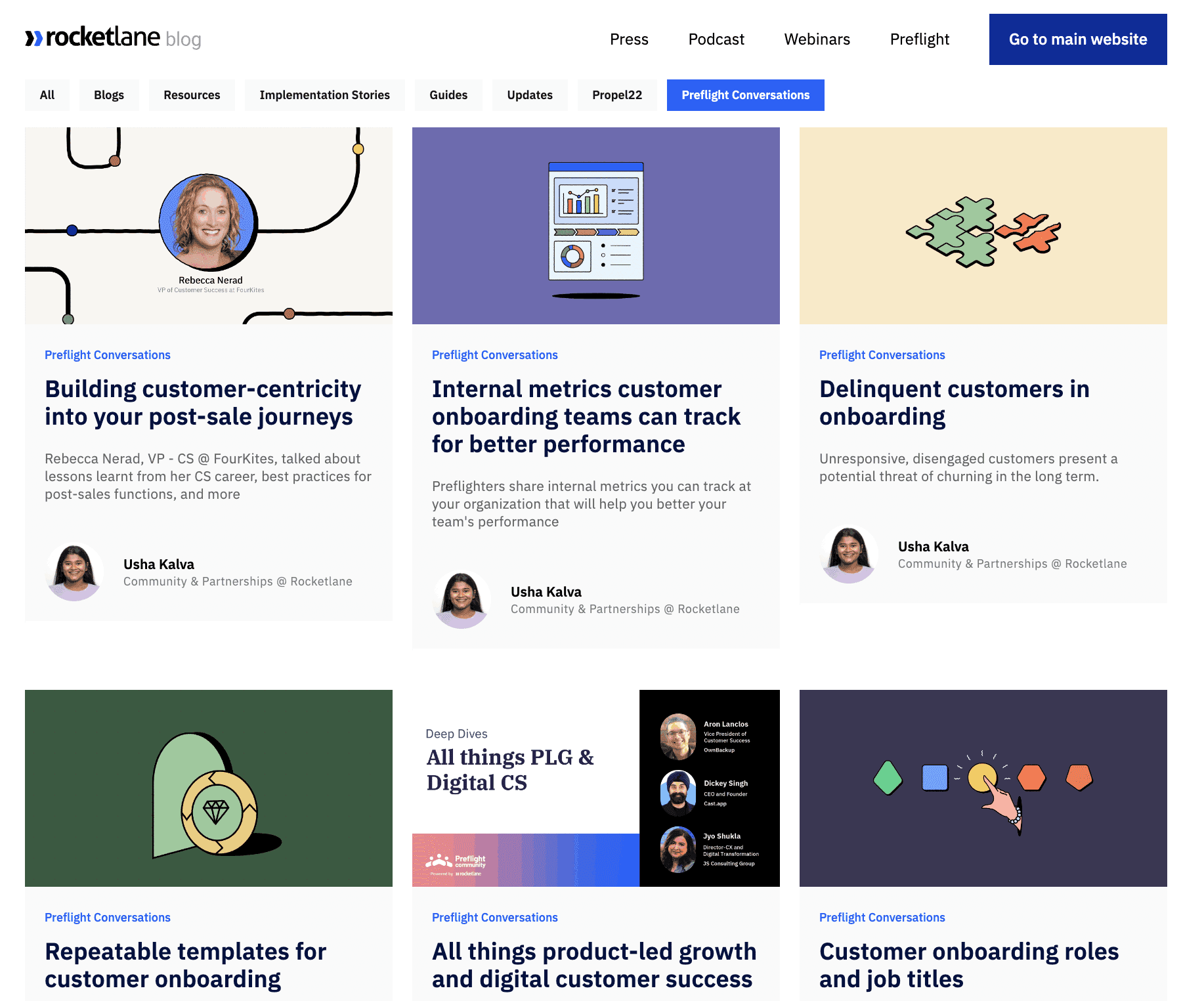 Here's an example of what Preflight Conversations on Rocketlane's blog look like. This one's titled "All things product-led growth and digital customer success".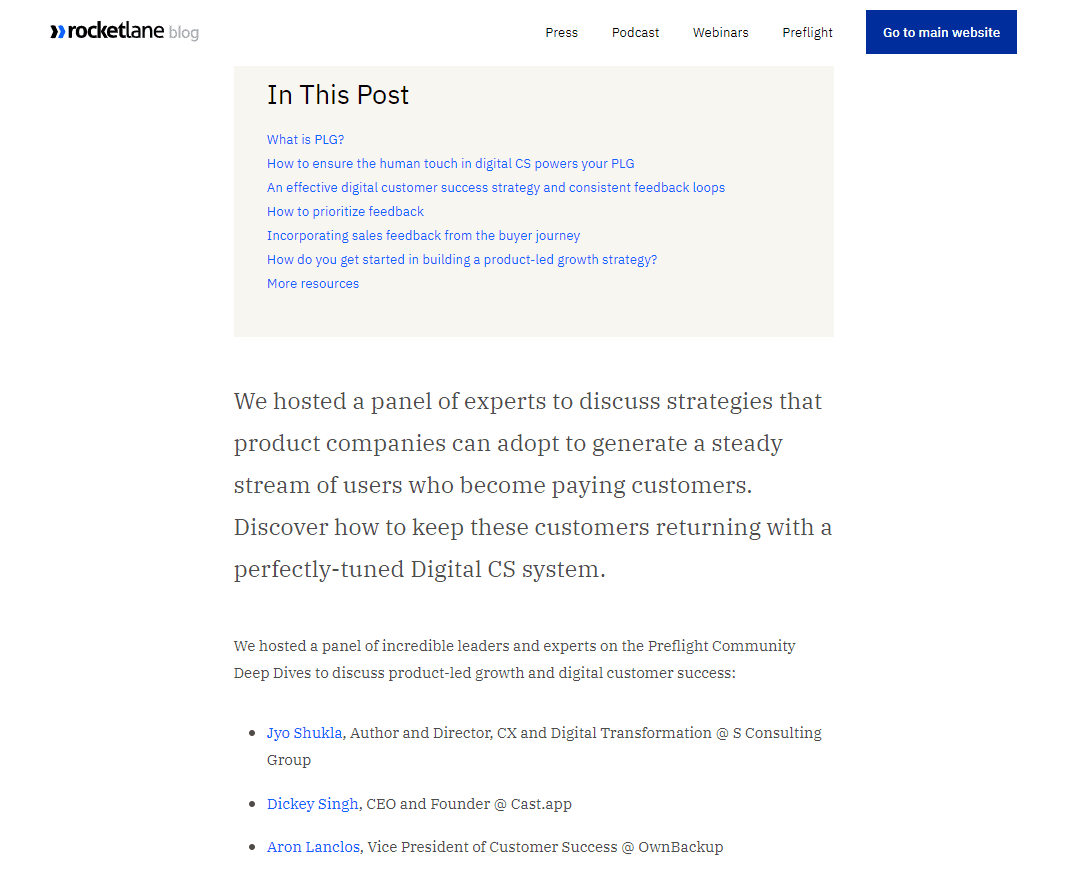 Propel by Rocketlane
Propel is a customer onboarding event hosted by Rocketlane which is supposed to be the first of its kind. The first edition concluded in March 2022. But the best part is that all the expert talks and resources from the conference have been made available on the Rocketlane blog too.
So no matter if you could not attend the event, you will not miss out on the treasure of knowledge that it had to offer.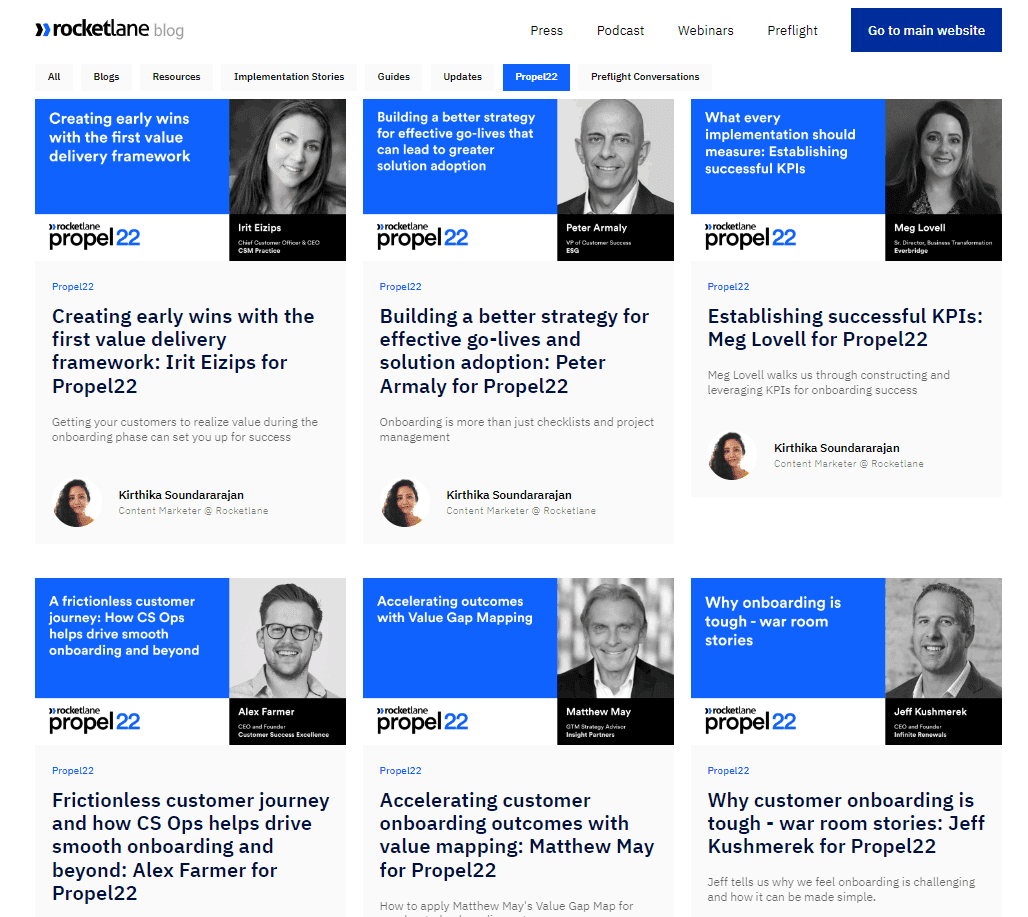 This again goes on to prove that Rocketlane prioritizes delivering value to its audience over everything else, which is why they've chosen to make the talks from Propel accessible on their site. Most other companies would usually only share them on-demand or hide them behind an opt-in form.
Rocketlane's social media content
Apart from an extensive array of written content and video content on their website/blog, Rocketlane also has a social media presence on LinkedIn, Twitter, Facebook, and YouTube. We went through their social media feed to see what kind of content they post to engage with prospects on these channels. Their LinkedIn feed includes a lot of visual content, be it videos of their panel discussions with industry experts, new feature announcements, or just a company update with a trending meme to accompany it.
Unlike what we saw in our Airtable content marketing case study, they don't post QnAs or polls to engage their audience. Nor do they share too many custom graphics or funny memes as we saw in the HubSpot content marketing strategy.
Their YouTube channel is also quite content rich. You'll see a lot of Rocketlane's feature announcements, product tutorials, and case studies here. There are also some very informational videos like book recommendations by customer success experts and customer onboarding best practices to benefit their audience.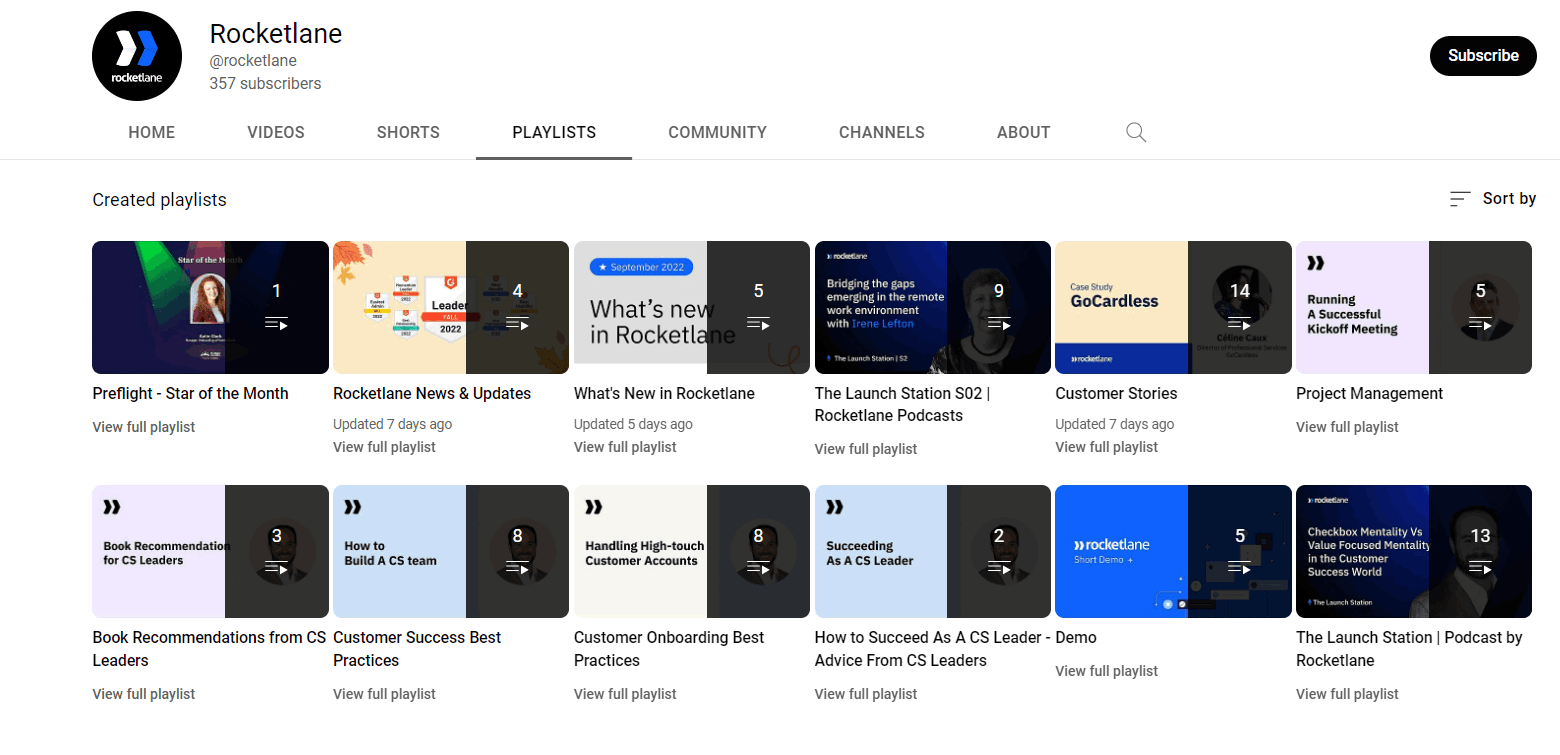 From what we see, it looks like Rocktelane is more intent on building a brand for themselves and providing their followers with only high-value content from their podcasts, webinars, blogs, and other sources.
The Launch Station by Rocketlane
The Launch Station is Rocketlane's podcast channel. The team invites Customer Success and Implementation leaders every week to discuss how these leaders accelerate value delivery with their teams in their organizations. These podcasts are an invaluable source of knowledge for customer success and post-sales professionals, as you get to hear best practices and success stories from the "who's who" of the industry.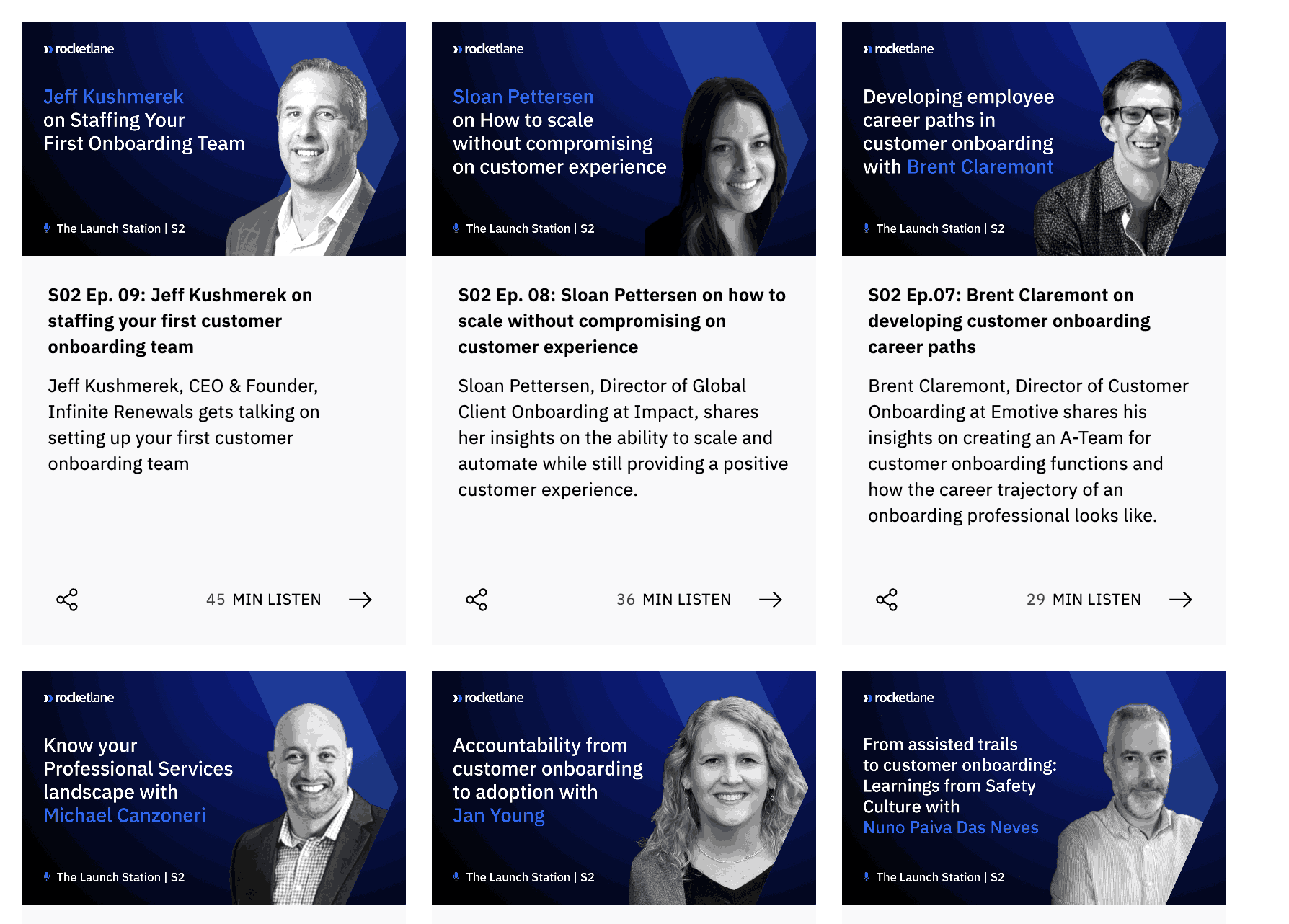 The podcast has successfully been running for 2 seasons now, with guests from leading companies like Cloudera, Citrix, and others.
What we learned from the Rocketlane content marketing case study
From our content marketing case study on the Rocketlane content marketing strategy, a few things we found worth noting were these –
Thought leadership – Rocketlane is built by people who've been in the customer onboarding space themselves and are experts. This allows them to share content with insights and best practices that can hardly be found anywhere else. This makes Rocketlane's content unique and is a big reason behind its growing popularity.
Quality – Rocketlane's content marketing team prioritizes quality. There are no repeated points in their blog posts. They usually have solid takeaways. And, of course, the basic aspects of content – language, grammar, voice, and tone – are always up to standards.
Multi-format approach – Rocketlane content marketing strategy includes blogs, videos, podcasts, infographics, downloadable e-books, webinars, and more. This gives their audience, looking for customer onboarding and customer success know-how, different options to learn from formats they find most convenient. Multiple formats break the monotony for their audience and help keep them engaged.
From this content marketing case study, one thing that is clear is that good content can surely drive product growth. The more value you can provide through content, the more your brand gains visibility and the more people want to try out what your product can do for them. Rocketlane has never looked at content as an afterthought but has focused on building its content wing simultaneously with its product – that's what makes all the difference in content marketing.
Level up your content marketing game with Narrato
Rocketlane uses Narrato Workspace to build a framework for managing its content marketing efforts. From managing all content team members on a single platform, to ensuring consistency in content quality and structure, to scaling content production with AI tools, Narrato has helped Rocketlane expand its reach to newer industries and audiences faster. If you're looking for phenomenal growth with content too, make the switch to Narrato today!