A compelling piece of content can convince readers to take a specific action. For example, if you read a great climate change article, you may be compelled to take the metro the following day. If you've read an article about health, you may be enticed to try keto. Similarly, you can use quality content to boost brand awareness and attract customers. This tactic is known as content marketing. A proper content strategy can get more people to take action, such as purchasing from you.
When it comes to business, there are other areas to consider when writing quality content. Not just a clever use of literary devices. For one, quality content has to produce results — and consequently — revenue.
So, here's everything you need to know about quality content.

1. Establish the metrics you want to track
As with any marketing effort, you must know whether something is working or not. Knowing a tactic is working will allow you to scale your business growth. So, you must establish KPIs to see which content creation approach works best for you.
The metrics to track will depend on your business goals. For example, if your goal is brand awareness, you can look at page views, as shown below.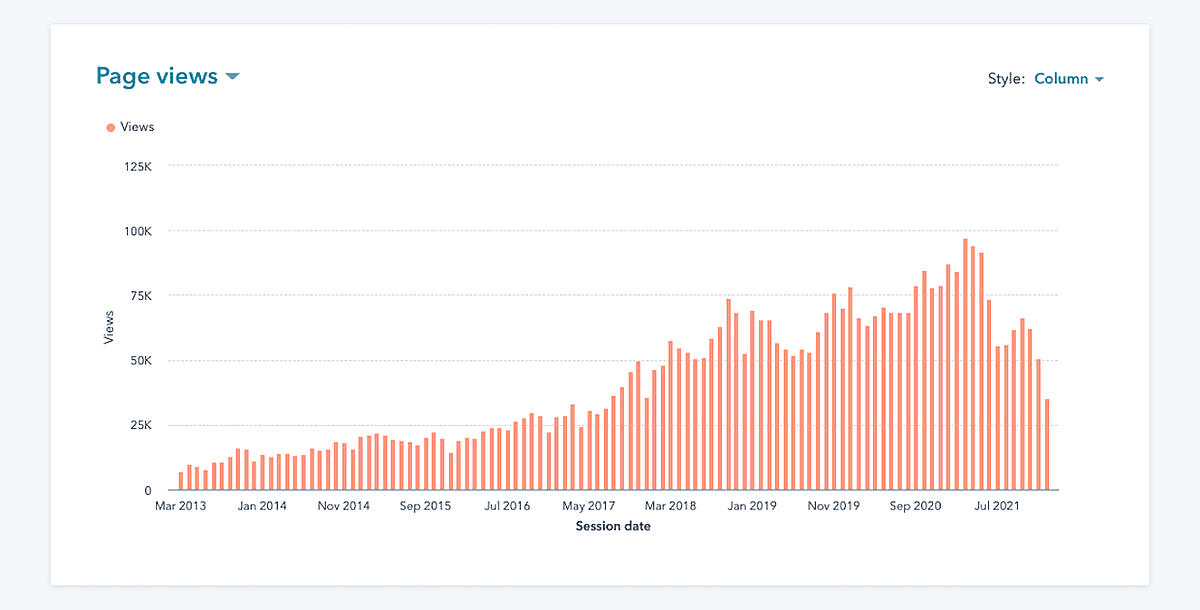 If SEO is your goal, you can look at page rank, the number of keywords ranking for, and organic traffic.
If engagement is your goal, you can look at metrics such as page sessions, shares, comments, and likes.
These content metrics allow you to make critical decisions within your content production process. Suppose you see a dip in page sessions when you shift your writing style. In that case, you may want to revert to the writing style that achieved a longer session duration.
2. Identify customer pain points
Understanding your target audience's pain points allows you to create topics they will find helpful. You will also know what to discuss as you create your content. As a result, you can gain social shares and establish a more authoritative brand.
Here are the various ways you can learn your audience's pain points.
Conduct social listening. Social listening is commonly associated with monitoring brand mentions. But it's also about keeping on top of discussions around your niche. Know what your audience is talking about using social listening tools like Hootsuite and Buffer.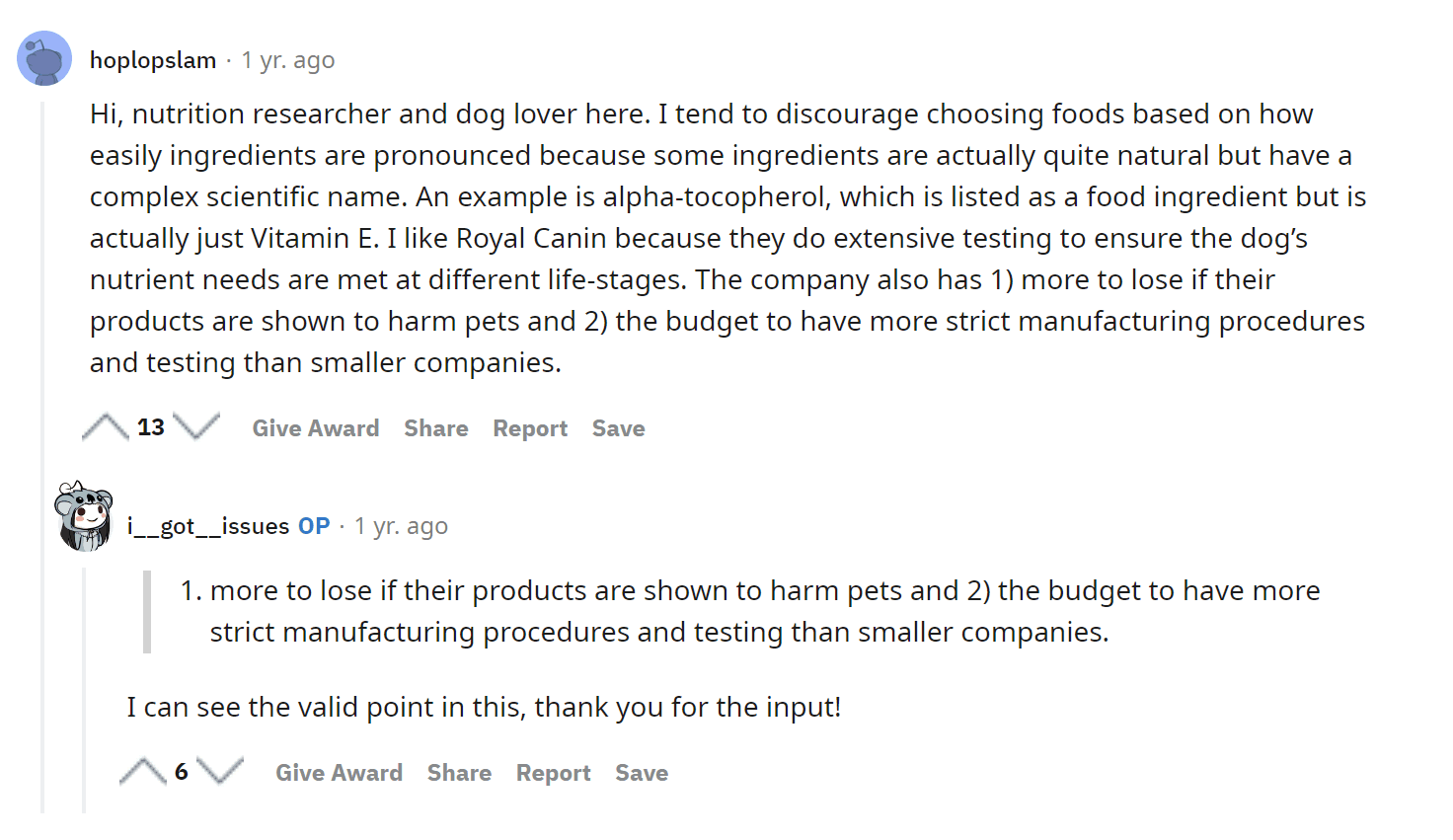 Go to Reddit and other community forums. As shown above, these are discussion hotspots. Often, you'll find your audience arguing about something, inspiring some juicy, engaging topics.
Conduct focus group discussions and interviews. These methods of gathering information are more nuanced. Non-verbal cues, such as facial expression and voice tone, allow you to see what discussions the person is passionate about.
Perform keyword research. Keyword research is another effective technique for identifying customer pain points.
If you're catering to searchers who need dog food, you know a root keyword to filter for is "dog food." Shown below are the search queries containing "dog food." People who search these queries may want to know the ideal dog food, are in the market for dog food, or have a problem involving dog food.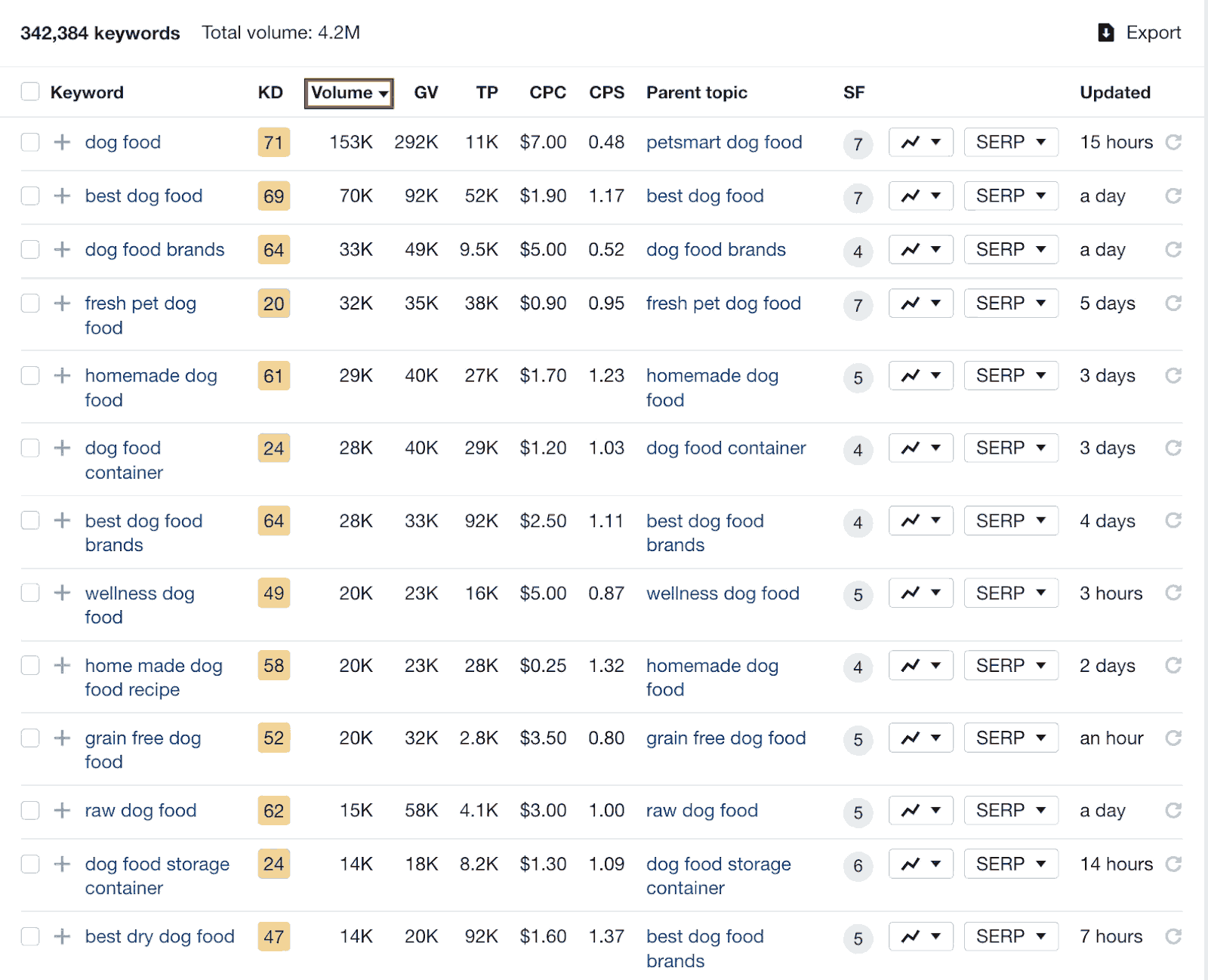 You can create content for queries such as "grain-free dog food" and "best dry dog food." These queries will naturally draw in search engine users looking for a solution to their problems.
But it's one thing to identify pain points. The bigger challenge is writing content that answers those pain points.
3. Write quality content
For a content strategy to be successful, your content must be read. To achieve that, the piece must be valuable to readers. Listed below are tips on how you can write high-quality content.
Write in an engaging style
Write in your target customer's tongue. If you're selling skating equipment to the 16-24 age group, consider street lingo.
Your ideal customers will resonate more with your pieces when you write in their language. It will also make your message clearer to the readers.
Also, look out for long paragraphs with no breaks. Add photos and headers to break up huge blocks of text. You'll make your content more digestible and engaging this way. Try Narrato's AI image generator tool or the free image search tool to find suitable visuals for your content.
Check your grammar and cohesiveness
Oversight of a grammatical mistake can ruin the quality of a piece. So make sure that your writing is grammatically correct.
Avoid long, complex sentences as well. These are tiring to read. Instead, use grammar checker tools like Narrato's AI content assistant to get grammar, word use, and sentence structure suggestions.
Gather Reliable Information
Quality content is also determined by how credible it is. To set the foundation of your piece, you'll need to cite sources, studies, and statistics for your claims. Published work such as these will solidify your statements, making for an overall authoritative article.
You can also gather statements from industry experts.
Having reliable information will make your content more actionable. This can reduce bounce rates and increase conversions.

4. Market your content
After creating high-quality content, it's time to distribute and market it. There are various ways (organic and paid) of going about it. SEO is one of the major ones. Optimizing your content for search engines will increase its exposure and search engine rankings. This allows you to drive more organic traffic to your content.
Optimizing your content for search engines involves using keywords strategically, writing accurate meta titles and descriptions, and writing optimized URLs. You may consider partnering with an SEO service provider to do all the work for you.
Or you could use Narrato's SEO content brief generator that offers keyword suggestions, questions to include, and other SEO parameters you can optimize content for.
Here are the other ways to market your content.
Include internal links within your blog. By linking relevant articles to each other, you increase the potential reach of each article.
Share your content on social media.
Curate content for your email subscribers.
Acquire third-party backlinks from reputable websites. This will drive a similar niched audience to your content. You can find emails using tools for outreach to pitch your guest posts to the editors of the sites you want to acquire backlinks from.
It's important to note that marketing your content can only be maximized if your piece is of good quality in the first place. So follow the previous tips first before applying this one.
5. Track your performance
Finally, you need to track the performance of your content. Go back to the metrics identified earlier and monitor them over time to see how well your content performs.
For example, if traffic was one of your key metrics, compare the amount of traffic your content receives over time. If it's bounce rate, check whether you're improving or not.
Tracking your content's performance allows you to adjust your strategy accordingly. For example, if you notice a continuous dip in traffic, you'll want to do an SEO audit for your website. You may also want to update your content or publish new pieces.
You can track your content performance using various tools. Google Analytics is a great example. Plus, it's a free tool.
You can also use premium tools like Ahrefs, Moz, and Semrush.
In Closing
Something to remember when creating quality content is to appeal to real people first, algorithms and crawlers second. Writing for people will increase page session time. Google will notice and rank you higher as a result.
From this article, you've learned how to create quality content that your readers would love. You also learned how to market that content and monitor its performance. It's now time to put the tips into practice. Good luck.

Authors Bio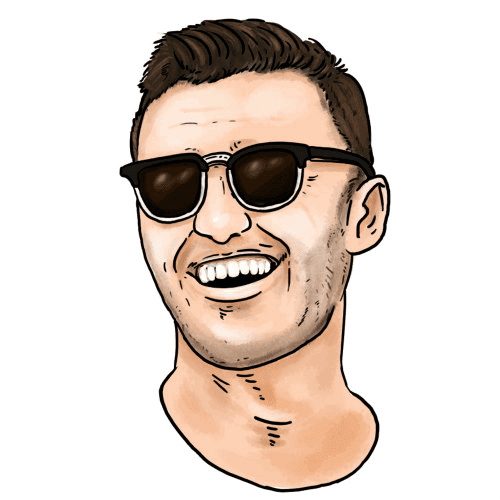 Owen Baker is a content marketer for Voila Norbert, an online email verification tool. He has spent most of the last decade working online for a range of marketing companies. When he's not busy writing, you can find him in the kitchen mastering new dishes.