A lot of effort goes into creating content for your blog. The amount of time you spend on research, writing, formatting, and ensuring that your blog provides value to your audience is commendable. But what are you getting out of your blogging efforts? Companies and brands that blog do it to drive traffic to their websites, generate leads, and increase sales. But how to monetize a blog when you're not selling anything directly? Or, what's the best way to monetize a blog without using ads? That's where affiliate marketing can help you get amazing returns. 31% of U.S. publishers ranked affiliate marketing among their top 3 revenue sources.
Making money on your blog purely through affiliate marketing, however, is not as easy as it may seem. It requires a thorough understanding of what affiliate marketing is, which affiliate programs to join, and how to earn commissions through affiliate links. In this blog post, we are taking a closer look at how to monetize a blog with affiliate marketing. We will be sharing some great tips and best practices using which you can turn your blog content into a passive income source in no time.
2. Identify your target audience
3. Find the right affiliate programs to join
4. Choose affiliate products that align with your values and interests
5. Create high-quality blog content for affiliate marketing
6. Promote your affiliate marketing blog
7. Track and analyze your blog's performance

How to monetize a blog with affiliate marketing: Tips for creating a successful affiliate marketing blog
If you've been following our posts on affiliate marketing for beginners, you're already familiar with how affiliate marketing works. To give you a quick summary, in affiliate marketing you join a brand's affiliate network, promote its products through your content and share affiliate links to the product with your audience. If any of your followers/readers click on the affiliate link to make a purchase, you earn a commission from the seller. There are different types of affiliate marketing content you can create, including visual content for Instagram affiliate marketing, YouTube affiliate marketing, and more. But a blog is definitely one of the most popular go-to formats among affiliate marketers.
So here's how you can make money blogging with these affiliate marketing tactics.
TL;DR Here's a quick video summarizing this article.
1. Decide on your blog niche
As a blogger, you can create content around any theme, topic, or industry. But if you are looking to establish yourself as an affiliate marketer, it is important to define a niche for your blog. Having a specific affiliate marketing niche means that your blog will only cover topics around this niche and target a very specific audience. For instance, you could have a tech blog, a finance blog, a travel blog, a beauty blog, or something else.
But why do you need a blog niche in affiliate marketing? Because the more generalized your content is the less likely you are to make a connection with the audience. When you create content on a particular niche or industry, you can provide more value to the audience looking for products and solutions within that industry. When you consistently post content around a niche, it helps establish your blog as an authority in the area. Search engines reward this authority by ranking you higher in relevant searches and people are more drawn to your site when researching products to buy.
Having a generic blog may not have the same impact on the audience. And if you cannot drive traffic to your blog, making money from it will be challenging no matter how good your content is.
For example, Nerdwallet is a finance blog that shares guides and tips on all things finance, be it credit cards, insurance, or student loans.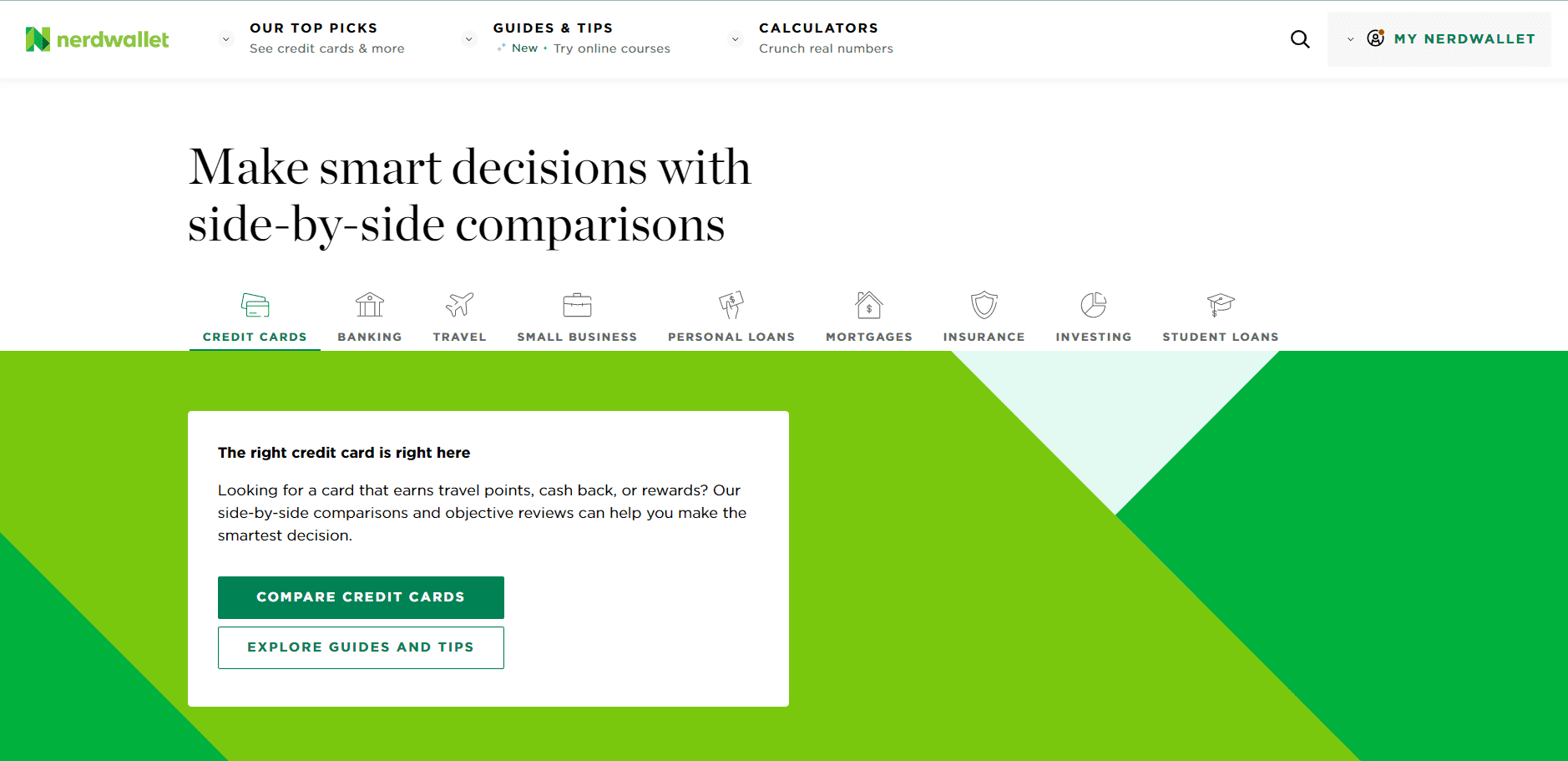 They have become so popular within their target market that they have even launched their own money management app for users. That's the result of staying true to your niche and helping your audience with useful information, even when your ultimate goal is to make money blogging.
2. Identify your target audience
Once you've decided on your blog niche, you also need to determine who your blog's audience would be. Because what you write will depend on who you are writing for. For instance, if you are running a beauty blog, are you targeting only women or men as well? What age group do you want to target? Do you want to cater to a very specific audience – such as high-income groups who would be interested in luxury beauty products – or college-goers and working women who prefer drugstore products?
The same applies to other niches like tech, travel, lifestyle, etc. Knowing your blog audience personas is key to creating good affiliate marketing content that hits the right chords with your audience and increases clicks on your affiliate links. It will also give you a better idea about what kind of products to promote and decide which affiliate programs to join.
Here's what a detailed blog audience persona looks like.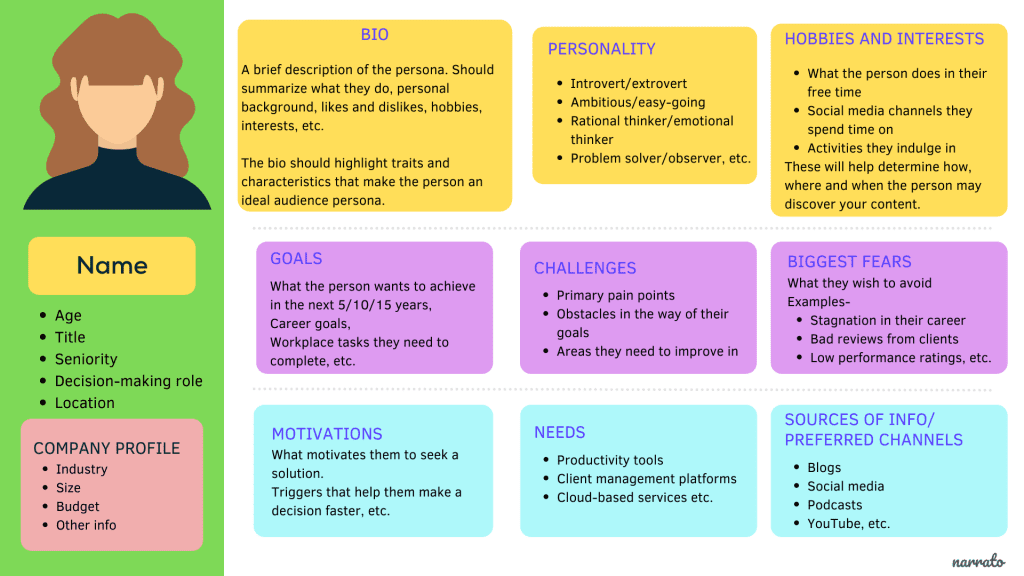 You may not always need these many details, but identifying the basic demography to target is a must.
3. Find the right affiliate programs to join
In your efforts to monetize your blog, the next most important step is to choose the most profitable affiliate marketing platforms to join. You can either join a seller's or brand's affiliate program directly, or you may join affiliate platforms that act as mediators between brands and affiliates. The benefit of joining an affiliate platform instead of enrolling with brands directly is that you get to choose from a host of different merchants and products to work with. Also, the affiliate platforms manage all the payments between the merchants and the affiliates, which means you don't have to keep chasing brands for your payouts.
Some of the popular affiliate marketing platforms are Amazon Associates, Rakuten, Awin, ShareASale, etc. Most of the popular affiliate programs are reliable, and you may even earn rewards and incentives if you meet certain criteria in the long run.
When looking for the most profitable affiliate programs, make sure to factor in the following –
The affiliate products they offer and if these products are relevant to your audience.
The commission rates they offer. There could be high-commission, low-volume products, and low-commission, high-volume products (like some products on the Amazon Affiliate program). Find out which has more profit potential.
Terms of enrolling in the affiliate program. Make sure you meet the criteria required to become an affiliate.
Cookie duration or cookie life, which determines how long after a buyer clicks on your affiliate link a sale will be attributed to you. The longer the cookie life the better your earning opportunities.
4. Choose affiliate products that align with your values and interests
This might seem trivial or unimportant, but choosing products that align with your values and interests as well as the interests of your target market is crucial. A lot of time and effort goes into your affiliate marketing blog and you must make sure it is worthwhile. Unless you are convinced that the products you're promoting are worth recommending, you cannot do justice to your affiliate marketing blog.
If you are promoting products that you personally wouldn't use or products that don't interest you, it will show in your content. Sooner or later, your followers will find out that your recommendations are not genuine. You may even see your following dwindling over time if you're not careful in choosing your affiliate products and end up losing your audience's goodwill.
On the contrary, when you promote products that you are truly interested in, your blog content will flourish. It will reflect your enthusiasm and your audience will feel that you truly back the product, which pumps up their confidence in it too.
So choose your affiliate products wisely.
5. Create high-quality blog content for affiliate marketing
Now just because you are writing blog posts for making money from blogging, content quality cannot be overlooked. If you want people to come to your blog and click on your affiliate links, then creating quality content will be of foremost importance. It is only with high-quality, useful content that you can keep your audience hooked and coming back for more.
Here are a few quick tips to create affiliate marketing content that drives conversions –
Keep your audience's interests in mind above everything else. Try to provide them with value to earn their trust.
Avoid being blatantly promotional about the products you recommend. Share both pros and cons for the audience to consider.
Structure your blog posts well for readability and ease of navigation. Use AI content generator tools for affiliate marketing, like Narrato's AI content assistant to create and edit well-structured, error-free content faster.
Ensure content is optimized for search to increase your visibility on Google. Narrato's SEO content brief generator can help with keyword suggestions, questions to answer, and other SEO recommendations.
Use good quality affiliate marketing videos and images in your blog posts. Make sure the audience has all the information they need to make a purchase decision.
Experiment with different blog formats. Affiliate product reviews

, comparisons, guides, tutorials, etc. can all be excellent resources for your audience.

Place links and CTAs where they are clearly visible. Incorporate links naturally within the content.
Be honest about your affiliate relationships. Add a disclaimer at the end of every post or close to an affiliate link, disclosing that you earn a commission if they click on/ purchase from the affiliate link.

If you have any other blogging best practices that you usually apply to your content, make sure that you use them in your affiliate marketing blogs too.
Also, keep an eye out for seasonal deals and offers. These can be great opportunities to monetize your blog. Create high-quality seasonal content that can drive tremendous traffic to your blog and offer festive discounts to your audience to increase your clicks and commissions.
If content creation for your blog gets too overwhelming or you wish to scale your blog content beyond the current capacity, it might be a good idea to outsource a part of your blog content creation to a reliable content writing service like Narrato Marketplace. This takes a major burden off your shoulders so you can focus better on building your blog strategy and identifying new revenue generation opprotunities.
6. Promote your affiliate marketing blog
Simply publishing your blog posts or ensuring SEO is not enough to grab eyeballs with your affiliate marketing content. You also need to promote your blog posts on other channels to increase your reach and drive more traffic to your site. Leverage platforms like social media and email to promote your blog posts.
For social media, you can repurpose your blog posts into infographics, summaries, carousels, etc. that are easier to post and appeal to the audience on these channels. Add the link to the original blog post in your caption or in the comments so that people can read more about it.
It is also important to create an email list. You can have an email subscribers' opt-in form on your blog itself to capture contact information. Once you have a long enough email list, you could start weekly/ monthly newsletters promoting your blog and sharing other industry news with your subscribers.
Narrato's AI writing assistant can also help you create killer subject lines and copy for your emails as well as social media posts.
Here's an example of how it works.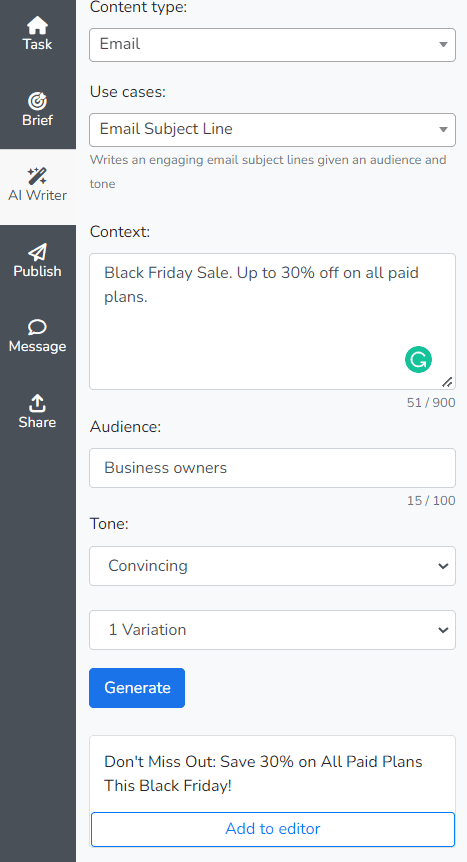 It is, however, a good idea not to add your affiliate links to your email content as affiliate programs often have rules against sharing affiliate links through emails or private resources. The best approach is to redirect the subscriber to your blog and let them find the affiliate links on the blog post itself.
7. Track and analyze your blog's performance
You could be publishing content on your blog very often but may still not generate revenue from your affiliate relationships. This means something in your blogging strategy is not working as it should. This is why it is extremely important to track your blog's performance and run an analysis from time to time.
Tools like Google Analytics and Google Search Console can help you visualize how your blog posts have been performing, how many clicks and impressions they get, what is their average rank in SERPs, and more. Generate these reports every month to see if there is any change in your blog's performance. If you see a stagnant or dipping performance, try to figure out why it is happening. Revisit your blogging strategy, identify the weak points, and modify the strategy to improve the outcomes.
If you hope to earn consistently from affiliate marketing and want to monetize your blog for long-term revenue generation, continuous improvement will be imperative.
Summing up
Blogging and affiliate marketing have always been mentioned in the same breath. Yet, many content creators may be unaware of how to monetize a blog with affiliate marketing. We hope these few tips we shared will help you build a solid strategy so you can monetize your blog from day one. Compared to most other affiliate marketing channels, blogging is relatively effortless and easy to execute if you know what you're trying to achieve. Set clear goals for your affiliate marketing blog, identify your niche and audience, find the right affiliate programs and products to promote, and run your magic with the content. That's all you need to start earning a steady passive income from your blog in no time.
Further Reading:
Affiliate Marketing Landing Page Examples and Tips to Inspire Your Campaign