YouTube is the reigning champion among video streaming platforms for more than a decade now. It boasts of more than 2 billion monthly users worldwide, and together, these users watch around 1 billion hours of videos every day! When there is such a huge scope for audience engagement on this platform, there are bound to be businesses looking to market their product/services here. And this is where YouTube affiliate marketing comes in.
In this model of affiliate marketing, you get a chance to make money by sharing affiliate links on your videos. Sounds quite simple, doesn't it? If you have prior experience with different types of affiliate marketing content, you might think that creating affiliate marketing videos for YouTube would be a piece of cake. In truth, YouTube affiliate marketing requires a little more skill and effort than your average text-only affiliate content. It also needs certain know-how of the best practices on that platform. And we're here to help you with that.
In this article, we'll guide you through the basics of YouTube affiliate marketing, while also providing some tips to make your affiliate marketing content stand out.
Ready to maximize your earnings through effective YouTube affiliate marketing? Let's get started.
What is YouTube affiliate marketing?
YouTube Affiliate Marketing: Popular Video Formulas
Getting started with YouTube affiliate marketing – Things You Need
YouTube affiliate marketing tips

What is YouTube affiliate marketing?
YouTube affiliate marketing works pretty much the same way as traditional affiliate marketing. The only difference is the change of platform. You would still be producing how-to guides, tutorials, product reviews, and more (along with affiliate links), except that it will all be in video format.
Here is a rough idea of how YouTube affiliate marketing works –
You promote a product/service by sharing a unique affiliate link through your YouTube video
When a viewer clicks on that link and makes a purchase, a sale is recorded through that unique affiliate link
You get to keep a percentage of the sale as a commission
By leveraging YouTube affiliate marketing the right way, you capture select audiences in their search journey and provide them with solutions (affiliate products) that addresses their specific pain point. And when they buy that product, you get to earn commission as a YouTube affiliate marketer.
It's important to establish the difference between YouTube affiliate marketing and the YouTube Partner Program here. Both these opportunities are excellent ways to make money with your YouTube content. But here's the catch – YouTube Partner Program is only available to those who have accumulated at least 1,000 subscribers and 4,000 watch hours in a 12-month period. YouTube Partner Program essentially gives you a chance to make money through ads that pop up on your viewers' screens when watching your content. While this is certainly a good way to monetize your content, it can only be availed by those who have an established presence on YouTube. With YouTube affiliate marketing, there are no such restrictions. This means that even newbies can leverage this opportunity and make passive income by sharing affiliate links through their videos.
TL;DR here's a quick video summary of this article.
Why take the YouTube affiliate marketing route?
Great way to earn passive income. YouTube affiliate marketing can provide you with significant returns through minimal effort.
You have the freedom to create the type of content you want at your own convenience.
You get to choose the business or brand you want to partner with.
It does not need a lot of investment at the start. Most smartphones come with excellent camera quality, so you don't have to invest in camera equipment straightaway.
YouTube Affiliate Marketing: Popular Video Formulas
In YouTube affiliate marketing, you need to create engaging videos that allow you to plug the affiliate offers in an organic and natural way. The common struggle among most YouTube affiliate marketers is creating affiliate content that their audience would actually like to engage with.
Here are some affiliate marketing video formulas to help you get started –
Unboxing videos: In these videos, you would show yourself removing a product from its packaging, while explaining every aspect of the product, from the packaging to the features, ease of setup, etc. Here is an example of an unboxing video from Marques Brownlee.
Trending videos: Track which topics are trending on the platform and look for some ways to tie in an affiliate product. The trends on YouTube are usually dictated by the community, based on ideas that get the most engagement. For instance, 'A Day in the Life', 'What's in my bag?', '50 facts about me', are all popular trends that worked in the past.
Round-up videos: These videos are excellent for encouraging impulse buying with your affiliate offers. With a greater variety of products in your content, you stand a better chance of influencing a sale. These round-up videos follow the theme of 'Best of….' and rank-type videos. Here is an example of a 'Best of…' video from Aurelius Tjin.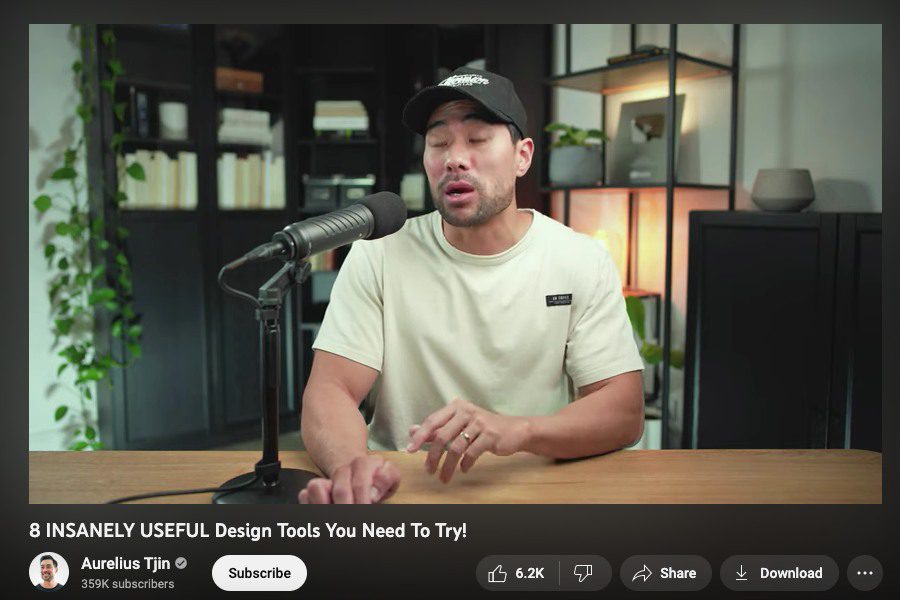 How-to and tutorial videos: These videos are great for targeting users who already have some level of familiarity with an affiliate product/service. By walking them through the features and use cases of the product, you can convince them to make the purchase, which then adds to your commission.
Product review: Most customers like reading a review before making a purchase. With product review videos, you can capture those users who are visual learners. These kinds of videos are great if your affiliate marketing niche is focused on something particular like supplements, SaaS products, etc. Explain the pros (and cons) of the product, and make sure that the video is created in a way that is convincing. Here's an example of a product review video from Eduard Stinga.
Can we use an Amazon product video for affiliate marketing on YouTube?
No. You cannot simply take a product video or image uploaded by sellers on Amazon to use on your YouTube channel. To do this, you have to be a registered Amazon Associate. And even then, you can't simply copy and paste the product images/videos. You have to use SiteStripe or Amazon API for the purpose.
Getting started with YouTube affiliate marketing – Things You Need
Here are few things you will need to get started with YouTube affiliate marketing –
Google and YouTube account: If you have a Google account ready, setting up your YouTube channel wouldn't be much of a hassle. After you've made your Youtube account, you can create a custom channel through the settings.
Affiliate marketing niche: Creating your YouTube account was the preliminary step. Before you choose any affiliate marketing program, you have to pick your affiliate marketing niche or vertical. This will determine the types of brands you partner with, and the type of content you'll create.
Affiliate offer: Now, you can register with an affiliate marketing program to choose an affiliate offer to include in your video description. There are many affiliate marketing platforms, like Amazon Associates, Affise, Awin, and more, that can help you in choosing the right affiliate marketing program.
Quality YouTube video content: After the basic things are set up, you can start making video content to include your affiliate offers. But just creating content for the sake of it will not work. You need to really think about how to create quality videos. Use the right equipment, video editing software, and other tools to make sure that your content is up to par.
Platform for managing the content process – Once you start the content creation process, you will need a single platform where you can manage it all starting from creating your scripts, style guides, and video descriptions to following up on the content plan. Narrato Workspace is a perfect fit for this. It has a powerful editor and an AI writing assistant to help you with your outlines, scripts, descriptions, etc. It also has a content calendar where you can plan and track your content projects. Apart from this, you can save all your content style guides, past scripts, etc. on the platform, making it a central repository of sorts. Using a tool like this will streamline your content process to a great extent.
Now that you know all the basics, let's look at some tips for creating the best YouTube affiliate marketing content. All the tips we'll be covering in the next section are tried and tested methods used by the most popular YouTube affiliate marketers.
YouTube affiliate marketing tips
Want to create stellar YouTube affiliate marketing content? We'll let you in on all the best-kept secrets to ensure the success of your campaigns. Here they are –
1. Create engaging YouTube affiliate marketing content
If you want your affiliate products to reach the right audience, you have to create quality YouTube videos. Plan your affiliate video content so that it holds the attention of the viewers, encouraging them to click on your affiliate link in the video description.
So, how do you create quality video content? For starters, research which topics are trending in your niche and what kind of videos your audience would be interested in watching. Tubular Intelligence is a great tool that can help you find out what kind of videos are doing well on the platform. It can also provide you insights into the type of content being watched by your subscribers. Another way to find out about YouTube video trends is by researching the type of content that's being created by other content creators. If your affiliate marketing niche is tech products, you can go through famous tech-based YouTube channels like Android Authority to look for popular YouTube trends.
Once you've researched and collated some topics, it's time to create your video content. For every video, you would need a script, and this is where Narrato's AI writer comes in. All you have to do is enter the title and select the tone for the video, and the AI writer will create a video script outline in a matter of seconds.
Here is an example of a video script outline we created for the topic 'Top 5 Canva Alternatives'.
If you can't come up with a hook intro for your video, this AI writer can help you with that too. Here's an example of a video hook intro created using Narrato AI writer –
With that, you're all set to create engaging videos that hook the viewers from the get-go. Just make sure to use the right techniques and equipment while shooting or creating these videos.
Read this Narrato blog on affiliate marketing videos for tips on how to deliver maximum impact with your content.
Make sure to also ask your viewers to interact with the content by liking, commenting, and going through the video description. Don't forget to include a CTA at the end of the video, encouraging them to check out the links in the description.
2. Use the right keywords in your affiliate marketing video descriptions
Besides creating high-quality engaging videos, you also need to use the right keywords in your affiliate content to attract more viewers. Just like with Google, you can optimize YouTube content for SEO by using the right keywords. Many people like to search on YouTube with their queries, so focusing on what they're searching for will help you enhance the reach of your videos. You can add these keywords to your video titles, descriptions, and tags, and when people come searching with a particular keyword, they'll be able to discover your content.
So, where do you get keywords for YouTube search engine optimization? One way is to use the suggested terms that come up when you enter a topic-related keyword on the Google and YouTube search bars. If you want something more advanced for niche-specific keywords, the SEO content brief on Narrato can be quite useful. All you have to do is enter your search term and the tool will generate an SEO-focused content brief, complete with keywords and other SEO parameters.
After you have a preliminary list of keywords, you can take them to the YouTube search engine again to see what results come up. This will allow you to take your keyword research to another level. You can also use Google Keywords Planner to check the competition and search volumes for the chosen set of keywords.
Pro-Tip: Since YouTube is owned by Google, sometimes videos are displayed in Google search results too. This is another opportunity for you to generate traffic for your affiliate content. Make sure that the keywords you choose help you rank on both Google and YouTube
3. Optimize your affiliate marketing video title, description, and tags
Since the space for textual content on YouTube is limited, you need to make the most of your video title, description, and tags and optimize it for your SEO. Here are some pointers –
Video Title: YouTube allows for a maximum of 100 characters for your video titles. But if you look at the search results, only the first 70 characters appear and the rest of it is cut off. When deciding on your video title, be mindful of the length recommendation, and see if you're able to incorporate the keyword naturally into the video title.
Video Description: In the video description, you can fit up to a maximum of 5,000 characters. But again, a lot of the content is cut off in the default YouTube view, and only the first 100-150 characters appear in the video description snippet. Viewers get a 'show more' option to view the entire content in the video description. So try to include the most important information (including the affiliate link) in the first few lines.
Video tags: Another way to add textual content keywords to your video is through tags. YouTube doesn't limit the total number of tags you can add to your content, but the total character count shouldn't exceed 400 characters. Make sure to include a good mix of general and long-tail keywords in the video tags.
To get relevant keywords for your videos, you can generate an SEO content brief on Narrato. It gives you keyword suggestions, among other SEO parameters, based on your topic and you're sure to find a few powerful ones on this list.
Narrato's AI writing assistant can also auto-generate video descriptions for you. You can use the content improver, sentence expander, and 'Write for Me' options to improve upon any video descriptions you've written yourself.
Here is an example of the AI writer in play. In this instance, we created a video description for the topic 'Top 15 Project Management Tools', and this is what it gave –
Narrato also comes with an AI topic generator that can provide you with SEO-friendly titles for your videos, based on your topic or keyword.

4. Create imaginative video thumbnails
So your affiliate marketing video makes it to the top of the YouTube search results, thanks to your SEO efforts. But you still aren't getting enough clicks and views. This might be because your video thumbnail is completely unimaginative. After all, this is the first thing that the viewer sees in the search results. It's important to put some thought and creativity into designing your thumbnails too. Think about how you're using color, photos, branding, and descriptive text when creating your video thumbnails. Let's take the example of this thumbnail from Keep Productive.
It ticks off all the boxes of a good thumbnail. The use of colors, photos, text, and brand logos is especially striking. Another point you need to keep in mind is the use of consistent visuals in your thumbnails. Try to stick to a color family and font style to create consistent brand imagery.
If you want to create such video thumbnails, Canva is an excellent tool that's also free. You can also use the Renderforest YouTube Thumbnail Maker, which comes with several pre-made templates for making your thumbnails.
5. Add chapters to your YouTube affiliate marketing videos
While thumbnails are good for catching your viewers' attention, you need to do something to get your viewers to stay on your videos too. A new YouTube feature, known as Chapters, lets you organize your video into different sections (chapters). This gives the viewers a chance to jump to specific parts of the video, where they'll get the answer to their specific query.
For example, if you are doing a round-up video of the best tools or best tech products, you can add chapters for each tool/product in the video. If your viewers are interested in a particular tool/product, they can jump straight to that section for its features and other details. If your video does a good job of convincing the viewers to buy the product, they will scroll down to the description to look for it.
6. Place affiliate links in your video description, comments, and annotations
The whole point of YouTube affiliate marketing videos is to add affiliate links. And you need to think strategically when placing these affiliate links in your content. The most obvious place to add them is in the video description, but you can also add them as annotations within your YouTube video too. Another unique idea is to add the affiliate link as a pinned comment under the video.
When you're making YouTube affiliate marketing videos, it's always a good idea to be transparent about any affiliate links you share. This video by Android Authority does exactly that by placing the affiliate link disclosure at the end of the video description.
Your audience is looking at your content because they find value in it. They like to know that you're recommending them a product because you actually believe it's useful. And by putting in an affiliate link disclosure, you're essentially building the audience's trust in your brand. As a result, they'll keep coming back for more audience recommendations.
7. Organize your videos into playlists
If you are getting a steady stream of viewers on your YouTube content, you should look for ways to drive them to other videos on your channel too. One of the best ways to do that is by grouping similar videos in a playlist. For instance, if you've made several ranking/round-up videos on content marketing tools, you can group them together in a playlist. When the viewers click on this playlist, it will automatically play these videos for them one after the other. This is a great way to maximize your earnings through YouTube affiliate marketing.
Creating a playlist on YouTube is quite simple –
1. Pick out the videos you want to group together
2. Open each of these videos on your browser
3. Click on 'Save' beneath each video, and add it to an existing playlist or a new playlist.
Here's how Matt Diggity organizes his playlists –
Wrapping It Up
YouTube affiliate marketing is an art. It's about selling without actually "selling".
With the YouTube affiliate marketing tips provided in this article, you'll be able to build a solid affiliate marketing content strategy that brings more traffic to your affiliate links. And if you're already in the habit of writing affiliate marketing blog posts, this wouldn't be very difficult for you. While there are apparent differences between written and video affiliate content, there are several overlapping aspects too. For instance, in both these affiliate marketing channels, you can create listicles, ranking posts, and even guides. The keyword optimization techniques remain somewhat similar too. So, if you're already monetizing your blog, YouTube affiliate marketing is worth a shot.
As for those who are new to affiliate marketing, this guide has covered everything you need to know about YouTube affiliate marketing. But if you are a beginner, start out with one affiliate marketing channel and gradually build your affiliate marketing game, or you will find yourself overwhelmed quickly.
And if you want to learn more about affiliate marketing, then you might find this blog post on affiliate marketing landing page examples interesting.