How is it safe to use AI tools for generating content? This question probably gnaws at every content marketer's mind the moment they think of trying out an AI writer. After all, how can you trust a machine to write your stories for you? But like most technology, Artificial Intelligence in content marketing too has evolved into a very efficient tool. You've surely seen what tools like ChatGPT can do. And then there are AI image generators that can help you come up with custom AI images.
If you know how to use an AI writer or ChatGPT for content creation, you could actually save hours of work and produce content a lot faster. Knowing what use cases an AI writing assistant is best applied to also ensures that you're not compromising on the quality and credibility of your content.
In this article, we're going to show you the different use cases of an AI writer and the different types of content that it can help you create. For anyone who is skeptical about whether AI-generated content is reliable, we will share examples of what it looks like when applied correctly avoiding common AI content creation mistakes.

What are the benefits of using an AI writer for content creation?
Some people may be of the opinion that AI content writing assistants are inaccurate or cannot capture your tone and context. But that is far from the truth. With advancements in machine learning, AI writing assistants are indeed creating high-quality content that you can use with little or no changes at all. In fact, content generation with generative AI tools gives you a number of benefits compared to a process that employs no AI tools for marketing and content creation.
Some of the major benefits of using AI writers are-
Content creation speeds can be boosted by almost 2-5x
Writer's blocks can be easily overcome with content suggestions from the AI writer
You can save time on brainstorming and content ideation with tools like AI topic generators
Using an AI writer can tremendously boost your content team's productivity as they can save more time for strategic work
All good AI writers create content that is optimized for search, so you don't have to worry about SEO
When you're looking for a fresh perspective on a topic, an AI writer can be of great help
TL;DR here's a video summarizing this post.
What are the different content types you can create with an AI writer?
When it comes to using AI writing tools for content creation, there are hardly any limitations. You can use the AI writer at any stage in your content creation workflow and even create entire articles using an AI writing assistant. But there are certain types of content where using an AI content writer can prove to be very productive, saving you a lot of time and effort.
The types of content and the different content creation purposes where an AI content writing assistant can help are –
Blog posts – Titles, outlines, intros, conclusions, structuring, etc.
Website copywriting – Smart copy, product descriptions, SEO meta tags,
Emails – Subject lines, intros, CTAs, structuring, etc.
Social media posts – Captions, blurbs, etc.
Videos – Descriptions, intros, script oulines, etc.
Apart from these use cases too, AI writing assistants can help you overcome creative blocks by helping you complete your sentences and paragraphs on many occasions.
How to use an AI writer for your blog content
Blog posts are probably the one content type where we usually turn to the AI blog writer every time we run out of ideas or need a new perspective. Even experienced writers may sometimes suffer from creative burnout, especially when creating long-form content like blog posts. In such cases, having an AI assistant to give you the little push you need can be immensely helpful.
Here's how an AI writing assistant can help in your blog content creation process.
1. Generate a blog topic using an AI topic-generator tool
The very first step in writing a blog post is coming up with fresh, new blog topic ideas. You may have some keywords you want to target but can't think of a gripping title for your blog. Or you may want to know what topic your audience would be most interested in. In situations like these, the topic generator tool that some AI wiring assistants offer can come in very handy.
We tried this on Narrato's AI topic generator tool. So say we want to create a series of blog posts around how to use an AI writer. We only had to enter the theme "How to use an AI writer" on the tool. The AI-powered tool came up with a list of topic ideas as seen below.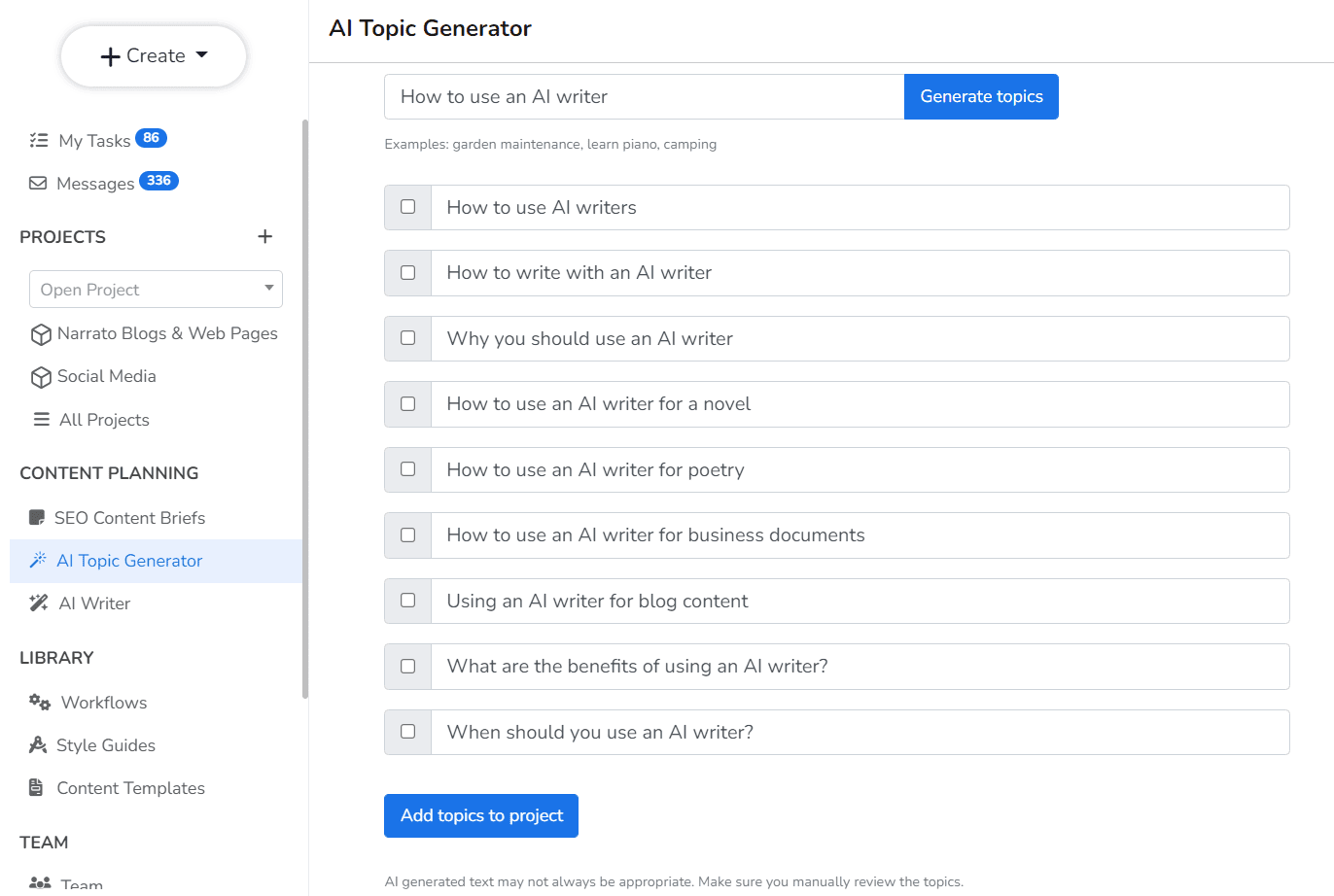 From this list, you can pick the topics you like and directly add them as new content items under the respective project on the platform.
If none of the topics appeal to you, run the tool once again and new suggestions will be generated. You can pick these blog topic ideas exactly as they are or these can serve as a preliminary list for your team to modify and enhance. But in any case, generating content ideas using an AI writing assistant can save you hours of brainstorming.
2. Generate a content brief
Once you have decided on a blog topic, the next step is creating a content brief for the writer. The content brief is an essential part of the process as it lays down everything to be taken care of when creating the blog post. From the keywords to target to the questions that need answering to brand guidelines to follow. Giving your writers a detailed content brief ensures that every blog post is consistent and high-quality. But creating a detailed brief manually can be a time- and effort-intensive task. So most content marketers tend to skip this step when they are running short of time.
That's where your AI writing assistant can step in again. If you are using a platform like Narrato, the AI writing assistant should let you generate SEO content briefs automatically. The SEO content brief generator on Narrato, for instance, only requires you to enter the topic of your blog post and wait for a few seconds for the brief to be generated. Once ready, the SEO brief gives you keyword suggestions, questions to include, competitor links to benchmark against, ideal length of the post, and other parameters.
For this blog post on 'How to Use An AI Writer for Content Creation', we generated an SEO brief on Narrato which gave us the following suggestions and more.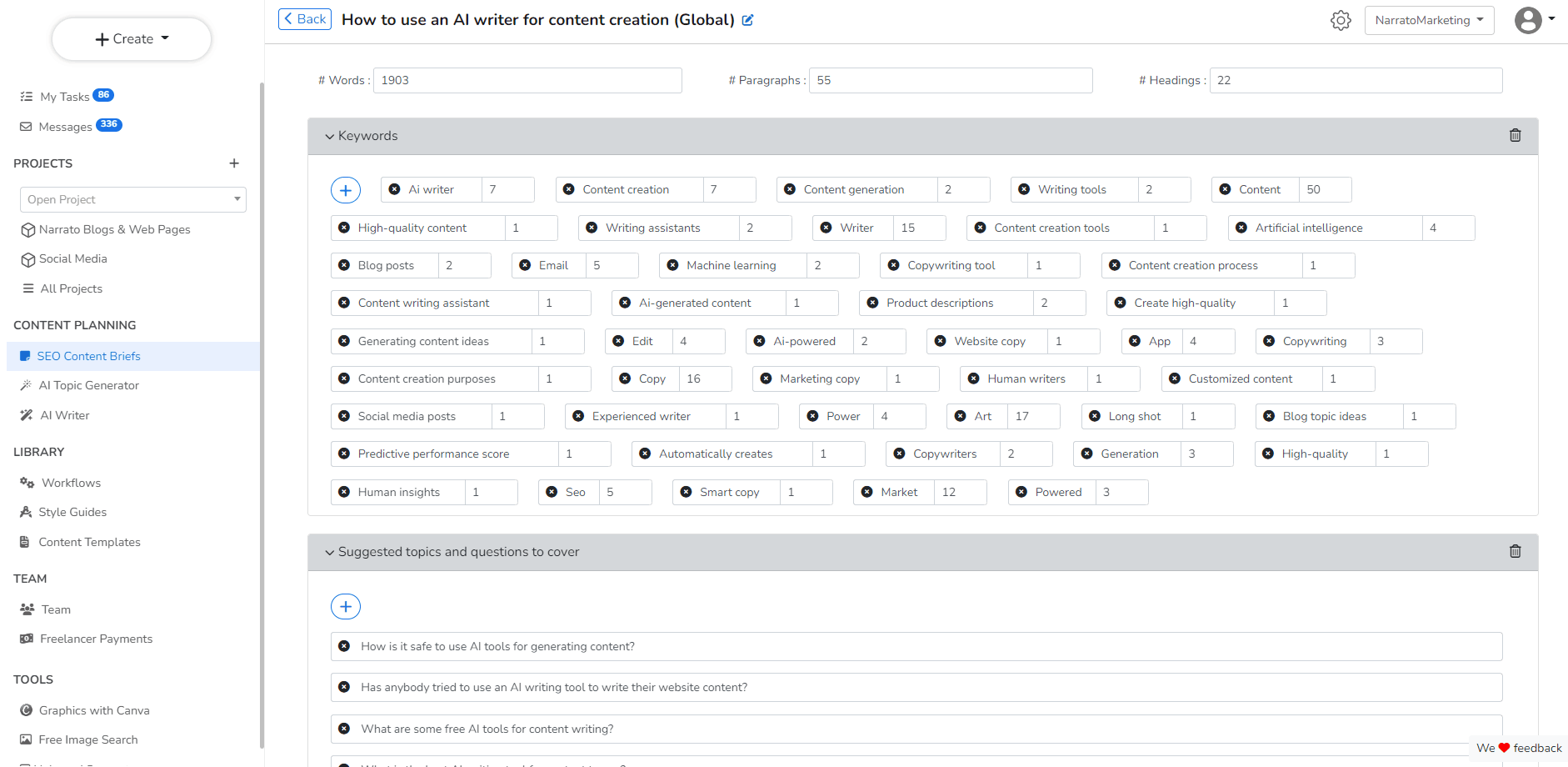 You can also add your own custom content style guides and additional notes for the author on the brief itself.
Generating a content brief using an AI-powered tool saves you time that you can invest in actual strategy-building and content-creation work. It also makes sure that you don't skip this crucial step for lack of time.
3. Generate a blog post outline with the AI writer
The next step is to create an outline for your blog post. Having an outline can significantly speed up content creation. It is a great way to set the foundation for the blog post and give your writers a headstart before they begin writing the post. Again, you can do this manually too, which can take some effort. But instead of starting from scratch if you have some kind of structure, to begin with, the process becomes a lot more efficient.
An AI writer can easily generate blog post outlines based on your blog title and tone. It will give you a list of headings and subheadings you can add, based on what other top-ranking articles on the topic are discussing. Let's take a look at what outline Narrato's AI writer generates for this blog post and whether the output is worth using.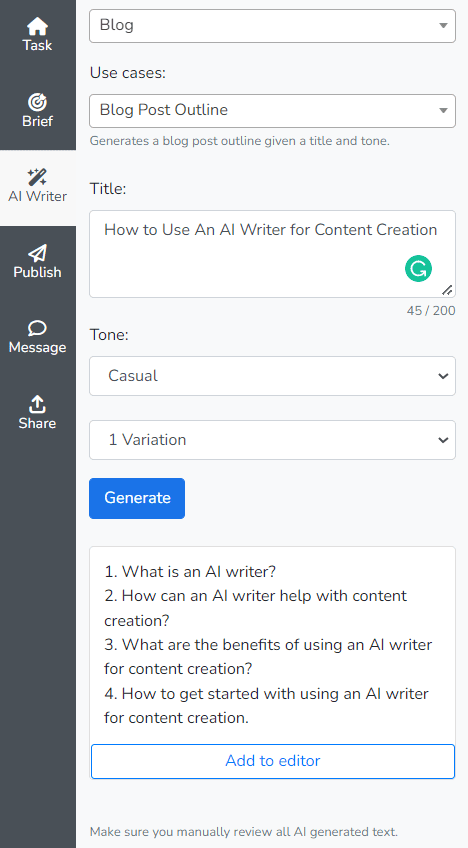 For this, all we had to do was choose the use case as 'Blog Post Outline', enter the title and choose the tone. You can also choose to have up to 3 variations of the AI-generated content. As you can see, most of the subheadings that the AI writer suggests are relevant to our blog post and we have, in fact, used the same outline with slight modifications.
Here's something a little more specific, and we love the output the AI writer generates for this topic.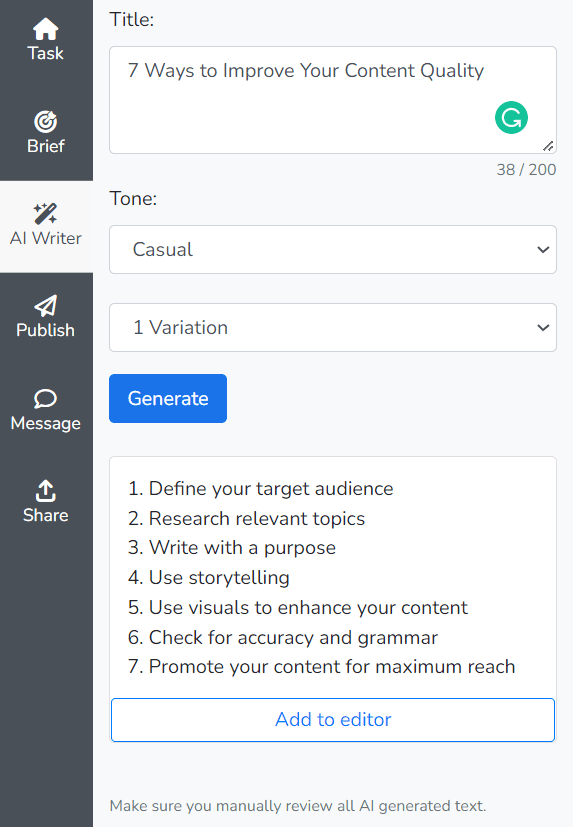 If you're happy with the AI-generated outline, you can add it to the editor with just a click and get started.
4. Start your blog post with an AI-generated introduction
Now the actual content creation bit starts. And do you know what's the toughest part of writing a blog post? The introduction. If you're anything like us, you probably have so much to say in the first few lines of your blog post. But you also know the introduction is extremely critical to keep your audience hooked to the rest of the post. So if you don't get to the point quickly or if your introduction is not intriguing enough, you could just lose potential leads. Or sometimes, you just don't know how to start.
The beauty of AI content creation tools, though, is that they're built to help you out of such sticky situations. An AI-generated blog post intro can set the stage for you, giving you much-needed leverage. You might get some amazing ideas on what you want to say next.
Let us again take the example of the topic '7 Ways to Improve Content Quality', for which we generated an outline above. We use Narrato AI writing assistant's 'Blog Post Intro' use case to see what it throws at us for this topic. Let's also change the tone to Bold and see what it does.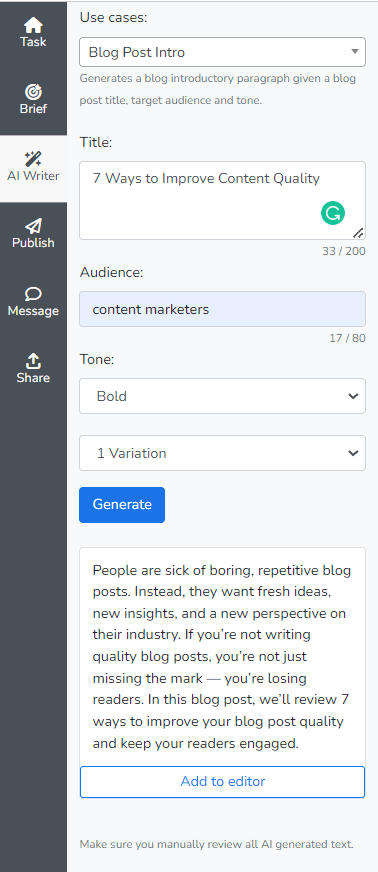 Pretty impressive, don't you think? The content quality provided by the AI tool is almost as good as what you'd expect from human writers. Make sure to read through the AI-generated content carefully and edit or optimize as you need to.
5. Complete sentences and paragraphs using the AI writing assistant
With the introduction set, you can go on to write the rest of the blog post. But here too, it is possible you could need help completing your sentences and paragraphs from time to time. Or maybe you're looking for better words to express what you're thinking.
In such cases, you can use the AI writer's content composer or sentence expander. In the example below, we used the 'Write for Me' use case on Narrato's AI writing assistant to generate some content. Believe it or not, everything below the orange line is AI-generated content.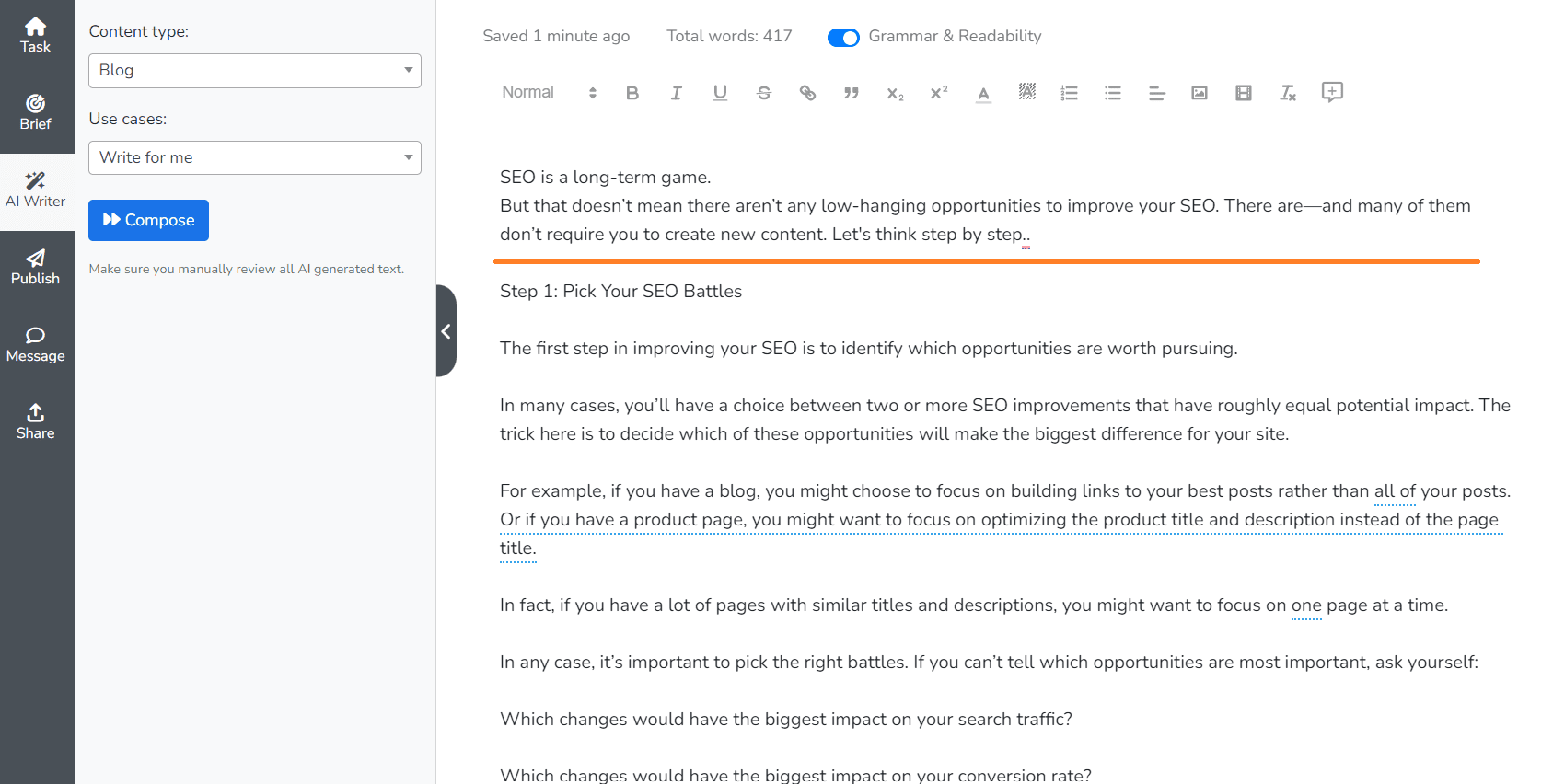 We were rather surprised as we did not expect an AI writer to generate complete sections of content, and that too totally aligned with the context and tone. This goes on to prove that you can actually create high-quality content using an AI writer too.
6. Improve readability by converting paragraphs to bullets
An AI content creation tool can not only help you create content but also help you structure your blog posts better. Structuring has a significant impact on your blog post's readability and appeal. For instance, certain parts of your content could be more easily scannable as bulleted lists instead of paragraphs. So rather than manually rephrasing your content to change a paragraph to bullets, you could use the 'Paragraph to Bullets' use case on an AI writer like Narrato's.
Here's an example of how the tool converted four long paragraphs on the benefits of using AI writers into a crisp bulleted list.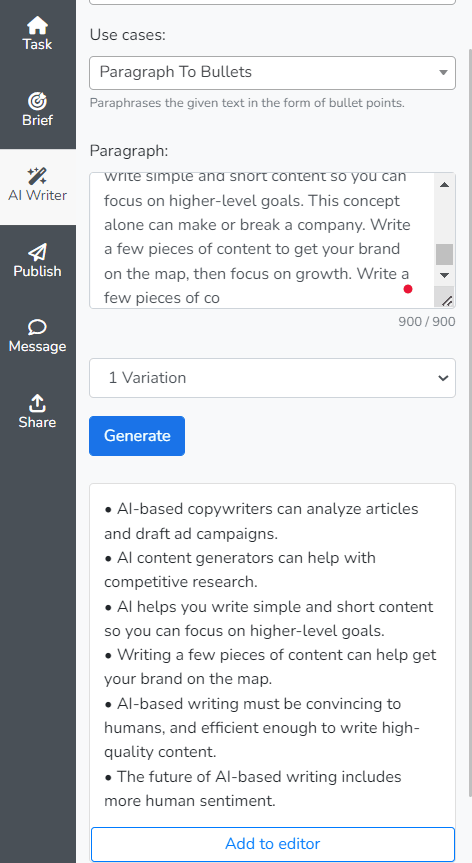 You can also try other use cases like 'Content Improver' or 'Paragraph from Outline' to restructure your content as you wish.
7. Conclude your blog post with AI-generated content
Lastly, you can also wrap up your blog post with content generated by the AI writer. Just like blog post intros, most AI writing assistants can also generate blog post conclusions. On Narrato's AI writer, all you have to do is provide a brief outline of your blog post, the tone, and the audience, to generate a well-rounded conclusion for your post.
So, in blog content creation, an AI writer can be used from start to finish in the content creation process. From the examples shared above, it is also evident that an AI writer does not require you to compromise on content quality. The quality of content generated is often as good as that created by an experienced writer. As long as you're using your discretion in deciding which text to use directly and where you need to further refine the AI-generated content, you're good to go.
How to use an AI writer for your website copy and product pages
Copywriting is a skill quite different from content writing. Here, your goal is to pitch your product or service in such a way that a prospect is encouraged to take the next step – be it adding the product to their shopping cart or hitting a subscribe button. Since it is so critical to your business, you should get all the help you can to create a truly convincing website copy.
Here are some ways an AI copywriting tool can help you with this.
1. Generate eye-catching headlines for your website pages
Every good website should have an attention-grabbing headline. This is the first thing your website visitors see and if it doesn't have that hook, they may not scroll further to see what you're offering. So you know how critical it is to have a punchy headline. If you don't have an experienced professional copywriter on your team, coming up with such catchphrases or headlines can be tough. Or at least, it would require hours of brainstorming.
An AI powered copywriting tool can cut this time down to minutes. We tried generating a headline on Narrato for an online silver jewelry store and this is what the tool came up with. Not bad at all, don't you think? You can generate more versions until you find one that suits your brand image.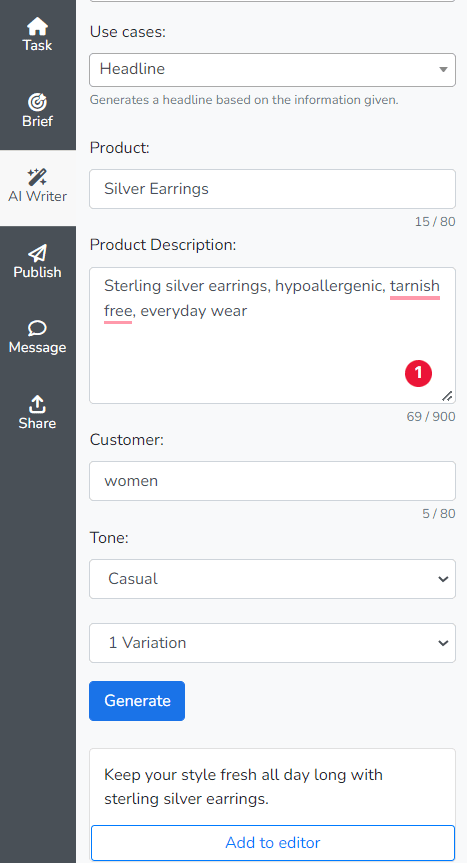 2. Generate product descriptions with AI
Describing your products aptly and making them sound compelling enough is also an art. Product descriptions are not just about listing down the features of the product, but about presenting them in a way that makes the product irresistible. So feeling lost for words is easy when writing your product descriptions.
An AI copywriting tool like Narrato's AI writing assistant can help with generating product descriptions too. We tried it for a backpack brand, and here's what we got.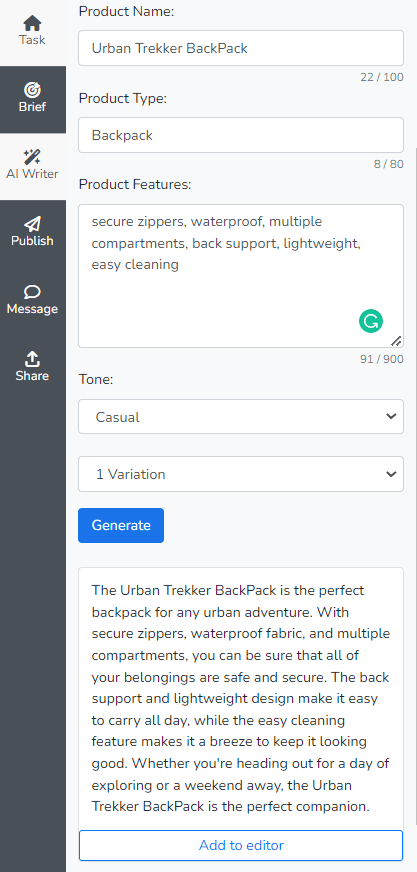 We think the result is something we could readily use on the website without much to change. What do you think?
3. Generate bulleted feature lists for your products
Apart from website copy and product descriptions, you can also create other parts of your web pages and product pages. For instance, the Narrato AI writer has a 'Product Description Bullets' function, using which you can create bulleted lists of your product's features. These are great for product listings e-commerce stores, on your own website, or for short ad copy.
4. Generate SEO meta descriptions for your web pages
In web copywriting, SEO plays a key role just as it does in blog content. You want your website and products to be found in search by the right prospects. Apart from using keywords in your copy, it is also extremely important to have SEO meta tags and image alt tags having these keywords.
A good AI writing tool should have SEO tools as well. On Narrato, for instance, apart from discovering important keywords on the SEO content brief, you can also generate SEO meta descriptions for your web pages. Inputs, in this case, have to be the page title and a few important keywords you are targeting for the particular page.
5. Generate QnAs for your FAQs page
It is always a good idea to have an FAQ section at the end of every page on your website, or a separate FAQ page where you answer some common customer questions. It is also a good way to rank for these questions on search engines when users run such queries. But, yes, creating QnAs can be a tedious task. What you can do instead, is go to Narrato AI writer's QnA use case which automatically creates answers for your questions.
Here's an example of what an FAQ might look like for a hair and beauty brand's website. The answer here is entirely generated by the AI writer.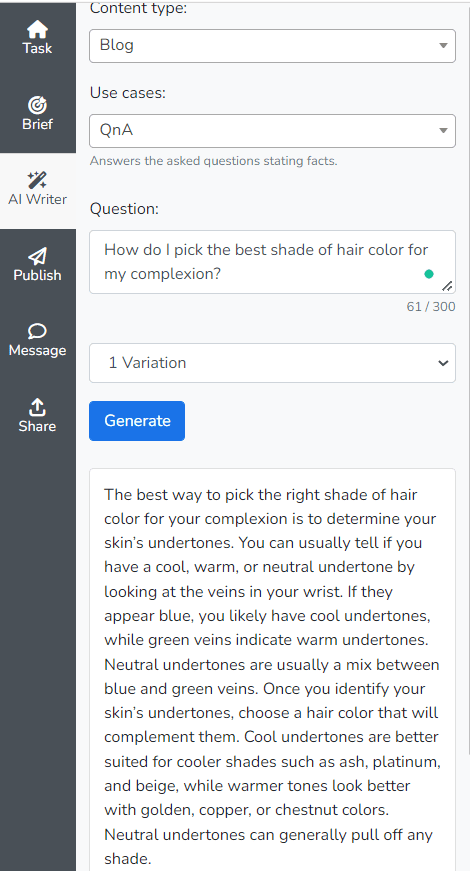 Apart from these use cases, an AI writing assistant like Narrato's can also help you create smart copy based on different copywriting frameworks like AIDA, BAB, and PAS. It has an AI ad copy generator for Google Ads, LinkedIn Ads, and more, as well.

How to use an AI writer for email content
Email is just as important a channel as your blog or your website. Especially in marketing and sales, very few other channels can be as effective as emails in building personal connections with leads and prospects. According to Litmus research, email marketing has the highest ROI among all channels with a return of $36 for every $1 spent. But for your email campaigns to be successful, the most important element is the content. Starting from the subject line to the CTA, the content determines if your emails will drive conversions for your business.
An AI email writer can help you create impactful emails in no time. Here are some great ways to use an AI writer for email content creation.
1. Get catchy subject lines for your sales and marketing emails
The subject line of your email is most crucial. It can make or break your email campaigns because the subject line determines whether the recipient will open the email or not. If it kindles their interest, they will want to see the rest of the email too. If it doesn't, you'll probably be marked as spam for eternity.
If you're running out of ideas for catchy subject lines, an AI writing assistant with a tool for email content generation can help. On Narrato's AI writer, you can provide your email's context, audience, and tone to generate crisp, click-worthy subject lines.
Here's something we tried.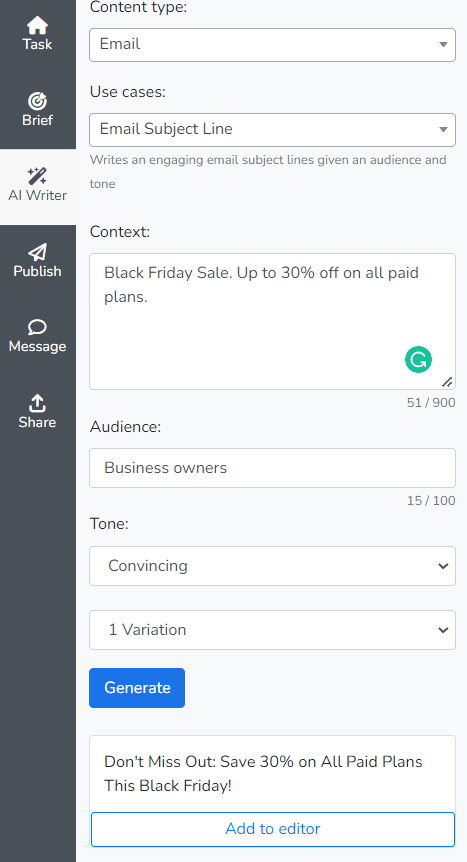 2. Use the AI writer to generate attention-grabbing email intros
The next hook of your email is the introductory paragraph. The first paragraph sets the reader up for what comes next. Just like blog post intros, AI writers can also help you generate engaging email intros.
Narrato's email writer lets you generate content for cold emails for your product or service based on your business name, product description, the context of your email, tone, and your target customers. You can also generate an email from an outline.
3. Convert paragraphs to bullets for easily scannable emails
You may also improve your existing email content with other use cases like 'Paragraphs to Bullets' for making the content more easily consumable, 'Content Improver' to generate enhanced versions, and so on. Using an AI writer with content optimization tools also ensures that there are no grammatical or spelling errors in your emails, which is critical for making a good impression on your readers.
How to use an AI writer for social media posts
You can't talk about content marketing today without talking about social media. What you put out on your social media pages is what builds a following for your brand. According to a HubSpot survey, 77% of marketers find social media marketing to be highly effective. This makes creating good social media content all the more important. And if you can also save some time in the process, there's nothing like it.
So here are a few ways to use an AI social media post generator effectively.
1. Generate short one-liners and captions for your posts
Not every AI writing assistant will have a marketing copy use case specifically for social media. But these tools have so many other use cases which can still help you create amazing social posts. For your one-liners and short captions, say, you can use the 'Headline' or 'Email Subject Line' use case on Narrato's AI writer. We tried it with the Email Subject Line use case and the output was quite satisfactory. We could just add a few more words to this, and it would make for a perfect short caption on social.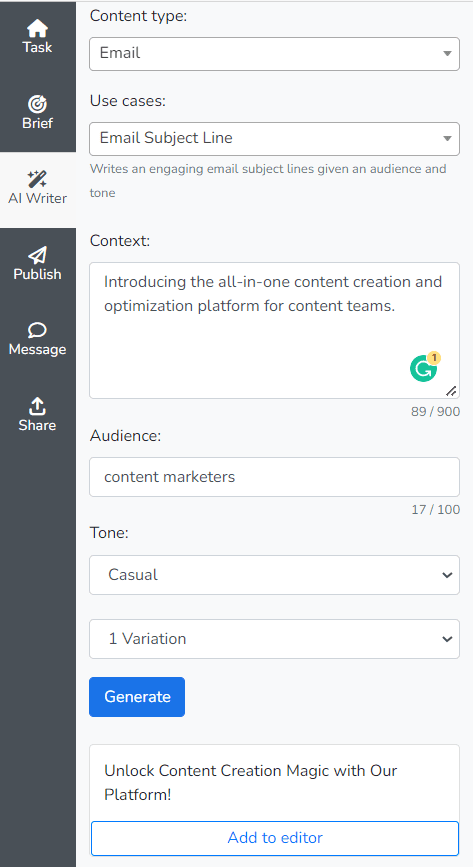 2. Complete your social posts based on initial inputs
Say you started writing a social post but are stuck at some point, not able to find the right words to complete it, an AI writer can come to your rescue here too. Try use cases like the 'Sentence Expander' or 'Write for Me'. Sentence Expander would be the more appropriate choice for social posts as 'Write for Me' is more suitable for long-form content.
Let's see what the Sentence Expander does for the caption we generated above.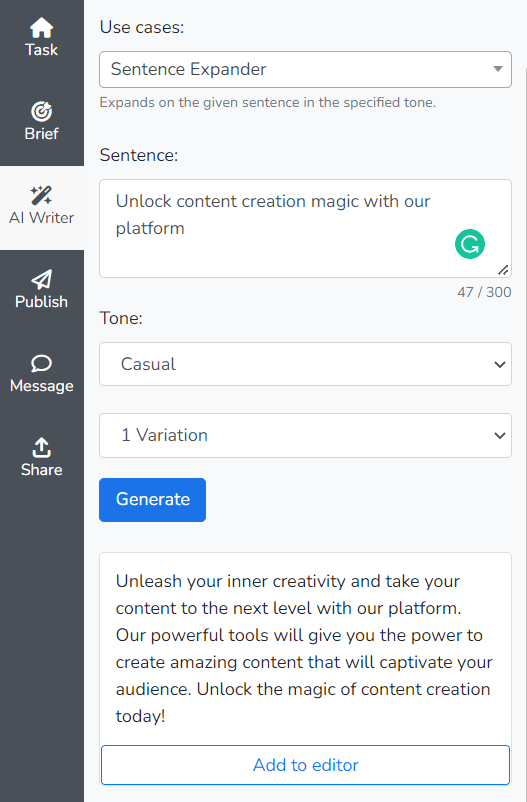 As you can see, the content generation is quite on point and aligned with the context of the post. Your copywriters or social media marketers can directly use this as a social post or add to it to make it more impactful.
However, make sure you don't create entire articles with an AI writer as it increases the chances of getting flagged by AI content detectors and isn't great for your audience either.
3. Repurpose your blog content with AI writing
You can also create social media posts by repurposing a blog post or article and simply framing it better for social platforms. For instance, if you have a blog post on '7 Ways to Improve Your Content Quality', you could create a social post listing the 7 key points.
All you have to do is use the 'Paragraph to Bullets' function on Narrato's AI writer, and it will give you a crisp list for your social media accounts.
You could also use the 'Paragraph from Topic' or 'Paragraph from Outline' use case to generate a short blurb from your blog to post on social.
There are a lot of different ways you can implement the multiple use cases on an AI writer, so don't be hesitant to experiment.
How to use an AI writer for video content marketing
This may come as a surprise, but you can actually use an AI writer in video content marketing too. Of course, you'll have to create the video content on another tool but the AI writer can help with a lot of other essential elements like the script, descriptions for YouTube and other hosting platforms, and more.
Here's how an AI writer helps with video content marketing.
1. Use the AI writer for video script generation
Before you start creating any video, you need to have a solid script. It ensures that your video production efforts are streamlined and you're not wasting any time on trials and errors.
Narrato's AI writing assistant has a dedicated use case for 'Video Script Outlines'. Here's one we tried for the video titled ' How to build a tree house'. The outline generated can be a good place to start building your script.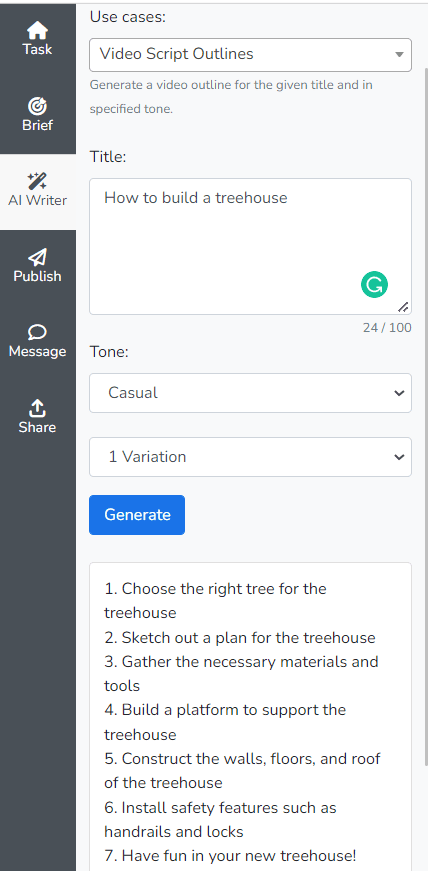 2. Get AI-generated video descriptions
The AI writer can also generate video descriptions for you to post on any video hosting platform. Just enter the video title and your target keyword on Narrato's AI writer. Set the tone you are aiming for, and a video description will be generated within seconds.
Video descriptions are crucial for video content marketing as they make your videos searchable. Having your target keywords in the description is important to ensure that your videos appear in search. It is also important for the description to be succinct and useful, as your audience may read the description before deciding if the video is worth their time.
3. Generate video intros that hook the audience
Your video's intro is instrumental in kindling the audience's interest. If it doesn't have a hook, you could lose viewers in the first few seconds of the video itself. There are so many other options out there, that retaining the audience on your content is tougher than bringing them to the content.
An AI writer like Narrato's can help with this too. The 'Video Hook Intro' use case tells you what your hook should be and how to transition into the intro from there.
Here's an example. Look at how the intro talks about the benefits of infographics and what the video has in store for the audience. It's hard to believe an AI tool can generate such apt introductions.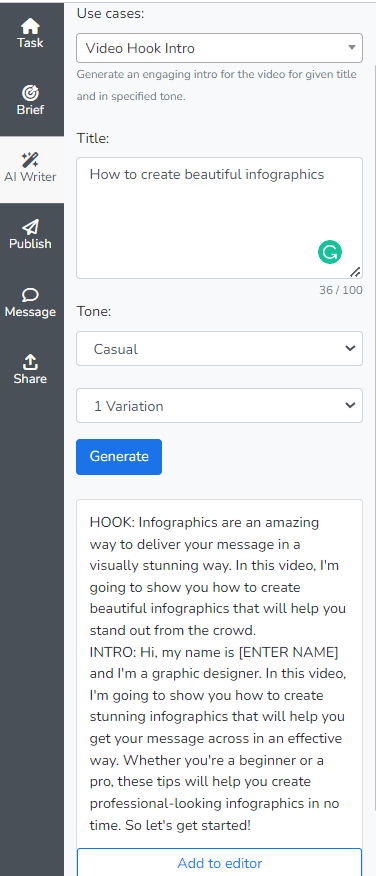 You can also use other functions like 'Content Improver' to improve your existing scripts or descriptions. Or 'Write for Me' to expand on a video description you've already started, and so on.
Summing up
Content marketers often have a very strong opinion about AI writers. Many believe that an AI writer cannot create high-quality content as a human writer does. But the truth is that Artificial Intelligence and Machine Learning have come a long way. AI writers today can create entire articles without anyone even noticing a difference from what humans write. But that does not mean AI writers are here to replace you or me. They are here to assist us. Eventually, every bit of AI-generated content will have to be scrutinized and reviewed by human writers to ensure that it meets the standards. The idea is to make the job easier and faster for human writers, increase productivity in the content creation process and improve content wherever there is an opportunity. So if you haven't started using an AI writer in your content process yet, this is your cue to start.