A good content marketing campaign and a not-so-great one are decided even before the content is created. The success of your content marketing campaigns relies not just on the quality of content or the distribution channels you choose but on the entire process, starting right from content planning. Content planning is one of the most crucial parts of any content process as it sets you up for the big climb ahead. It helps you put together your ideas, organize your efforts, carry out research and bring structure to your process before you get to content creation.
But quite often, content marketers skip this crucial step because it feels like too much work or because they're short on time. If you're in the same boat and need to speed up your content process or boost productivity in this area, all you need is a good content planning tool.
There is a wide range of tools to choose from. If you're looking to better organize your content ideas there are several content calendar tools. If you are looking for better social media management, there are a range of social media scheduling tools for you to try. And there are also some tools that are a lot more comprehensive, giving you content planning capabilities for multiple areas of content marketing.
We are all familiar with tools like Gather Content, Trello, Notion, and Airtable, and they are popular for a reason. But there are other lesser-known content planning tools that can often serve your purpose better than these.
Why are content planning tools important?
Best content planner tools for SEO and content ideation
Best content planning tools for project management
Best content planning tools with content calendars

Why are content planning tools important?
Content planning tools help you with content ideation, research, collaboration, and a lot more. Planning your content well in advance helps you –
Maintain consistency in your process as well as in the final outcome
Decide what types of content you want to create and how this content aligns with your business goals
Identify gaps in your content strategy and fill those gaps on time
Keep track of the progress of your content marketing campaigns
Forecast changes in content marketing trends, predict outcomes, and handle challenges better
Bring your entire content team on the same page regarding content goals and expectations
With the right content planner tools at your disposal, the planning stage of your content process becomes a lot less time- and effort-intensive. Content planning tools can eliminate most of the manual work in content planning by automating several tasks. It accelerates the content planning process just as a grammar checker tool speeds up content editing or an AI writer speeds up content creation. Having a content planning tool leaves your content team with more time to spend on the result-oriented and strategy-based work in the content process that needs human intervention.
We've listed 9 highly useful content planner tools that can support your content planning process in very different ways. The list includes content planning and development tools, social media management tools, keyword and SEO planning tools, and content ideation tools.
Without much ado, let's dive deeper into each one of these.
TL;DR here's a video with the complete list of best content planner tools to try.
Best content planner tools for SEO and content ideation
There are very few apps and tools in the market that are built specifically for content marketers and content teams. Narrato is definitely one of those few. Narrato is a complete content marketing platform that helps with content ideation, planning, creation, optimization, and workflow management.
Apart from having a very powerful content editor with AI-powered content optimization tools including grammar checker tools, readability checks, plagiarism checks, and more, Narrato also offers very interesting SEO planning and content ideation tools.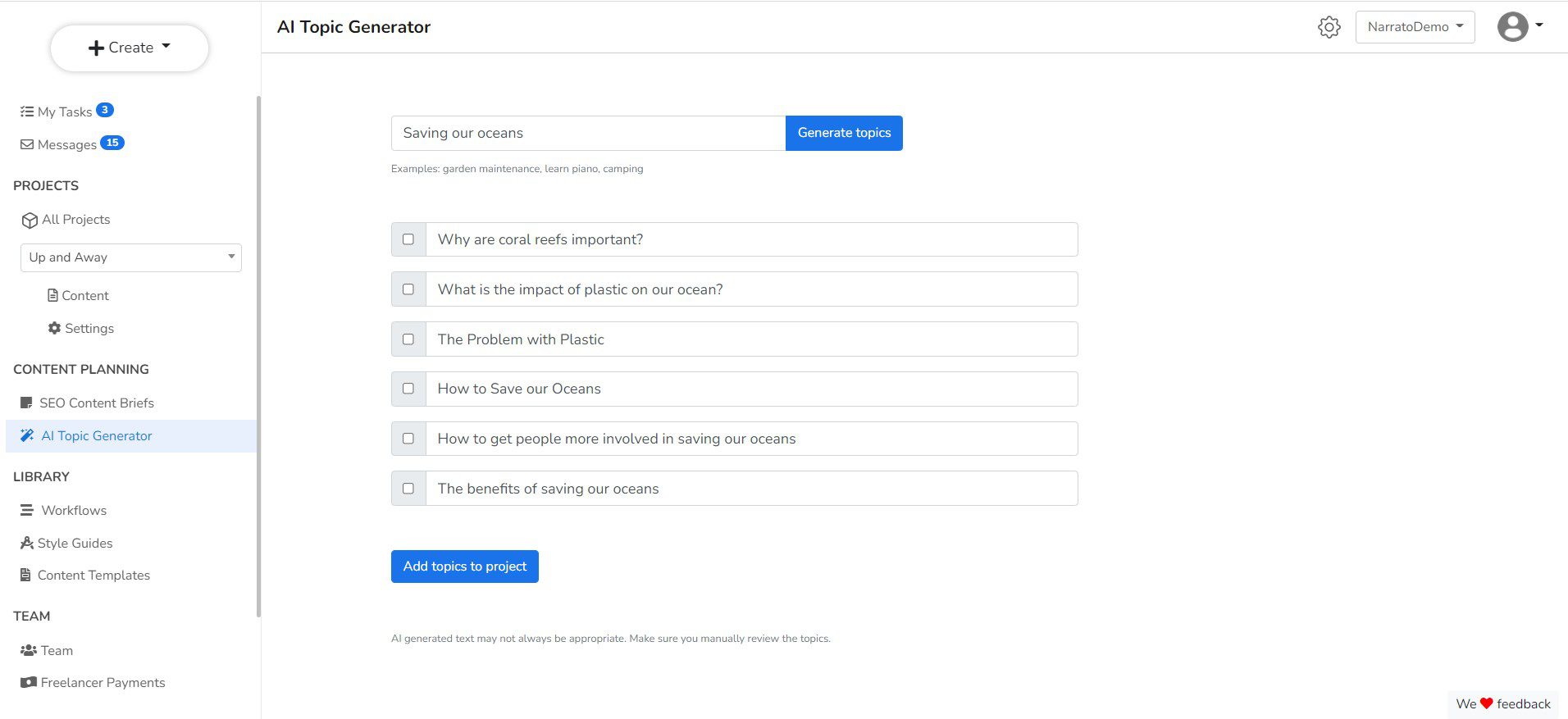 Some of the features you would find useful are –
SEO content briefs – This SEO content brief generator on Narrato cuts down a lot of time spent on keyword research and benchmarking for SEO. The SEO content brief gives you relevant keyword suggestions, questions/ topic suggestions, references and competitor links, and a host of other SEO parameters for your search term. You can also add your own keywords, questions, notes to author, style guides, and templates to build a more comprehensive brief.
AI topic generator – The AI topic generator on the platform is also a very handy tool. You can generate tons of fresh blog and article topic ideas for a particular search term or theme and add these topics as new content items under a project with just a click. This is particularly helpful if you are planning to build a content cluster around a particular theme, or simply when you are running out of new content ideas!
AI writing assistant – Narrato also offers a very intuitive AI content assistant that helps with content ideation and planning. The AI writing tool can be used to generate content for multiple use cases, including article intros, conclusions, and outlines. It also helps you generate QnAs and SEO meta descriptions for your content with just a click.
Pricing: Narrato pricing plans start at $8 per user per month. But if you want to just get started and explore the platform before purchasing, you can start with the free plan too.


2. Ahrefs – SEO planning tool
Ahrefs is a popular SEO planning platform that offers a complete SEO toolset for your needs. Unlike simple keyword research tools, Ahrefs has a lot of other capabilities including rank tracking, SEO audit, and others. Some of the noteworthy features on the platform that you can benefit from include –
Site Audit – This feature lets you dig deeper into your website's on-page SEO performance to find out where it is lacking. It gives a complete report showing you an overview, crawl log, issues, and recommendations for improvement. There are over 100 pre-defined issues on the platform that you can check for on your website.
Content Explorer – The content explorer on Ahrefs allows you to find the top-performing content for your topic on the web as well as discover thousands of new backlinking opportunities. As of now, the platform has a database of nearly 11 billion web pages, for which you can analyze organic traffic, backlinks, rankings, and more. You can also identify potentially high-performing ideas for your content campaigns by filtering top-performing pages by SEO and social metrics.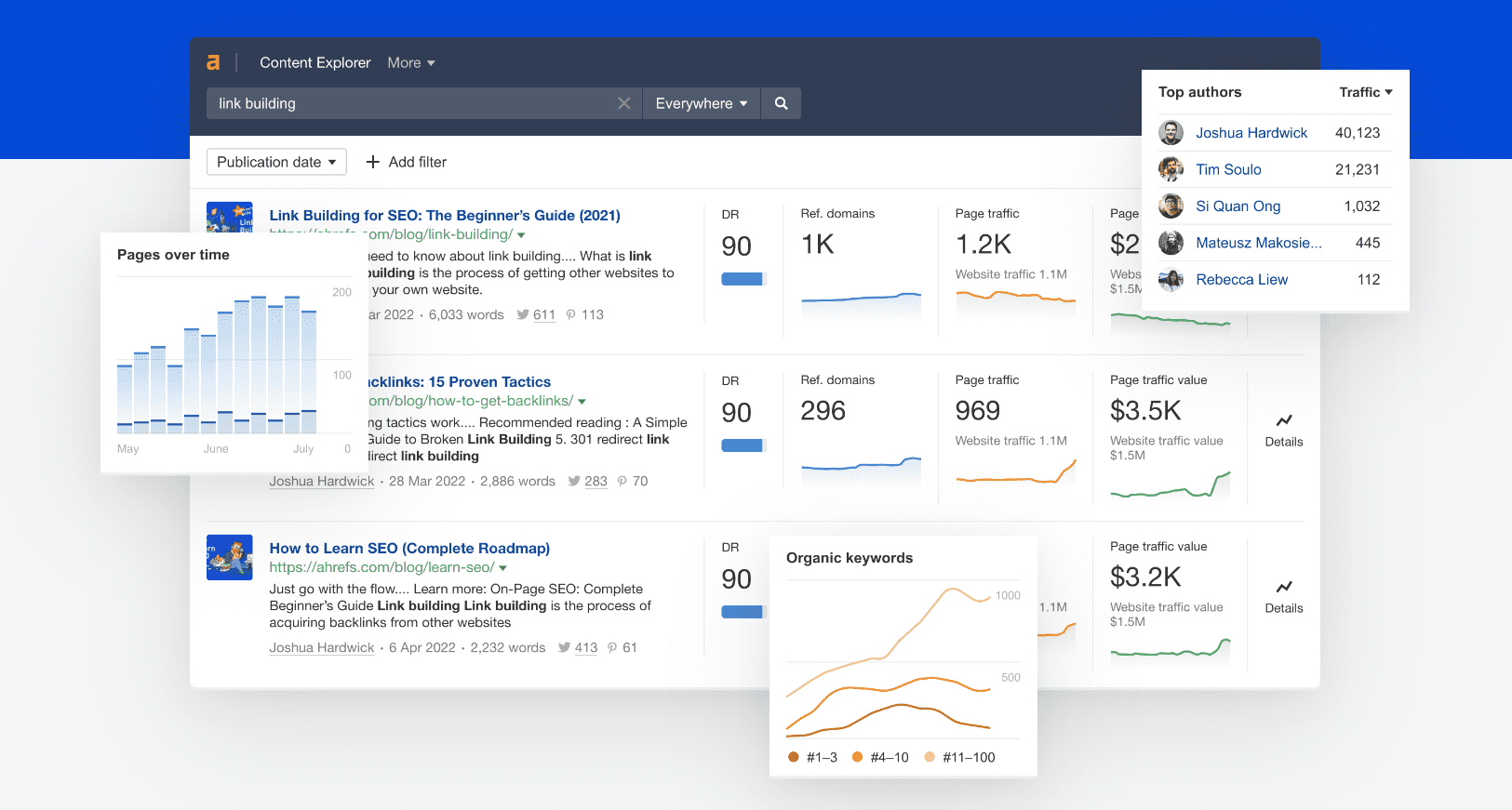 Rank Tracker – The rank tracker helps you monitor your rankings on SERPs regularly and compare your performance against your competitors. It sends reports directly to your inbox at a schedule that you can choose.
The other tools like Keywords Explorer and Site Explorer help with other aspects of SEO and content planning such as keyword research, competitor analysis, backlink research, and more.
Pricing: Ahrefs paid plans start at $99 per month.


3. Semrush – SEO and content marketing research platform
Semrush is another well-known SEO planning and rank tracking tool among content marketers that helps with competitor research, PPCs, and social media content marketing as well. The SEO Toolkit on the platform helps you conduct extensive keyword research and analyze other parameters to determine your standing on SERPs. Other tools include market research and social media analytics that also help with content planning.
Some of the key content planning features on Semrush are –
SEO tools and workflow – With the SEO tool on the platform, you can research thousands of keywords both for a local and a global market. It also lets you analyze backlink profiles for a site with the help of the backlink crawler. Technical SEO audits and rank tracking are also some features that can help you plan your content strategy better.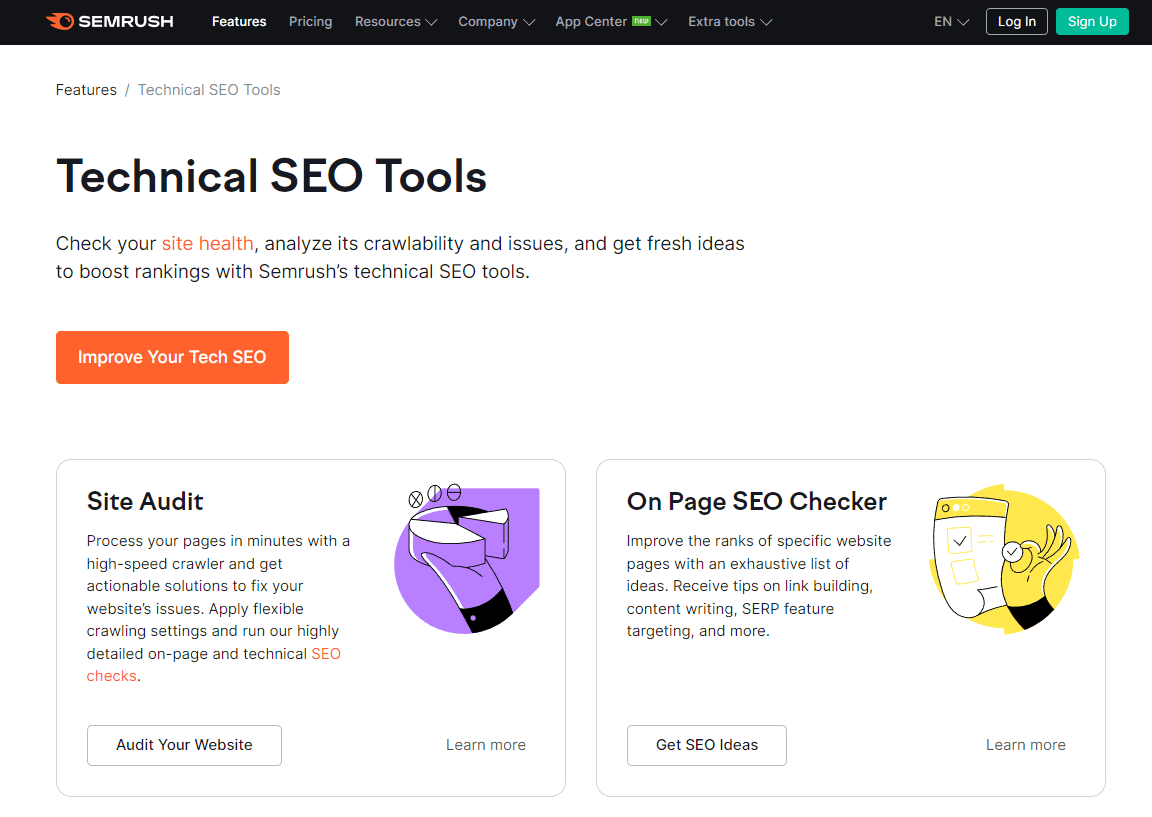 Topic research and market research – Semrush also offers a topic research tool to help you find topics relevant to your target audience. The market research tool allows you to analyze website traffic on your competitors' sites, uncover their marketing strategies as well as identify gaps in your strategy in terms of keywords and backlinks.
Social media analytics – The social media marketing tool on Semrush lets you analyze the performance of your social media posts, track your competitors' social accounts and optimize your social ads. It also serves as a social media scheduling tool using which you create and post social media content.
Pricing: Paid plans on Semrush start at $119.95 per month.


4. SurferSEO – SEO planning and rank tracking tool
SurferSEO is an AI-powered SEO planning platform that helps with generating a content strategy to make your content rank on SERPs. You can also create content, conduct SEO audits, and monitor your search rankings. Surfer has a host of integrations too that can help you plan and create content better.
Here are some of the key features of SurferSEO –
Content Planner – With the content planner tool on the platform, you can generate topics and keywords that build your content strategy. You can also create keyword clusters for a topic and discover more keyword opportunities that can help your build authority in your niche. The tool also helps you find the search intent for your topics with the help of machine learning.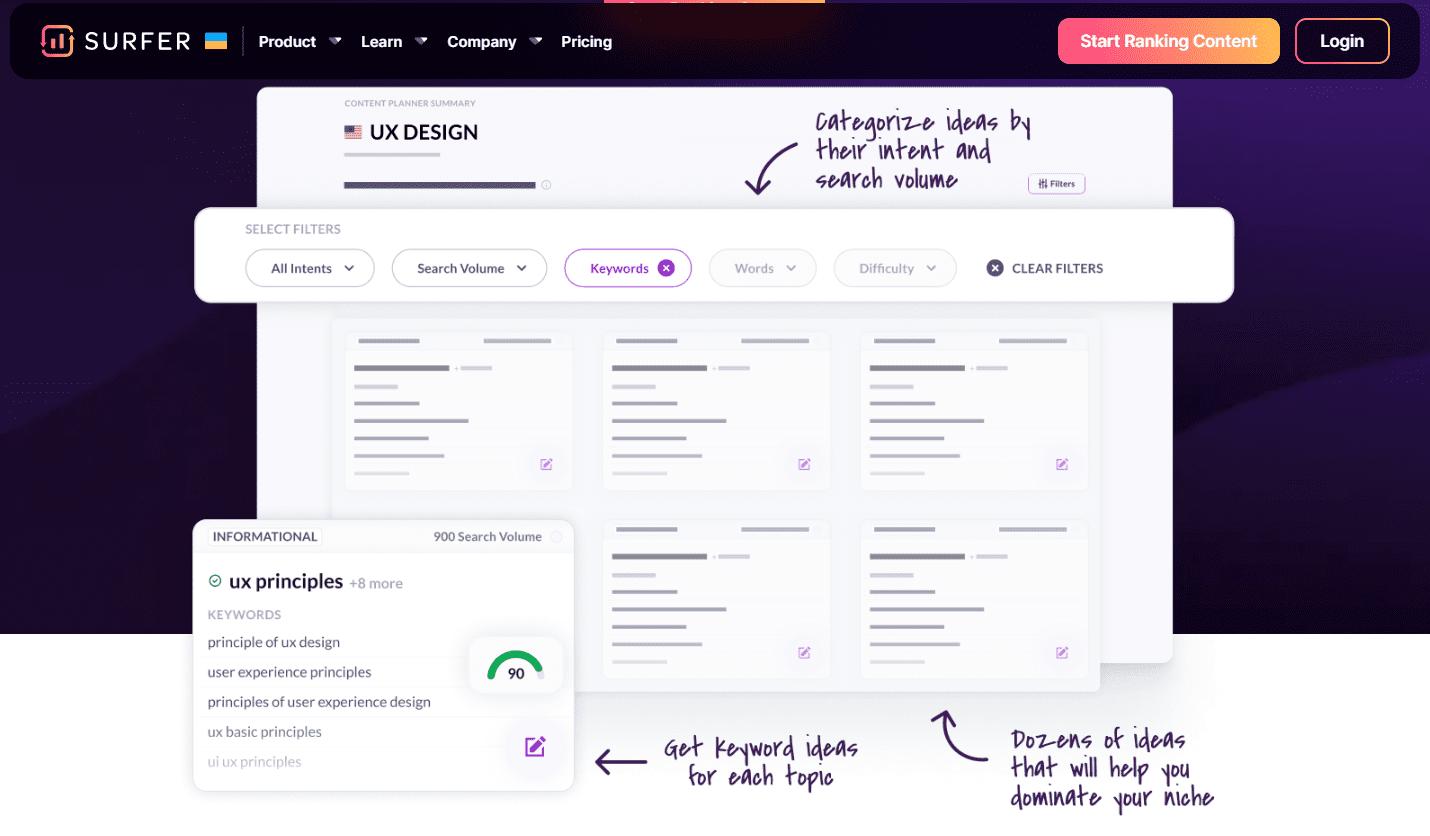 SEO Audit – The SEO audit tool can help you identify SEO errors in your content and repurpose your old content to boost search rankings for your most authoritative posts. You can enter your keyword and URL to get a complete SEO audit report with recommendations on how you can achieve better rankings.
Content optimization suggestions – Surfer also has a content editor that gives you improvement suggestions based on the top-performing pages.
Pricing: The Basic plan on SurferSEO starts at $49 per month.

Best content planning tools for project management
When it comes to content workflow management tools, Narrato shines through. Content project management on Narrato is a breeze as the platform is exclusively designed for content marketing projects, unlike most other project management tools that are more generic. Narrato has a host of content project management features that help you organize and execute your content marketing operations efficiently.
Project management features on Narrato include some very useful tools like –
Content calendars & boards – The content calendar on Narrato allows you to track all your content tasks and their progress visually. Every project has a content calendar and a Kanban board associated with it, showing the workflow status of each task and deadlines. You can also create new tasks and move due dates on the content calendar itself. The Global content calendar gives you a complete overview of all the projects in your workspace.
Custom workflow & workflow automation – Narrato allows you to build your own custom content workflows to align with the way your content team works. You can add your own workflow steps and assign custom colors for each step. Workflow automation allows you to automate certain rule-based actions that are triggered when the task status is updated. Automations include assigning a task to a team member, notifying assignees, and moving due dates. This can help save a lot of time on repetitive activities that do not require human intervention.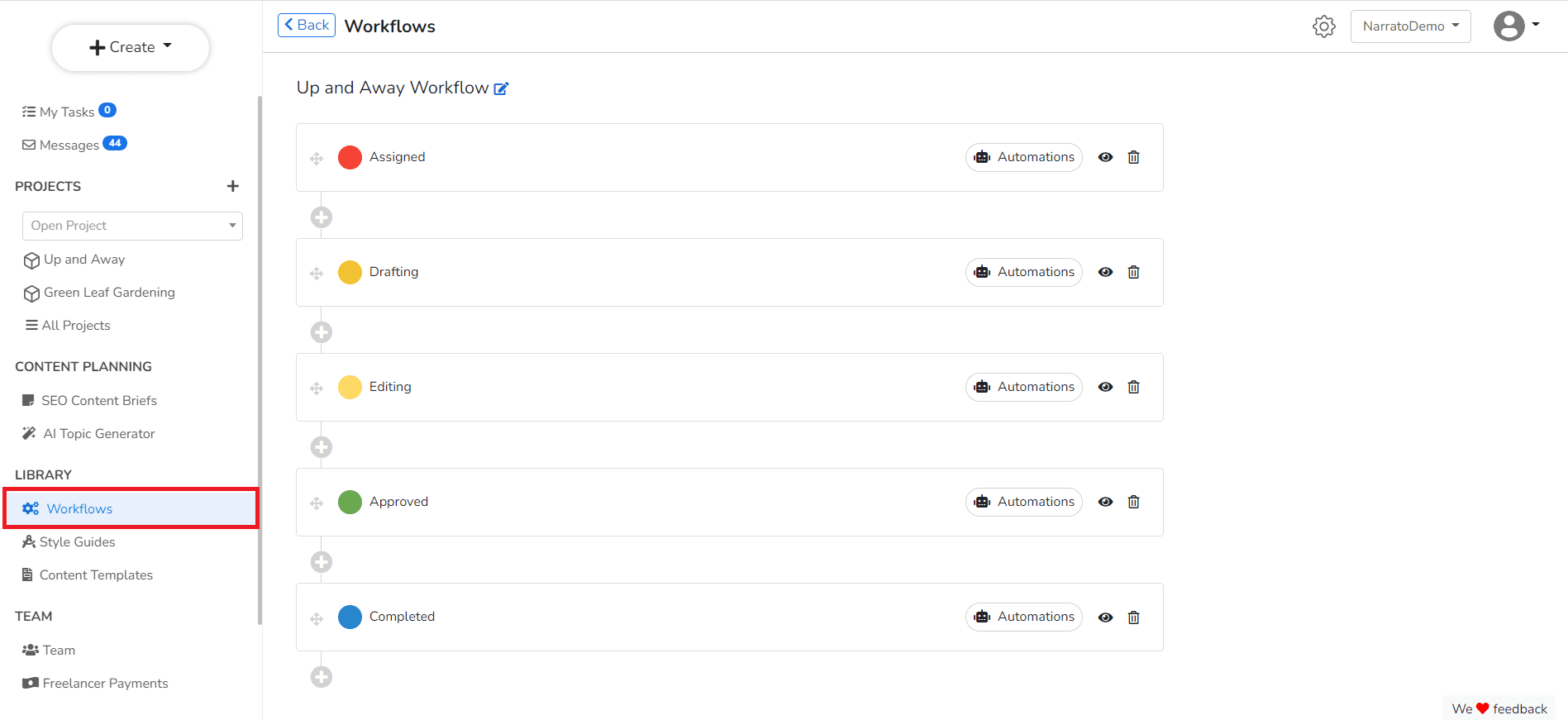 Custom user roles – On Narrato you can easily control who gets access to your content projects with custom user roles and role-based access. You can offer limited access to Content Creators, Editors, and Guests. Project managers can access only the projects they are assigned while Admins can access all projects.
Projects & folders – Projects and folders on Narrato help you organize all your content tasks neatly to build an easily accessible content repository. You can create folders and sub-folders within each project. Under the project, you can toggle between different views such as All Content, Content & Folders, and others, depending on what you want to access.
Content templates & style guides – Narrato has a content templates and style guides library where you can save all your reusable assets. Content templates help you gather structured and consistent content inputs from your writers for different content types. You can also set default content templates for a project to ensure that all content tasks under it follow the same structure. Style guides are a great way to share brand guidelines and other instructions to maintain consistency in content.
Apart from this, you can easily assign tasks to team members, perform bulk actions to save time, and do a lot more for efficient content planning and project management.


6. ClickUp – Project management platform
ClickUp is an all-in-one project management platform that brings together most of the project management tools a team needs on a single platform. The platform is great for goal-setting, collaboration, and task management in your projects. Your content projects can also benefit from a platform like ClickUp as it can help with planning and brainstorming with the team.
Some of the ClickUp features that can prove to be handy in content project management are –
Whiteboards – The virtual whiteboard on ClickUp is a collaborative ideation tool for teams. You can work with your team to jot down ideas or build workflows on the whiteboard. It allows real-time collaboration where your team can add notes, link to tasks, files and docs, and create actionable tasks.
Dashboards – Dashboards on ClickUp give you a complete overview of your projects. You can monitor all your tasks, track their progress, allocate resources, and assess their use as well. You can create custom dashboards for any business scenario choosing your own widgets and custom tools too.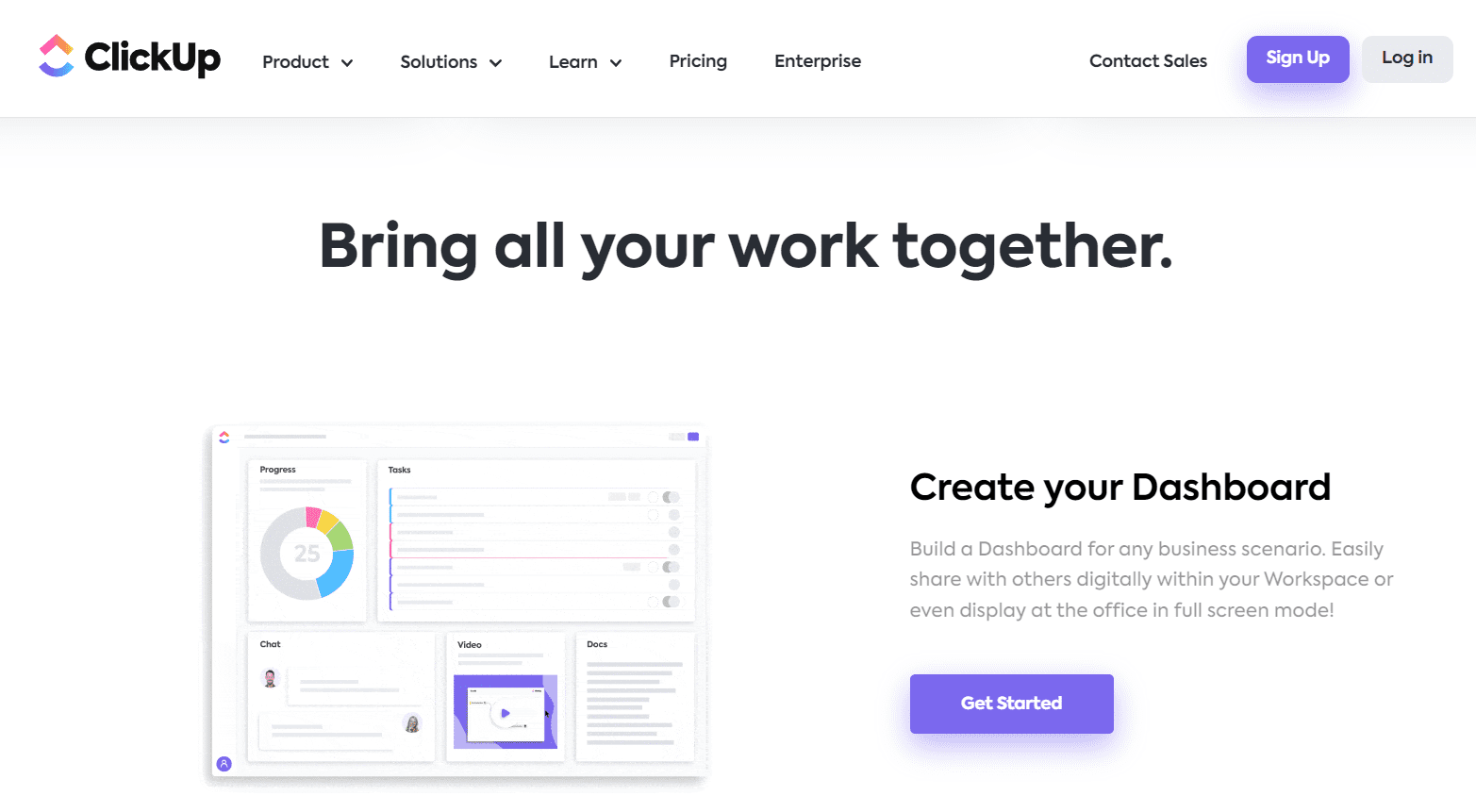 Tasks – Task management on ClickUp is also very easy. You can create customized tasks for any type of project and also add task automations. Collaboration on tasks through comments makes it easier to leave feedback and inputs. You can also add comments as action items for your team members. Complex projects can be broken down into tasks and subtasks. You can set recurring tasks as well, so you don't miss out on repetitive steps.
Goals – You can create your own trackable goals on the platform. Progress can be measured with the help of different targets such as numerical, true/false, or monetary targets, depending on what your goals are. You can also add tasks from different teams to a goal. Goals can even be organized into folders to track sprint cycles, weekly scorecards for employees and more.
Pricing: ClickUp for small teams starts at $5 per member per month.


7. Asana – Team and project management platform
Asana is a project management and work organization platform that can also help with content projects. You can bring your team together on the platform and work with project views that suit your team best. The platform also lets you automate most of the routine work involved in a project. Asana supports over 200 integrations to help you better manage your content projects.
Some noteworthy project planning features on Asana are –
Workflow builder – The platform lets you build your own custom workflows, It has a visual tool to help you organize work and connect teams to manage projects seamlessly with well-defined workflows. The workflows provide a firm ground for your team to start planning content projects and coordinate.
Workload – Asana also gives you visibility into your team's workload to help ascertain that no one is overworked or underutilized. This helps you plan your projects better and ensure that every project is optimally staffed. You can assign values to various tasks based on the time or effort they require and calculate every team member's workload accordingly.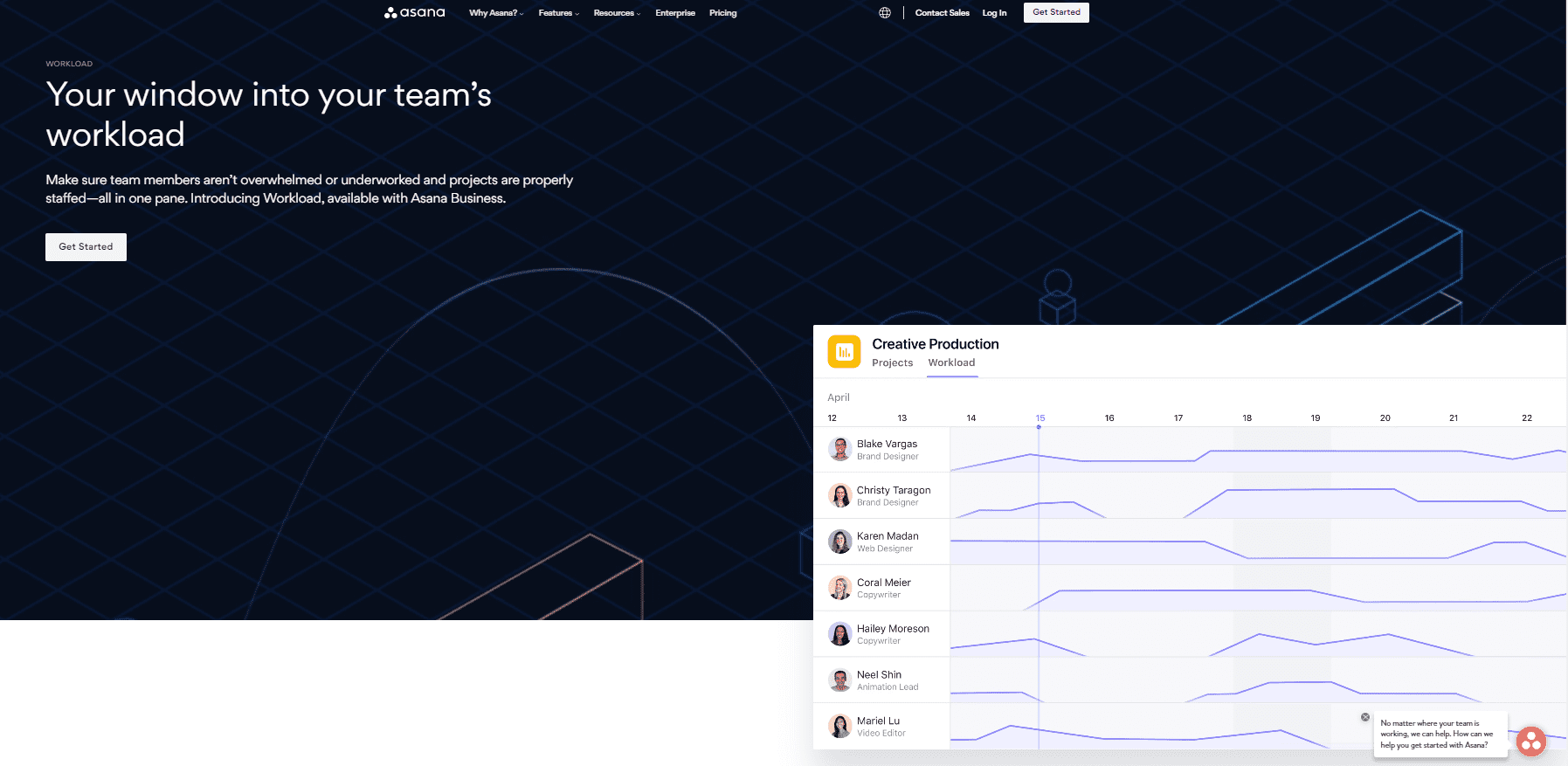 Timeline – Timeline on Asana helps you build project plans that ensure your project stays on track. You can map your tasks to deadlines and identify issues that may cause a delay, before the actual work starts. You can also share your plan or timeline with your team and other stakeholders to get buy-in. As you progress in a project, you can modify the plan and adjust when needed to keep things on track.
Pricing: Asana paid plans start at $10.55 per user per month.


8. Monday – Work management software
Monday is another popular project management platform that helps with project planning and work management. It supports all kinds of projects and teams including creative and design teams, marketing teams, software development teams, HR teams, and more.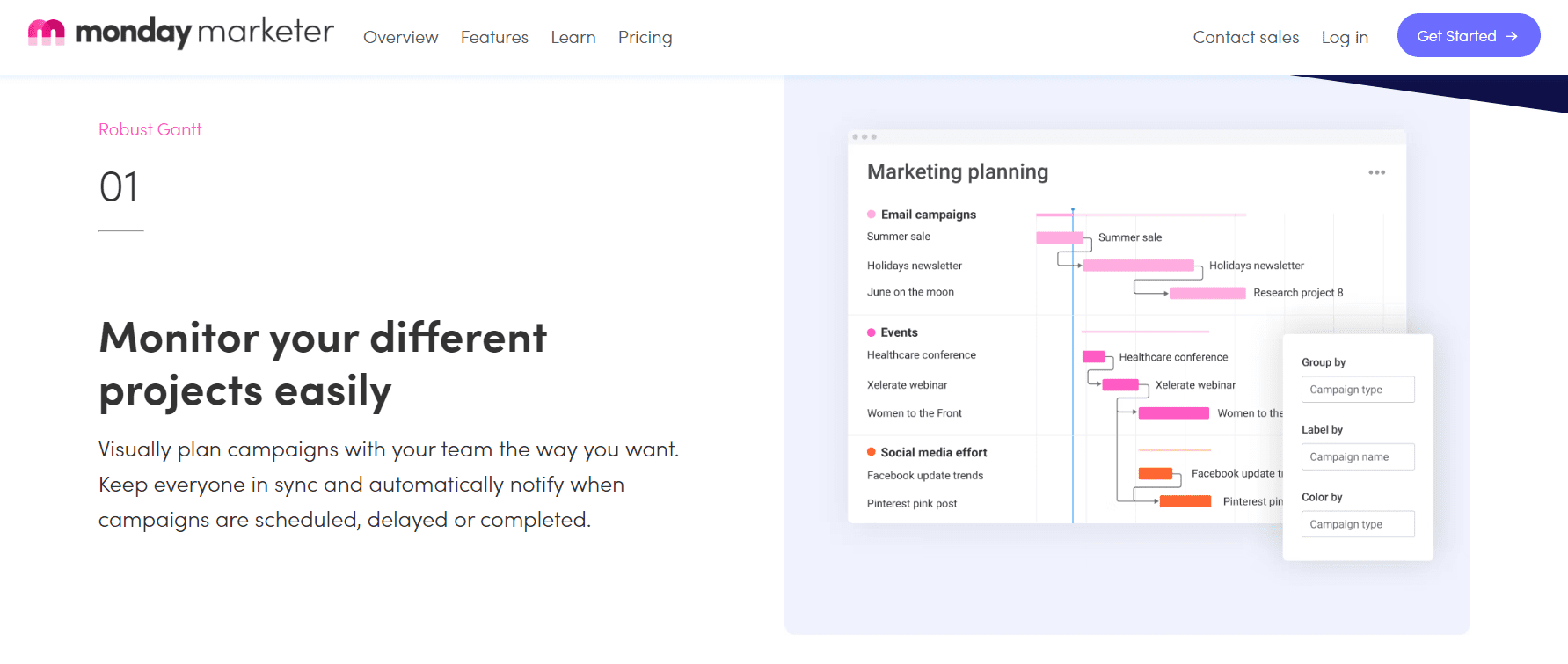 Some of the prominent project management features on Monday that are relevant to content planning are –
Automations – With Monday, you can automate most of the rule-based and repetitive tasks involved in your project. From automating status updates to email notifications to assigning tasks and due date alerts, you can eliminate most of the trivial tasks that don't require human intervention. Automations ensure that your team and stakeholders are kept in the loop on the latest updates and unnecessary meetings or follow-ups can be avoided.
Dashboards – Dashboards on Monday help with better content planning and decision-making by providing a visual overview of your projects. You can create custom dashboards that track only the metrics and KPIs you need. You can also collaborate on the dashboard to assign tasks to relevant team members, prioritize tasks and share files.
Files – Digital asset management, which is a critical area for most content projects, is easy with Monday's Files feature. You can save all your assets including documents, images, and videos in one place, get assets approved and finalized faster, and also view files in the context you want in the card, grid, or full project view.
Pricing: The paid plans on Monday start at $8 per seat per month.


9. Wrike – Work management software
Wrike is a work management software that you can customize to the way your team works, like most of the other project management tools on this list. It enables real-time collaboration across your organization and simplifies team communication with features like comments, live editing, dynamic reports and more. Wrike also has analytics and reporting capabilities, that help you forecast roadblocks and eliminate them before they happen.
Some of the key features on Wrike are –
Gantt charts, Kanban boards, and templates – Wrike allows you to track your projects with different customized views. The Gantt charts help you visualize your projects and progress, create dependencies and make changes with a simple drag-and-drop interface. The Kanban boards give you a day-wise view of your tasks where you can organize them by due dates. Wrike also offers pre-built templates or workflows that you can customize according to your needs.
Project portfolio management – This feature helps you plan your projects with up-to-date data and insights to improve forecasting. Your team can easily assess different aspects of a project they are working on to manage the project portfolio. You can also identify potential risks and notify stakeholders to eliminate them before they jeopardize a project.
Workloads – Wrike also offers visibility into your team members' workloads with online to-do lists that you can share with your team. You can add due dates and subtasks to organize the work. You can also personalize the to-do lists by adding, filtering, and sorting tasks, and build personalized dashboards with custom widgets as well.
Pricing: The Professional plan on Wrike starts at $9.8 per user per month.


Best content planning tools with content calendars
If there is one tool that comes to our minds first when we talk about content planning tools, it has to be content calendars. Content calendars are one of the simplest but most essential content planner tools there is. The content calendar on Narrato makes life a lot easier for content marketers.
On Narrato's content calendar, you can visually track all your content projects with color-marked workflow statuses. A content calendar is associated with every project on your workspace, where you can view existing task progress, add new content tasks, and move due dates by simply dragging and dropping items on the calendar.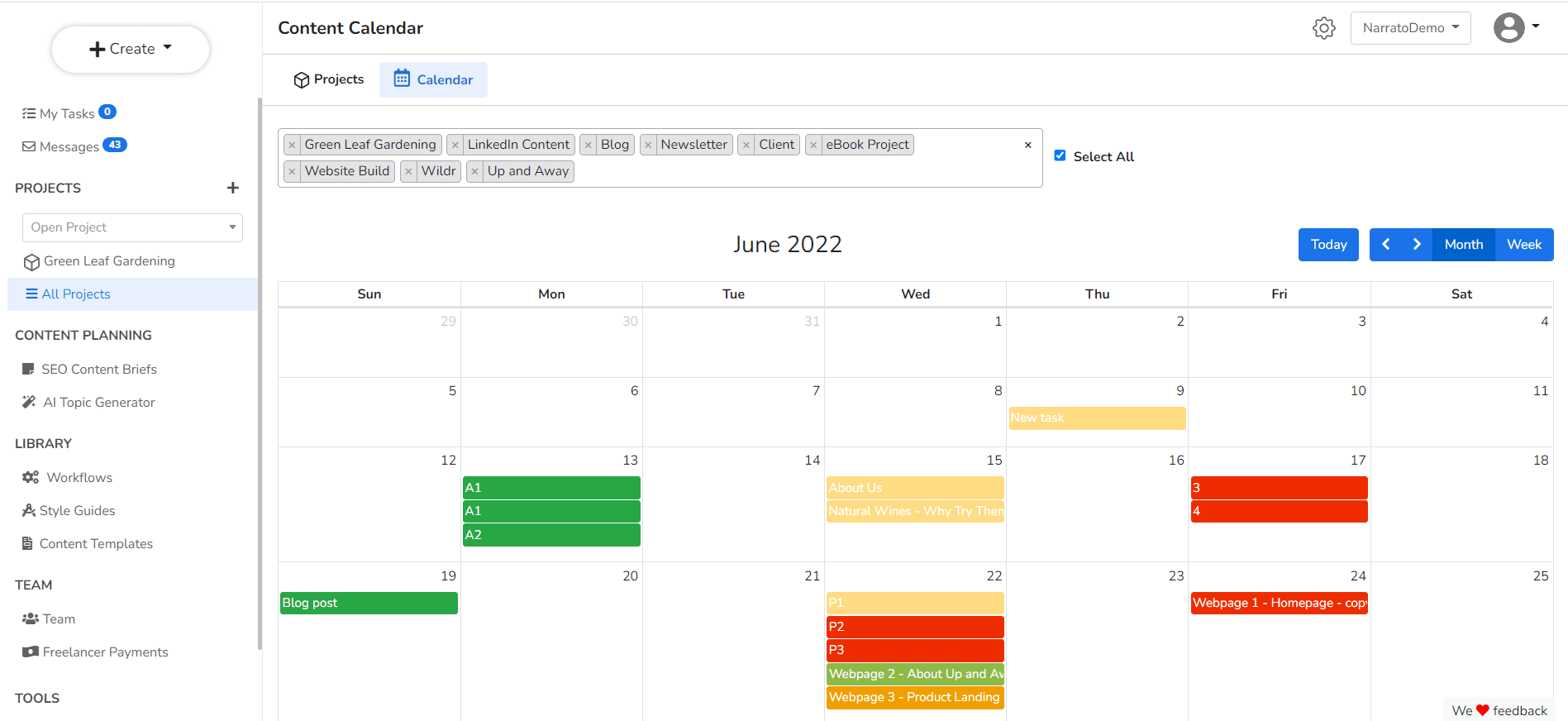 You can toggle between a monthly and a weekly view, or switch to a board view as well.
There is also a Global content calendar on Narrato that gives you an overview of all your projects. You can choose to view selected projects or all projects on the Global calendar.


11. Coschedule – Work management software for marketers
CoSchedule is a popular marketing software that offers various tools and solutions for managing your marketing campaigns seamlessly. The Marketing Calendar on CoSchedule is particularly worth mentioning as it allows you to view, schedule, and share all the activities related to your marketing campaigns with ease.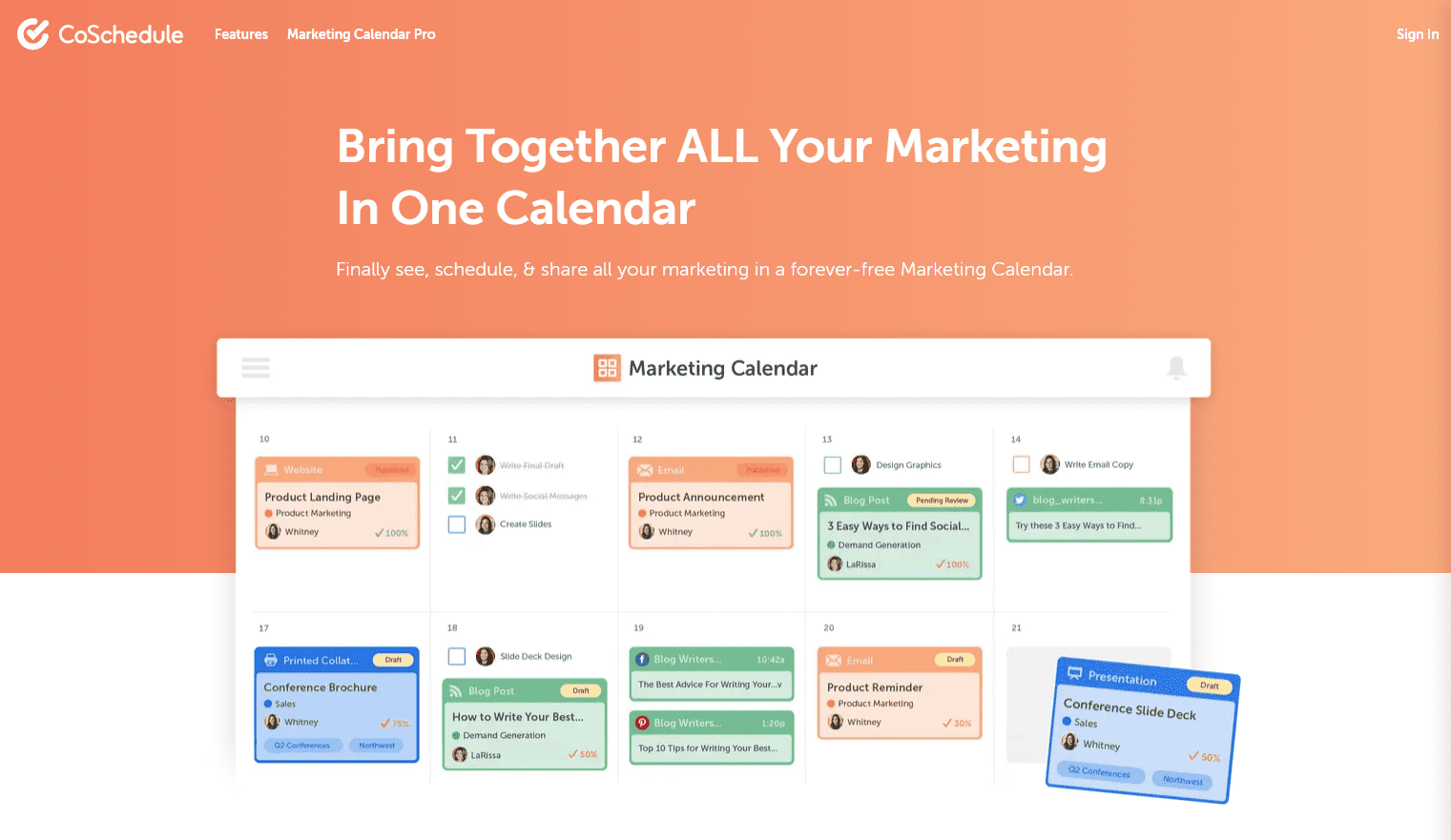 The Marketing Calendar gives you a holistic view of all your projects along with contexts such as assignees, topics, and status. You can also reschedule plans easily with the drag-and-drop interface. On CoSchedule's calendar, you can also plan social campaigns to promote your blog posts or other marketing content and analyze the performance of these social campaigns as well.
There are a host of other marketing tools on CoSchedule that may be of interest to you as well.
Pricing: The Pro version of the Marketing Calendar starts at $29 per user per month.
Most other content planning and project management tools also offer a calendar feature that you might want to explore. If you want to know what other content calendars could be of use to you, we have an entire post on the 10 best editorial calendars. Do give it a read.
What is the best content planner app?
The best content planner app for you and your content team will depend on what you plan to use it for. It boils down to your content goals. To give you an idea, here are some content planner apps that almost every content team needs –
Editorial calendar tools
Social media scheduling tools
SEO planning tools
Blog content planning tools
Content ideation tools
Visual content planning tools
The best content planner app would be an app that covers most of your problem areas on a single platform. When choosing a content planning tool for your business make sure to look for tools that have more than one content planning capability. It saves you costs and also boosts productivity as your team does not need to keep switching between multiple apps.
Your content marketing budget will also decide which content planner app is best for you. Some tools may seem great but can burn a big hole in your pocket. There might be other options that give you nearly the same features but are a lot more affordable. A little research can save you big bucks.
Hope this list helps you find the best content planning tool for your unique requirements.
Similar tools lists you may be interested in:
10‌ Best‌ ‌Editorial‌ ‌Calendar‌ ‌Tools‌ ‌You‌ ‌Can‌ ‌Use‌ ‌in‌ ‌2022‌
10 Free Grammar Checker Tools Online You Should Try
10 GatherContent Alternatives and Why You Should Try Them
15 Best SEO Tools for Content Planning
15 Best Plagiarism Checker Tools to Help You Create Unique Content
15 Free Keyword Research Tools to Boost Content SEO