When it comes to content creation, originality is crucial. Copying someone else's content blatantly is essentially theft of the other author's intellectual property. Plagiarising content can negatively affect your content SEO too. This is because plagiarized content is penalized by search engines and brings down your website's ranking. A plagiarism checker tool can help you avoid these issues, even if you unintentionally end up copying any existing content. The best plagiarism checker tools can detect plagiarised content accurately to provide you with a comprehensive and clear plagiarism report.
But which are the best plagiarism checkers for online content? With so many great tools out there, choosing one can get difficult.
Not to worry! We've researched and compiled a list of the 15 best plagiarism checker tools to make the job easy for you. This list comprises both paid and free plagiarism checker tools that are useful for detecting the degree of uniqueness in your writing.

What is plagiarism?
Whenever a writer creates an original piece of content, the copyrights for that get assigned to them automatically. Any duplication of this content constitutes to violation of copyright laws, which can lead to legal repercussions. To explain it in simple terms, plagiarism is when another author's ideas, thoughts, language, and expressions are represented as one's own original work. Besides being a violation of copyright laws, plagiarism is also a huge red flag for search engines. It can lead to huge penalties and can even lead to your website getting banned.
Here are the three different forms of plagiarism explained –
Accidental Plagiarism: This is a form of plagiarism in which the writer forgets to cite the source while writing content. It is still counted as plagiarism, even when it's not your original intention.
Paraphrased Plagiarism: Sometimes, writers pick up content from a source, modifying the structure and expression, to present it in a new way. This results in paraphrased plagiarised content.
Complete Plagiarism: Content is considered to be completely plagiarised when someone deliberately steals a writer's words to present them as their own. Completely plagiarised content is the form of plagiarism that comes with the gravest implications.
TL;DR here's a quick video with the complete list of plagiarism detection tools in this post.
To protect yourself from the legal ramifications of plagiarism, it's important to invest in a good plagiarism checking tool. These are tools that scan all web pages on the internet to look for duplicate content. By running your content through the plagiarism checker, you can verify it for originality and make the necessary changes to your content.
How do plagiarism checker tools work?
A plagiarism detection tool scans a content piece to look for any duplicate content. It uses machine learning and artificial intelligence to assess the content against all the publicly indexed web pages on Google and other search engines. Some plagiarism checker tools can also pick up instances of self-plagiarism, where a writer ends up copying their own words for an article. Plagiarism checker tools usually highlight the text that has been plagiarised, and some even provide a plagiarism score. Many of the best plagiarism checker tools also proofread your content to provide grammar and spelling checks like a grammar checker tool does.

Best Plagiarism Checker Tools: Which is a good tool to find plagiarism?
We'll aim to answer two important questions here –
What is the best paid plagiarism checker tool?
What are the best free online checkers for plagiarism?
To help you make the right decision, we've rounded up a list of some of the best (free and paid) plagiarism checker tools.
1. Narrato's Plagiarism Checker
Narrato is an all-in-one content workflow management platform that provides one of the best plagiarism checkers for scanning your content. It uses CopyScape which is widely known to be one of the most precise plagiarism detection tools out there, surpassing most other tools in its accuracy and detection capabilities. Narrato's plagiarism checker tool can be found in the content editor itself, allowing you to easily check your content for any kind of plagiarism before you publish.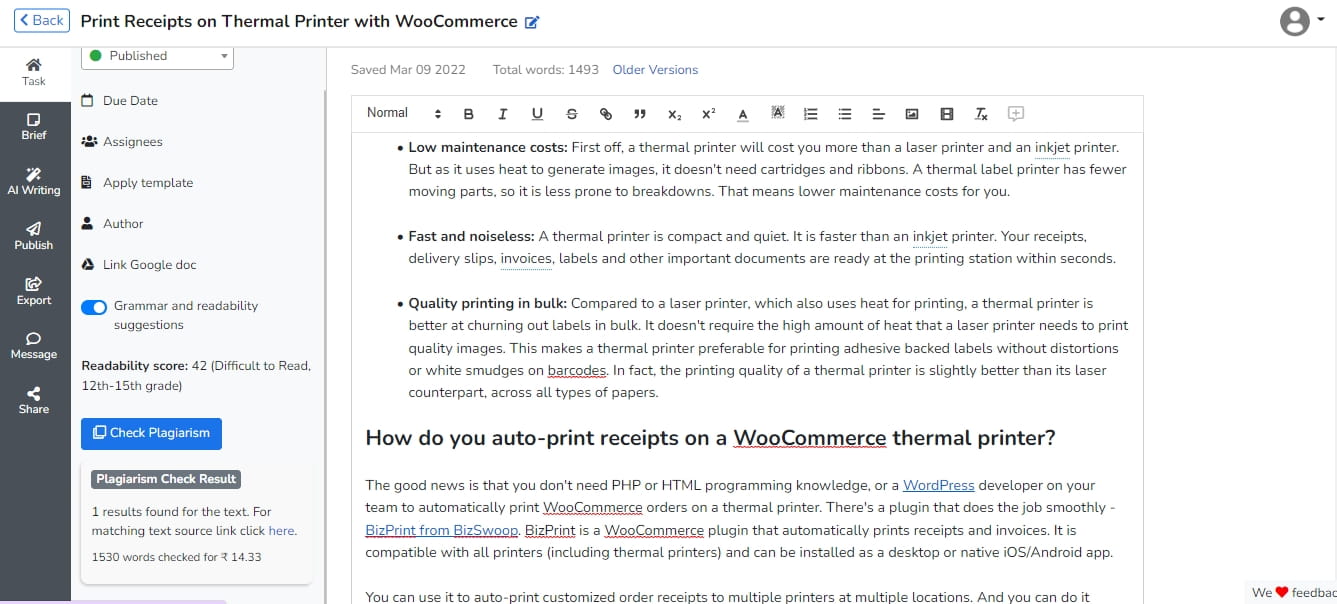 When you click on the link directing to the text source, the results of the plagiarism check are displayed on the new tab.

All you'd have to do then is to click on the webpage link to see which parts of the content were detected for plagiarism.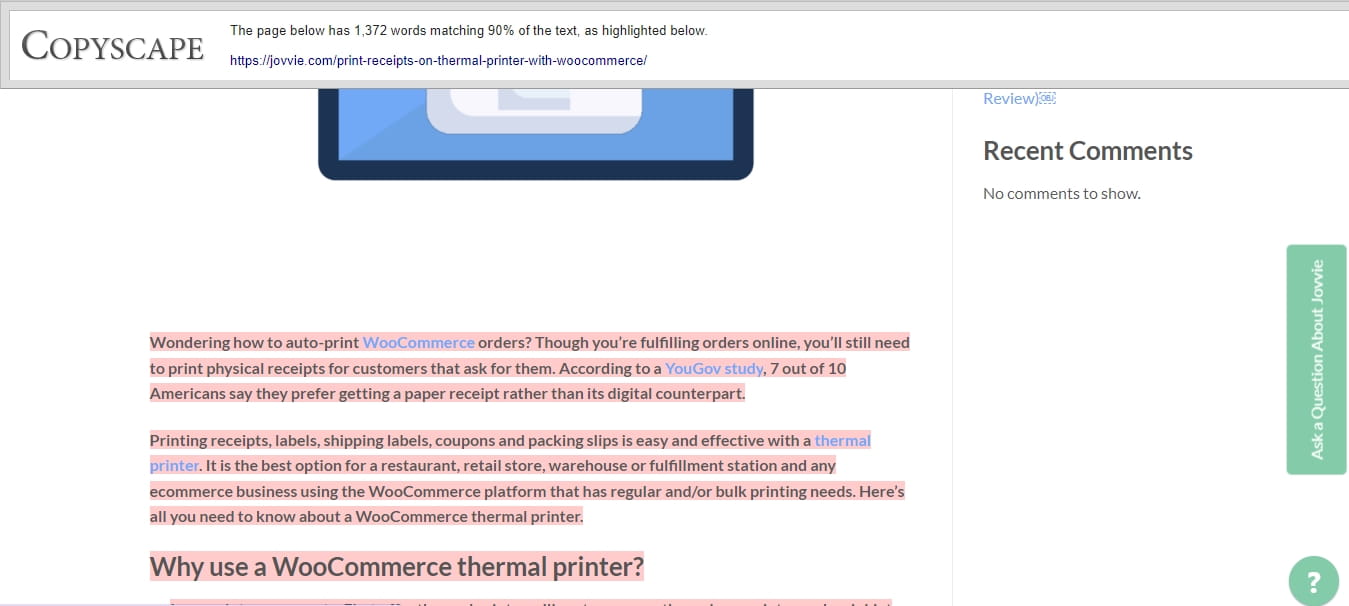 But that's not all that Narrato does. It has a host of other tools apart from plagiarism checks. The platform has a powerful editor with an AI content assistant that helps optimize your content for grammar and readability. The SEO content brief generator on Narrato gives you a comprehensive SEO brief that provides keywords, questions, and competitor link suggestions among other things. You can also generate content for a variety of use cases with the help of the AI writer and SEO assistant. For content teams that want to streamline their content workflow, Narrato also provides some excellent project and team management features.
Pricing: Narrato's plagiarism checker works on a credit system. All you have to do is add sufficient credits to your Narrato Workspace wallet. Whenever you run a plagiarism check, the amount ($1 to $1.5 per 100 words) will be deducted from the wallet.
To use the feature-rich Narrato Workspace, you can buy the paid plans – Pro ($9 per user per month) and Business ($19 per user per month). The Pro plan comes with a $1 plagiarism credit, while the Business plan includes a $2 plagiarism credit. Individuals and teams just starting out can use the free plan.
2. CopyScape
CopyScape is one of the oldest and most widely used plagiarism checkers in the world. Launched in 2004, this plagiarism checker is built for website owners and content buyers. While website owners can use CopyScape to look for any unauthorized copies of their content, content buyers can use this tool to determine the originality of their content.
With the free version of this tool, you can detect plagiarism by simply entering the URL of your content piece to check for any overlap or duplication of content. For more advanced plagiarism detection needs, CopyScape also provides a premium version. In this, you can directly paste text/upload your file onto the tool to check for any near matches. CopyScape Premium allows you to perform unlimited scans after purchasing credits. It also comes with a batch search option.
If you're looking for a fast, easy, and no-frills kind of plagiarism checker, CopyScape is a great choice.
Pricing: For every plagiarism check on CopyScape Premium (up to 200 words), it deducts 3c from your credits. Thereafter, 1c is charged for every extra 100 words.
3. Quetext
Launched in 2016, Quetext is another popular free plagiarism detection tool, which comes with a paid option as well (greater word limit). For writers who want to identify their content's originality, this duplicate content checker is extremely accurate in identifying all instances of plagiarism.
With the free plan on this plagiarism remover online, you are allowed to conduct free plagiarism checks on 500 words per month. When you go for the paid plans, the word count for the plagiarism check starts from 100,000 words and goes up to 500,000 words. Besides scanning text for plagiarism, Quetext's Citation Assistant also helps writers in identifying any potentially important citation opportunities they might've missed.
Pricing: The paid plans start from $10.49 per month or $71.99 per year.
4. Scribbr
Scribbr is a popular tool used in academic institutions for checking plagiarism, but that doesn't make it any less effective for use by bloggers and copywriters. Powered by leading plagiarism detection software, Scribbr can also detect any instances where sentence structure and synonyms have been used to modify the original text.
Besides this, the tool also provides detailed reports with customization options for sources list, similarity percentage, small matches, and more.
Pricing: The pricing plans for Scribbr start from $19.95 (for 7,500 words).
5. ProWritingAid Plagiarism Checker
ProWritingAid is an all-in-one writing solution that provides an excellent plagiarism detection tool for checking your content pieces against billions of published works and web pages. If you are a blogger, digital marketer, or writer, the ProWriting Aid Plagiarism Checker can save you a lot of effort.
The plagiarism report is included in the online editing tool, which means that you can conduct duplicate content checks even as you optimize your content for readability, spelling, and grammar.
Pricing: The paid plans for using this writing solution (which comes with the plagiarism checker) start from $20 per month and $79 per year.
6. Quillbot
Quillbot is a popular paraphrasing tool that can be used by writers to enhance their articles to improve its quality. Besides its core functionality, it also offers several other features, one of which is plagiarism checking. It quickly analyzes your content to generate a comprehensive plagiarism report along with a plagiarism score.
What's better is that it can scan text in more than 100 languages. With Quillbot by your side, you can cut down your writing and content optimization time in half.
Pricing: The plagiarism checker is included in the Premium plan, which starts from $9.95 per month.
7. Grammarly Plagiarism Checker
Grammarly is a well-known name in the content industry, primarily because of its robust writing app that provides comprehensive grammar, spelling, and readability checks, along with tone and word choice optimization. This tool also comes with a great plagiarism checking feature that can be used to inspect the originality of your content.
It highlights instances of duplicate content and also indicates which parts of the text require citations. If you are looking for a multi-feature tool to optimize your content, then Grammarly can be the best choice after Narrato.
Pricing: The Grammarly Plagiarism Checker comes with the Premium package, which starts from $29.95 per month.
8. PlagScan
Launched in 2008, PlagScan is a plagiarism detection software that can be a great choice for individuals as well as businesses. This tool provides several options for checking your content for plagiarism –
Direct copy-pasting
Importing file from a URL
Uploading file from cloud storage
Uploading file from your device
It also comes with an interactive browser reporting tool that lets you collaborate with your teammates on ensuring the originality of content.
Pricing: The PlagScan plans start from $5.99 per month (for 24 pages or 6,000 words).
9. Unicheck
If you are looking for a solid paid plagiarism checker tool, then Unicheck is a great option. It comes with a sleek interface that allows writers to check the originality of their content quickly and efficiently.
With highlighted text matches, references, and quotes, you can easily see the amount of duplicate content at a glance. Unicheck also provides plagiarism reports and scores.
Pricing: The personal plan is priced at $5 for 20 pages.
10. Plagium
Plagium is another great tool to detect and identify instances of plagiarism and general content reuse.
All you have to do is paste the content on the home page and get plagiarism results in a matter of seconds with the 'Quick Search' option. You can check up to 5,000 characters at a time. There is also a 'Deep Search' option, which can pick up even the most subtle instance of plagiarism in longer content pieces.
Pricing: The pricing for this tool is based on the number of characters and search type. You can either choose from the pay-as-you-go plans, or go for the monthly plans that start from $9.99 per month.
11. PlagiarismCheck.org
If you want a comprehensive plagiarism checker that can conduct specific types of checks for you, then PlagiarismCheck.org is the tool for you. This tool offers plagiarism checking solutions for both organizations and individuals. The 3 different types of plagiarism checks provided by this software are –
Words substituted with synonyms
Sentence structure and word order rearrangement
Sentence changed from active to passive voice
What sets Plagiarism Check apart from other tools is that it doesn't indicate widely accepted phrases as plagiarism. It also throws up lesser false positives as compared to other tools.
Pricing: The pricing for individuals starts from $5.99, with $0.30 per page.
12. Plagiarism Checker X
Plagiarism Checker X is a great software for independent writers, bloggers, and content creators who need to quickly check their content for plagiarism before publishing it.
The smart algorithm of this tool quickly detects any plagiarised phrases and words and highlights those parts of the text for the user. The plagiarism report can be easily downloaded in PDF or Word formats.
Pricing: With the free plan, you can easily do 30 scans in a day. The paid plans (which come with unlimited scans) start from $39.95.
13. Plagramme
Plagramme is a plagiarism checking tool that can scan hundreds of pages for plagiarism at a time. It also provides scores for the content, including plagiarism risk score, similarity score, quick score, and paraphrase score.
Besides this, it also detects any improper citations in your content. If you are looking for the best free plagiarism checker for quick checks, then Plagramme can be an excellent choice.
Pricing: The tool is free to use for standard users.
14. Writer
Writer is an AI-powered writing platform that provides a free plagiarism checker. Its simple and easy-to-use interface allows you to check your content for any kind of plagiarism.
Writer also allows you to optimize your content for grammatical errors like misspelled words, misused commas, incorrect verb conjugations, etc.
Pricing: Writer is a completely free plagiarism detection tool.
15. Copyleaks
If accuracy is what you're looking for, then Copyleaks is an excellent choice for a plagiarism checker. The comprehensive plagiarism detection software is capable of performing extensive searches across various databases and the internet.
The great thing about this online plagiarism checker is that it places the plagiarised content and original text side-by-side, allowing the users to compare the documents easily. Copyleaks also provides the exact URL the plagiarized content comes from, leaving no room for confusion for the writer.
Pricing: Copyleaks provides a free plan (for 5,000 words or 10 pages a year. The paid plans start from $10.99 per month.
Why check for plagiarism?
Content marketers who haven't used a plagiarism checker yet may wonder – Do plagiarism checking tools really work? Should I try them? Which checker is the most reliable?
For your content to rank on the first page of search, it needs to be free of plagiarism. And good plagiarism checker tools can help you do that. This specialized software is an effective way to review your content for any red flags so that you can avoid publishing something that already exists on the internet. A plagiarism checker is useful for any writer or content creator who is serious about publishing quality work and avoiding SEO penalties from Google.
Benefits of using plagiarism checkers
Now that you know which are the best plagiarism checkers for online content, here's how using these plagiarism checkers can benefit you –
1. Efficiency
The great thing about plagiarism checking tools is that they work quite fast and efficiently in detecting duplicate content. These tools can search through all the existing content on the internet in a matter of seconds. Think about all the time and effort you'd end up saving in the content creation process.
2. Percentage of plagiarism/uniqueness
Most plagiarism checkers online will display the percentage of uniqueness/plagiarism when you run a piece of text through the tool. This percentage can be especially useful for setting content goals for your team of writers. The common consensus is that a plagiarism percentage of 15% or more indicates that the content could be penalized.
3. Links to the source text
A plagiarism detection tool also provides the user with a link to the original text source, helping them verify where a part of the content has been picked from. This is a good way to know the source of the writer's ideas, and it's also useful for providing proof that a piece of content wasn't copied word for word.
4. Better paraphrasing abilities
Plagiarism checkers can also help you improve your writing and paraphrasing abilities by indicating areas where there are issues with your content. With a duplicate content checker, you can see how much of your text is original and how much of it was copied.
5. Stick to your deadline
Plagiarism checker software can be especially useful for writers working on a tight deadline. In these situations, you don't have the time to proofread your entire content and check against sources for any duplication. A good plagiarism checker tool can help you ensure that your articles and blog posts remain completely original.
6. Adhere to ethical and regulatory guidelines
To be successful in the content industry, it's important to follow regulatory and ethical guidelines. A plagiarism checking tool will ensure that you do not end up violating any copyright laws. By helping you write unique content, it also establishes your brand as a thought leader in the industry.
Wrapping Up
Writing is a powerful tool, and when you use it well, the rewards come on their own. All of these plagiarism checker tools can help you establish your brand authority with original content, every single time. But to choose the best plagiarism checker for your needs, you need to take the following factors into consideration –
Cost: Free tools are a great choice for beginners, but they certainly lack the advanced features that come with paid tools, like grammar, spelling checks, and comprehensive plagiarism checking.
Ease of access: Any software you add to your content toolkit should make your job easier. It's better to use a tool that allows you to write content and check for plagiarism at the same time. This will prevent any unnecessary back-and-forth between multiple tools.
Scope of the tool: Make sure that the plagiarism checker you choose aligns with your content requirements.
So, continue getting inspiration from the work of other writers. Continue writing. Continue editing. Just make sure that you use a good plagiarism checker tool before you publish your content.
Similar tools lists you may be interested in:
10‌ Best‌ ‌Editorial‌ ‌Calendar‌ ‌Tools‌ ‌You‌ ‌Can‌ ‌Use‌ ‌in‌ ‌2022‌
10 Free Grammar Checker Tools Online You Should Try
9 Best Content Planner Tools That are Not Airtable, Notion or Trello
10 GatherContent Alternatives and Why You Should Try Them
15 Best SEO Tools for Content Planning
15 Free Keyword Research Tools to Boost Content SEO