Does bad grammar affect SEO?
To cut a long story short – Yes, it can! Grammar and spelling may seem like trivial factors that should not affect your content's worth. But when it comes to search rankings, grammatical errors could prove to be lethal. This is why the demand for free spelling and grammar check tools is rising drastically. Search marketers and SEO experts often debate whether spelling and grammar mistakes even matter to search engines so long as you are providing valuable content. But Search Engine Journal shared Google's John Mueller's statement from 2021, where he agrees that grammar and spelling errors are quality issues that could affect search performance. Microsoft Bing's Senior Product Manager, Duane Forrester, also made it clear back in 2014 that poor grammar and spelling could negatively affect search rankings on Bing. No wonder why every content marketer is constantly on the lookout for the best grammar checker tools to redeem their content.
Also, preventing these little goof-ups with a grammar check online is good for your brand reputation. Because honestly, we're all a little judgmental when it comes to poor grammar and typos, aren't we?
There are tonnes of online grammar checker tools available on the internet, but most of them fail to make a mark. Only a handful of tools provide real help to the users with suggestions that make sense and could actually enhance content quality. You may be familiar with the popular ones like Grammarly and Zoho Grammar check, but there are better and more affordable alternatives to these tools too.
Here we have compiled a list of the ten best free grammar checker tools that all writers, editors, content teams, and anyone else who writes regularly must know about.
TL;DR – Here's a video highlighting the key features of the top 10 grammar checkers tools on our list.
What you'll learn in this article –
How can online grammar checkers benefit you?
Content proofing is just as important as content planning. If content planning tools help you build a robust content strategy, grammar checker tools help ensure that your content creation efforts pay off. The benefits of having a tool for grammar check online are many but here are a few we think are most relevant to content marketers:
Helps maintain consistent quality in your content, irrespective of who is writing it
Speeds up the proofreading and editing process
Ensures your message comes across correctly without any ambiguity induced by typos or punctuation errors
Helps use the right expressions for the context
Often suggests alternatives and synonyms so you can decide what goes best with your content's tone
Helps ensure that you're using the right variations of a word for the language you're using (English [US], English [UK], etc.)
Helps boost SEO strategy by enhancing content quality and minimizing errors
Many people, even professional writers, sometimes struggle to write flawlessly and persuasively. Online grammar checker tools give them more confidence in their writing and help them overcome that challenge.


What should you look for in a grammar checker?
Here's what you should look for when searching for the best grammar checker for your use case:
Accuracy of suggestions
Ease of use
Types of content checks it provides (grammar, spell checker, readability checker, punctuation corrector, etc.)
Languages it supports
Pricing
Industry-specific features, if any (E.g. for academics, medical, technical writing, etc.)
What is the most accurate grammar checker?
No grammar checking tool is 100% accurate. Most grammar checking tools use a combination of AI and repository-based knowledge to check for mistakes. They are not always correct, and neither do they claim to be. So a little discretion is always necessary when using even the best grammar checking tools. The tools we'll talk about, however, are certainly more accurate than their other counterparts.
Best free grammar checker tools you must try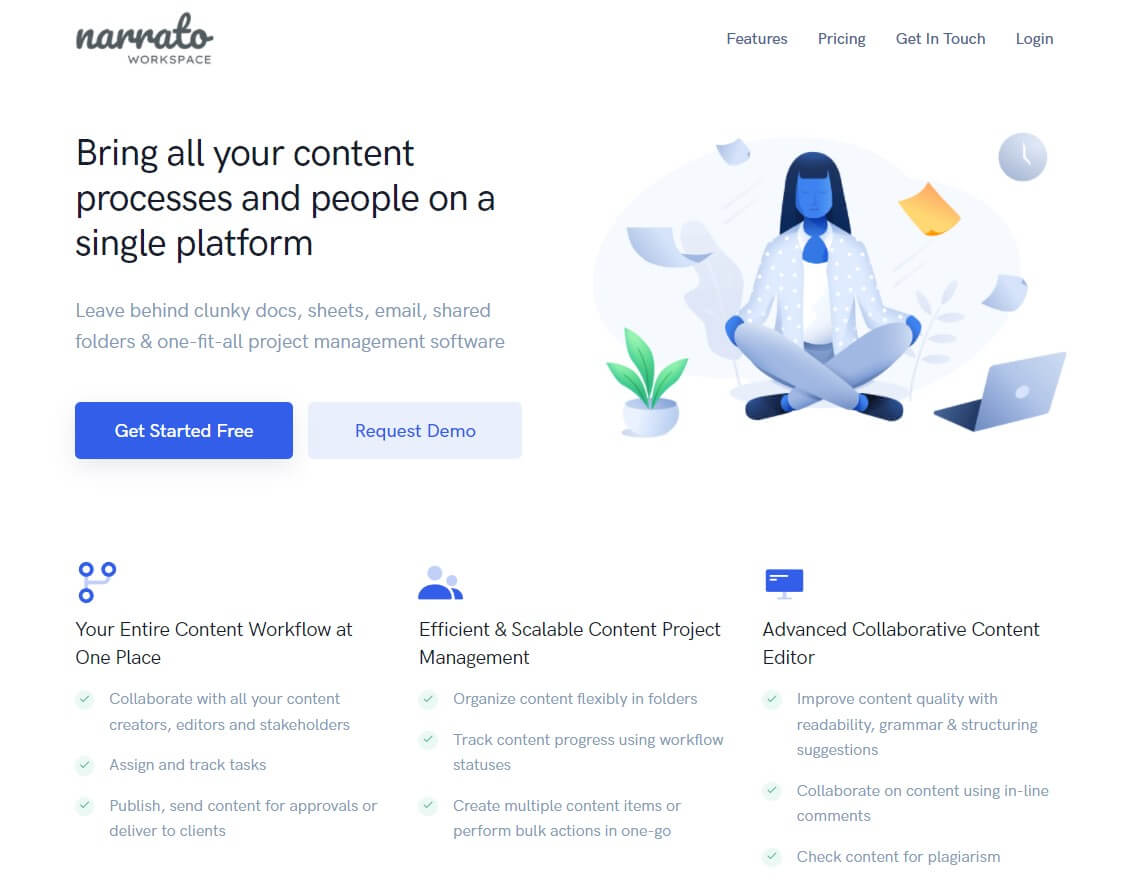 Narrato is a comprehensive content creation and collaboration platform that gives you all the features you would expect in a good online grammar checker tool. The platform, designed for content agencies, content teams as well as individual content creators, offers a powerful content editor with efficient readability and grammar checking tools.
Narrato's grammar checking feature highlights any grammatical errors, spelling mistakes, redundant words, and punctuation errors that it detects in your content. The tool scans the content as you type to give you real-time suggestions. Unlike other commonly used free grammar checker tools, such as the free Grammarly editor, there is no limit to word or character count in the Narrato editor.
Apart from grammatical mistakes, typos, and spelling errors, the Narrato grammar check also offers readability suggestions and a punctuation corrector. These help you optimize your sentence structure, paragraph lengths, use of subheadings, and so on. The readability check ensures that your content is easy to read for your audience and gives better results with SEO too. Another awesome feature on Narrato that's critical for SEO is the Plagiarism Checker which checks your content for originality.
Narrato's grammar checking tool supports 50+ languages. You can turn the grammar and readability tool off on the content editor with just a click, in case you don't want the suggestions to interfere with your train of thought when writing. The grammar checker can boost productivity for both writers and editors on your team, speeding up proofreading and quality checks.
The best part is that the free grammar checking tool is only one of Narrato's multitude of content creation, collaboration and workflow management features. The platform has a host of other content optimization tools like the SEO content brief generator, AI writing assistant, AI topic generator, custom templates and style guides, and more.
Pricing and plans:
Narrato pricing plans include a free plan for individual content creators and teams just getting started. The free grammar checker tool is available with this plan. Paid plans on Narrato include the Pro plan priced at $8 per user per month and the Business plan at $18 per user per month. The Business plan gives you bigger usage limits and some additional features.
You can also have a custom plan tailor-made to meet your requirements. At these prices and given the number of other features you get along with it, Narrato is one of the best grammar checkers in the market for most use cases.
2. Grammarly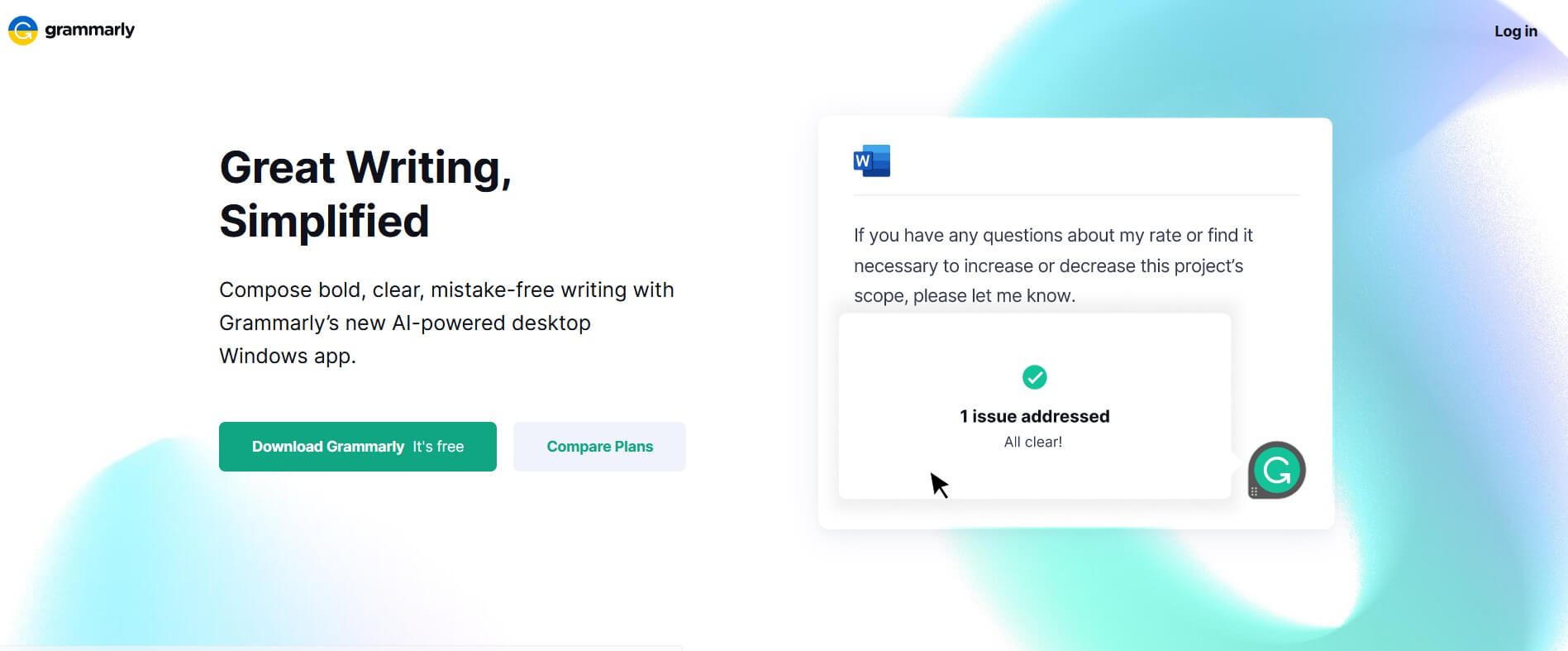 Grammarly needs no introduction for most writers and editors. We wouldn't call it flawless, but Grammarly is certainly a powerful tool and has helped many writers improve their content when used discreetly.
The tool checks your text in two ways – contextual grammar suggestions and typo/spelling mistake correction. It also gives you a readability score, detects the tone of voice, and comes with a plagiarism checker. The overall ease of use makes the tool popular among writers.
But like most other grammar checking tools, there are a few drawbacks to Grammarly as well. For example, you cannot check more than 100,000 characters (including spaces) at a time in the free version of the content editor on the platform. The suggestions are not always accurate, and you could come across corrections that you don't want in the first place.
The free version gives you access to the basic features. If you are looking for an uncomplicated Grammar tool with a nice user interface, Grammarly can be a good option.
Pricing and plans:
The free version is used far more than the paid version. You can use it as a web app, desktop app, or browser extension. It is meant for individual writers and editors and there are no collaborative features as such, unlike Narrato.
You get advanced features and in-depth grammar correction with Grammarly Premium. It costs a whopping $30/month for individual accounts. The quarterly subscription is $60 and the annual subscription is $144.
The tool also has a business plan for teams of at least 3 or more. For teams with 3 to 9 members, the cost comes at $180 per member annually. In teams with 10 – 49 members, the annual cost per member is $174. Teams with more than 50 members have to pay $150 per member annually to access Grammarly Business.
Grammarly has plans for educational institutions like schools and colleges too.
3. JetPack

WordPress is a popular blogging platform and content management system. Numerous businesses and individuals publish content on the internet through WordPress. JetPack is a dedicated WordPress tool for spelling correction, grammar checking, and tone correction. If you run a WordPress site or blog and that is the only channel you are posting content on, Jetpack could be a good choice.
But that is also its major drawback – it only works with WordPress sites. If you are on any other platform, you cannot use the tool. It restricts the user base of the tool to a very small section of marketers, content creators, or editors.
Pricing and plans:
JetPack also has security, CRM, SEO, and performance tools for WordPress websites and blogs. When you run JetPack on your website, the proofreader comes without any additional cost. The three paid plans – Backup, Security, and Complete – cost $3.95, $8.95, and $29.95 per month. The grammar and spelling check tool comes with each of these plans.
4. Zoho Writer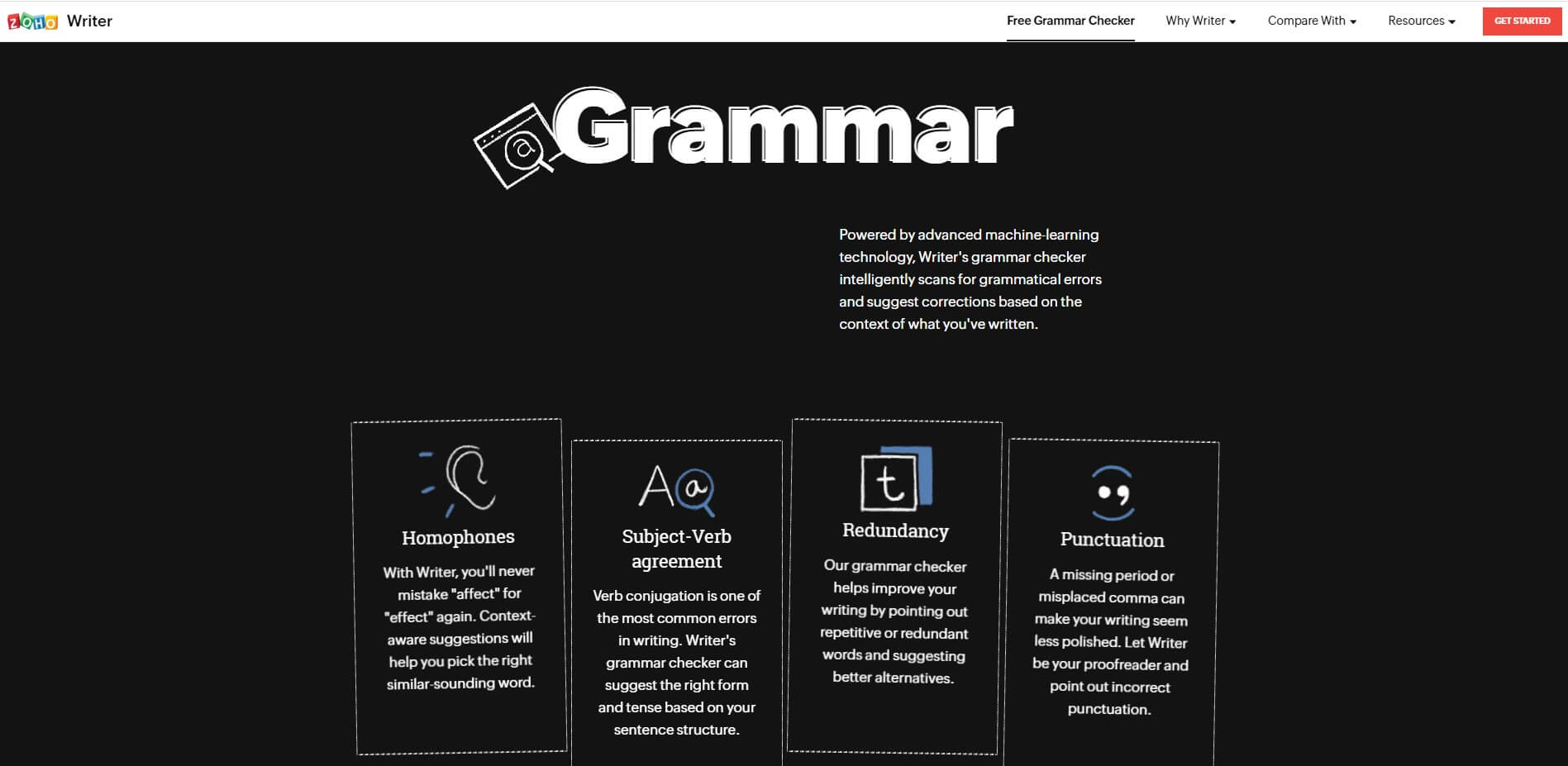 Zoho is well known for its complete suite of professional software. From Customer Relationship Management to cloud systems for customer support teams, Zoho does it all. The Zoho grammar checker is accessible only through Zoho Writer – the word processing software from Zoho. However, it is not the standard grammar checker that comes with MS Word or Google Docs. It offers advanced suggestions and also highlights text you should change.
As long as you are looking for a more grammar-focused word processor, Zoho writer will work very well for you. Zoho has a host of other features like Document Merge, Document Sign, and Workflow Automation for Customer Support and Sales teams, but not much for content marketing teams.
Pricing and plans:
You have to sign up for Zoho Docs to use Zoho Writer. It is free to use for teams with up to 5 members. The standard plan is $4/month for each user, and the premium plan comes for $6.4 per user per month.
5. Trinka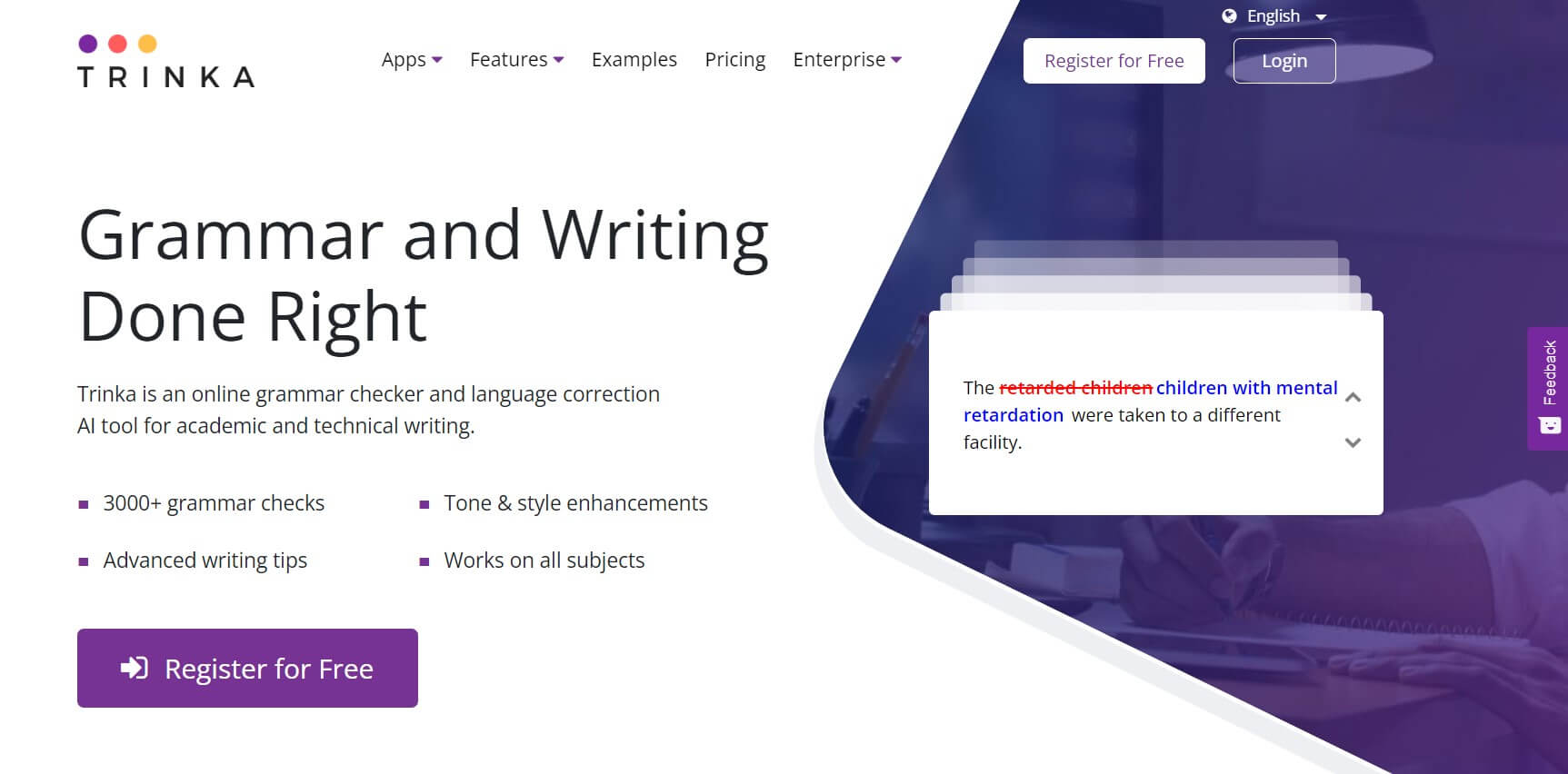 Trinka is a little different from the tools we've discussed so far. It is a dedicated academic writing tool that's ideal for students, researchers, and other people associated with academia. Apart from offering a general spelling and grammar checker, it comes with a contextual grammar checker for academic essays. That includes suggesting subject-specific corrections and modifications.
But since it is geared toward academic projects, it is not the best grammar checker tool to use for regular web, blog or affiliate content types.
Pricing and plans:
Trinka has a paid and a free plan. The premium plan costs $6.67/month.
6. Typely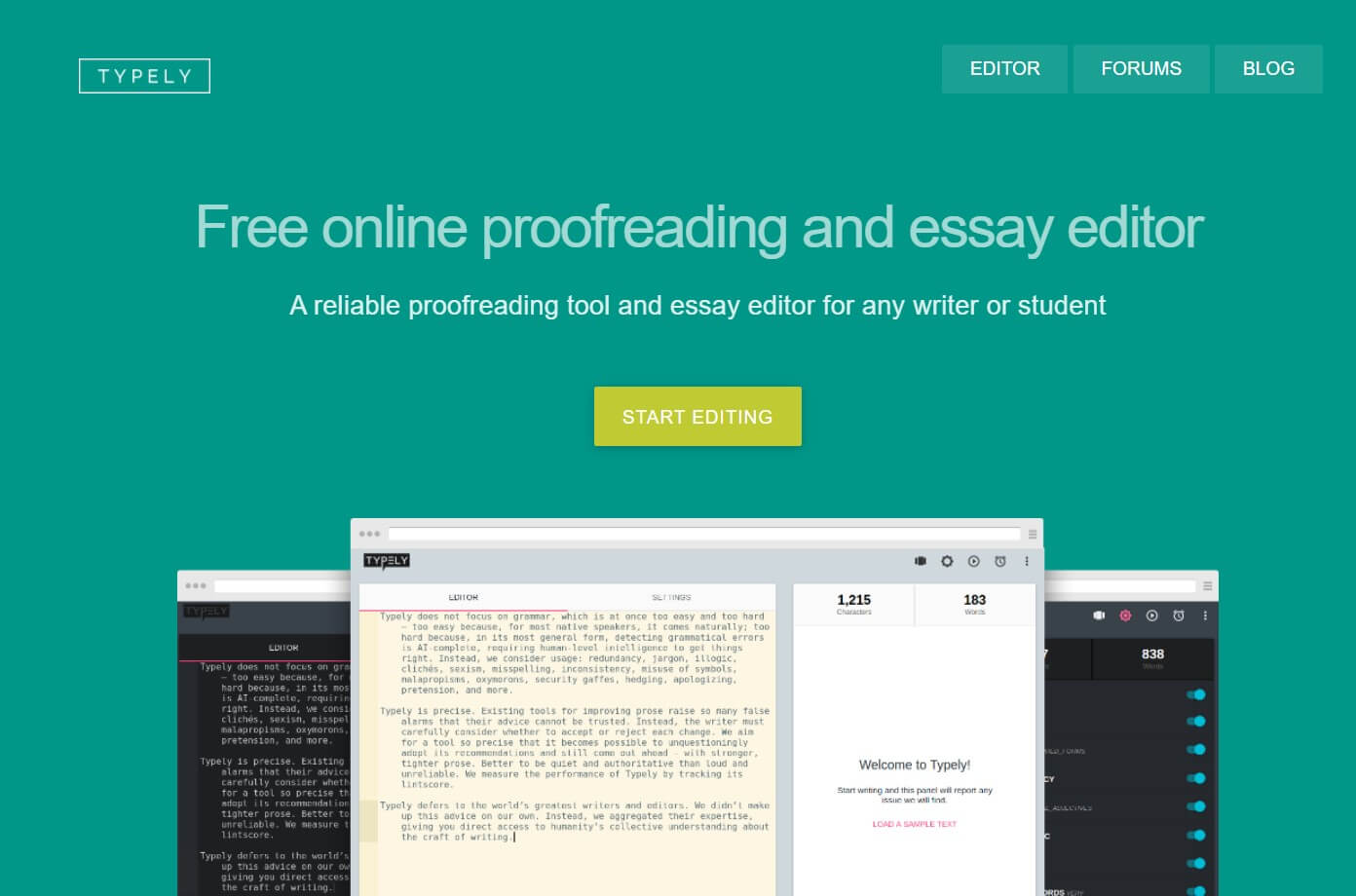 Typely is a simple and easy-to-use grammar checker tool that focuses more on simplicity and minimal interference. Unlike some of the other tools, Typely does not raise a lot of errors or suggestions. Instead, it focuses on only the necessary changes. The philosophy behind is that writers should not face any interference while writing to maintain a continuous flow of thoughts.
While Typely does a good job of reducing the number of suggestions we see, it could be a disadvantage at the same time. Beginner writers would prefer something with more comprehensive suggestions and corrections. Experienced and professional writers can benefit from the simple, uncluttered writing interface of Typely though.
Pricing and plans:
Typely is completely free to use. But they are intending to launch a premium plan with some advanced features soon.
7. Ginger

Ginger bears a close resemblance to Grammarly in many ways. It is available as a browser extension as well as a web app. The areas of writing that Ginger targets are also similar. The user interface is quite alike too, and the basic features like punctuation corrector and spell check work well on both platforms.
Overall Ginger is a decent grammar checker tool that does more or less the same things that Grammarly does. The affordable pricing, however, could make some users incline more toward Ginger.
Pricing and plans:
Ginger has both free and paid plans. Subscribing for it annually costs $7.49/month. Monthly and quarterly subscriptions cost $13.99/month and $11.19/month respectively.
8. Virtual Writing Tutor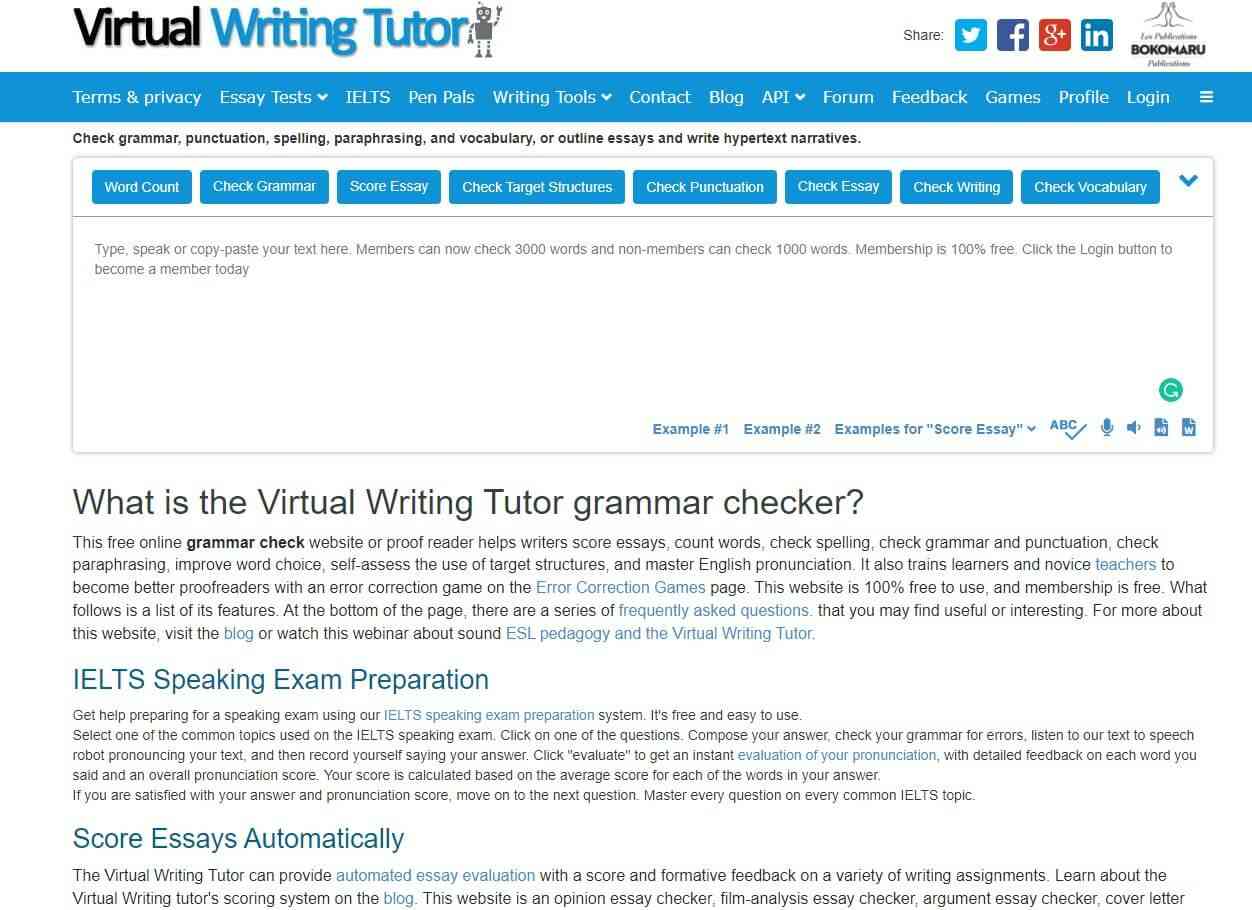 Virtual Writing Tutor helps you write more persuasive essays, letters, applications, emails, and so on. You may not want to use it for regular web content editing since the scope of this tool does not include that. Virtual Writing Tour focuses exclusively on institutional writing, including academic writing. It can grade your essays and help you prepare for exams like IELTS.
Like Trinka, Virtual Writing Tutor has limited use cases and it may not be the best grammar checker for your content marketing campaigns. However, it can be a potent tool to write better formal essays and documents.
Pricing and plans:
Virtual Writing Tutor is 100% free, you do not have to pay anything to use it.
9. Scribens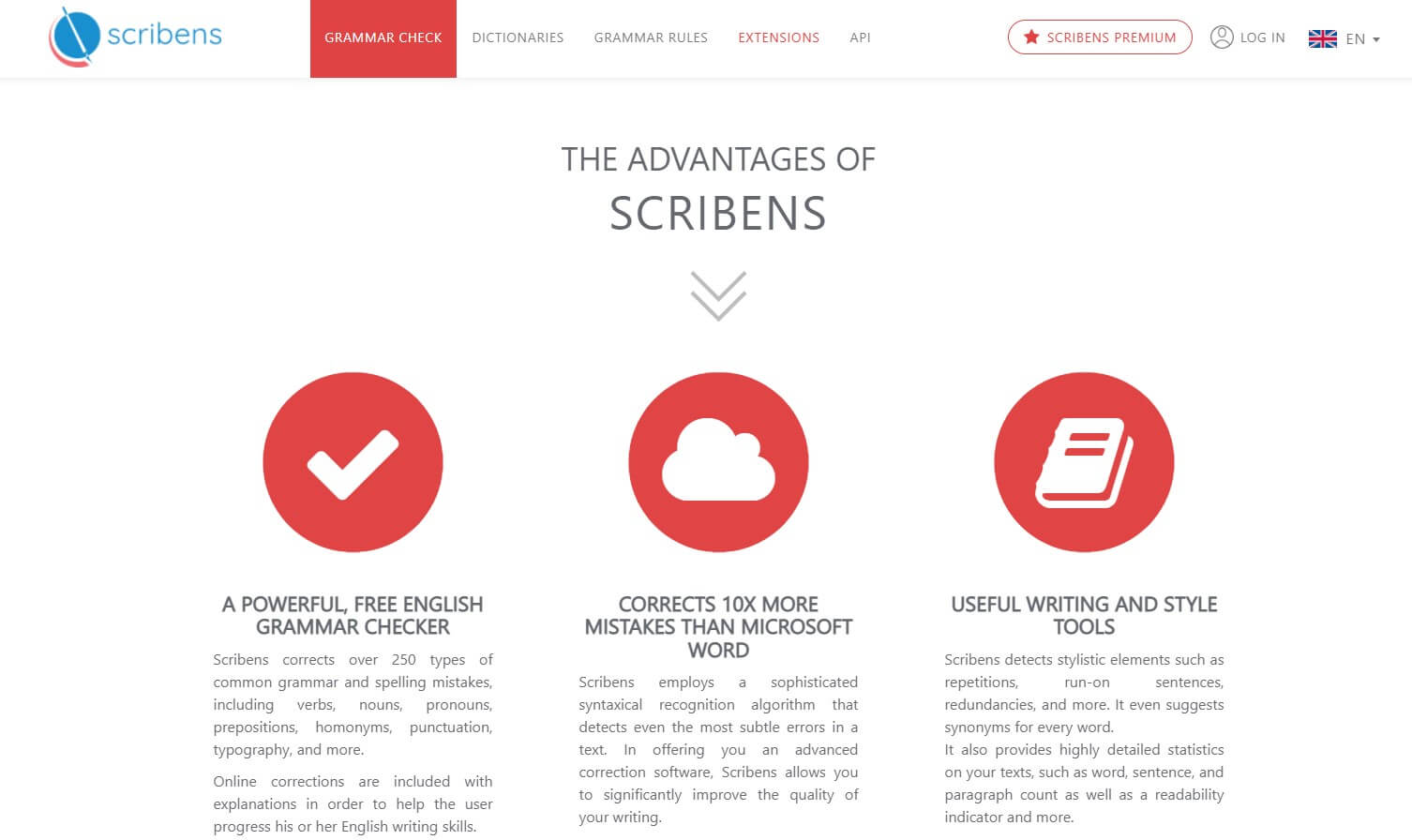 Scribens is a powerful yet simple grammar checker that works for most types of writing. Whether you are blogging or writing a pitch deck, Scribens can come in handy. Scribens is also available as a browser extension to help you write correct English in emails, texts, notes, and elsewhere.
Scribens does more or less what you would expect from all decent grammar checking tools. It gives a detailed analysis of your text and suggests corrections accordingly.
Pricing and plans:
Scribens is available for free, but the premium subscription makes it a lot better. Scribens premium costs €49.90 for a year and €9.90 for a month.
10. ProWritingAid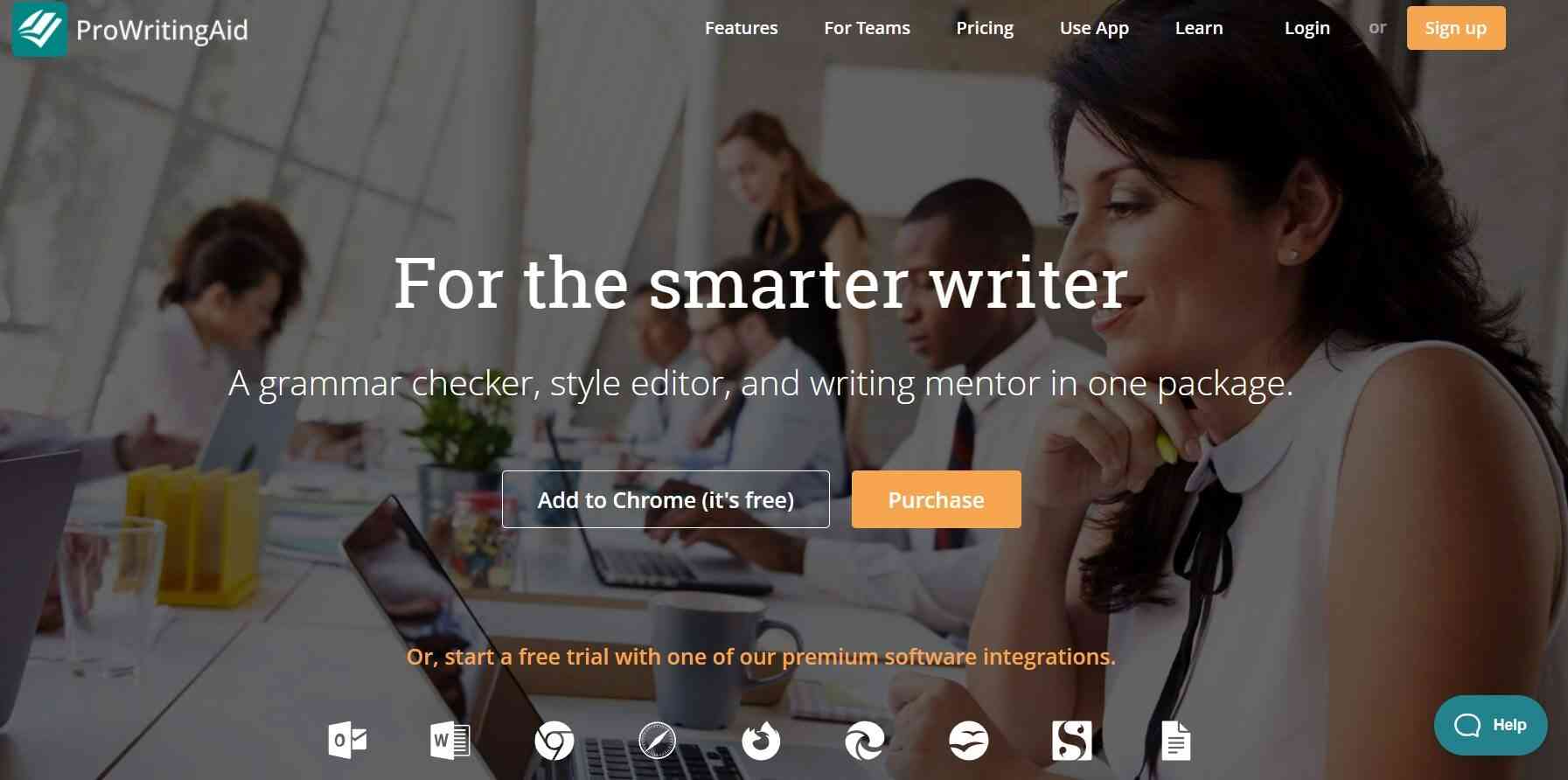 Finally, the last entry on our list of tools for grammar check online that you must try is ProWritingAid. ProWritingAid not only checks for misspellings and grammar rules. Instead, it tries to make you a better writer with a focus on writing style, tone, and diction. It has three different modes for creative writing, business writing, and academic writing.
While ProWritingAid does a very good job in most aspects of grammar and readability checks. Other aspects of web content that are critical, such as SEO, find no mention on this platform. So if all you need is a grammar and content improvement tool, choosing this or some other grammar and spell checker simply boils down to personal preference. But if you're looking for more, a comprehensive content creation software would be a much better choice.
ProWritingAid is also relatively expensive compared to many of the other tools on the list.
Pricing and plans:
ProWritingAid Premium subscription plans cost $20 per month, $79 per year, or $399 for a lifetime subscription.
Summing up
When it comes to picking the best grammar checker tool for our content marketing efforts, we often fall prey to the paradox of choice. With so many options available, choosing one can often be confusing and even stressful. To make it easier for you, here's a quick tip – always choose a tool that aligns with your requirements as a content creator or editor. Writing has many facets. Not all writers have the same audience, goals, and challenges. Identify yours and settle for a tool that makes your overall content workflow management smoother and brings a noticeable improvement in your content's ROI.
Similar tools lists you may be interested in:
10‌ Best‌ ‌Editorial‌ ‌Calendar‌ ‌Tools‌ ‌You‌ ‌Can‌ ‌Use‌ ‌in‌ ‌2022‌
9 Best Content Planner Tools That are Not Airtable, Notion or Trello
10 GatherContent Alternatives and Why You Should Try Them
15 Best SEO Tools for Content Planning
15 Best Plagiarism Checker Tools to Help You Create Unique Content
15 Free Keyword Research Tools to Boost Content SEO