In the world of business, coming up with a new, unique idea is not the toughest part. It is getting that idea noticed where the real challenge lies. You could have a great product that offers huge value to users, but unless the right people find out about it its prospects are limited. An Indian startup, Park+, understood this and made sure their product did not go unnoticed. In this content marketing case study, we dive deeper into the Park+ content marketing strategy that helped this unique startup grow its blog referral traffic by 100x in just 6 months.
– Role of content marketing at Park+
– Park+ content marketing strategy
– What we learned from the Park+ content marketing strategy

What is Park+?
Park+ is an Indian consumer software company with a very unique vision. They are building a super app for car owners that will take care of everything related to owning and maintaining a car. Currently, the app provides solutions like finding and booking the nearest parking, pan India. It also offers services like buying and recharging FASTags (RFID for toll collection on Indian highways) and checking unpaid e-challans (parking tickets, overspeeding tickets, etc.), obtaining and renewing car insurance, and more. In the future, Park+ plans to venture into other areas where car owners often need help, including buying and selling used cars as well. It also offers exclusive solutions for businesses.
TL;DR Here's a video summarizing this content marketing case study.
Role of content marketing at Park+
Founded in 2019, Park+ has over 2 million cars and over 10 million users registered on the platform in just 3 years. How did so many car owners come to know about a new app so soon? Well, a major chunk of the credit goes to their content marketing strategy. It was through SEO and content that the company was able to reach the right people and generate brand awareness.
Park+ considers content marketing a very critical tool in its arsenal. In our conversation with Park+ Growth Lead, Saumil Shah, we found that content marketing is one of the major channels for both customer acquisition and retention for the company.
Almost 50% of their leads come from organic content. Saumil also adds that for the leads acquired through organic content marketing, the retention rate is almost 90%. It is evident that people who discover the brand from organic search find more value in the content, which in turn builds their trust in the product.
Park+ content marketing strategy
The content marketing strategy at Park+ is rather simple – create content that is useful to the reader and the rest will follow. Park+ focuses on a few major channels for publishing and distributing its content. As a part of our content marketing case study, we will take a look at each of these channels and what Park+ is doing to drive massive growth and scale search engine rankings.
The Park+ blog
When you land on the Park+ blog, the first thing that will strike you is how clean the interface is. But what is more important here is that the blog categories are neatly and clearly listed at the very beginning. Park+ has categorized its blog content into Challan, FASTag, Car Service, Car Insurance, and others.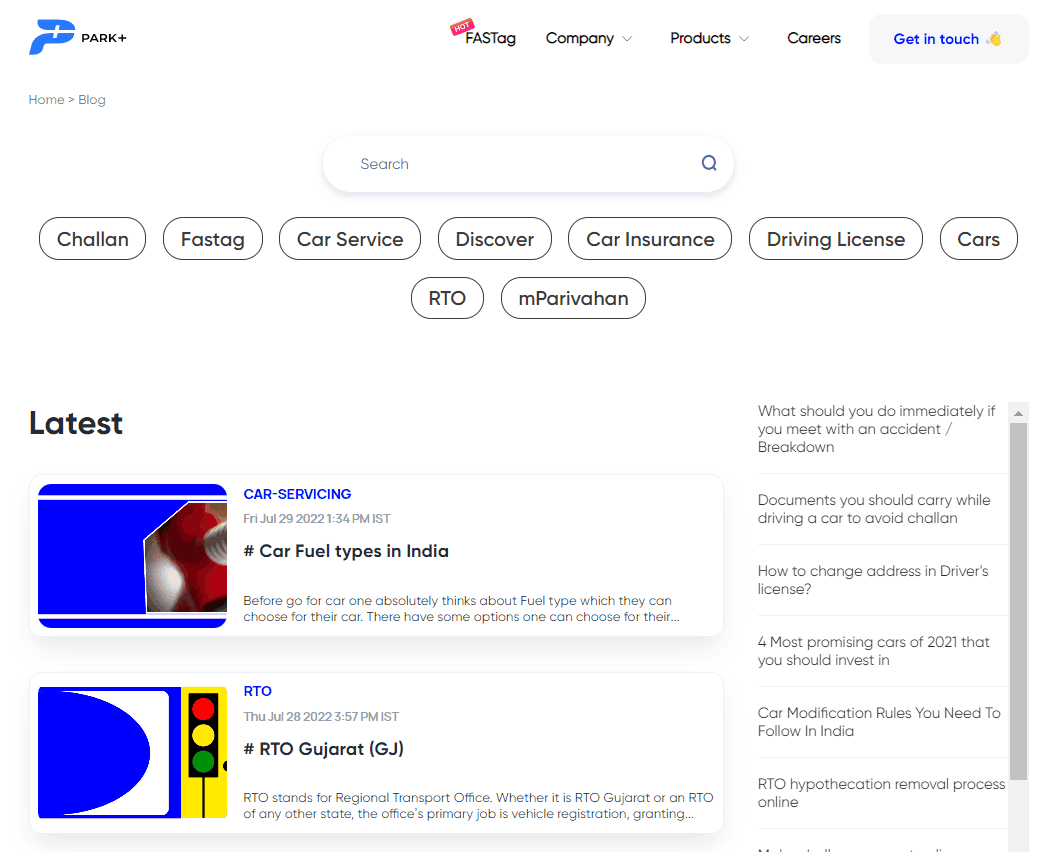 A visitor on the blog wouldn't have any difficulty finding the content they're looking for. Further, when you go deeper into any of these categories, the topics that Park+ covers are highly relevant and useful to their target audience, which is car owners in India.
For instance, many car owners in India are often unaware of e-challans (tickets issued by traffic authorities for violations) issued to them that they are yet to pay. Park+ helps users easily check the status of their traffic challans. But for potential users to discover the app and this feature, Park+ has to draw attention by first helping them find the answers to their questions.
A look at the Challan category on the blog shows that Park+ is doing just that – answering the most crucial questions that people may have.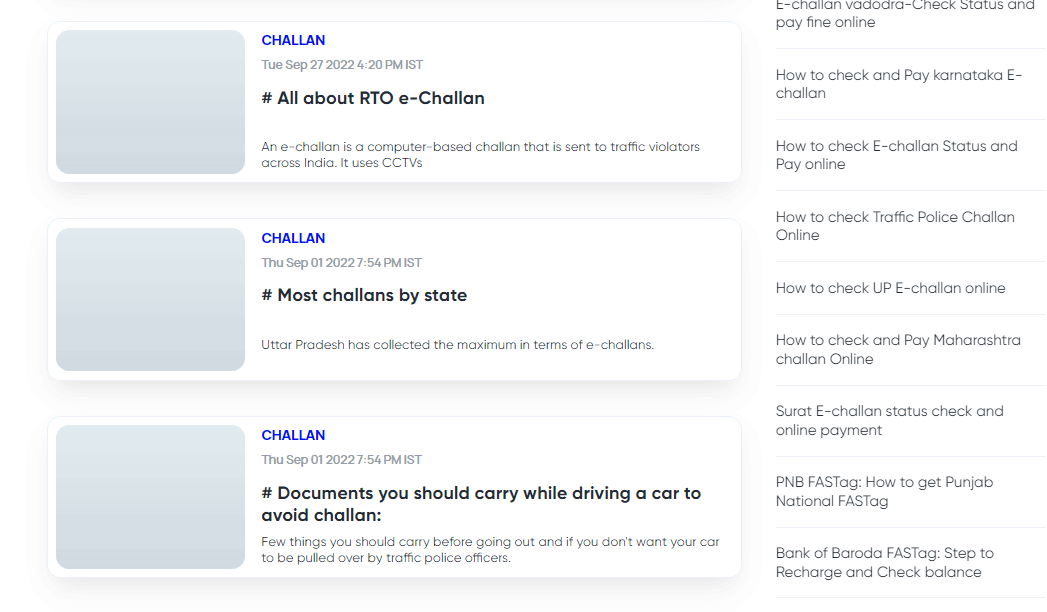 The same goes for all the other categories on the blog as well.
Moment marketing by Park+
A very smart tactic that Park+ has applied in its content marketing strategy is moment marketing. Moment marketing refers to targeting topics and issues that are most relevant or trending at the moment and that people may be actively searching for. Park+ leverages moment marketing ensuring they can ride the wave to increase discoverability and acquire new leads.
Here's an example from the blog. One of the Indian states announced a decision to extend the deadline for paying all traffic challans by 15 days, in early 2022. Park+ was quick to grab this opportunity and create an article on this news.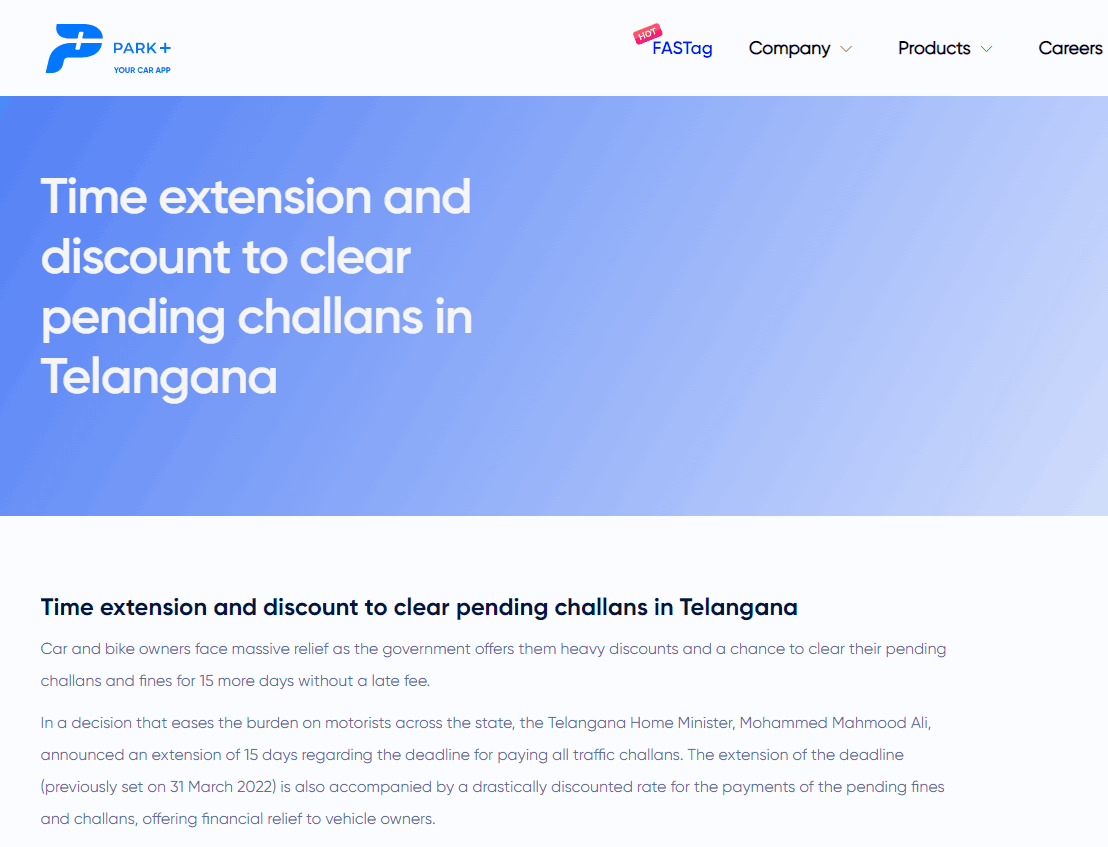 Since many people from the said state would want to know more about this decision, their search would likely lead them to this Park+ article. Now, the article does not push any product or feature but simply offers information to the searcher. But in doing so, it uses this opportunity to build brand awareness. Anyone who found this information on their blog will now see it as a reliable source of knowledge.
There are many more such examples of moment marketing on their blog. These blog posts may be short-lived as compared to evergreen content. But if done right, they can be high-impact content increasing your reach within a short time and bringing in tons of new leads.
Customer-centric approach
We've already mentioned how Park+ always aims to answer its audience's questions in its content. But getting the pulse of the audience involves extensive research. When planning their content, the Park+ team goes beyond the usual SEO plan and keyword research to create successful content. They also spend a lot of time trying to figure out what their audience is searching for. The simplest way to do this is by using Google's autocomplete feature for various search terms, looking at the 'People also ask' section, 'Related searches' section, and so on.
The result is highly targeted content that matches the audience's search intent and is extremely useful. In most of their articles, you will not find a mention of their product as the intention is to always put the customer first. But that said, Park+ does not shy away from creating product-led content when the opportunity arises.

Product-led content marketing by Park+
If you've read our content marketing case study on ClickUp, Notion content marketing case study, or the Marketo content marketing case study, you know by now that product-led content marketing is the new formula for customer acquisition and retention in the software industry. While some brands pursue this strategy aggressively, others strike a fine balance between traditional content and product-led content.
Park+ too employs product-led content marketing tactics in its content, but very minimally. In this article on how to get a FASTag from one of the nationalized banks, for example, they also tell the reader how they can check their FASTag balance using the Park+ app. This is what product-led content is – very skillfully weaving your product into the narrative.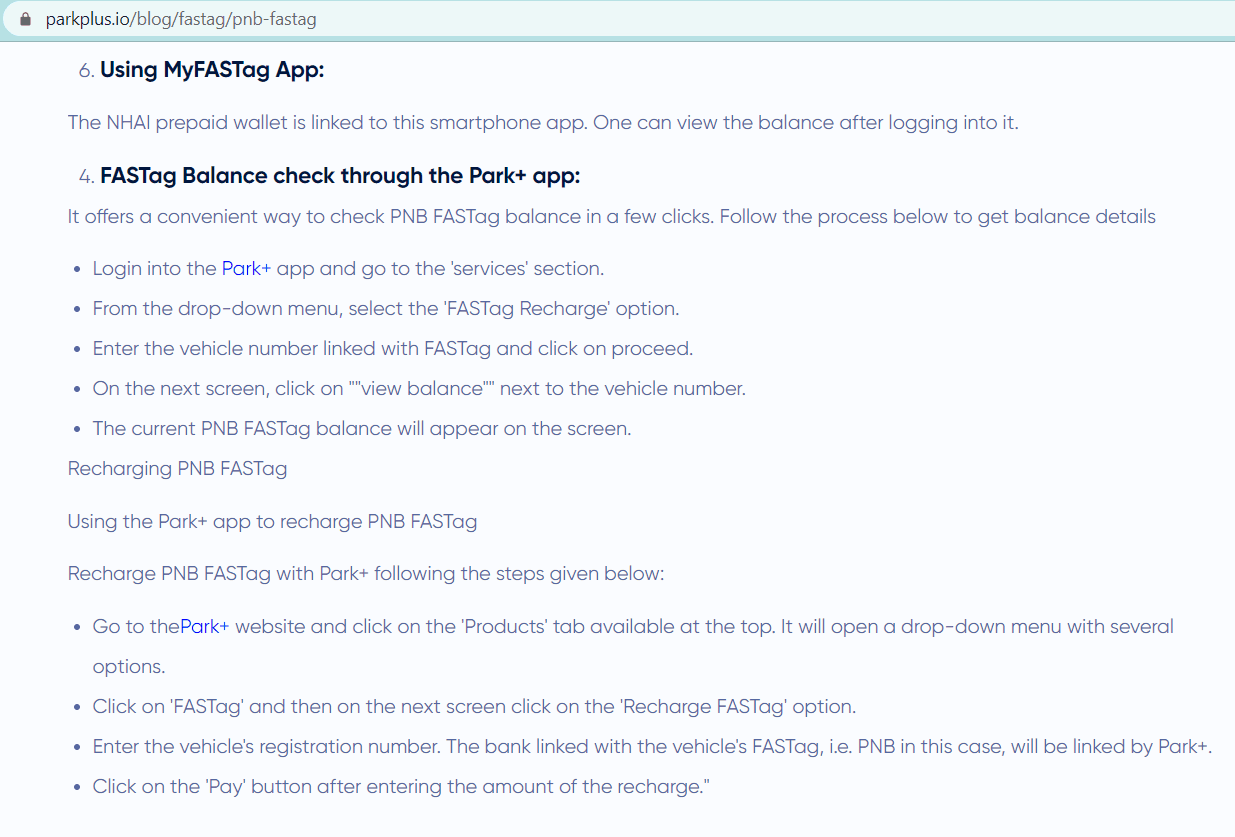 Though not every piece on their blog is product-led content, they do highlight their product where there is a possibility to showcase a feature or a use case that could help the reader.
Breaking the monotony with the Discover category
Informative and educational content is great to woo new users and help them find the app. But what about retaining existing customers with content? Content marketing is not just limited to targeting new customers but can also provide more value to existing ones.
That is what Park+ does in the Discover section of its blog. Unlike the other categories that share know-how, news, and updates for car owners, Discover has articles on the best places for a weekend getaway, tips for a solo road trip, and other interesting topics. By sharing some exciting and fun-to-read content, they break the monotony and give their audience more variety.
When your audience keeps getting new and fresh content, over and above the usual, they are more likely to stay on your blog. This kind of content is also more share-worthy, thus increasing the brand's reach.
Car owners' guides
Another way that Park+ retains existing customers is by creating content with a wider outlook, picking topics that all car owners would be interested in. The blog has a Cars section that covers a diverse range of topics not necessarily related to what the app does. It has articles on used cars vs new cars, parallel parking tips, best car manufacturers in India, and much more.
So, anyone who has a general query about owning a car or buying a car could eventually land on the Park+ blog and discover that an app exists to take care of everything they need.
These articles have a much broader focus and target a bigger audience who may not necessarily be looking for the solutions Park+ offers, but could still be potential users.
Leveraging local SEO
When targeting a specific market, India in this case, local SEO plays a very crucial role. Park+ has understood this and implemented it pretty well. Every other article on their blog is optimized for local search with geo-specific keywords. While most of their content may be useful to everyone who owns a car, there are several localized articles that target specific users from specific cities/states.
Here's an example of how they target car owners in Delhi with this article.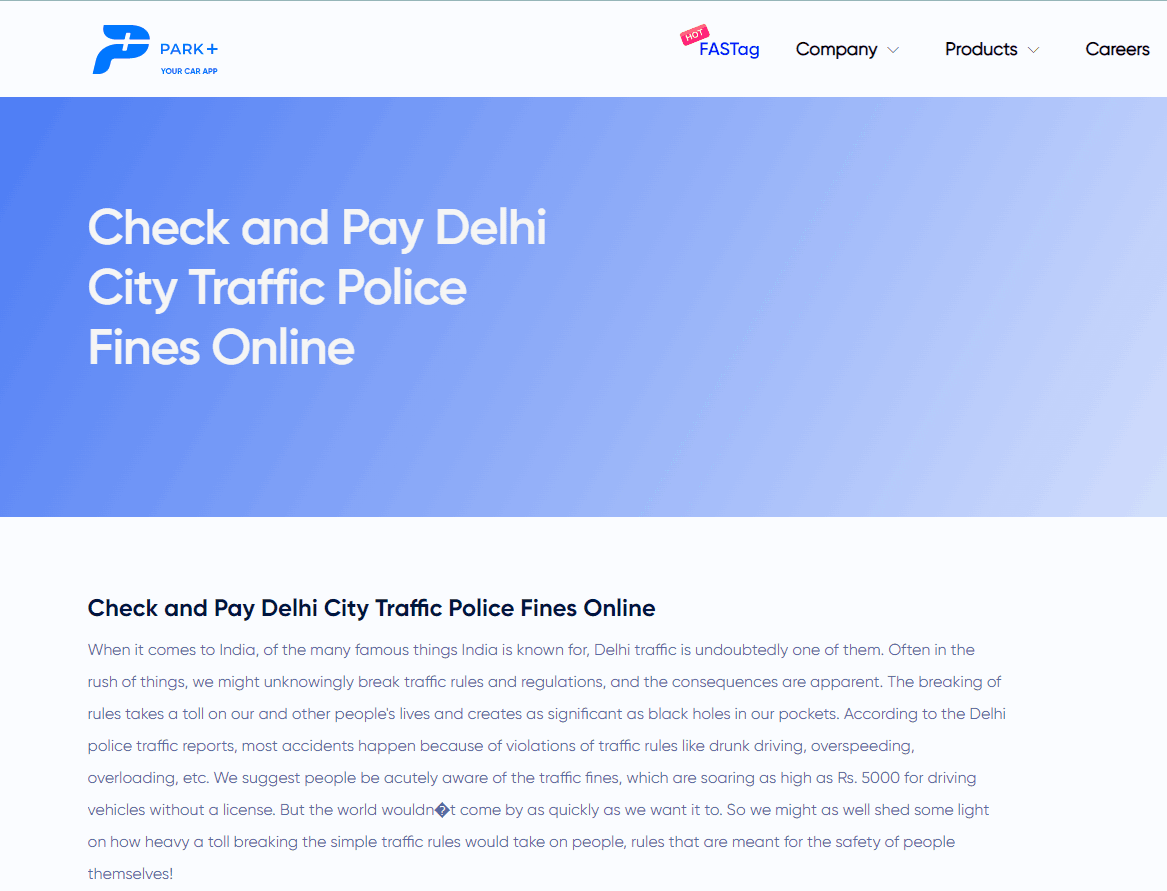 The leads that come in from this kind of local search-optimized content are usually highly valuable as they are often bottom-of-the-funnel searchers.
Park+ on social media
Park+ has a presence on all major social media platforms, including LinkedIn, Twitter, and Instagram. With a regular posting schedule and on-brand content, Park+ has been able to garner a huge following on most of these platforms. Their social media content strategy is quite impressive.
On LinkedIn and Twitter, Park+ posts a lot of engaging content starting from interesting polls to retweet-worthy threads. Here's an example of how they're driving engagement on Twitter with a fun theme. We're not going to lie, all of us would love to know what our car color says about us!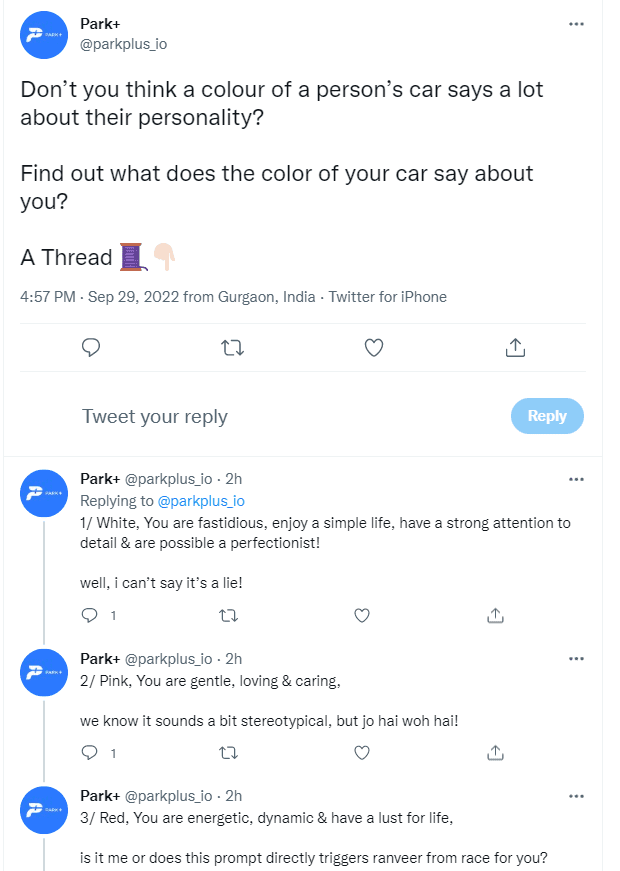 While on Instagram, which is an image-first platform, they share all their interesting tips and stories through images. Be it a nice, engaging carousel or a simple picture with a hashtag and a meaningful message. What we liked most is how they stay on-brand with their images, keeping their brand colors and assets intact in every post. This not just helps with brand recall but also makes their feed look more organized.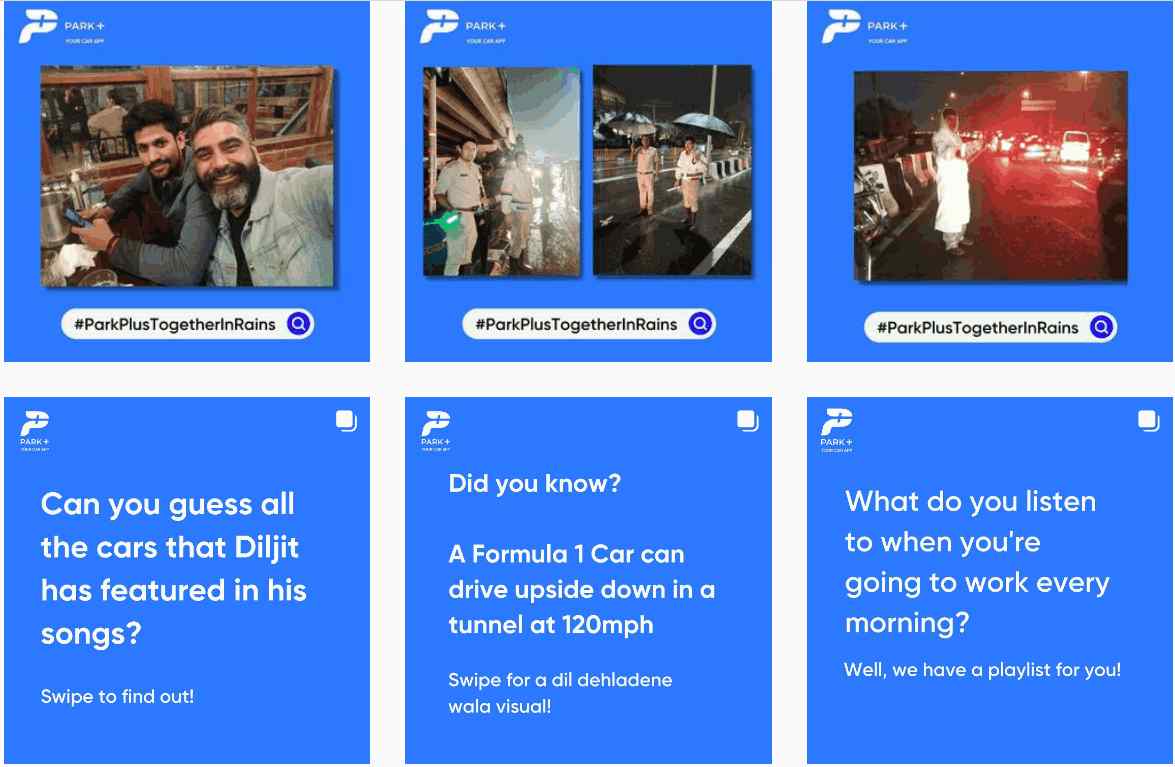 Remember when we said Park+ loves moment marketing? Well, that's true for their social media content too. The images above with the hashtags "ParkPlus Together In Rains" actually refer to the heavy monsoon rains that caused havoc in many Indian cities. Sharing inspiring stories of how the common people and the authorities together braved these difficult times is a great way to show solidarity and social responsibility while also winning hearts!
What we learned from the Park+ content marketing strategy
Reviewing the Park+ content marketing strategy has been very different from all the other content marketing case studies we have conducted so far. Probably, because the approach to B2B content marketing is not the same as what a B2C brand like Park+ does, in many ways. We learned quite a few interesting things from the Park+ content strategy and here are the key takeaways –
Building your content plan around what the audience is searching for gives you the best chance to be discovered and generate new leads
If you are targeting a specific market or geographic location, local SEO is a must to reach a relevant, high-intent audience
Content marketing does not always mean writing on topics closely related to what your brand does. Sharing content on diverse topics that your audience may be interested in can help increase reach and retention too
Making the most of trends and news, or moment marketing, in your content marketing strategy can help draw attention to your brand
Keeping your audience engaged with interesting guides and tips, such as the car owners' guides that Park+ shares, can prevent them from bouncing off to other sites
Having a platform-specific social media strategy and creating branded content are great ways to build a brand image
Though this content marketing case study focuses on a B2C content marketing approach many of these tactics can be easily applied to B2B marketing as well. We hope you found this case study helpful and got some great content marketing hacks from the Park+ content strategy to take back with you. If you find this interesting, you might enjoy our HubSpot content marketing case study too. Give it a read!
Level up your content marketing game with Narrato
Park+ uses Narrato Workspace and Narrato Managed Services to propel its content marketing efforts. From getting high-quality content written by expert freelancers to optimizing and publishing content from a unified dashboard, Narrato has given helped them scale their content efforts. If you're looking to power-up your content marketing efforts too, switch to Narrato!