There is no second guessing when it comes to the effectiveness of images and videos as marketing content. Visuals are known to drive maximum engagement. This is probably why 70% of companies invest in content marketing that involves some kind of visual marketing, according to a HubSpot survey from 2021. And this is true for affiliate marketing strategies too. Using affiliate marketing videos and images can be a great way to engage your audience, deliver more value, and most importantly, cater to the diminishing attention span of consumers today.
Thanks to social media platforms and YouTube videos, the audience no longer wants to read pages after pages of text if they can get the same information from a product video or an infographic. Marketers too are increasingly indulging in creating visual content. Nearly 52% of marketers in a Venngage survey considered visual content very important to their marketing strategy. In such circumstances, affiliate marketers have to get creative with their affiliate marketing content. If you haven't jumped on to this bandwagon, you could be left behind.
But that said, your entire affiliate marketing strategy does not have to revolve around visuals. You need to know how to strike a perfect balance between both written content and visual content.
What type of content is best for affiliate marketing?
There are several different types of affiliate marketing content that you can have in your affiliate marketing efforts. This includes written content like written product reviews, product comparisons, how-to articles, guides, ebooks, and more. It also includes visual content like product videos, tutorials, visual user guides, infographics, carousels, and others. If done right, both text and visuals can have the same impact on your audience.
Creating both written content and visual content is an effort-intensive task. You can choose to create impactful affiliate marketing content in-house or may outsource it to save time and effort. For content such as blog posts, articles, eBooks, guides, and the likes, you can outsource to a content marketplace such as Narrato Marketplace. Your content orders on the platform are automatically matched to the best-suited freelancer from among hundreds of quality-vetted freelance writers on the platform. The turnaround is also pretty quick.
Here's an example of what good text-based affiliate marketing content might look like.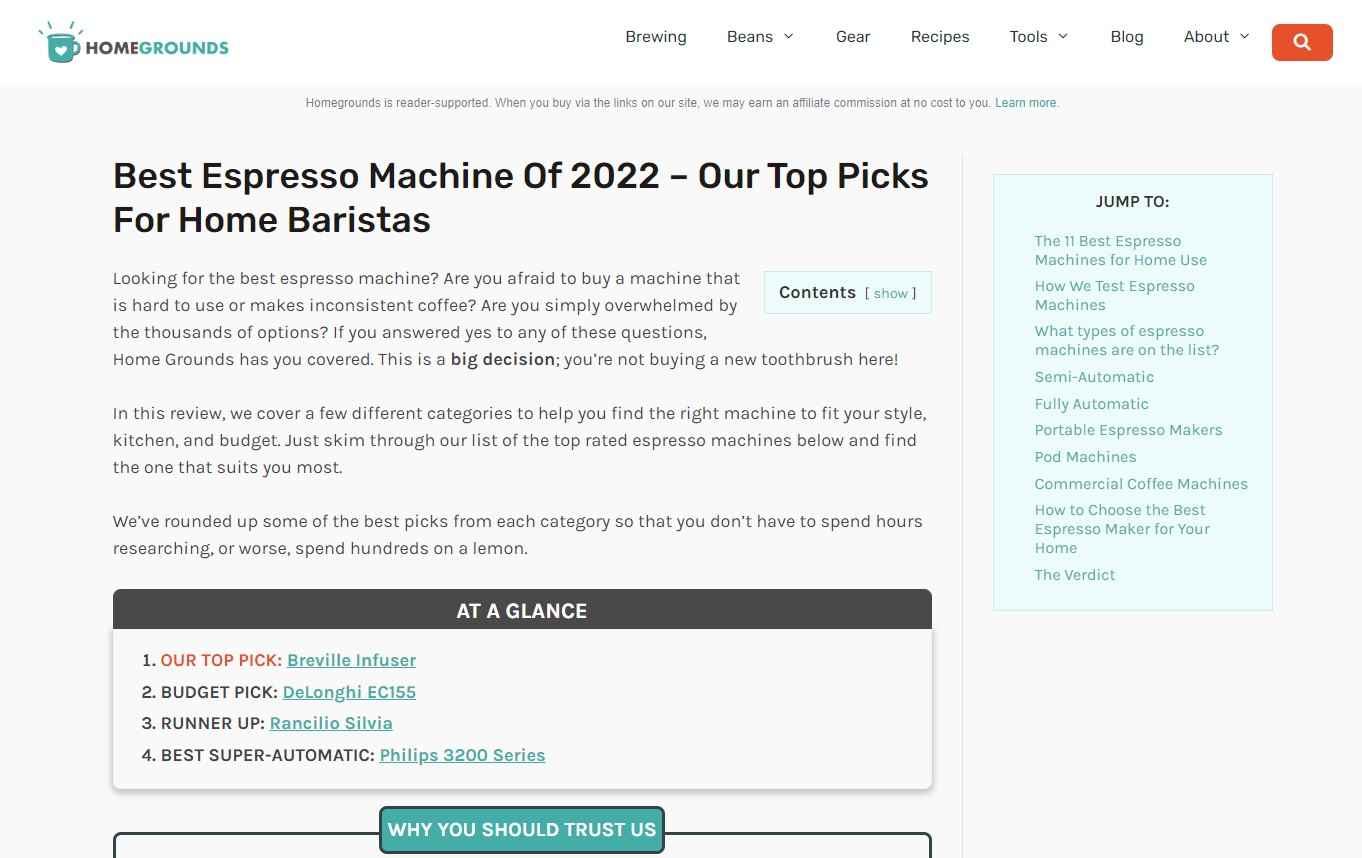 Source: HomeGrounds
Similarly for visual content, you can rely on platforms like Breadnbeyond which has a team of animators to create engaging animated videos for your business based on your creative brief. Or Easel.ly, where you can hire a graphic designer to create stunning graphics for your affiliate marketing content.
Irrespective of whether you create affiliate marketing content in-house or get it outsourced, the end goal is to create something that adds value for the audience. The best content for affiliate marketing is anything that helps your audience make a purchase decision empowered with all the information they need about a product.
What is YouTube affiliate marketing?
YouTube affiliate marketing is an affiliate marketing strategy that involves earning revenue by adding affiliate links for the products or services that you recommend/review in your YouTube videos. You must have seen many YouTube influencers and reviewers adding links to products in their video descriptions. If a viewer wants to learn more about the product, clicks on one of those links, and makes a purchase, the marketer earns a commission on it (depending on the terms of the affiliate program, of course).
It is similar to affiliate marketing on your website or blog, except that your content here is primarily videos. Apart from that, you need to follow the same affiliate marketing hacks and avoid the same affiliate marketing content mistakes as you would on your blog or website.
Types of affiliate marketing videos in YouTube affiliate marketing?
These videos can be affiliate product reviews, user guides, how-to videos, tutorials, or anything that shows or talks about the product.
Some other popular formats that are trending these days include product unboxing videos, product haul videos, and vlogs, to name a few. In an unboxing video, you unbox a new product in front of the camera to give your audience a first look at it and show them what comes in the box. As an affiliate marketing beginner, these content types could be easier to start with.
Then there are haul videos where you can showcase multiple products that you've bought from a brand or a site and share how your shopping experience with them has been, how the look and feel of the products is, etc. Haul videos are a good way to review multiple products at once and give your audience a better idea of a brand's or retailer's credibility.
Vlogs can be a great way to very subtly place your affiliate products in your video content as well. Many YouTubers who vlog regularly insert affiliate products into their vlogs every now and then, as something they've been using or something they recommend.
Here's an example of a product review video. Popular tech reviewer on YouTube, Marques Brownlee, adds affiliate links to all the gadgets he reviews in his videos. Not just that, he also adds affiliate links to the tech he uses to create his videos, from time to time.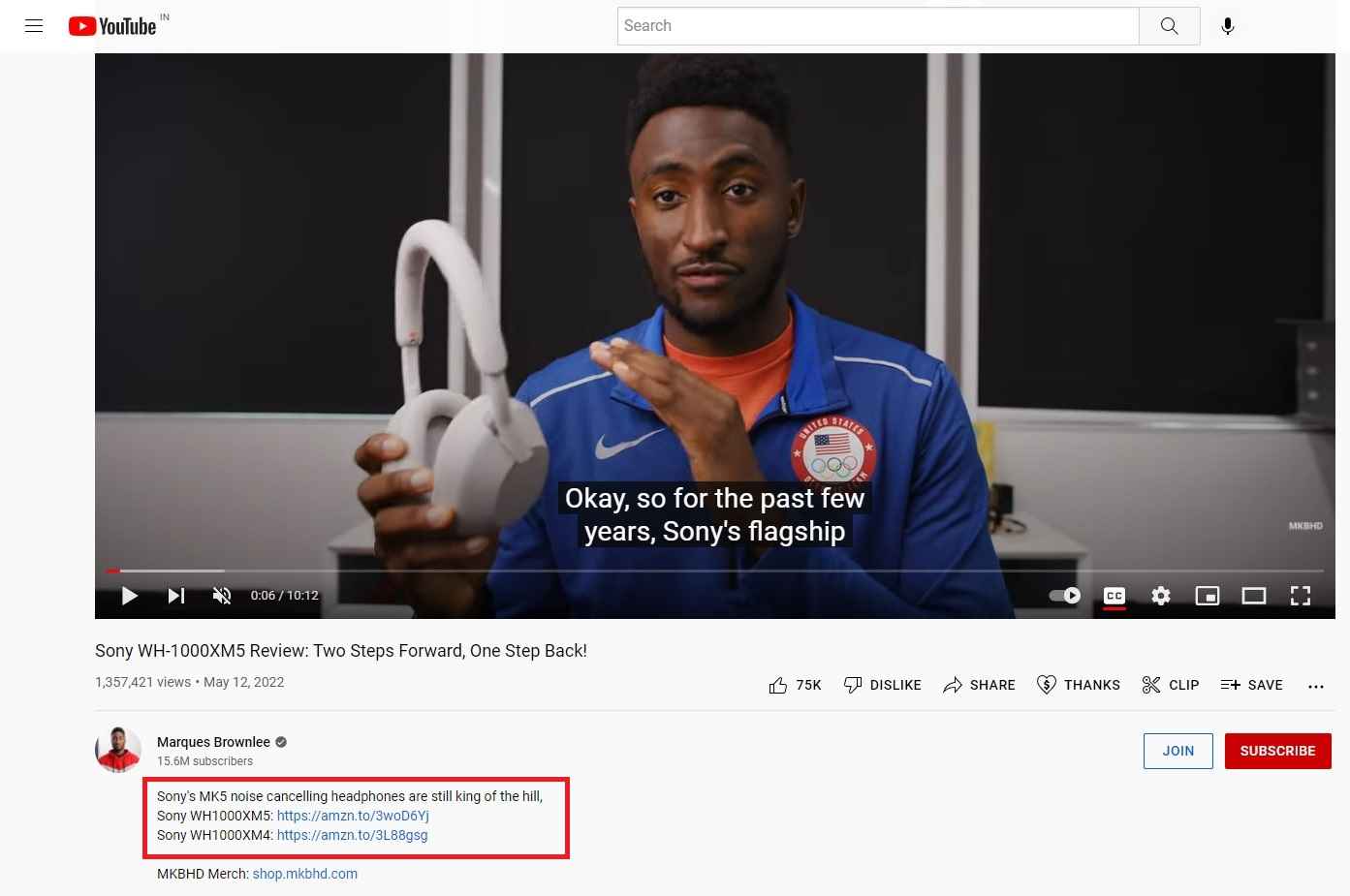 Source: Marques Brownlee
TL;DR – Here's a video covering all the key points in this blog post. Enjoy!
How to deliver maximum impact with affiliate marketing videos for YouTube?
YouTube is by far the biggest video content platform at present. The amount of content that people can choose from is enormous, so getting success with your YouTube channel is both challenging and important.
There is no one-fit-all formula for creating YouTube affiliate marketing videos. Each creator has their own style and approach to video marketing. If it clicks with your target audience, it clicks. But there are a few things that you can keep in mind while creating video content for YouTube affiliate marketing.
Offer honest opinions
Remember that there are hundreds of reviewers and affiliate marketers on the platform promoting the same product and services as you are. Why would people prefer your content over others? For that to happen, you have to win over their trust. This is true for all affiliate marketing content. And also the difference between good and bad affiliate marketing. In an attempt to increase affiliate sales, affiliate marketers often provide biased reviews that are not really helpful to the consumer.
When your reviews are biased, it is evident to the viewer. Your video marketing strategy should be customer-centric and focused on what the customer would want to know. For instance, consumers today are well-informed and know that every product has its downsides – be it a missing feature, the price of the product, or some other limitation. If you are only discussing the pros of your affiliate product, it becomes obvious that you're only trying to sell it.
So similar to other product reviews, keep your YouTube product reviews balanced, honest and useful.
Stick to your niche
Video production can be fun and if you start getting more views you may be tempted to expand to newer areas. But to be seen as an authority in an industry, it is important to stick to your affiliate marketing niche. Think for yourself. If you wanted a valuable word on a tech product, for instance, would you go to a good tech review channel or a channel that reviews everything under the sun?
Let's take the example of Marques Brownlee's channel as an example again. He is one of the most popular tech YouTubers right now. And if you look at his channel, you'll hardly find any content that deviates from his niche. Except for a fun video now and then just to break the monotony (which he can afford, given his popularity), all his videos are tech-related.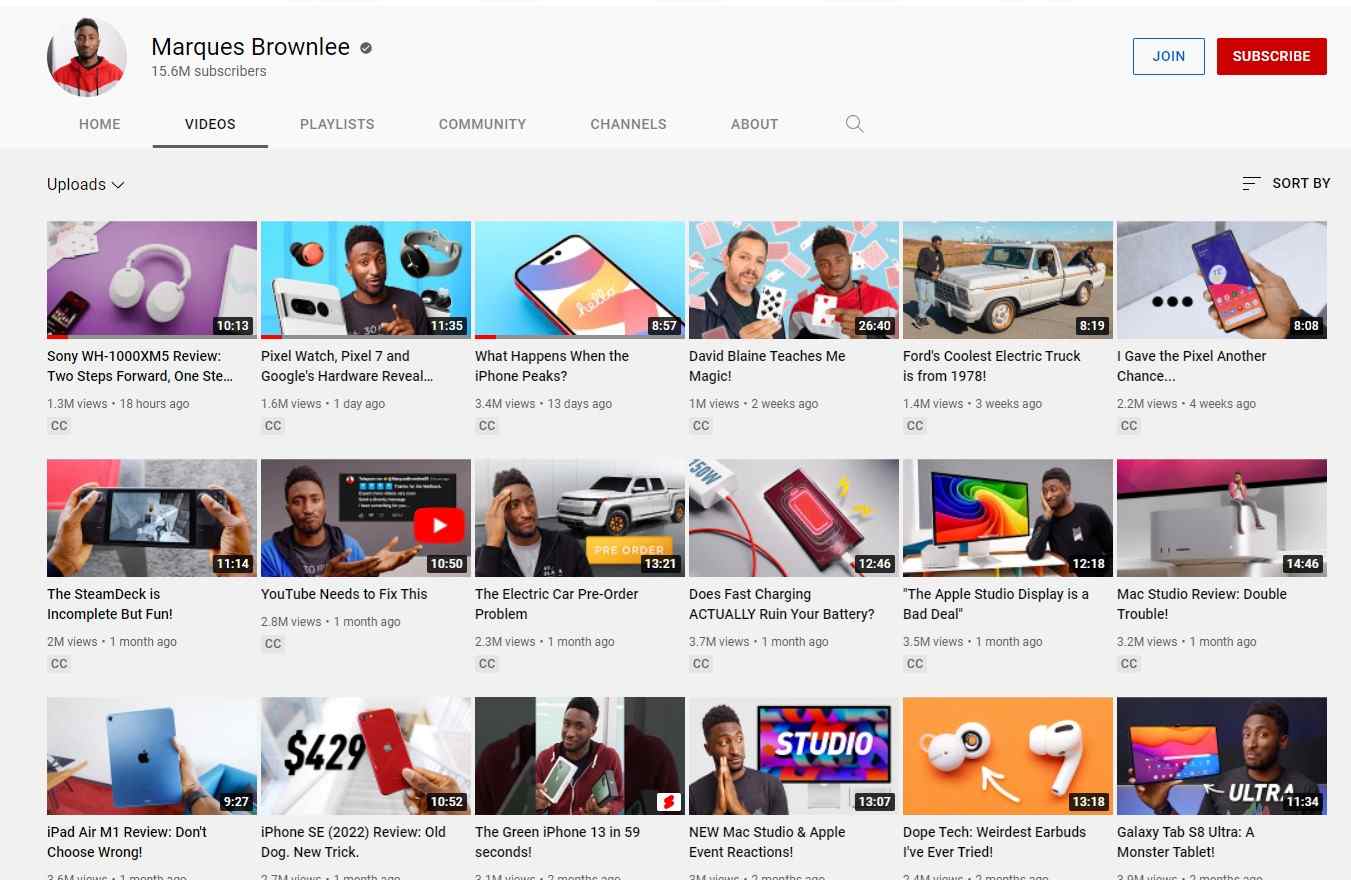 This is how you build credibility.
Consumers are looking for subject matter experts, someone who has an authority in the field. Having a niche for your YouTube channel will portray you as an authoritative source. You can always choose to diversify within your niche and cover different categories of products though, but make sure that your content is relevant to your target audience.
Use the right keywords to appear in search
You may be creating awesome video content on your YouTube channel, but none of it matters unless you can drive organic traffic to it. Organic traffic will only start pouring in if people can find you on search engines. YouTube videos can appear on search engines like Google if you have done your SEO research thoroughly. You also need to optimize your content for YouTube search to ensure that the right user base finds your videos on YouTube search.
Here's a good example. Notice how this channel uses a title that itself could be a search term for users, ensuring that this video definitely appears when someone searches for 'Samsung Galaxy S22 Review'. No fluff and only the right keywords.
The description also has almost all the keywords/phrases that users might look for.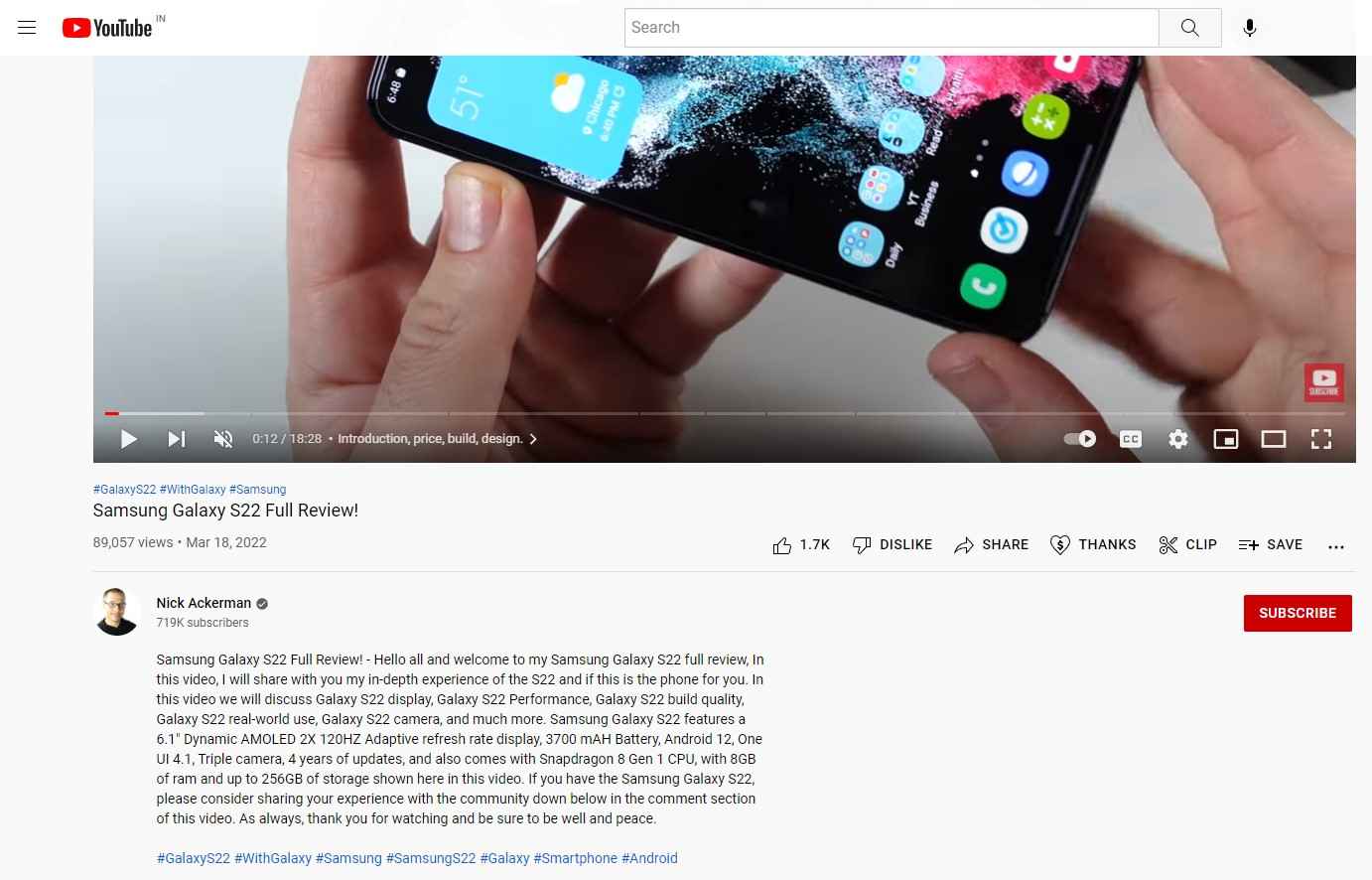 Source: Nick Ackerman
When it comes to SEO for YouTube, keywords are your savior. Do thorough keyword research to find out what people in your target market may be looking for. One of the simplest ways to do this is to simply type in a keyword in YouTube search and let the autocomplete functionality do its job. It usually gives you a list of the most searched terms related to your keyword.
Another good way to go about your keyword research is using an SEO tool, such as the SEO content briefs on Narrato. To generate an SEO content brief on Narrato, you simply need to type in a search term or topic. The SEO brief is generated within seconds which gives you a number of relevant keyword suggestions, along with other SEO parameters.
You can then use these keywords in YouTube search and see what results it throws at you. This takes your keyword research a little deeper and helps you optimize both for Google and YouTube. If you want to go further into the details, you can look for search volumes and competition for your target keywords using Google Keyword Planner.
Once you have narrowed down your options to the most relevant keywords, make sure to add them to your affiliate marketing video's title, in the description, and in the tags you add to your video. All of these are important places where your primary keywords must appear for the YouTube algorithm to index your video correctly and serve it up in relevant searches. To save time on creating video descriptions, you can use AI content generators like the Video Description use case on Narrato's AI writing assistant. All you need to do is enter the video title, target keywords, and tone to generate up to 3 variations of the description.
We tried it for the same title as Nick Ackerman's video above and here's what we got. The text is on point, and we could easily use it with some additions and omissions.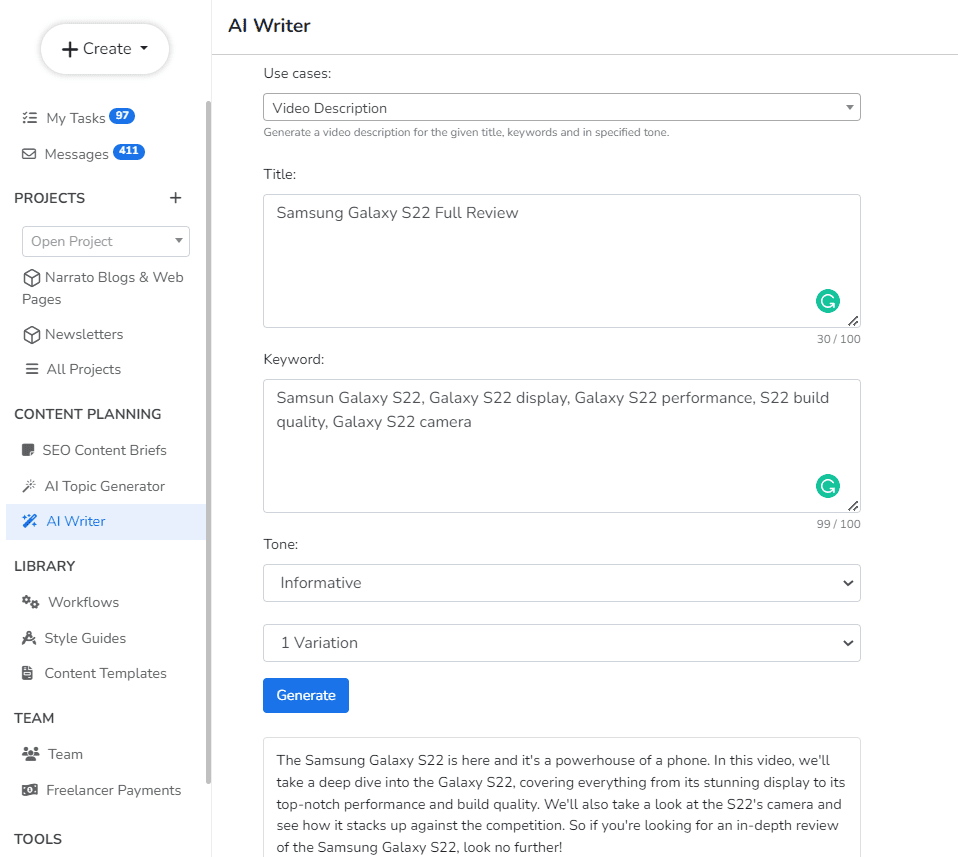 Add subtitles where possible
It is always a good idea to add subtitles to all your affiliate marketing videos. This increases your reach to a wider audience which could include people with hearing impairments. Or if you are creating these videos in a native language, you could also gain an English-speaking audience by simply adding English subtitles or vice versa.
Make sure your subtitles are accurate in whichever language you are creating them, are in sync with the video's timeline, and are easy to read.
Don't forget to add your affiliate links
Since we are talking about affiliate marketing videos here, having your affiliate links at every strategic point is a must. As mentioned earlier, add them as annotations within your videos and in the descriptions. You may also add them as a pinned comment under your video. The Community tab of your YouTube channel is also a good place to insert your affiliate site's link to redirect your audience.
It is always a good idea to be open about your affiliate links. Tell your audience that you have added an affiliate link and that you will earn a commission if they purchase the product from your referral link, But if they choose not to use it, that's okay too. It leaves a good impression and helps you garner more trust.
So Nick Ackerman from the example above, adds all his affiliate links in the video's description. He also adds a disclaimer informing his viewers that he's a participant of the Amazon Associates program or what you'd call an Amazon affiliate, which is the right thing to do.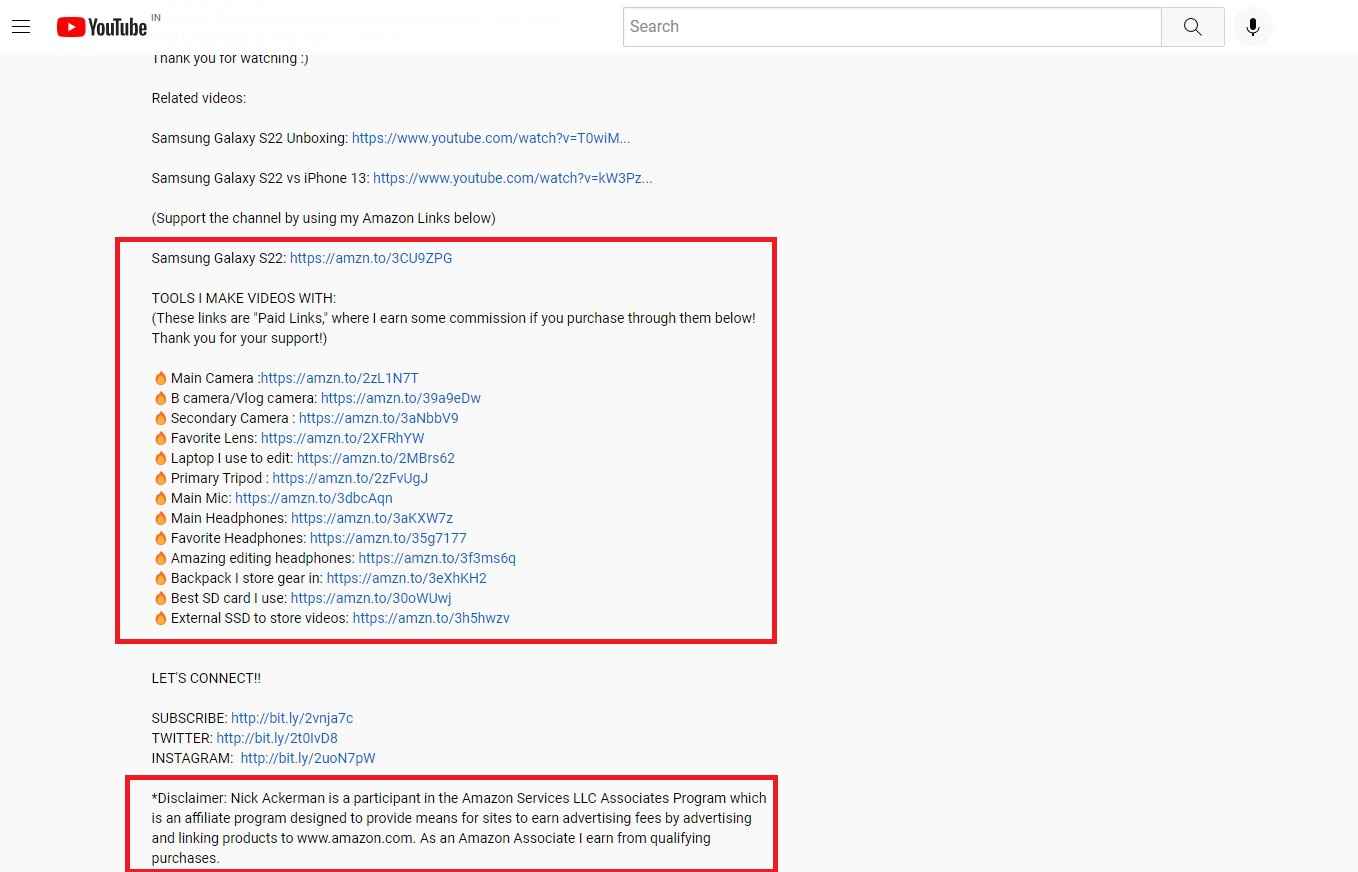 Promote your videos
Lastly, it is important that you increase your video content's reach by promoting it on all other channels. This includes social media, email newsletters, and any groups or forums that you are a part of. In fact, a Superoffice study on email open rates shows that including the word 'video' in your email subject lines can increase open rates by 6%. So make the best out of these opportunities to attract more relevant people to your video content.
Role of images in affiliate marketing content
Another very important visual element in your affiliate marketing content is images. A BuzzSumo study found that articles with images after every 75 to 100 words got double the amount of shares compared to articles with no images. When you talk about images in your affiliate marketing strategy, it would mostly mean product pictures. Having high-quality images of a product you are reviewing or recommending in your blog post or article is crucial.
Not only do images break the monotony of text, but they also help the audience visualize the product. This is why it is important to capture these product images from the best possible angles to help users get a complete overview of the product.
For an affiliate marketing website or blog, you might also need some generic feature images to make the site look more appealing and colorful. Use Narrato's free Image Search Tool to find something suitable from among thousands of royalty-free high-quality stock images.

What is Instagram affiliate marketing?
Instagram has also become a major ground for affiliate marketers today, at par with platforms like YouTube. Instagram supports all the major affiliate networks to promote influencer marketing, similar to the Amazon affiliate program, which allows users to earn affiliate commissions by recommending their favorite brands and products to their followers. Both brands and influencers are part of this affiliate marketing program and users can see a brand's commission rate within the app itself.
Instagram is primarily an image-first platform but is gradually moving to short videos as well with the Reels and IGTV features. If you have been using Instagram, you would notice that affiliate marketing on Instagram is not that uncommon. Almost every other influencer on the platform is promoting affiliate products and brands in their niche.
Here's an example of an interior design page on Instagram, that has added affiliate product links to the description on the post.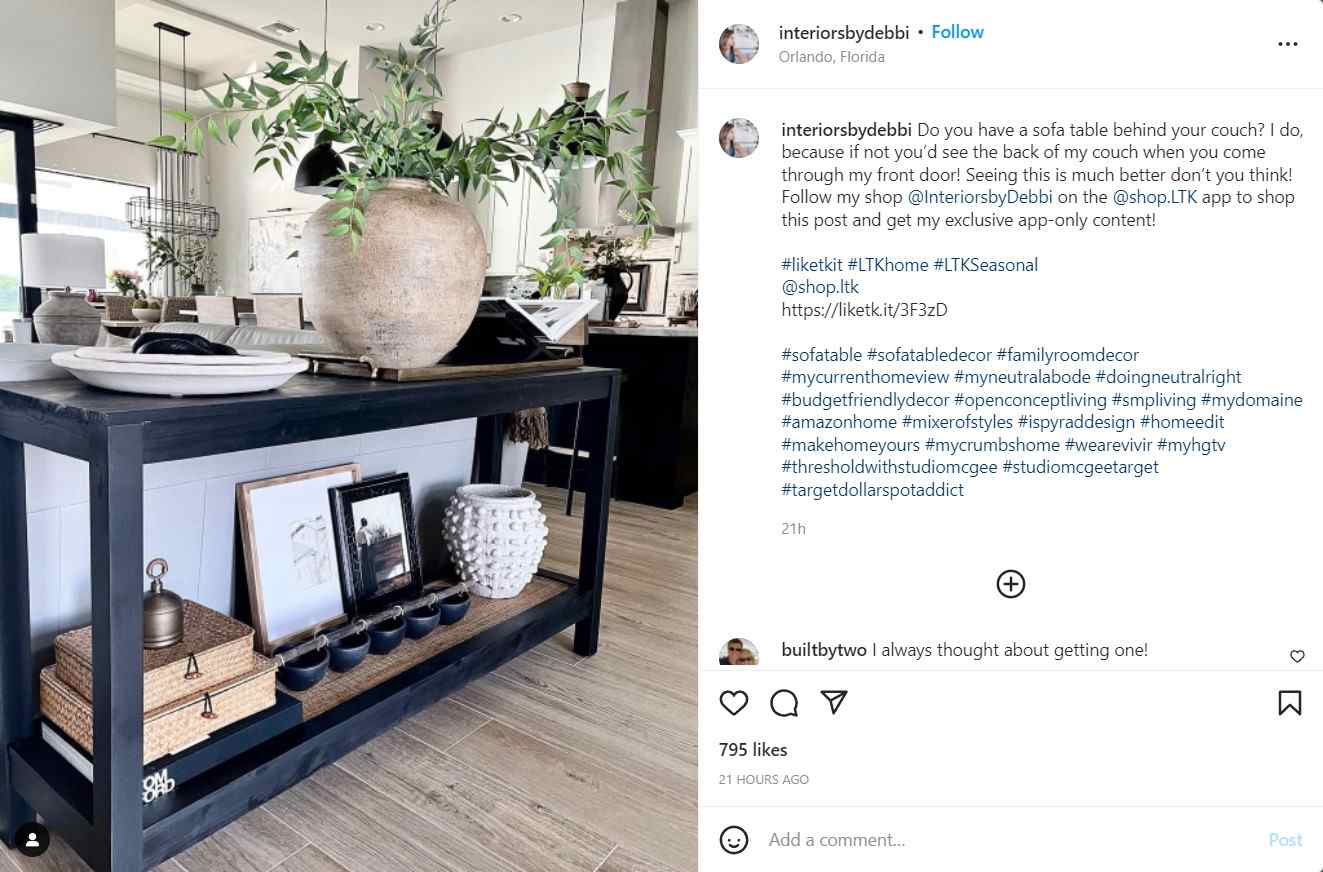 Source: interiorsbydebbi
Instagram is by far one of the best platforms to use images as affiliate marketing content. Though you can't add clickable links in your post, you can always add them in your bio and ask your followers to find them there.
Like other platforms, you have to take care of a few things on Instagram as well. For instance, your content has to be useful to your followers, it has to stick to a niche (which is what they're following you for in the first place) and the quality of images has to be great. Hashtags have to be used smartly and lavishly to ensure your posts are found by new users.
How to get product pictures for affiliate marketing content?
If you have the product with you, capturing product images is a lot easier. Just make sure to capture them in high resolution, in good lighting, and from an angle that flatters the product and shows most of its key aspects.
The question of collecting product images arises if you don't own the product or the seller hasn't offered you one. in such cases here are a few sources you can try.
Gather official images from the affiliate program
Since you are promoting the product as part of a company's affiliate program, more often than not, you will have access to official product images from their site or the affiliate marketing platform you're partnering on. Often companies provide their affiliates with a marketing kit too, that has images product descriptions and anything else you might need. If you don't have this, you can always contact the seller and ask them to provide you with some good quality images to promote on your site. They should be more than happy to do that since they too want to increase their affiliate sales.
Here's an example from the HomeGrounds affiliate post on the best espresso machines.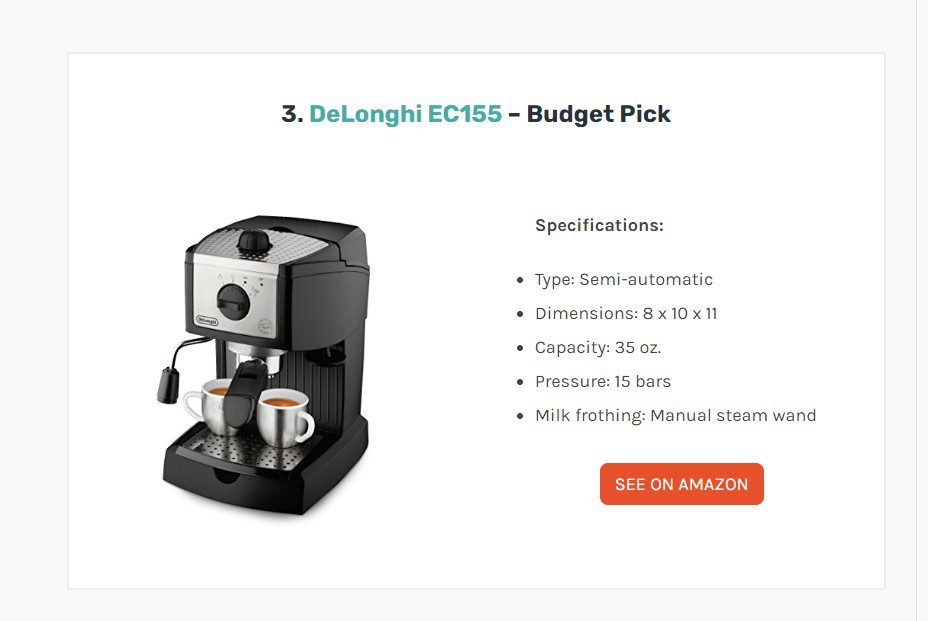 Search for copyright free images on the web
If it is a commonly used product, you may be able to find copyright-free images on the web too. You can use them as long as they are licensed for commercial use or have a creative commons license, and you attribute the source correctly.


Can you use Amazon product images and videos for your affiliate website or YouTube?
Ideally, you can't just rip off an image or a video from Amazon to use on your affiliate marketing website or your YouTube channel. But if you are a part of the Amazon Associates program, you do get the right to use their product images for affiliate marketing. You must be an approved affiliate of the program.


What other images can you use in your affiliate marketing content?
Apart from product images, you might need stock photos for your website banners or feature images for your blog. You might also need infographics for various types of content, such as listicles, product comparisons, or user guides.
For generic images to put on your affiliate marketing website or blog, you can look for high-quality stock images that are relevant to your niche. There are several stock image sites online. You can run a free image search on Narrato, where you get hundreds of image recommendations for your search term from Unsplash, Pixabay and Pexels.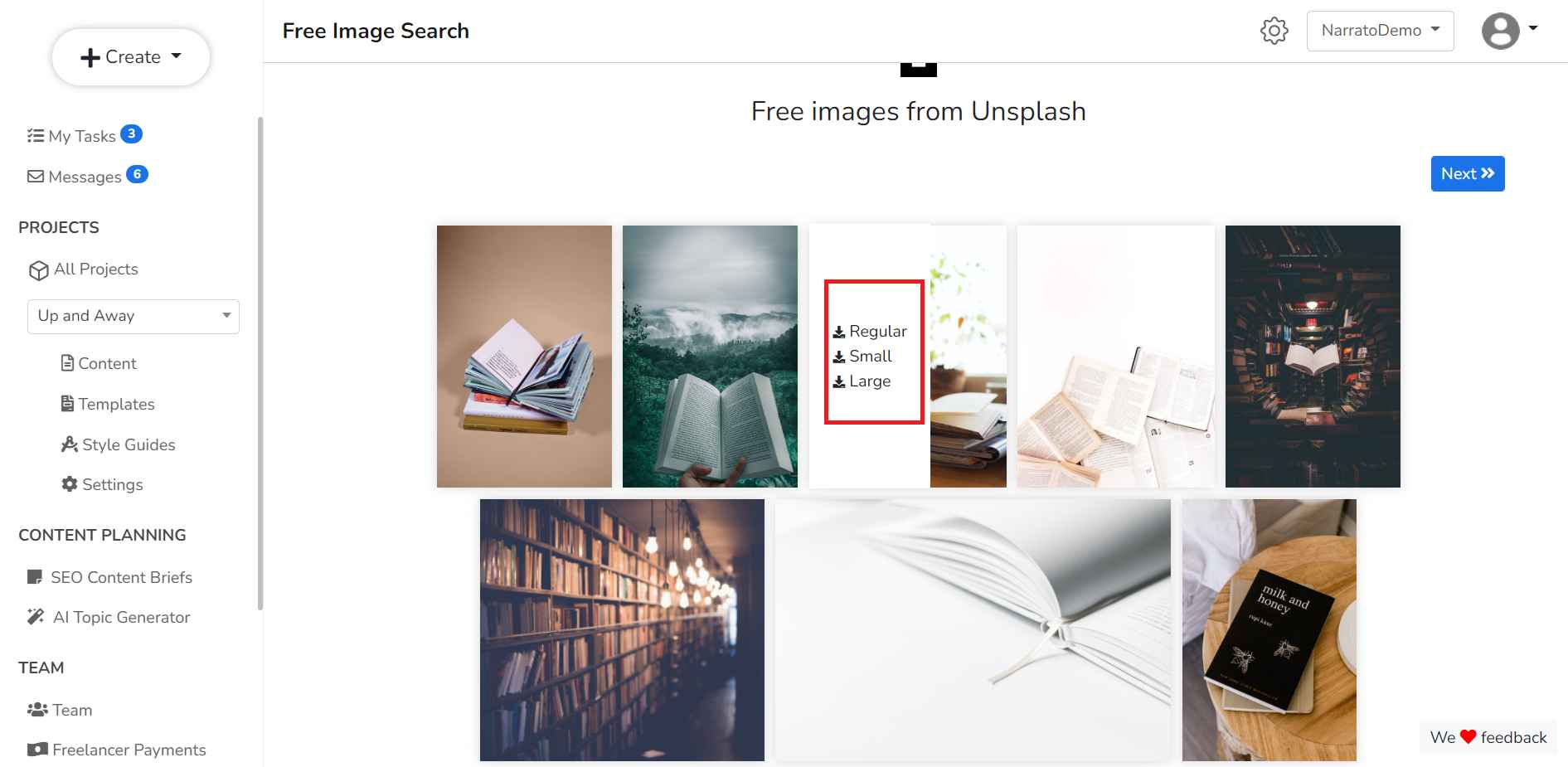 Source: Narrato – Free Image Search Tool
For infographics, a handy graphic design tool like Canva and Desygner works best. Narrato also has a Canva integration using which you can design your own graphics to go with your blog content, without having to leave the platform.
Frequently Asked Questions on use of images and videos in affiliate marketing
Can TikTok be used for affiliate marketing?
Yes, TikTok affiliate marketing is also quite common among affiliate marketers using video content. But on TikTok, you cannot add affiliate links in your video or caption. The best place to add links is in your bio. This could be the custom affiliate links provided by the merchant or affiliate network, or it could be a link to your landing page. But you will need a TikTok Business account to be able to use this capability.
Is it possible to do affiliate marketing on TikTok using stock videos/any related videos?
You can use stock videos on TikTok, but it is always recommended to create your own, engaging videos for maximum impact. Your target audience knows the difference between quality content and generic stock videos. So if you wish to earn revenue from your affiliate content on TikTok, you will have to work a little harder.
Can we use an Amazon product video for affiliate marketing on YouTube?
Similar to the case of using Amazon product images, using Amazon product video for YouTube affiliate marketing should not be a problem as long as you are an Amazon affiliate. But Amazon sometimes does use videos created by other YouTube affiliate marketers to promote their products. Make sure that the videos you use are not created by other content creators, as that could lead to copyright issues.
Can I use affiliate links on my YouTube videos?
Yes, you can add affiliate links to your YouTube videos as annotations. But you will need to add an associated website to your YouTube account and use cloaked affiliate links, as YouTube annotations only allow URLs to your associated website and not the merchant website. You can learn more about it through this guide by Online Media Masters.
Does Facebook allow affiliate marketing?
Yes, you can create a Facebook page for your affiliate marketing business. You can share images and videos of affiliate products and add affiliate links in the caption. But remember to add a disclosure too. You can also create Facebook ads to gain more traction with your affiliate marketing campaigns on the social media platform. Facebook Live is a great way to have real-time conversations with your audience and promote your affiliate products. Though you may not be able to share affiliate links here, you can always direct users to the right place.
Summing up
Videos and images can be very powerful lead magnets for your affiliate marketing campaigns. If you know how to use them right and make the most out of the platforms that you're publishing them on, your affiliate sales could see an upward trend in very little time. Equip yourself with the right toolset and the right knowledge as a first step. The rest will rely on your creativity and content marketing skills.