As the year rolls over, we as content marketers are yet again faced with the same questions related to content marketing trends in 2023. What digital marketing trends are going to change in 2023? What content SEO statistics will be crucial for SEO success in 2023? The content marketing landscape is indeed very dynamic. The content marketing trends in 2022 that worked wonders for you may not be the trends to take with you into the new year. Not just the world outside, but your own goals and objectives for the coming year could be different too.
Keeping these crucial things in mind, we've curated some of the top content marketing trends for 2023 that you should consider adding to your content marketing strategy. While some of these content trends are fresh and new, some others continue to hold strong from the past year.
TL;DR here's a quick look at the 15 content marketing trends for 2023.
So without much ado, let's dive into the top 15 content marketing trends to look out for in 2023.
1. Content experience will be a game changer
2. AI tools in content planning and creation are going big
3. Agile approach to content marketing will set you apart
4. Video content continues to drive immense engagement
5. Interactive content from brands will keep the audience hooked
6. DEI and values-driven content marketing will win hearts
7. Podcasts with SEO-focused transcripts are a promising strategy
8. Personalized and intentional content will build relationships
9. Focus is shifting to customer retention and loyalty building
10. Influencer marketing will be a major channel for building brand awareness
11. User-generated content will help diversify your content strategy
12. Better data privacy will help increase lead generation
13. Learning to speak your target audience's language
14. Self-serve content and chatbots can improve customer experience
15. Content with a human touch will be essential for trust building

Top 15 content marketing trends for 2023
1. Content experience will be a game changer
Content today is not just about answering questions. The success of your content marketing efforts is ascertained by the overall experience your audience has with your content. Content marketers in 2023 and beyond will have to focus on creating user-focused content and putting user experience above everything else. The easier you make it for a consumer to access and engage with your content, the better your chances of driving them down the funnel.
For this, marketers need to constantly update themselves on what customers are looking for and what they need. Your content SEO strategy needs to focus on user-first SEO rather than worrying about search engine algorithms. One of the simplest ways to know what questions people have around your niche is the 'People Also Ask' section on Google. Many marketers are already using it to their advantage in their content marketing strategies.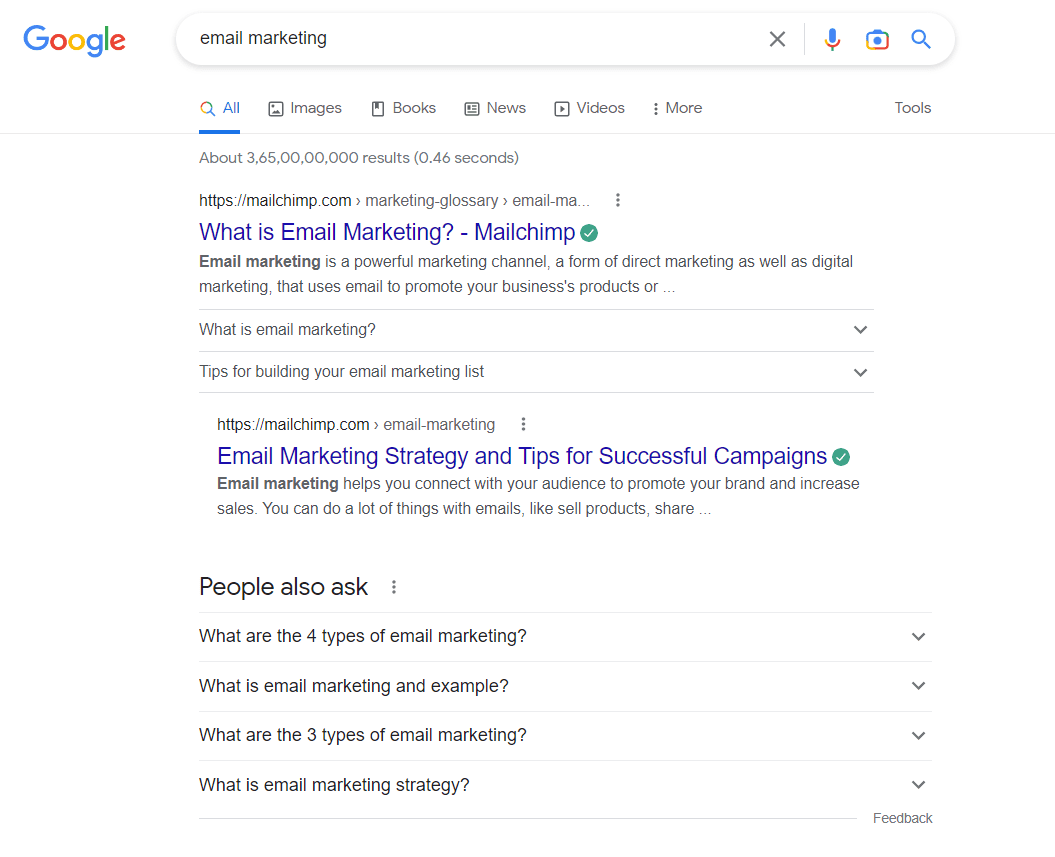 Algorithms keep changing, but matching keywords and phrases to user intention is what will keep your content ranking for longer. When you optimize your content with customers' needs in mind, it also adds to the content experience.
With search engines like Google putting more and more emphasis on delivering useful results to searchers, such as the recent helpful content update, a flawless content experience is going to be all the more crucial. In 2023, carry out extensive customer research, determine what they are searching for, and weave stories they want to read.
2. AI tools in content planning and creation are going big
The age of Artificial Intelligence has just begun. As of 2020, 84% of marketing leaders said that they used AI in marketing which was a 186% growth over 2018. And this number is only expected to grow as the AI software market grows. So, if you were skeptical about using Artificial Intelligence tools in your content marketing efforts, now is the time to get rid of all inhibitions and hop on the bandwagon. Because your competitors are probably already on it.
Brands are using AI tools for all kinds of work, from creating content to reporting and analytics. Tools like Narrato's AI content assistant are helping content creators optimize their content for both audiences and search engines within minutes. With real-time content improvement suggestions, plagiarism checks, and detailed SEO content briefs, AI content software like Narrato helps speed-up content planning and creation. AI writers have also evolved and can now create content that is aligned with your tone, audience, and context. Here's an example of how Narrato's AI writer lets you generate content for multiple use cases.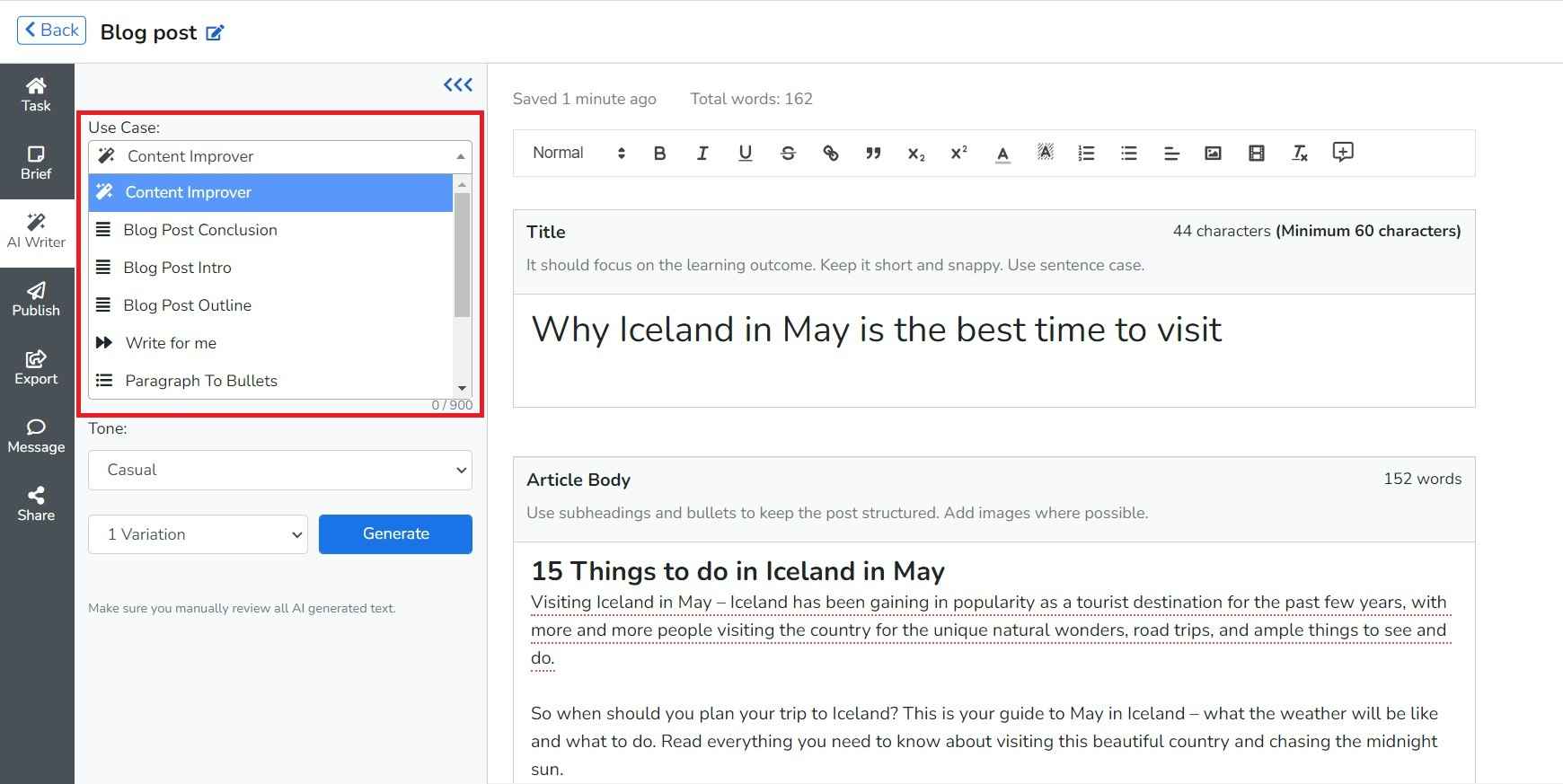 AI-powered automation is giving marketers a competitive advantage, allowing them to spend more time on marketing strategy rather than repetitive and redundant tasks. While there are some aspects of content marketing that will always need a human touch, using AI in conjunction can help you achieve your content goals faster in 2023.
AI in predictive analysis, market research, and data analytics is also helping marketers make more informed decisions a lot faster. So investing in the right AI content marketing tools for 2023 will be a smart move.
3. Agile approach to content marketing will set you apart
Content marketing in 2023 is no longer a single big campaign that you can set and forget. Rather, the current state of content marketing requires marketers to continuously monitor performance and make improvements in several small iterations. That is what an Agile approach to marketing looks like. Agile marketing allows you to respond faster to any changes, both external and internal, making sure these changes work in favor of your content marketing plan.
It is also important to realize that content marketing is no longer limited to just content creation and publishing. It requires the involvement of other teams as well, including product, sales, and customer success. Agile marketing is where they all collaborate without any silos to limit their contribution. The marketing team must learn everything about the product and the customer, and that's where such collaboration plays a key role.
If you are planning to implement a successful product-led content marketing strategy in 2023, that drives more conversions, cross-functional teams will be absolutely essential. Agile marketing is all about delivering results rather than just completing a list of tasks.
4. Video content continues to drive immense engagement
Video has been an extremely popular content format over the past few years, especially with the growth of social media as a marketing channel. And this trend is here to stay. According to a Wyzowl report, the use of video content in marketing has been constantly growing with 86% of marketers using videos as a key marketing tool in 2022.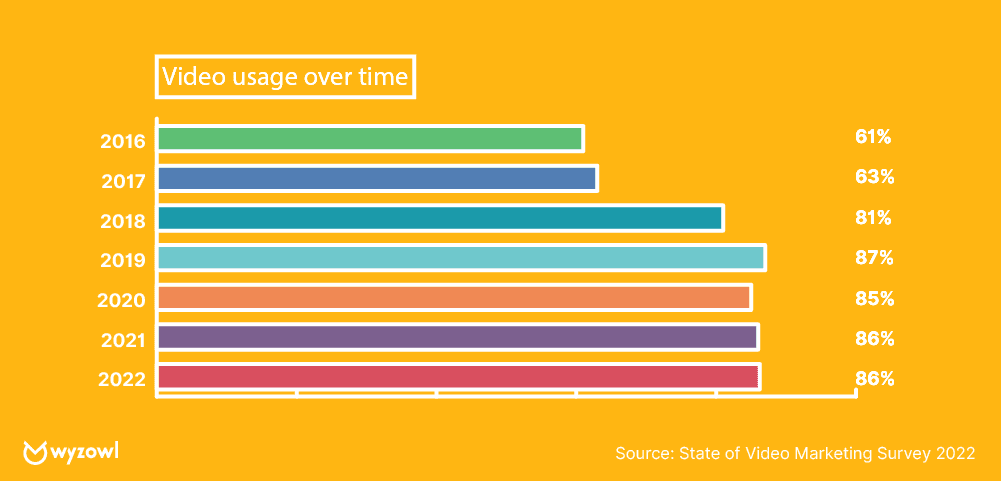 Vidyard's The State of Video 2022 report also says 96% of marketers agree that videos sometimes convert better than other content formats. With so many statistics in favor of video content, there's no way we can ditch videos in 2023. Video content is known to increase your audience's dwell time on your website or social media posts. This in turn helps your content perform better and get pushed to more similar audiences.
People also find engaging video content on social media more share-worthy. Including video content in your content marketing strategy in 2023 could give you a shot at virality.
5. Interactive content from brands will keep the audience hooked
Content marketing is turning more into a customer-centric activity instead of being product-centric like it was traditionally. Brands are experimenting with new ways to keep the audience hooked, encouraging interaction and making them feel involved. When your audience gets to be a part of your initiatives, they feel a stronger connection with the brand. That's where interactive content is helping marketers.
Have you been seeing a lot of polls on LinkedIn lately? Or did you happily give away your email id to a brand, just to get the results of an online quiz you took? This is all interactive content. Interactive content such as quizzes, polls, surveys, calculators, games, etc. is a great way to attract your audience's attention and also build a case for your product.
Here's an example of a mortgage calculator shared by a ReferralRock article. The calculator will not only kindle the visitor's interest but may also encourage them to explore how SmartAsset, the company offering this calculator, can help them with their mortgages.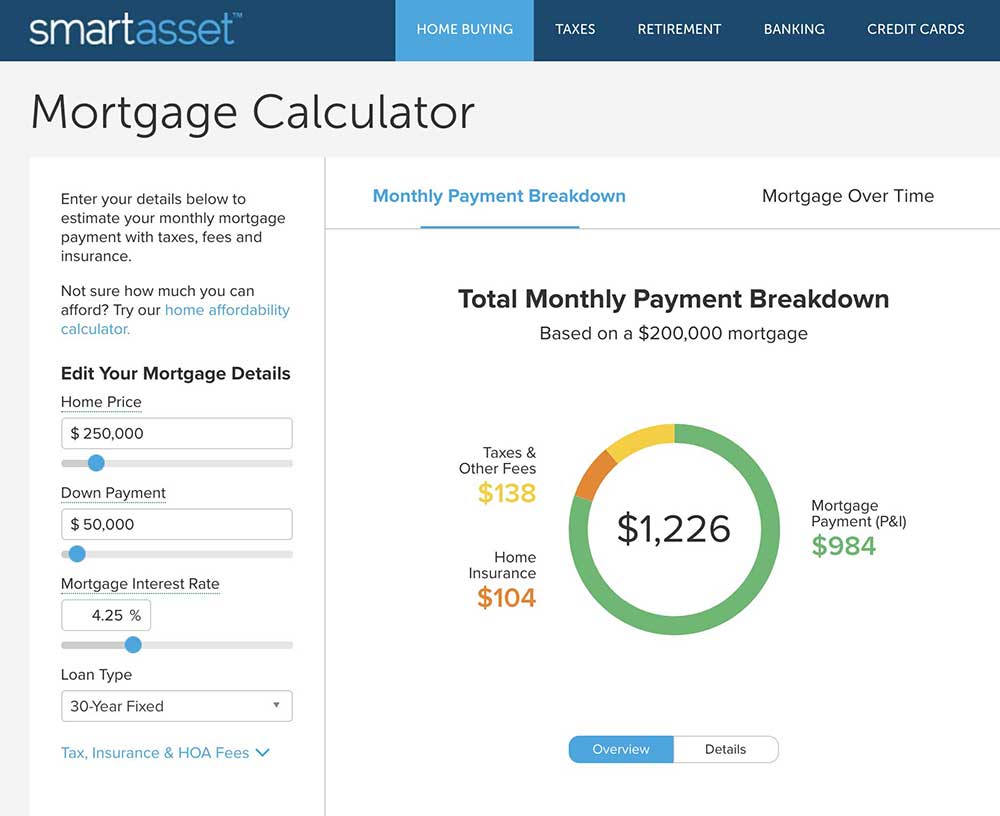 Interactive content is a lot more attention-grabbing, inviting, and often useful too compared to traditional formats. Including interactive content in your marketing strategy now and then can make a big difference to your brand image. It also builds up the content experience (the first content marketing trend on this list!).
6. DEI and values-driven content marketing will win hearts
Like most other fields, content marketing is also getting increasingly inclusive and changing for the better. Content that does not demonstrate diversity, equity, and inclusion is dying a slow death and is usually rejected by the audience today. If you look at the world of advertising too, you will find more references to diverse ethnicities, body types, cultures, genders, and economic standing. Unlike the content of the past, which had a homogenous and narrow outlook, content today needs to be made for everyone.
In 2023, content that is diverse, inclusive, and unbiased will certainly perform better than others. Another important characteristic to focus on in 2023 will be values-driven content. Content that reflects the values and beliefs that your brand stands by is likely to garner more engagement. Brands today have to exercise more responsibility when creating content and there are no two ways about it. The audience is highly-informed and aware and expects the brands they follow to be equally conscious.
7. Podcasts with SEO-focused transcripts are a promising strategy
Podcasts were popular in 2022 and this content marketing trend will find its way into 2023 as well. More and more people are taking to audio content, particularly when they're on the go and don't have the time to read an article or watch a video. Marketing your product on a podcast can be your best chance at getting their attention. In fact, a report by Edison Research says that 51% of Super Listeners will pay more attention to ads on a podcast than on any other channel.
Podcasts can also be very valuable to the audience as they get to capture a lot of information that they would likely forget if they read it on a blog post. Since most podcasts are conversational, they tend to be more interesting and relatable.
But despite being a great content format, podcasts may not always help you reign the SERPs. This is where SEO is critical and podcasts don't help much. To address this issue, your podcasts have to be accompanied by a search-optimized transcript that search engines can index. You could also repurpose your podcast into a well-formatted blog post to ace the SEO game.
If you haven't added podcasts to your content plan yet, 2023 is the year you should get started on this journey.

8. Personalized and intentional content will build relationships
There is so much content from so many brands competing with you today, that without a little personal attention it is hard to hold on to your prospects. Your audience expects a personalized, tailor-made experience even with the content you share with them. Personalized content could be a recommendation of relevant content curated specially for a prospect based on their interests and interactions on your blog. If there is a scope to share localized suggestions, you could make your content all the more targeted by using geo-fencing and making localized recommendations.
You could also share different content at different stages mapped to the customer's journey, helping with their purchase decisions. The idea here is, again, to provide a seamless content experience to every valuable lead from start to finish.
Addressing customers by their first names in your marketing emails, or on your pop-up banners are some tried and tested ways to personalize the experience. The audience needs to feel that your interactions with them are intentional and meaningful, not generic or shallow.
9. Focus is shifting to customer retention and loyalty building
Traditionally, content marketing was seen as a means of building brand awareness and generating leads. Over time it has turned into a major lead nurturing, customer acquisition, and even a customer retention channel. In fact, the focus is gradually shifting more toward customer retention and loyalty.
The reason behind this is that your existing customers are the best advocates of your brand and product. Happy, loyal customers will spread the word and bring in more qualified leads. Also, it is usually easier to cross-sell and up-sell to existing customers who already trust your brand.
Brands that are creating product-led content find it to be a very powerful tool for customer retention. Content that shows your customers what else they can achieve with your product, what other problems it solves, and new use cases they are yet to explore can be very useful. When they continue extracting more value from your content and the product, they don't feel the need to look for it elsewhere.
Apart from product-led content, personalization and tailored experiences are also good tactics to keep your customers happy. It is also important to focus on an omnichannel content marketing strategy to ensure that customers can have multiple points of contact with your content, with a consistent experience on each channel.
The user experience starts from the moment they interact with your brand's content, so it is not the responsibility of the sales and customer success team alone. In 2023, it is high time for brands to realize that customer success starts with effective content marketing.
10. Influencer marketing will be a major channel for building brand awareness
Influencer marketing is no longer seen as a secondary content marketing channel that brands may adopt if they wish to. It is now a mainstream marketing channel. 82% of buyers claim to have bought a product on an influencer's recommendation, according to a survey. People are also more likely to trust an influencer recommendation than a brand's product recommendation according to the same survey report.
This means brands now have to start building a more elaborate content marketing strategy involving influencers. It is also important to build long-term relationships with influencers that understand and share your brand's values. The audience can usually catch the difference between an honest recommendation and a paid partnership where the influencer shows no real connection with the product or the brand.
So, acing this content marketing trend in 2023 is critical if you want to get one step closer to your prospects.
11. User-generated content will help diversify your content strategy
Just like influencer marketing, user-generated content is also one of the up-and-coming content marketing trends for 2023 as more people turn to social media for product recommendations. From TikTok to Instagram to YouTube, user-generated content or UGC has been bringing brands a lot of valuable leads. A survey by Stackla shows that UGC is almost 8.7 times more impactful in generating buyer interest than influencer content. It is also considered the most authentic type of content by audiences.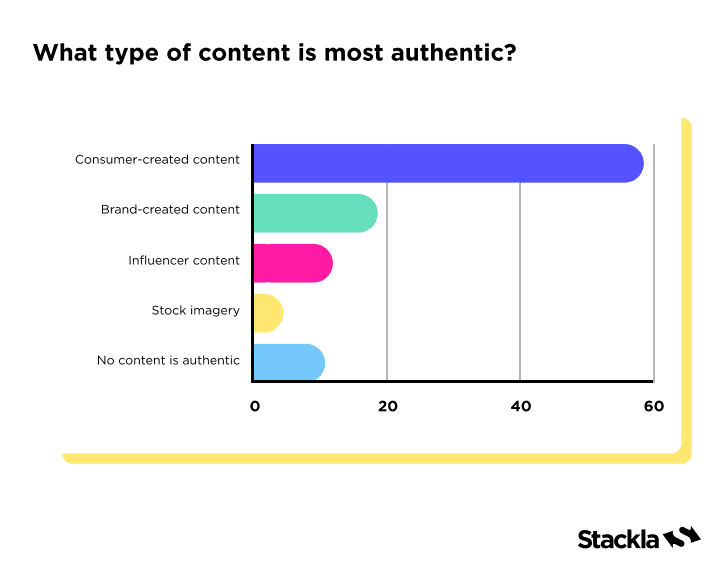 Though user-generated content is becoming increasingly popular as a B2C marketing tool, with unboxing videos, product reviews, and brand hauls taking the internet by storm, B2B marketers also have tremendous opportunities here. UGC enhances a brand's authenticity and helps win the audience's trust. The best part is, leveraging UGC in your content marketing strategy for 2023 will ease the load on your content team to a certain extent as anyone from your existing user base can create content for you.
12. Better data privacy will help increase lead generation
Data privacy will play a huge role in your marketing campaigns' success in 2023 and beyond. People trust brands that respect their right to data privacy and security. Marketing professionals have their own way of ensuring this and making the customer experience smoother.
In email marketing, for instance, it is essential to keep email opt-in optional. Users must also have the choice to unsubscribe at any time they want to. Marketers need to be extra cautious of where they store the customer data they collect and who they share it with. With strict regulations like GDPR coming into force in most countries, it is all the more important for marketers to be vigilant with customer data collection and handling. The HubSpot State of Marketing Trends Report 2022 shows that updates to data privacy regulations are one of the key marketing challenges faced by the respondents. This has to be addressed well in 2023.

13. Learning to speak your target audience's language
As content marketing gets more competitive and the audience more aware of their choices, it is extremely important for brands to build stronger connections. And for this, you need to speak their language. By this we mean, understanding the colloquialism your target audience uses in their everyday conversations, the trends/beliefs they identify with, and more. Content marketing is no longer just about writing in impeccable English but more about making your content relatable for the audience. That said, it does not always mean compromising on your content quality to accommodate their lingo, but rather about building a brand identity they can connect with.
For instance, most brands today are targeting Millennial and Gen Z audiences. Gen Z's spending power globally in 2021 reached almost $360 billion and in the coming years, they are expected to be the biggest chunk of consumers, overtaking Millennials. So content marketing strategies from 2023 onward need to focus on this section of the population, catering to their needs and speaking their language.
14. Self-serve content and chatbots can improve customer experience
Another very prominent trend in content consumption today is that consumers prefer self-serve options over getting in touch with a brand representative. According to a McKinsey report, 70 to 80% of buyers prefer digital self-service, which includes access to useful content, over in-person interactions.
More and more marketers are now relying on digital self-serve marketing and tools like AI-powered chatbots to meet this growing demand. Chatbots are being used to provide personalized content recommendations to website visitors. Though primarily used in customer service, chatbots can support your content marketing efforts too by answering users' questions with the right blog post to read or a link to an FAQ page.
15. Content with a human touch will be essential for trust building
The audience today does not easily trust a faceless brand. Knowing who works behind the scenes to bring the content to them is essential for building relations and winning their confidence. This is why most brands today are investing in quality video content with their leadership or key team members in front of the camera. Having a face they can associate with the brand builds brand identity and makes it more familiar and accessible to them.
This can be achieved through high-quality content on YouTube where your CEO, CMO, or other leaders interact with the audience. You could also invite notable influencers or subject matter experts for interviews or podcasts to make your content more relevant and authentic for the audience.
Customers also want content that kindles human emotions, shows empathy, is honest and transparent, and makes them feel appreciated. Keeping these virtues in mind is crucial not just in 2023 but for as long as you create content.
Wrapping up
Content marketing trends in 2023 will focus more on building human relations and creating user-focused content. Content marketers have realized that writing for the audience and keeping communication channels open is what matters most. As long as your audience is happy, search engines will see your content as valuable and good rankings will follow. So make the most of these content marketing trends in your marketing strategy for 2023 and give your audience the best user experience you can.
And if you want to create content that resonates with your audience, check out this Narrato blog post on content creation statistics.