Have you been looking into opportunities to generate some passive income? If yes, you must have surely come across affiliate marketing as a way of monetizing content. Though widely popular today, affiliate marketing for beginners can be a little confusing and overwhelming. Affiliate marketing seems like an easy way to earn passive income, but there's more to it than meets the eye. You need to understand what affiliate marketing really means, how to monetize your blog and other content, which affiliate programs you should join, and a lot more.
To give you a head start, we've created this guide on affiliate marketing for beginners where we will cover all the bases. Let's find out how affiliate marketing works and how you can get started right away.
– Introduction to affiliate marketing for beginners
– Content creation tips for successful affiliate marketing for beginners
– Simplifying affiliate link placement and performance measurement in affiliate marketing for beginners

Introduction to affiliate marketing for beginners
What is affiliate marketing?
Affiliate marketing is a tactic or a sales model adopted by companies where they pay you a commission for promoting their products and initiating a sale. This means when someone purchases a product through your unique referral link/code, the seller pays a certain percentage of the sale or a fixed commission as per the agreement.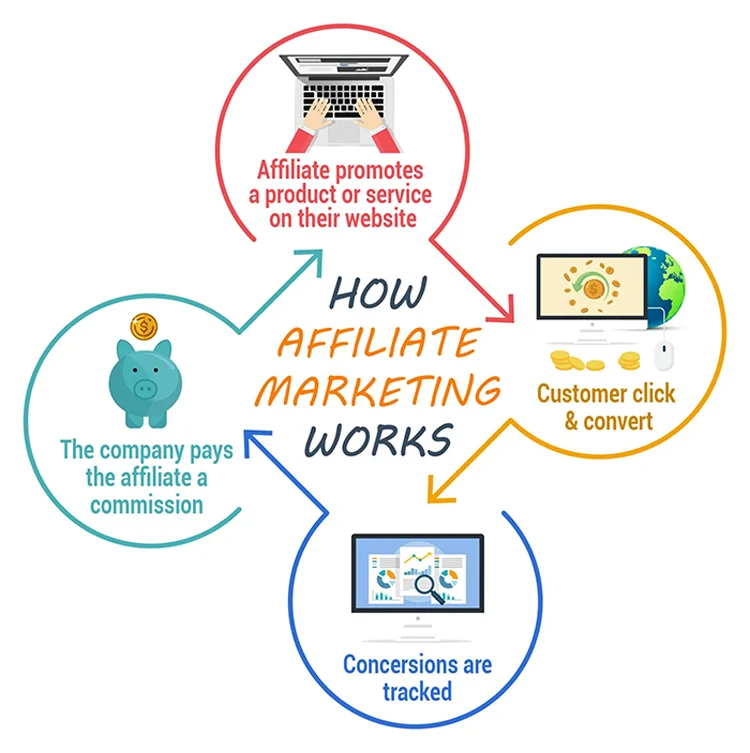 Source: Click Funnels
Most major sellers and brands have their own affiliate marketing programs that you can join. There are also affiliate marketing networks that offer you affiliate partnerships with multiple brands. Your first task as an affiliate marketer would be to choose an affiliate marketing program that is most profitable for you.
How does affiliate marketing work?
Though at first glance affiliate marketing looks rather simple – you join an affiliate program, get a unique affiliate link, initiate a sale, and get paid – there's a lot going on in the background. The technicalities of the process may not be too important to you as an affiliate partner, but it's always good to know. So here are the key steps involved.
You join a merchant's affiliate program. They give you a unique affiliate ID and a trackable referral link that you need to promote.
You then place this affiliate link in your content, promoting the product and encouraging your audience to use the link to purchase.
When a visitor clicks on the link in your content or a banner ad, a cookie is placed on their browser. This ensures that whenever they make the purchase, even weeks or months later, the sale is credited to you.
The affiliate network records the sale and the source of the referral (by identifying the cookie).
The sale is credited to you and the affiliate commission is paid to you at the end of every payment cycle.
Different affiliate programs may use different commission models. The most common ones are –
Pay-per-click (PPC) – You get paid every time a website visitor clicks on your referral link
Pay-per-sale (PPS) – You get paid a certain percentage of every referred sale you make
Pay-per-lead (PPL) – You get paid for every qualified lead you can generate through your referral link
How you earn your commission will depend on the affiliate platform you join.
TL;DR here's a quick video with the key points from this article.
Now that you have an idea of how affiliate marketing works, the next thing you should know is how to choose the right affiliate programs for successful affiliate marketing.
How to find the right affiliate programs to join?
To begin with affiliate marketing, you will have to –
Decide what kind of products you want to promote
Find brands that sell these products or find the products through an affiliate network
Get yourself enrolled as an affiliate partner
Start promoting the products and sharing your affiliate links
As an affiliate marketing beginner, you need to decide whether you want to partner with individual brands, affiliate networks, or both. We've discussed in detail how to choose a profitable affiliate marketing platform in one of our previous blog posts. Answering questions like 'What is the best affiliate marketing program for beginners?' is tough as there are multiple factors involved. There are some affiliate marketing platforms that are easier to join for affiliate marketing beginners that have fewer requirements. Often popular affiliate networks or brands have strict terms of enrolling such as minimum website traffic, website authority, or social media following.
How much can a beginner make in affiliate marketing? That depends on the commission rates of the affiliate program you choose. High-paying affiliate programs will help you earn more but they may have low-volume or niche products with very few buyers. Other that offer lower commission rates may have products with mass appeal and more takers. Ahrefs explains it beautifully with this infographic.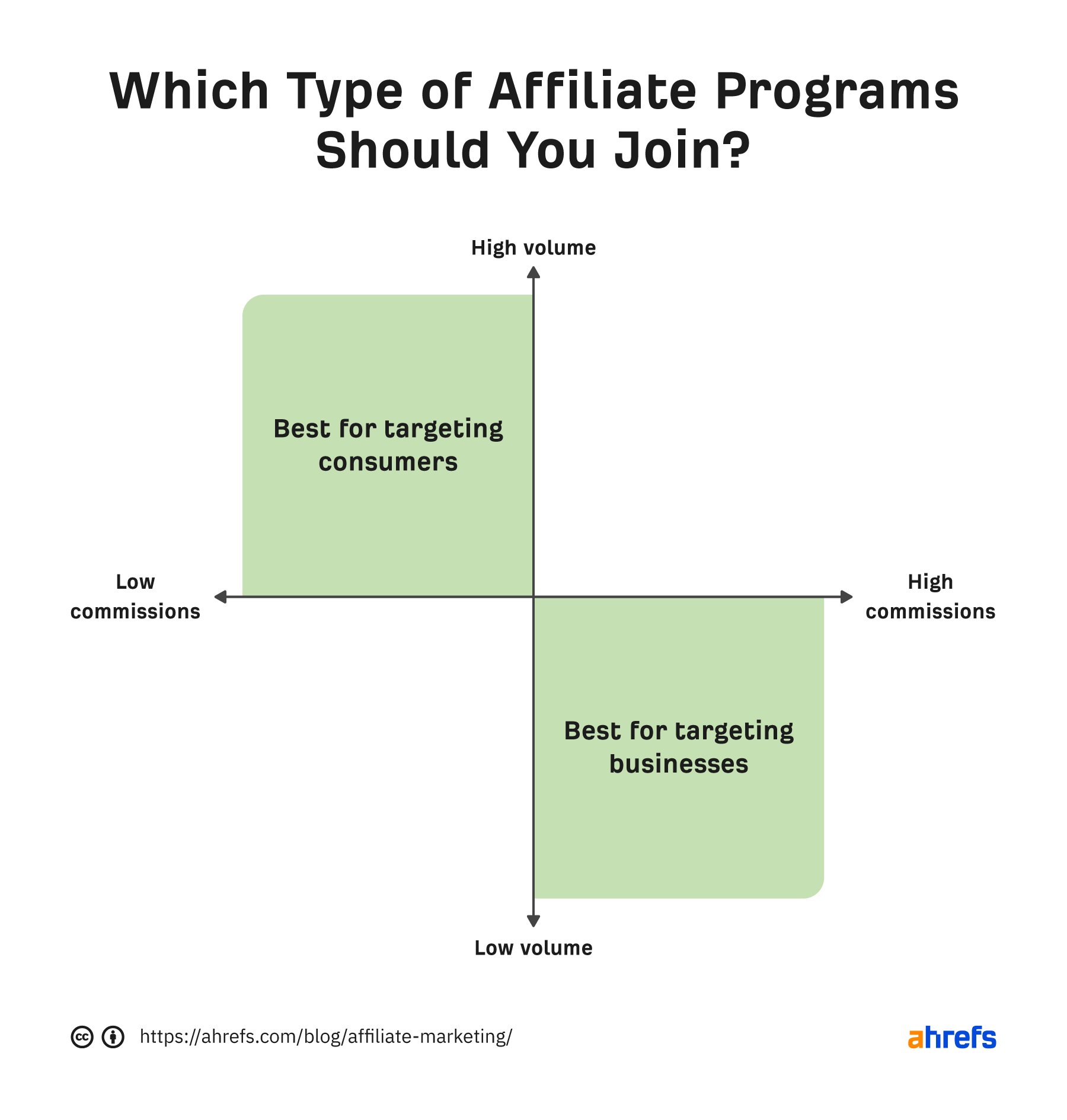 There are also differences in the types of products listed, cookie duration (until how long after a visitor clicks on your affiliate link is the sale attributed to you), etc.
Taking all of these factors into account, you can decide which affiliate marketing program best suits your needs. Some of the popular affiliate programs that most marketers are a part of include –
Amazon affiliate program or Amazon Associates Program
Rakuten affiliate program
ShareASale
Awin, among others.
But once you've decided which affiliate program to pick, how do you reach people with the products that you're promoting? Through good content, of course. Content creation is a crucial part of all affiliate marketing campaigns and knowing what kind of content to create is what will turn you from a beginner to a successful affiliate marketer.
Content creation tips for successful affiliate marketing for beginners
How to create affiliate marketing content that will attract readers and potential customers?
This is by far one of the most important parts of your affiliate marketing journey. If you want people to come to your affiliate marketing website and click on your referral link, you will need to convince them first. And there's no better way to convince consumers than by giving them high-quality content they can trust. There are many different types of affiliate marketing content you can create. But when creating affiliate marketing content, be it for a blog, a YouTube affiliate marketing channel, or any other platform, there are a few things you need to consider.
Choose an affiliate marketing niche
It is important to decide which industry or niche you want to focus on. There are various affiliate products you can promote but keeping your content generic or taking up too many diverse affiliate products to promote will not help you build authority in the long run. This is why it is important to choose an affiliate marketing niche that you can stick to. If you've followed some popular influencers, you'd see that they only promote products in their niche, be it gadgets, beauty products, sports equipment, clothing or something else. Sticking to a niche helps you target a very specific audience and earn their loyalty over time. When you start creating content around this niche, your blog/website/channel slowly becomes an authority in the field.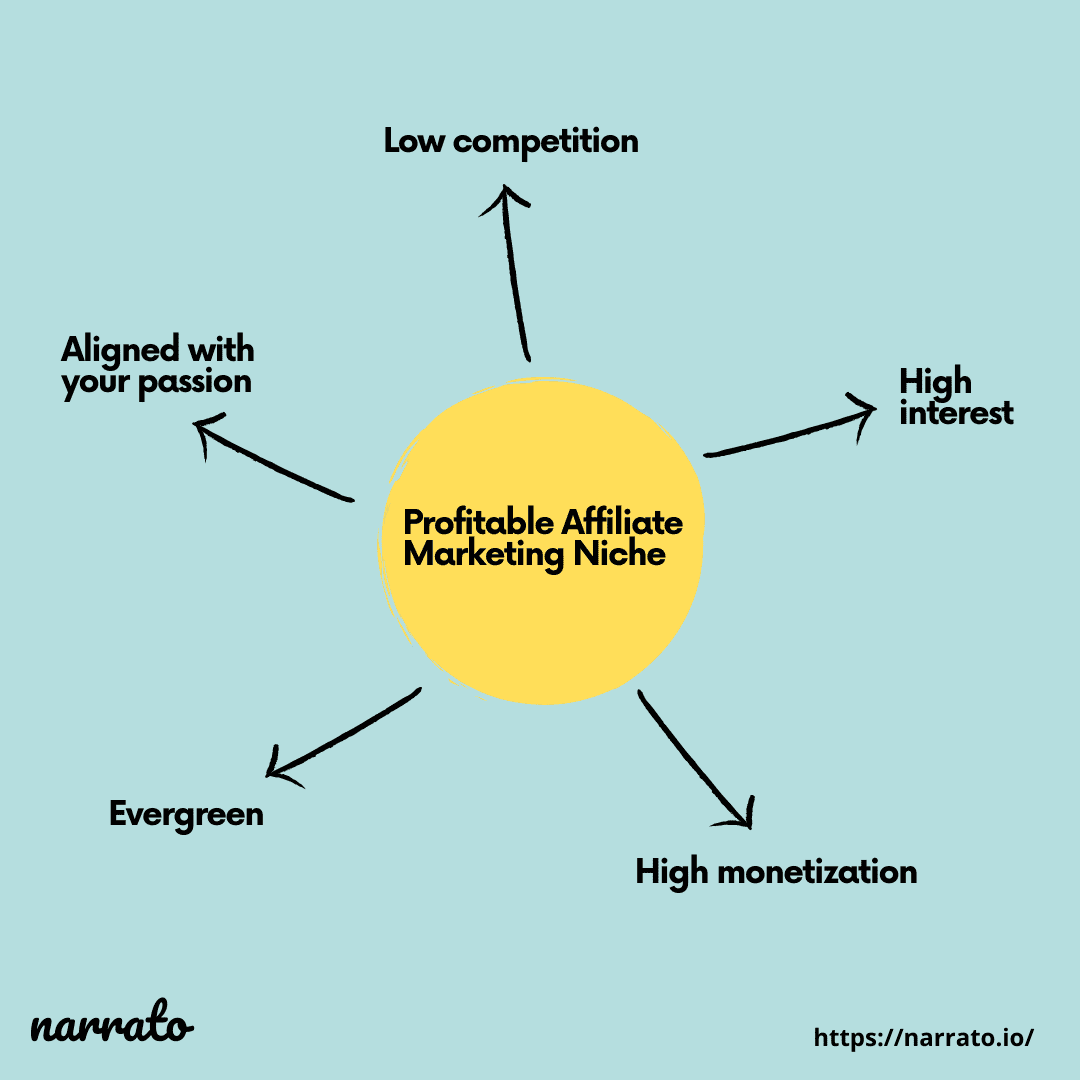 You can create content clusters around topics in your niche that also help search engines see your blog or site as an authority in the domain, boosting SEO. As a result, your content begins to perform better and rank in search.
The best thing about sticking to a niche, though, is that you become stronger at it day by day. The more you research and study a particular industry or domain, the more in-depth knowledge you gain. When you share this knowledge as valuable and authoritative content, your audience starts trusting you as a reliable source of information. So, they are more likely to consider purchasing any product that you recommend.
Decide on affiliate content types to create
Next, you need to decide what kind of content you want to create. There are several types of content to choose from, including –
Blog posts
Videos
Social media posts
Podcasts, and more.
An affiliate marketing blog is usually a good place to start. You can write informative and in-depth blog posts on various topics in your niche and it also makes it easier to place your affiliate links within the content. Other formats that you can try as a beginner are product comparisons and listicles.
Product comparisons are simpler to create as you just have to compare the features of the product you are promoting with that of a competing product. But just make sure that your affiliate product wins this comparison for people to actually click on the referral link.
A listicle is also an easy format where you list X products in a particular category, highlighting their key features – quite similar to a product comparison.
If you have experience creating video content, you can even try creating content for YouTube, which is a popular medium for affiliate marketers these days. Product hauls, unboxing videos, tutorial videos, etc. are great ways to promote affiliate products.
Images and videos in affiliate marketing are also impactful content types. Instagram affiliate marketing and influencer marketing is big today. So if you're already active on social media, you could start your affiliate marketing career from these social platforms too.
In our blog post on 13 Popular Types of Affiliate Marketing Content, we've discussed all the popular content formats you can try along with some amazing examples of each type.
Create affiliate content that drives conversions
With your targets set, all you need to do now is create awesome content. There are two ways to get affiliate marketing content for your blog or website – you either create it in-house or outsource it. As an affiliate marketing beginner, you can start with a combination of both. You can outsource some of your content to a reliable content writing agency, like Narrato Marketplace, that has expertise in creating content for various industries and audiences. A part of the affiliate content creation can stay with you. This will ensure that you are not overburdened with content creation and have enough time for other result-oriented work like refining your strategy and your skills.
For creating content in-house, you will need a reliable content creation tool that helps you work faster and better. This is where an AI content generator tool for affiliate content creation can be a lifesaver in affiliate marketing for beginners. Narrato's AI writer allows you to create affiliate marketing content almost 2x faster. The AI writing assistant on the platform lets you generate high-quality content for multiple use cases, including –
Generating outlines for your blog posts
Paraphrasing content to make it flow better
Generating paragraphs from the topic or outline
Converting paragraphs to bullets
Using the content improver to improve content quality
Creating product descriptions or turning descriptions into bullets
Generating SEO meta descriptions, and more.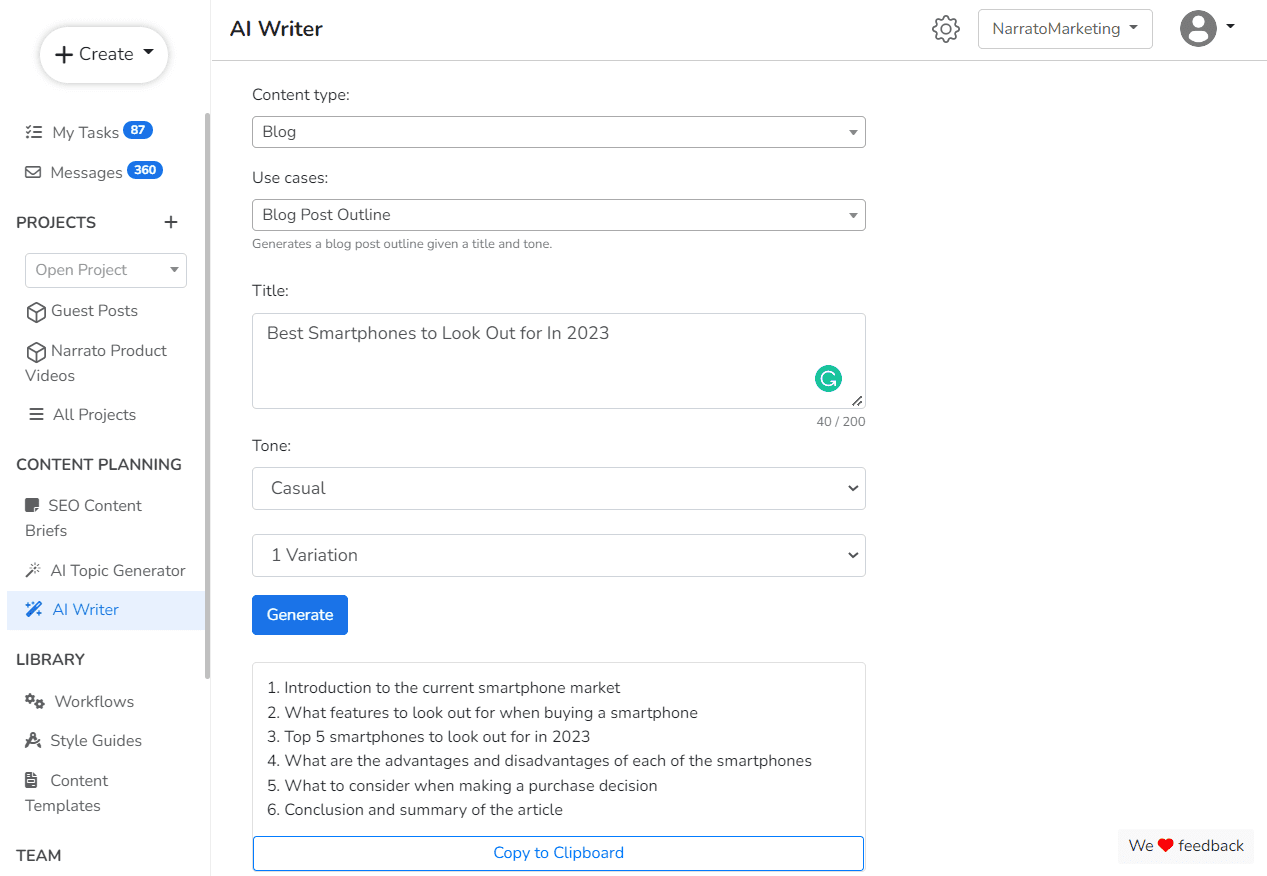 Apart from the powerful and cutting-edge AI writer, Narrato Workspace also provides a host of content planning and creation features such as SEO content briefs, an AI topic generator, content calendars and much more. It also has team management and freelancer management features if you plan to hire your own team of content creators.
Ensure your affiliate content is useful and impactful
Affiliate marketing content must not only be high on quality, but must also be honest and straightforward if you expect people to start trusting it. For instance, if you are writing a product review for affiliate marketing you have to make sure that you cover all aspects of the product, both positive and negative. If you are creating product comparisons, your content must not be biased toward your affiliate product but highlight the pros and cons of both products. If you create content that unduly praises your affiliate products and criticizes competitors, your audience will easily see through it, resulting in a loss of trust. So make sure that you're creating content to help your audience before anything else.
Here's an example of a balanced product review from The Verge.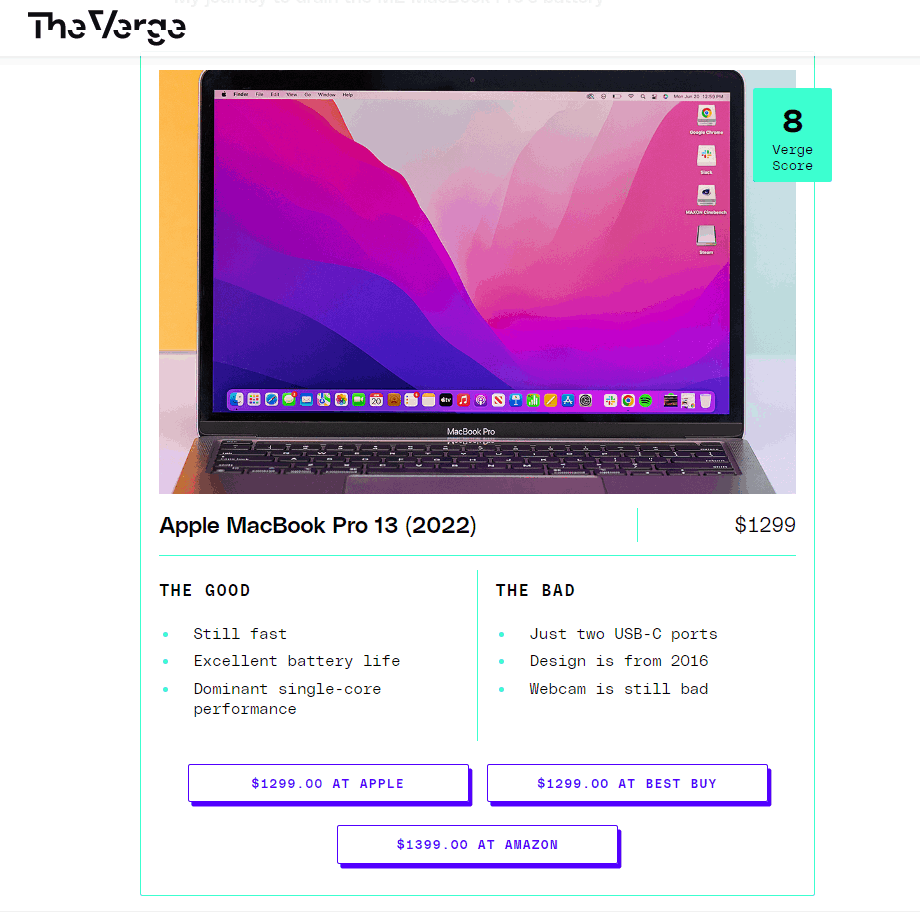 Apart from this, it is important to follow the basic rules of good content creation and marketing. Use engaging visuals in your affiliate marketing content wherever possible. Pay attention to SEO best practices, such as using the right keywords in your content, structuring your content for better readability using bullet points, shorter paragraphs, etc. Also, make sure to add alt tags to all the images you add.
A great way to increase your conversion rate with content is by generating a sense of urgency in your audience. Make them feel like they're missing out on a lot by not owning the product you're promoting, without sounding salesy. Use emotional triggers and powerful words that will urge them to take action. Add compelling headlines, questions, and CTAs wherever possible.
Promote your affiliate content on other channels
Creating great content is the first step toward reaching your target audience. But waiting for your content to be found purely through SEO (or a stroke of good luck) will take you months or even years to get there. To put your affiliate marketing content in front of the right people, you have to promote it on the right channels. This is by far one of the most crucial steps in affiliate marketing for beginners as your blog or channel is still quite new and needs all the attention it can get. Content promotion and distribution play a key role in attracting potential buyers.
The usual channels include social media platforms like Facebook, Instagram, or LinkedIn – depending on who your target audience is. For instance, if you're trying to sell to individual buyers, Instagram is probably one of the most useful channels for content promotion. If your target audience is corporates and businesses, LinkedIn serves you better.
You can also create email newsletters to promote your affiliate content. Find out how you can build an email list, be it through opt-in forms on your blog/website, or through other sources. Every time you publish new content, you can share a newsletter with your email subscribers notifying them about the latest posts and maybe even share a few key takeaways from each of them. Make sure to add links to the original posts to redirect them to your blog.
Other platforms for distributing content include Medium, Substack, and the likes, where you can republish your content with links to the original post.

Simplifying affiliate link placement and performance measurement in affiliate marketing for beginners
Tips on how to promote your affiliate links
We have been discussing a lot about getting affiliate links from merchants and adding them to your content. But how exactly do you promote these affiliate links? Where should you place affiliate links in your content? Here are a few handy tips.
1. Place affiliate marketing links in your blog posts
Your blog is one of the best platforms to promote your affiliate links as it gives you enough opportunity to place them within the content. You can place them as backlinks within your content, wherever you refer to the affiliate product. You can also add outbound links to images or graphics that you use within your content. For instance, if you are sharing a product image in your blog post, you can link the image to the merchant site using your referral link.
Many affiliate marketers also embed their affiliate marketing videos within their blog posts. So, if you primarily create video content for YouTube, you can publish an associated blog post for each video and embed the video in the post. This will not only allow you to promote your affiliate links but also increase your reach.
2. Add affiliate links in the descriptions of your video content
Affiliate marketing on platforms like YouTube is extremely popular because it is always easier to show and tell. Product review videos, vlogs, product hauls, etc. provide immense opportunities to promote your affiliate products and also your affiliate links. If you're creating video content, you can add your affiliate links at several strategic points. You can place your affiliate links in the video description and mention in your video where the viewers can find them.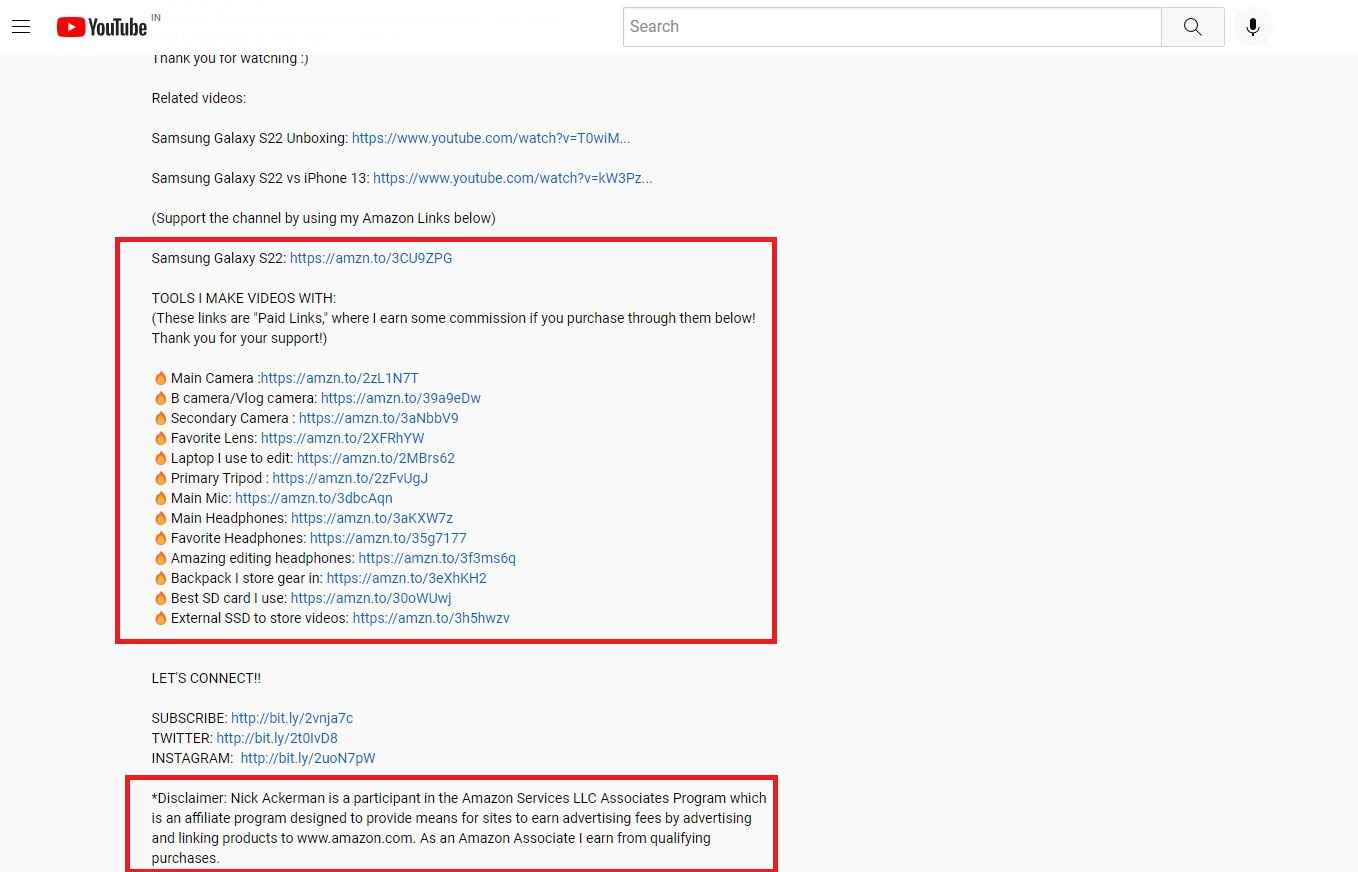 Source: YouTube – Nick Ackerman
You may also add affiliate links as annotations in your videos, but there's a catch. YouTube only allows URLs to an associated website in your annotations. So if you wish to place your links in annotations, you will also need a website of your own since you can't add links to merchant sites.
Another way to add affiliate links in videos is as a pinned comment. Adding your affiliate links to comments and pinning these comments will ensure that they stay at the top and visitors can see them first when they read the comments section.
3. Add multiple affiliate links in listicles or gift guides
While product reviews or unboxing videos only allow you to add affiliate links to one product, listicles will let you promote multiple affiliate links at once. A listicle of related products or a gift guide where you can recommend various products for different occasions lets you create product roundups. This means you can add your affiliate links for all your affiliate products here.
Listicles and product roundups like these also help you figure out which products have better conversion rates. So you can focus your future content on these high-converting products.
4. Add affiliate marketing links in podcast notes or transcripts
Podcasts are a fast-growing content marketing channel and affiliate marketers are making the best of it too. But how do you place your affiliate link in a podcast? The answer is – in your podcast notes or transcripts. If you're publishing a podcast, you'll surely have a transcript or a description accompanying it. This helps with SEO too, allowing your content to be found in search. This is where your affiliate links should go as well.
Don't forget to mention it in your podcast, though, and encourage your audience to use the referral link.
5. Create a resources page on your website with affiliate links
Many affiliate marketers also add a Resources page to their website. This page lists all the products/tools they use every day to create their content or do what they do, along with a short description of what they use them for. This is similar to what influencers do on YouTube, where they list out all the tools they use to create their videos, along with affiliate links to each.
Here's an example from Niche Pursuits.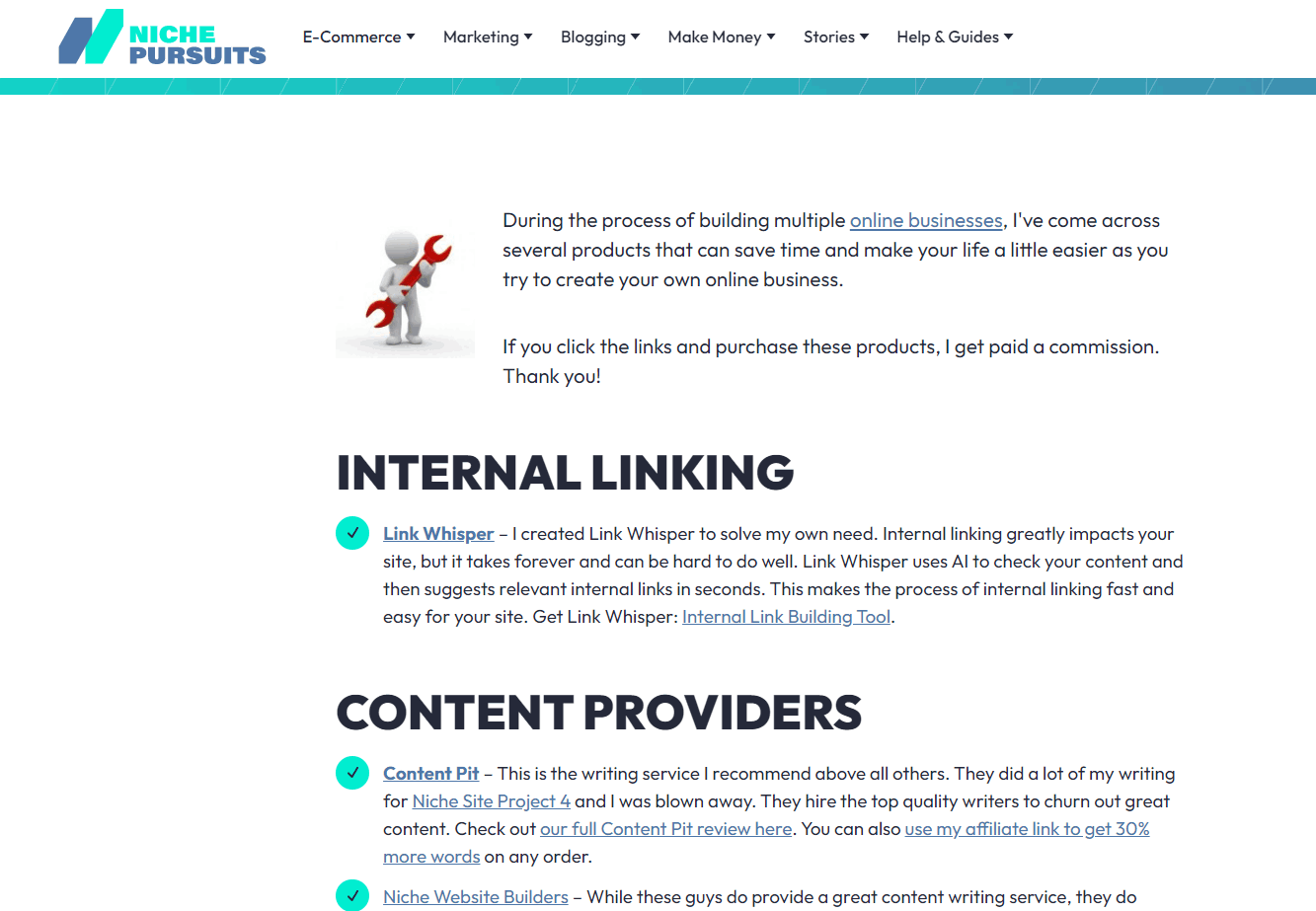 Whenever you decide to have your own website, adding a Resources page will give you an opportunity to promote your favorite products and affiliate links that you want to recommend regularly. It will be even more successful if you have any referral discounts for your visitors on these products. This brings us to the next tip.
6. Offer a discount code wherever possible
Try and get affiliate offers from your merchant/partner network. The best way to promote an affiliate link is by offering your customers a discount. They are more likely to click on the link if they see an incentive. So share discount codes and coupons wherever they're available.
7. Share deals and offers through email
It is also a good idea to have an email newsletter sent out monthly of bi-monthly. In the newsletter, you can not just promote your affiliate marketing content but also your affiliate links and offers exclusively. If there's a nice holiday discount or Black Friday discount you're offering, sharing it through email ensures that your subscribers don't miss it.
So, whether you're promoting affiliate products organically by placing links in your content or plainly promoting a deal, email can be an effective channel. Make the best of it by personalizing your message, using first names of recipients, and adding compelling headlines and CTAs.
8. Add affiliate links in captions on social media
Another great place to promote your affiliate links is on social media. Instagram and Facebook are full of affiliate marketing links today. Just like videos on YouTube, social media content also provides a tremendous opportunity to show your affiliate product in action, especially if you promote physical products.
Add your affiliate links in your post captions on platforms like Facebook, Pinterest, or LinkedIn. On Instagram, where links in captions are not allowed, you can place your affiliate links in your bio and mention it in your posts.
But like other content formats, make sure that your social posts are relevant to your audience and offer them something of value, instead of just promoting a product. People will only click on your affiliate links if they find your content useful.
9. Be honest and disclose that you're an affiliate marketer
The last and most important tip we'd like to share when it comes to promoting affiliate links is full disclosure of your affiliate partnerships. Many platforms today mandatorily require you to disclose if you have a paid partnership with any brand you're promoting. But even without a mandate, it is important to be honest and transparent with your audience. Let your audience know that the opinions shared in your product reviews and recommendations are unbiased and genuine. But if they do purchase the product through your referral link, you will earn a commission.
This honesty will go a long way in building credibility for your content and winning your audience's trust.
How to track your affiliate marketing progress and measure your success
Like other marketing campaigns, affiliate marketing too demands continuous monitoring and improvement. You'll be putting a lot of effort into creating content, promoting your affiliate product, and driving conversions. You need to know if these efforts are bringing you any gains or what needs to be changed in your affiliate marketing strategy.
There are a few things you would want to track over time. For instance, where does your blog or website rank on Google? If you're still not on the first page, you mage need to improve your SEO and optimize the content further to gain more visibility.
Next, how many visitors are you getting per month? What is the average dwell time on your page? If visitors are dropping off the page quickly, it means they didn't find what they were looking for. This calls for more research and adding more value to your content.
You can also check how many clicks and impressions your pages get. This tells you if your blog post titles or target keywords are matching with users' search intent.
All of this information can be gathered using free tools like Google Analytics and Google Search Console. If you're publishing content on YouTube, you'd want to go through your YouTube Analytics reports too.
Setting KPIs for yourself and measuring your performance against them will tell you how successful your affiliate marketing efforts have been. It will also give you a clear picture of what's working and what's not, so you can modify your plan accordingly.
As a beginner, however, it's important to remember that you won't see great results overnight. It takes time to rank in search, gain a following and start earning revenue. So you have to be patient and keep working at it.
It is also normal to commit a few mistakes initially, but the more you can avoid errors the sooner you'll succeed. We've listed some affiliate marketing mistakes that most beginners make, in a previous post. Try keeping them at bay and you're sure to achieve results faster.
Summing up
Affiliate marketing for beginners can be very new and unfamiliar territory. If you're uninitiated on the rules of the game, it can be difficult to make a place for yourself in this already competitive space. Knowing which products to promote, which affiliate programs to join, and what kind of content to create, are all important decisions that you need to make with immense care at the start of your affiliate marketing journey. As you gather experience, you can diversify and explore new domains and niches that will increase your earning potential. But for now, we hope these tips will help you get started on the right footing.