Whenever the question – 'What is the best AI writer?' – arises, you have to have Copy.ai somewhere near the top of the list. Copy.ai is an exceptionally efficient AI writing tool that helps you create content for your blog or website significantly faster. This is probably why industry giants like Microsoft and eBay trust this AI content generator too. But for small and mid-sized businesses, investing $36 per month on an AI writing tool may not seem feasible. Copy.ai can be expensive and there are many affordable Copy AI alternatives that can give you the same and sometimes, even better features and capabilities.
In this blog post, we are sharing the top 17 Copy.ai alternatives that you should consider if you're on the lookout for a more suitable AI blog writer or copywriter for your content marketing needs.
Here are the best AI copywriting and content generating tools that can be your ideal Copy.ai alternatives.
3. Wordsmith by Automated Insights

1. Narrato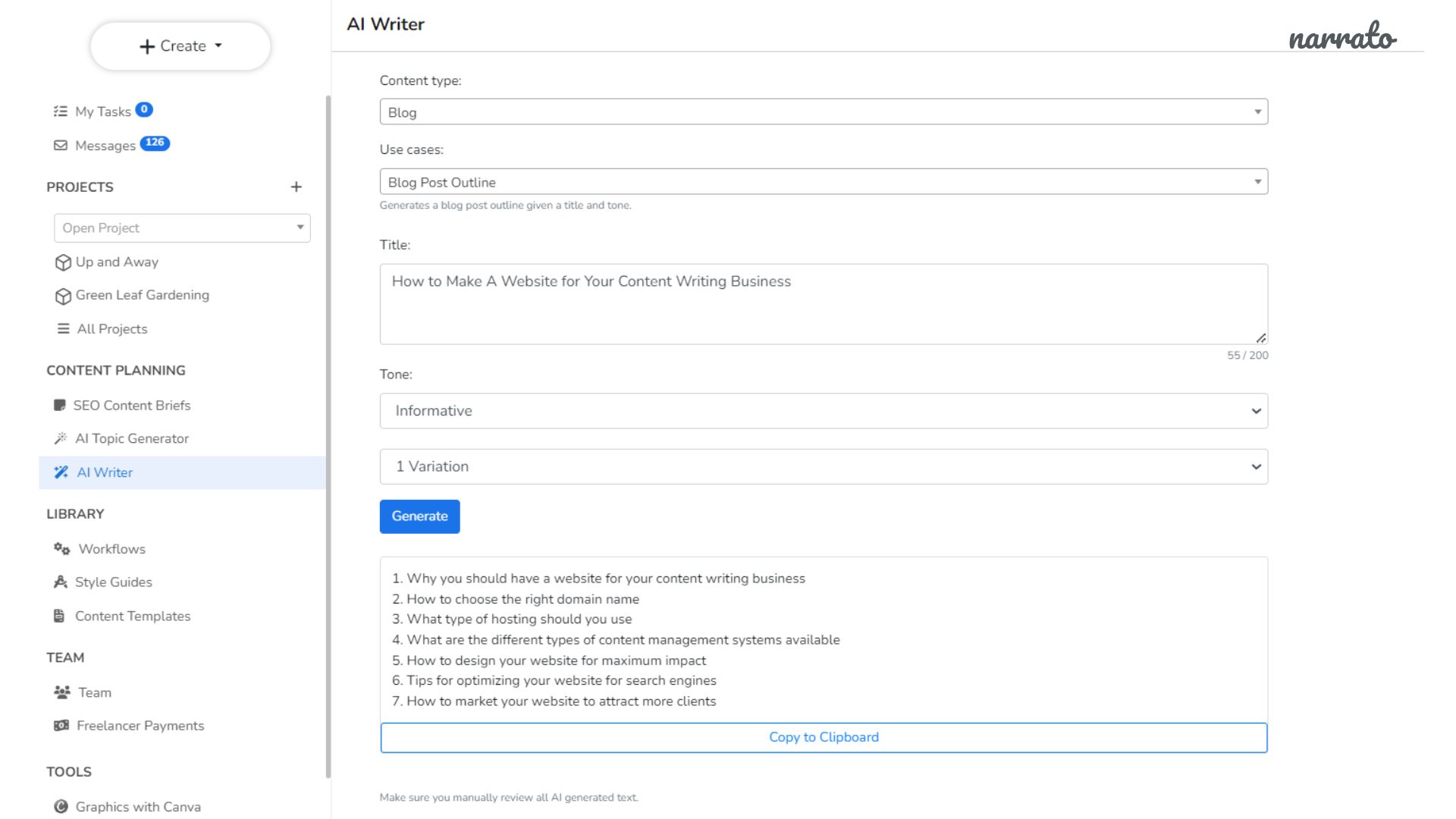 Narrato Workspace is an all-in-one AI-powered content creation and collaboration platform for managing all your content operations in one place. Narrato's powerful AI content assistant supports you with content workflow management, starting from idea generation to publishing. The AI writer on Narrato lets you generate content for multiple use cases that include blog post outlines, intros, and conclusions, web and ad copywriting, product descriptions, cold emails and email subject lines, video descriptions, SEO meta descriptions, and more. It also helps with paraphrasing and has other use cases like content improver, sentence expander, and 'Write for Me' to help you enhance your content.
The AI content assistant also offers a free grammar checker and readability checker that offers content improvement suggestions. There's also a plagiarism detection tool for ensuring your content's originality. Narrato also has an AI topic generator that suggests relevant topics for your target keyword or theme. The SEO content brief generator on the platform provides useful keyword suggestions, questions to include, competitor links, and other SEO parameters to optimize your content for search. There is an AI image tool as well, with which you can generate high-quality images from simple text inputs.
But that's not all that Narrato has to offer. The platform also has excellent team collaboration and workflow management features. Some of the key features of Narrato worth mentioning are –
AI writer and content assistant
Automated SEO content briefs
AI images and free image search tool
Custom workflows and workflow automation
Content calendars and Kanban boards
Custom user roles and access control
On-task messaging and commenting for smoother collaboration
Custom templates and style guides library
WordPress publishing support
Custom integrations with API and Zapier
Pricing: Even with all of these features on offer, Narrato pricing plans are extremely affordable. The platform has a free plan for beginners. The paid plans with advanced features start at just $9 per user per month, making it one of the most cost-effective Copy.ai alternatives on this list.
TL;DR Here's the complete list of Copy AI alternatives in a quick video for you.
2. Jasper.ai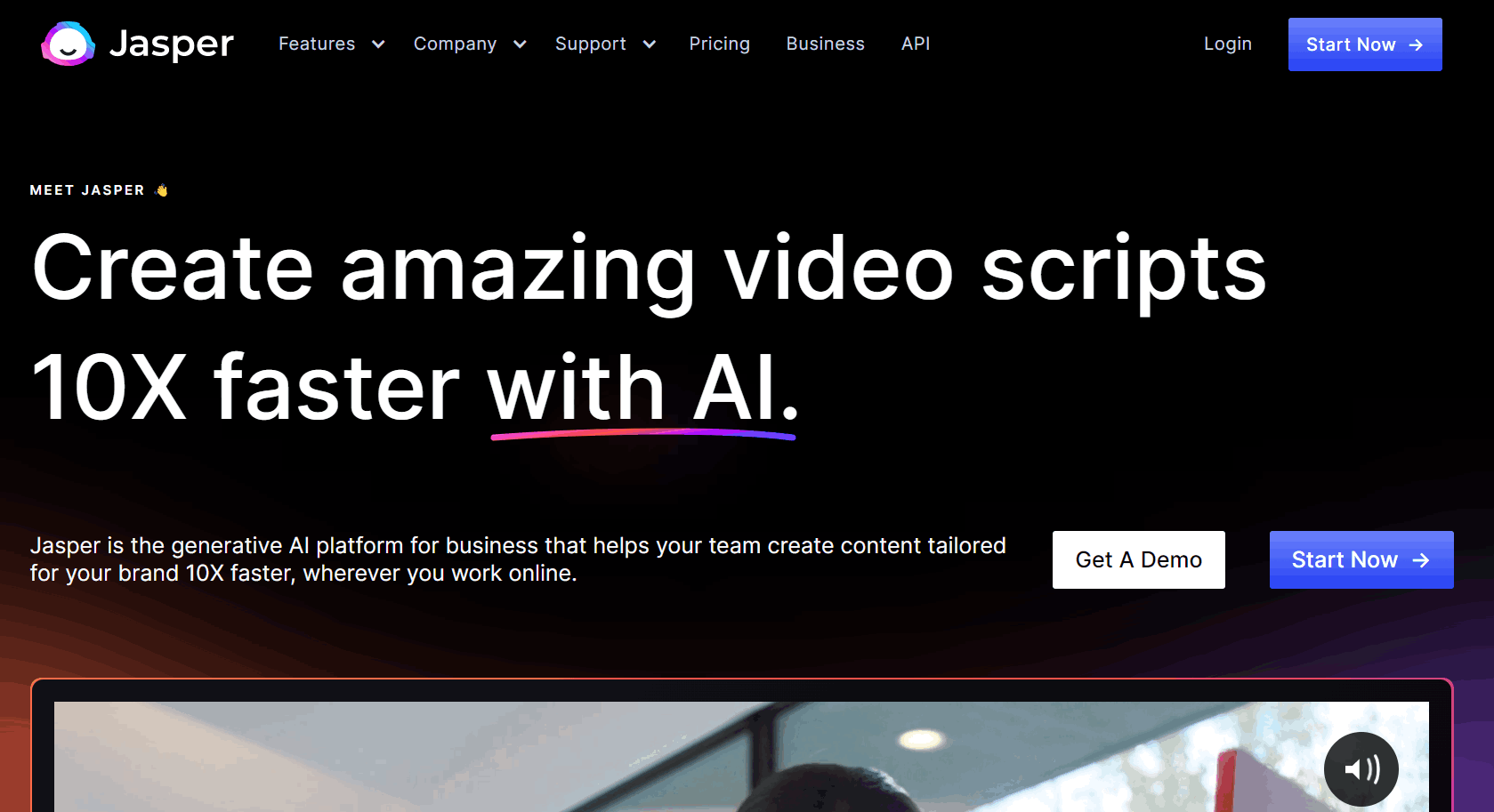 Jasper.ai is a popular Copy AI alternative that offers you nearly the same features. Upgrading to the Boss Mode on Japser lets you create long-form content faster with the AI writer generating 80% of the content and the remaining 20% added by you during proofreading and editing. It helps with creating articles, blog posts, social media posts, emails, and more.
Jasper does not have an SEO tool of its own, but it does have a Surfer SEO integration (to be bought separately) for keyword optimization and other search optimization needs. For content editing and quality improvement, again, Jasper does not offer any in-built content assistant or grammar checker tool but it has a Grammarly integration for the purpose. The platform also offers an AI art generation tool that creates images to go with your ad copy or blog posts.
Apart from these, some of the other key features of Jasper.ai include –
Interactive AI tool, Jasper chat, for quick content generation
Jasper Chrome extension
Jasper business features
Pricing: The standard pricing plan for the Boss Mode starts at $49 per month for 50,000 words. But Japser recommends a standard limit of 100,000 words per month which will cost you roughly $82 a month and can go up to $500 per month for an upper limit of 700,000 words. This makes it a more expensive Copy AI alternative.
For Businesses, there is an option to request a custom pricing plan too.
3. Wordsmith by Automated Insights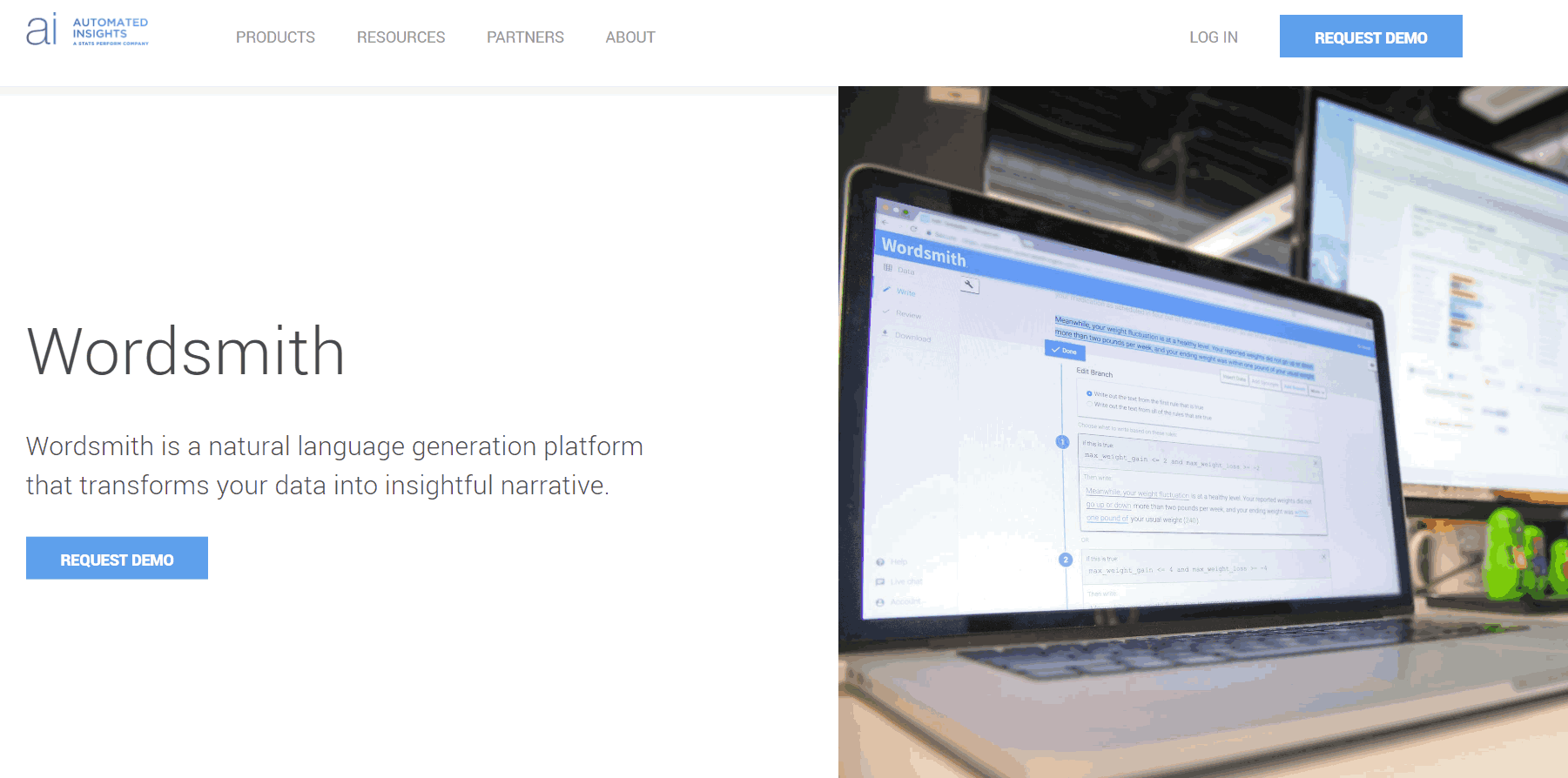 Wordsmith created by Automated Insights is a natural language generation platform that can transform data into a customized, insightful narrative. In other words, Wordsmith lets you present your business data in a more human-sounding, easy-to-infer format. The tool can convert structured data into a written narrative for customers and employees who may not be adept at reading data as it is.
On Wordsmith you can create a Template for a given data set and that template can then be used to create hundreds of narratives. Wordsmith can be used for generating detailed and compelling product descriptions, customized business analytics reports, hyper-local stories on data-driven topics like sports, politics, etc. for media publications. property listings and market reports for real estate businesses, and more.
Some of the key features of Wordsmith are –
Adding synonyms and suggestions for improvement
Branches for making decisions on what to write in the narrative for a data set
Custom logic rules for branches
Data tester for reviewing branch rules
Spell check
Variability guide for detecting similar text in your narrative helping you decide if you want some variation
Pricing: Wordsmith pricing plan is available on request. You can book a demo on the website itself.
4. Flowrite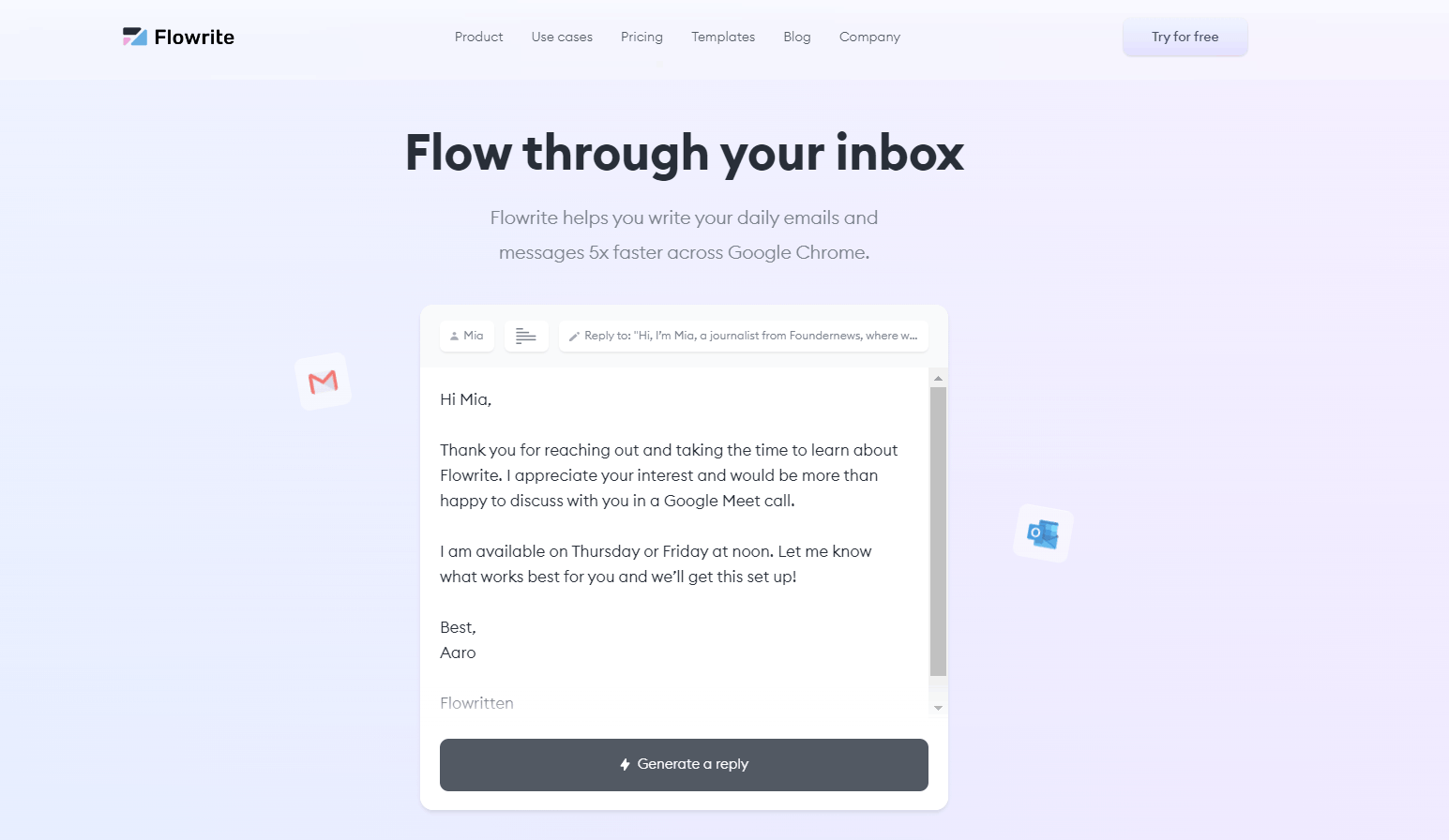 Flowrite is a Copy AI alternative for generating ready-to-send emails. This AI content tool is very simple to use. You can easily add some basic instructions describing what you want to say in your email and click on the Flowite button for the AI content generator to get started.
You can also personalize and customize your email by providing the details like email greeting, signature, your role, designation, company name, etc. You can define the recipient's role, the intention of your email, and the tone of voice to maintain as well.
Flowrite offers a huge collection of email templates that you can use as well, including marketing emails, customer service emails, sales emails, and more.
Different use cases of Flowrite include –
Leadership
Sales
Customer support
HR and recruiting
Marketing and communications
Investors
Pricing: Flowrite is priced at €15 per month billed monthly and €12 per month if billed annually.
5. Friday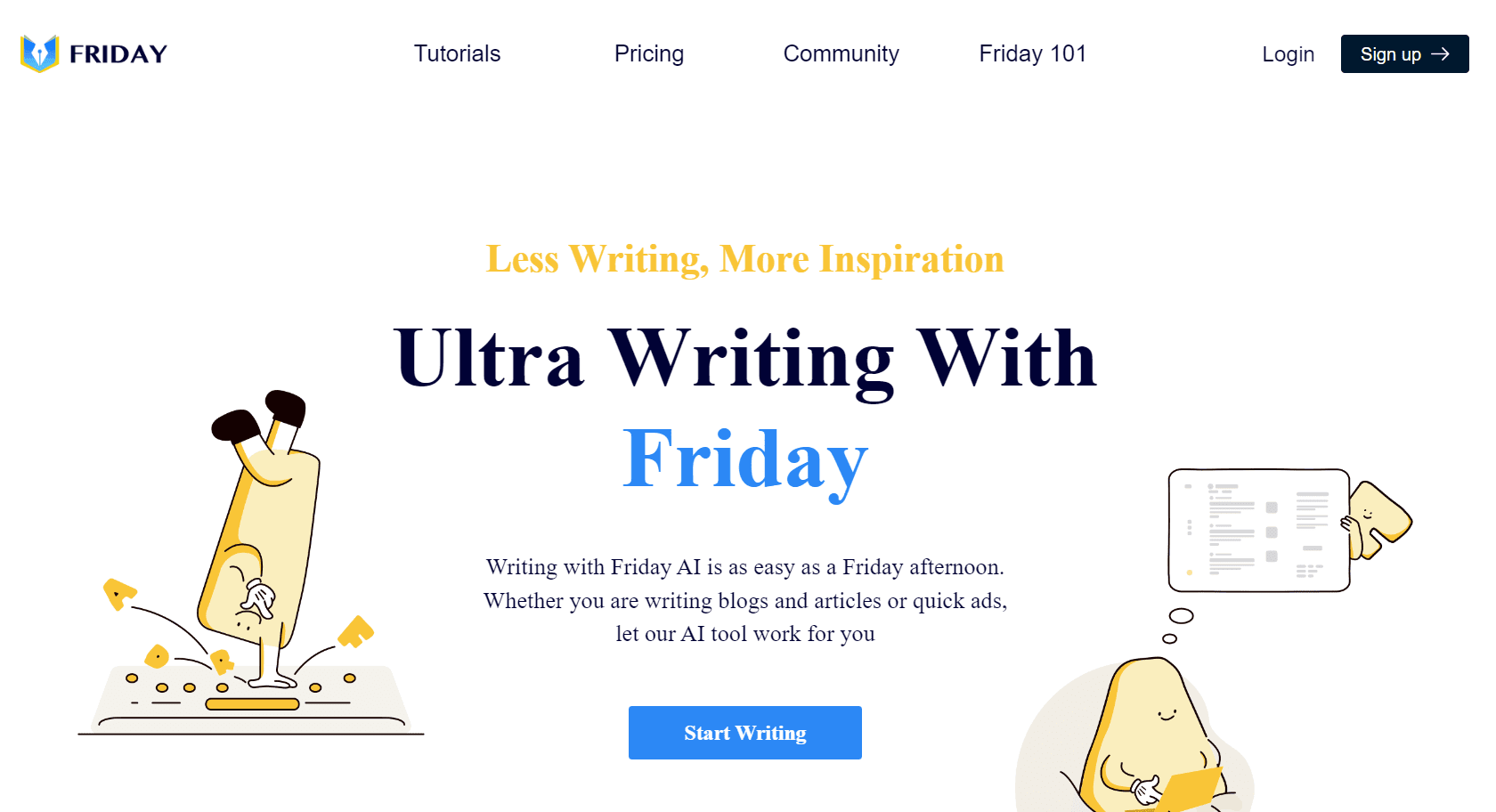 Friday is an AI writing tool that provides AI-generated content for your blogs, articles, ads, and more. The platform offers over 40 templates that you can choose from, ranging from creative stories to Instagram captions to blog section writing and others. You can pick the template you need, add details like tone and keywords to target, and let the AI-powered copywriting tool take care of the rest.
Friday also has other use cases like write more, rephrase, write a paragraph, and multioutput results to help you improve the AI-generated content or get more variations to suit your liking.
Some key features on Friday include –
Text rewriter
Article workflow
Magic command
Content length control
Tone setting
Pricing: Friday offers a free trial with just the basic features. The paid plans start at $19 per month or $189 per year.
6. Kafkai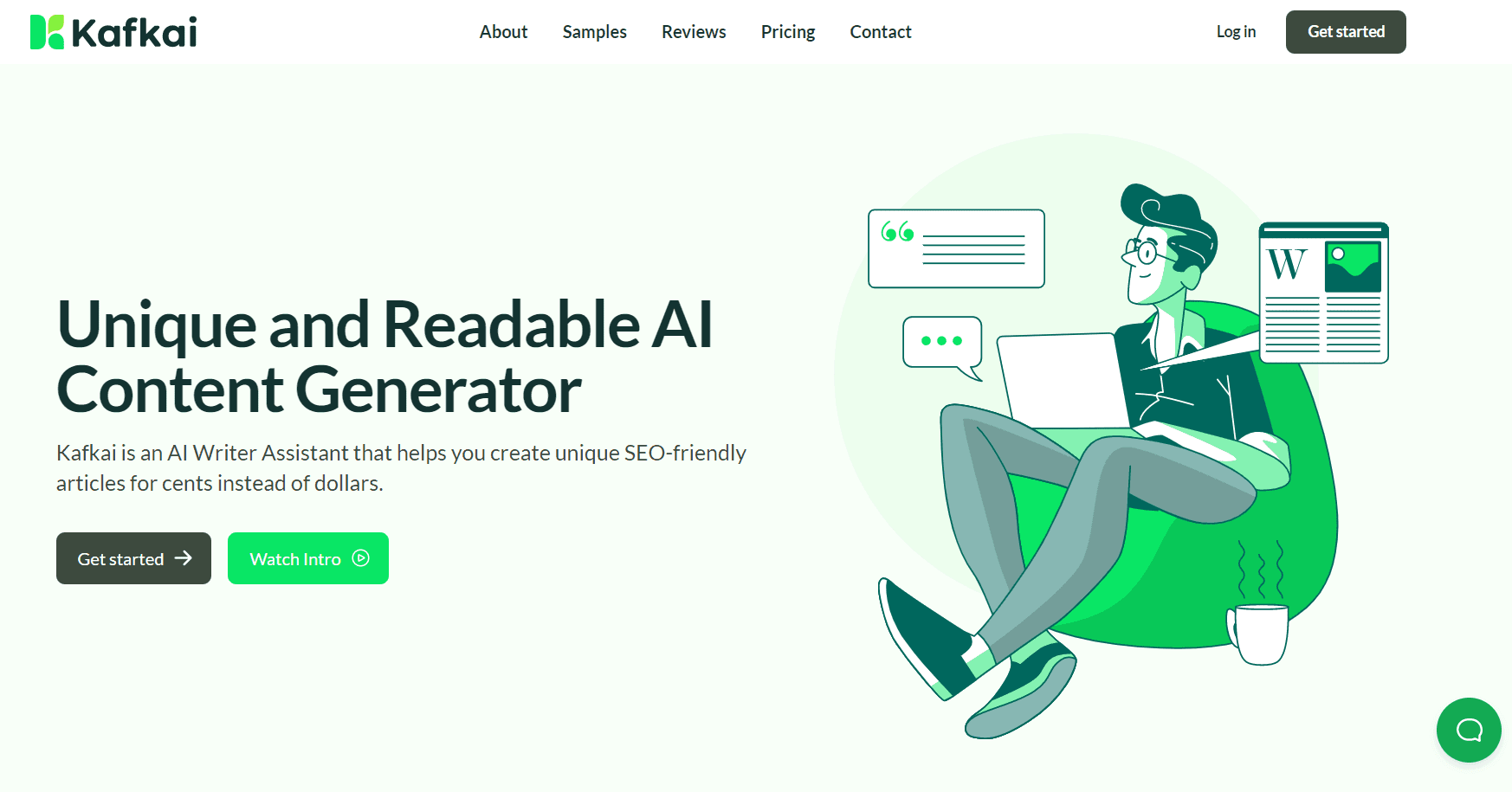 Kafkai is an AI content generator that helps you generate SEO-friendly content for articles, blog posts, web copy, sales copy, social media, and more. This Copy AI alternative saves you time on keyword research and helps overcome creative blocks by giving you a search-optimized first draft within minutes.
You can either choose a niche and let Kafkai write an article from scratch, or you could provide a seed paragraph for your topic and let the AI continue with the rest of the article. The seed paragraph is not used directly in the article but is taken as a reference.
However, if you do create entire articles with an AI-powered content generation tool, it is very important that you proofread it carefully. As far as possible, it is best to not use AI for generating entire articles from start to finish, but rather for sectional content and short-form content. Kafkai also acknowledges the fact that AI-generated articles on the platform still need editing.
Some key features of Kafkai are –
38 niches
7 languages
Keyword optimization
Pricing: The pricing plans on Kafkai start at $29 per month for 100 monthly articles and goes upward with the number of articles increasing.
7. Quillbot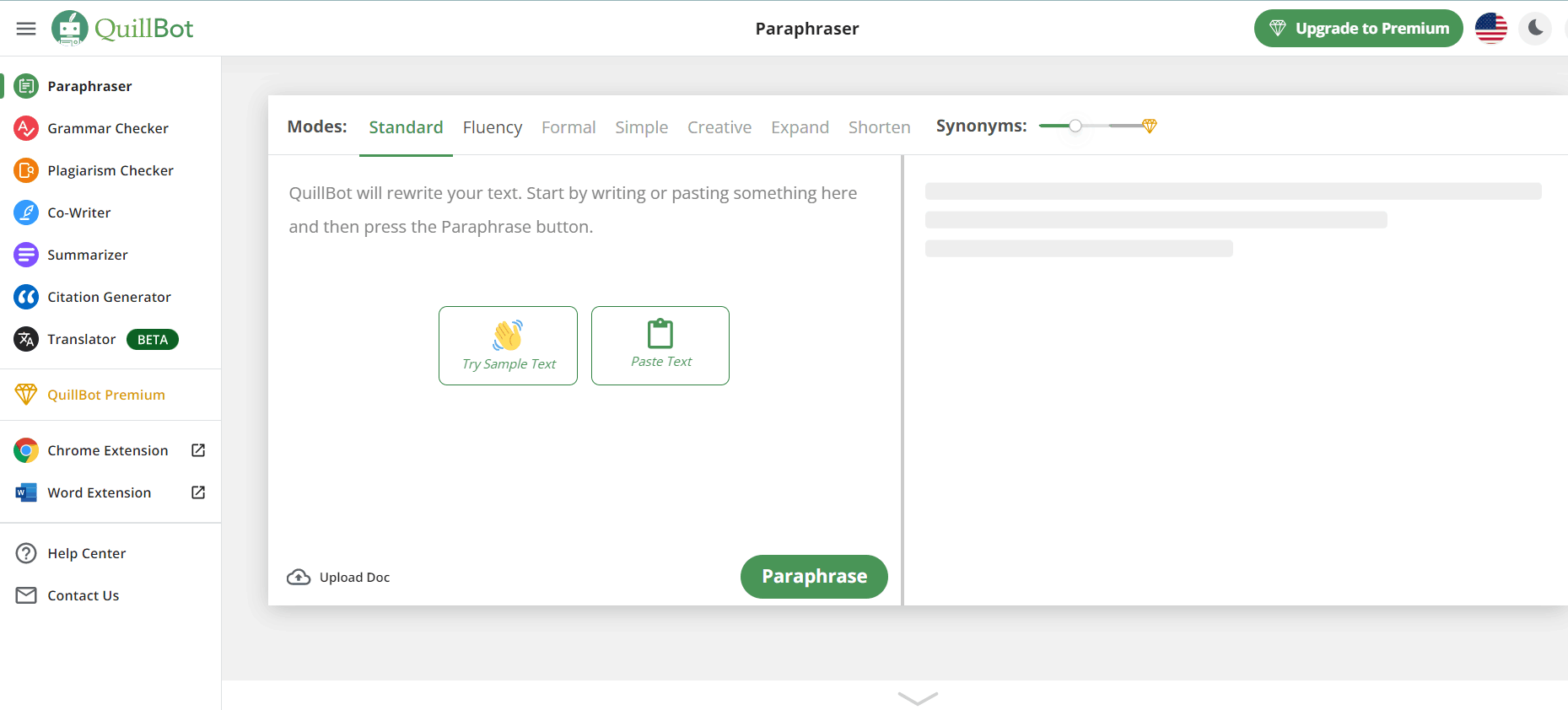 Quillbot is a multifaceted AI-powered paraphrasing tool that has more capabilities than just paraphrasing content. The tool was originally designed to rephrase your text for better fluency and more appropriate vocabulary, tone, and style. But over time, the platform has added more AI tools to its arsenal and now it can also help with content writing, summarizing, citations, and more.
With the paraphrasing tool, you can also customize how much vocabulary you want to change and use an AI-powered thesaurus to find synonyms. Quillbot has a Chrome extension and integrates with a host of other apps like MS Word, Gmail, Google Docs, Facebook, and LinkedIn. You can choose from seven paraphrasing modes.
Other key features of Quillbot include –
Grammar checker
Plagiarism check
Co-writer to research, write and enhance content
Summarizer
Citation generator
Translator (Beta)
Pricing: Quillbot has a free plan, where you can just sign up to get started. It also has a Premium plan that starts at $9.95 per month.
8. Lately.ai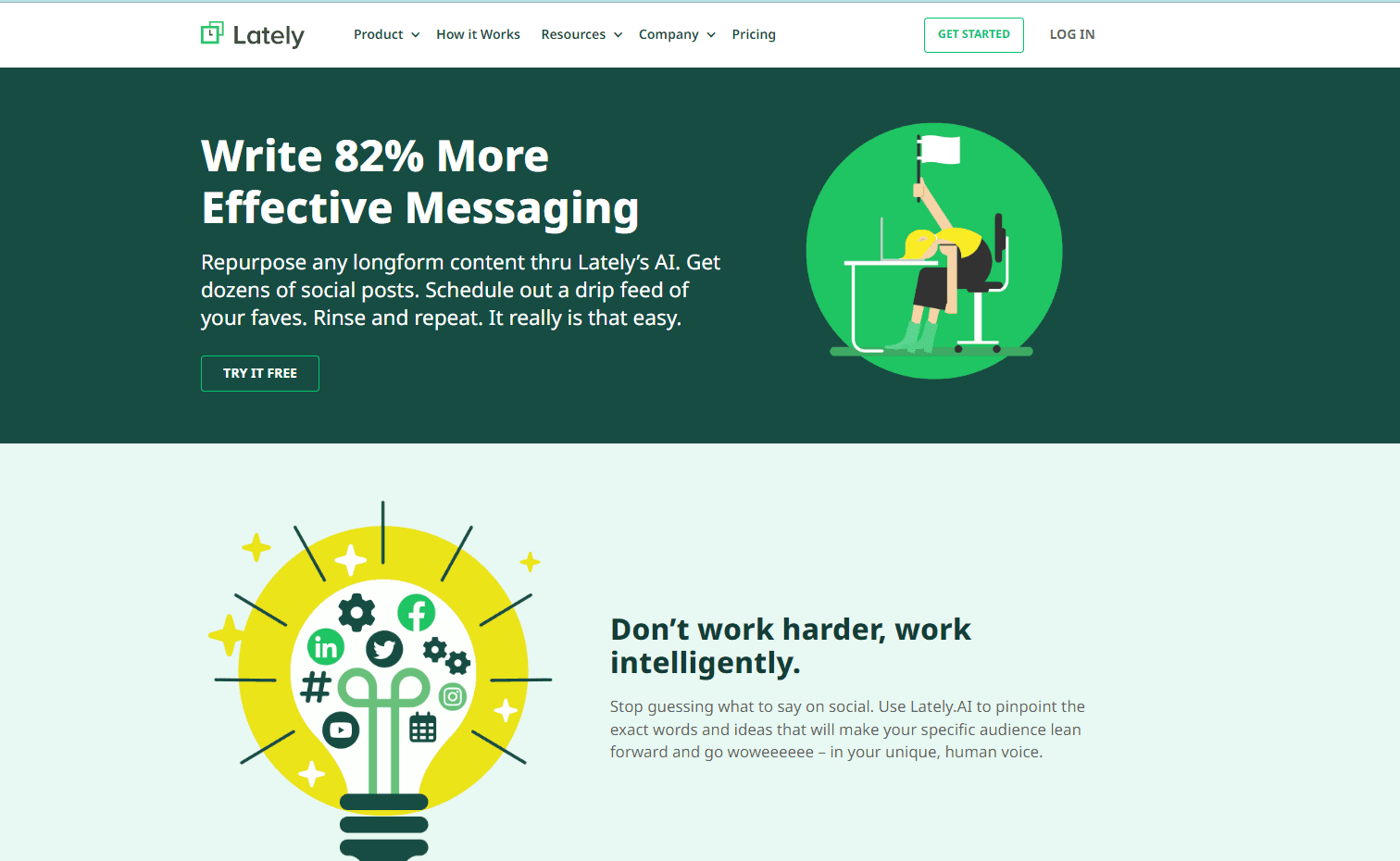 Lately is a Copy AI alternative that lets you repurpose your long-form content for social media. You can generate a host of social posts from your long articles and blogs, and schedule drip campaigns on social channels for their promotions. The AI content generation tool learns your brand voice and picks ideas, words, and phrases that are more likely to connect with your audience.
You can also repurpose long-form videos or audio into social media posts using Lately AI. The platform supports multiple languages, including English, Portuguese, Spanish, Japanese, German, and more.
Some of the key highlights of Lately are –
AI content writer
Social analytics
Social media marketing
Social selling
Video auto generator
Pricing: Lately pricing plans start at $29 per month. All paid plans have a 7-day free trial.

9. ArticleForge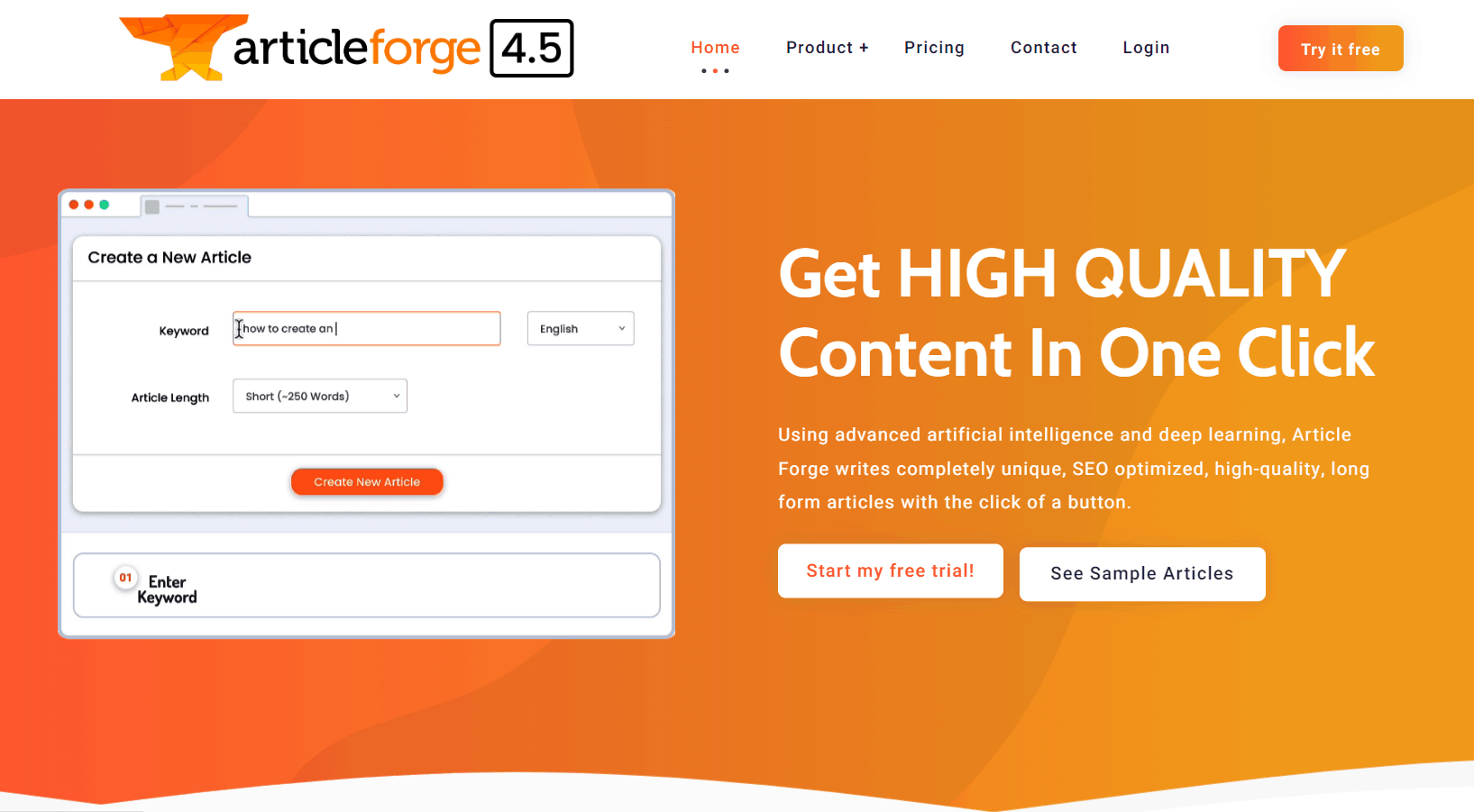 ArticleForge is an AI and deep learning powered tool that helps generate long-from content optimized for search. This is one of the few Copy.ai alternatives that claim to generate full-length articles automatically, complete with content research and content planning tools. ArticleForge can generate 1500+ words on a topic, that is unique and in context. However, as we always say, it is essential to exercise caution when using these AI article writing tools. Human oversight is always advised when generating content using AI writers.
ArticleForge also ensures search optimization using the same deep learning models to write content that Google uses to evaluate it.
Key features of ArticleForge include –
Ened-to-end article generation
Extend and improve articles
Real-time research on breaking topics
Bulk content creation
Pricing: ArticleForge offers a free 5-day trial and the paid plans start at $27 per month billed monthly or $13 per month, annually.
10. Hyperwrite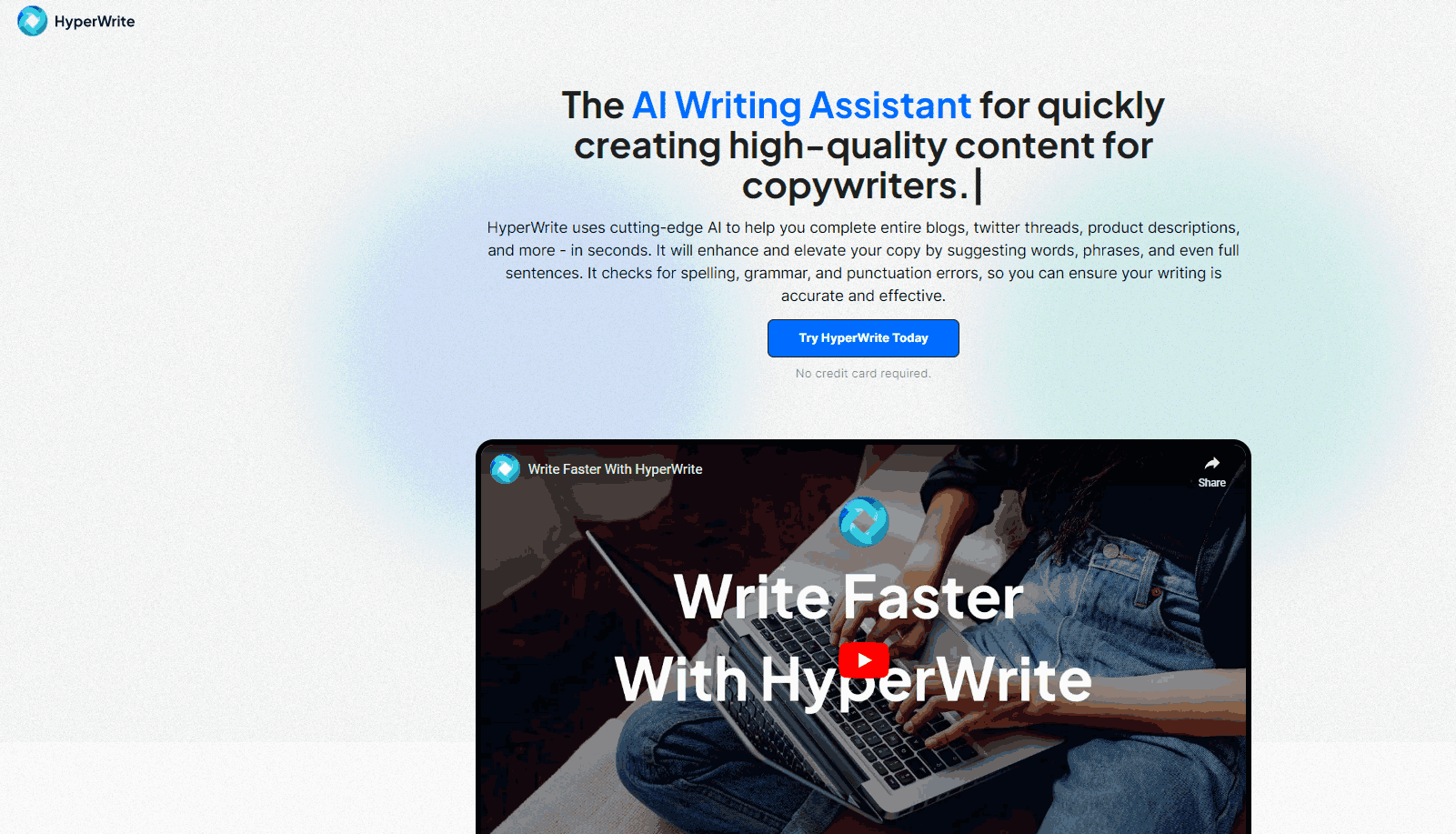 Hyperwrite is another Copy Ai alternative that lets you generate content for blogs, product descriptions, Twitter threads and more. The platform offers content optimization and copywriting tools that help elevate your content quality by suggesting words and sentences and also checking for grammar, punctuation, or spelling errors.
Hyperwrite can be used for generating high-quality web copy, emails, everyday communication, marketing content, social posts, and a lot more.
Key features of Hyperwrite include –
Blog posts generator
Rewrite content
Chatbot tool
Email generator
Spelling, grammar, and proofreading
Pricing: The free plan on Hyperwrite gives you a limit of 2,000 words and 15 rewrites per month. The paid plans start at $20 per month.
11. Paragraph AI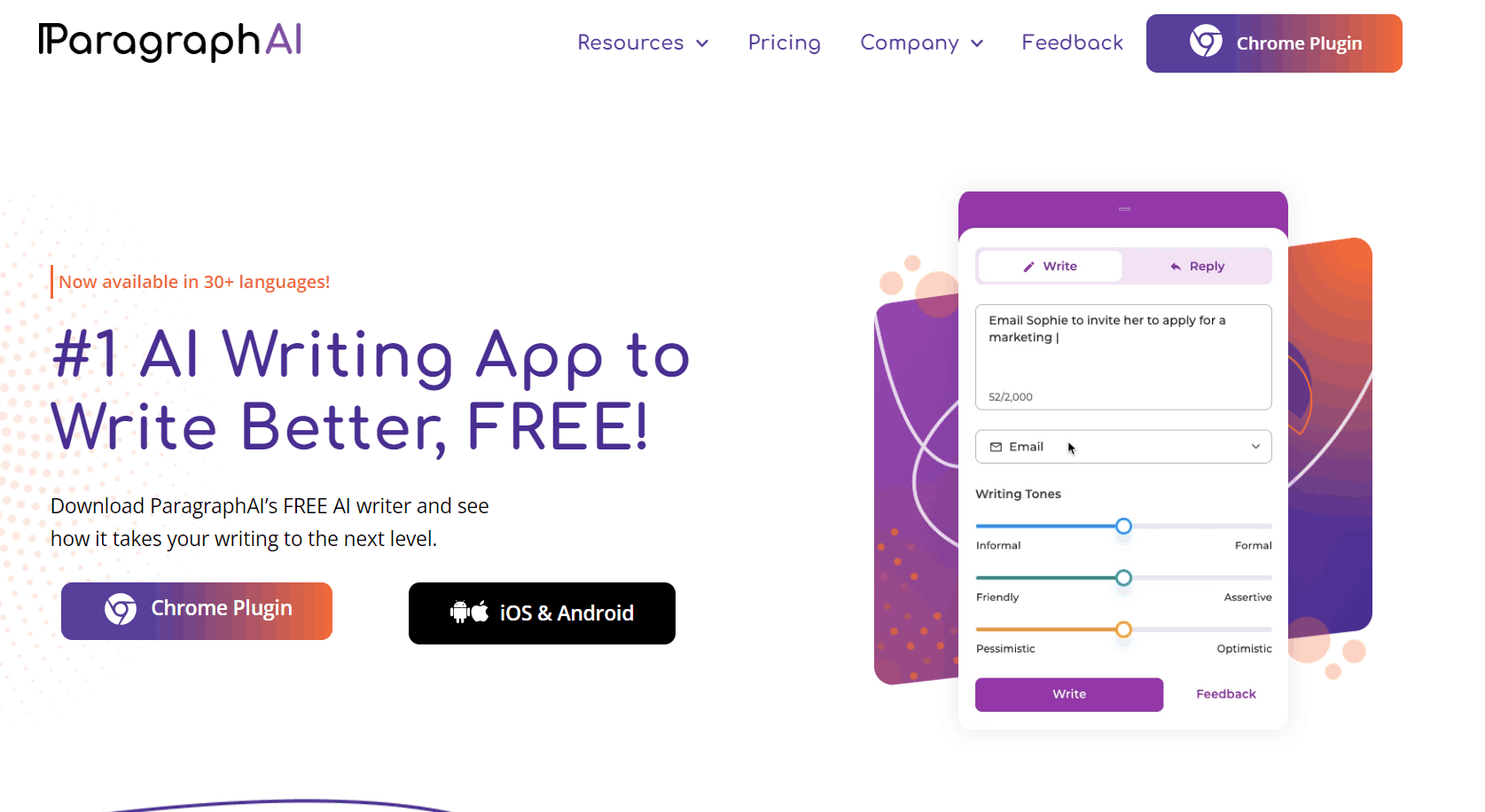 Paragraph AI is an AI writing tool that lets you generate high-quality content with excellent grammar, spelling, and vocabulary. It also generates 99.99% plagiarism-free content for your blogs, emails, reports, and more. We love the fact that it doesn't claim to generate 100% plagiarism-free content, which reiterates the fact that AI-generated content may sometime have inaccuracies and must be double-checked.
Paragrpah AI works in the desktop and mobile text fields so no matter what you are writing, you can also fall back on the plugin to enhance your content. This could be emails, messages, chats, blog posts, or anything else. You can also customize the tone and choose how formal, informal, friendly, assertive, etc. you want it to be.
Some key use cases of Paragraph AI include –
Smart copy for ads and websites
Social media posts
Emails
Product descriptions
Technical manuals
SEO-friendly content
Blog posts
Newsletters, etc.
Pricing: The free forever plan lets you write up to 5,000 words per day. You can also upgrade to a paid plan that starts at $19.99 per month for students and $24.99 per month for professionals.
12. Copysmith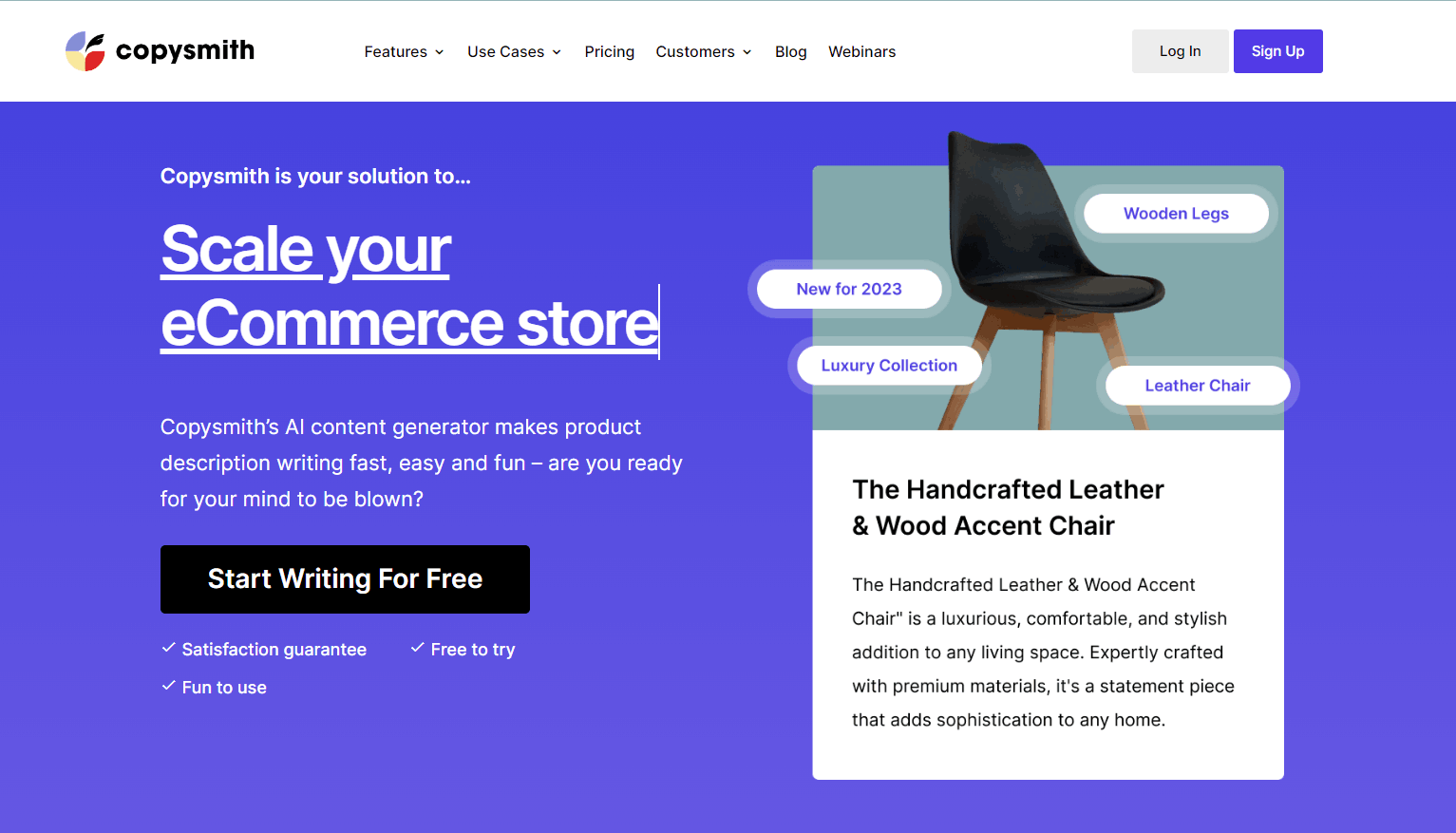 Copysmith is one of the more unique Copy.ai alternatives that specializes in AI-generated product descriptions. This tool lets you generate SEO-focused product descriptions. The product description generator automatically matches the prerequisites of popular e-commerce sites like Amazon, eBay, Etsy, and others.
The platform also has a content rewrite that helps you refresh old content for better search performance. Apart from product descriptions, you can also generate meta tags, email subject lines, and social media posts at scale using Copysmith. The platform also has real-time team collaboration features and an API to integrate with your existing tool stack.
Key features of Copysmith are –
AI image generator
Chrome extension
API
Bulk content generation
Campaign builder
Pricing: Paid plans on Copysmith start at $19 per month.
13. Anyword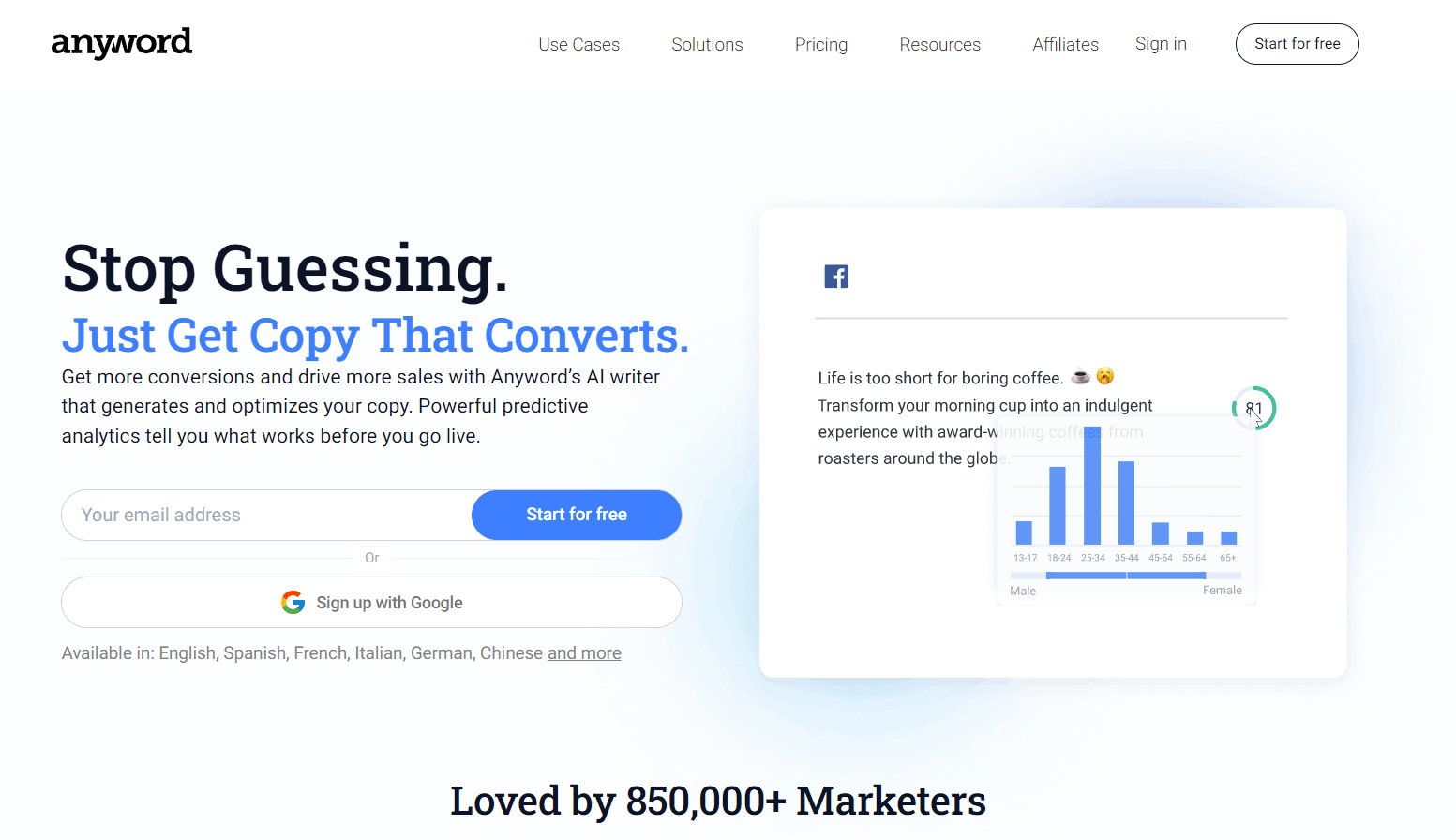 Anyword is an AI copywriting tool that helps you generate marketing copy faster. You can generate high-quality copy, personalized to different audiences. You can also generate multiple variations of copy and test different messaging styles for different channels to predict how they will perform.
Use cases of Anyword copywriting tools include ad copy, email copy, blog posts, social posts and meta descriptions.
Key features on Anyword include –
Original text suggestions
Text personalization
Performance prediction and predictive score
Custom keywords
Keyword library
Pricing: Anyword pricing plans start at $29 per month or $24 per month if billed annually.
14. ClosersCopy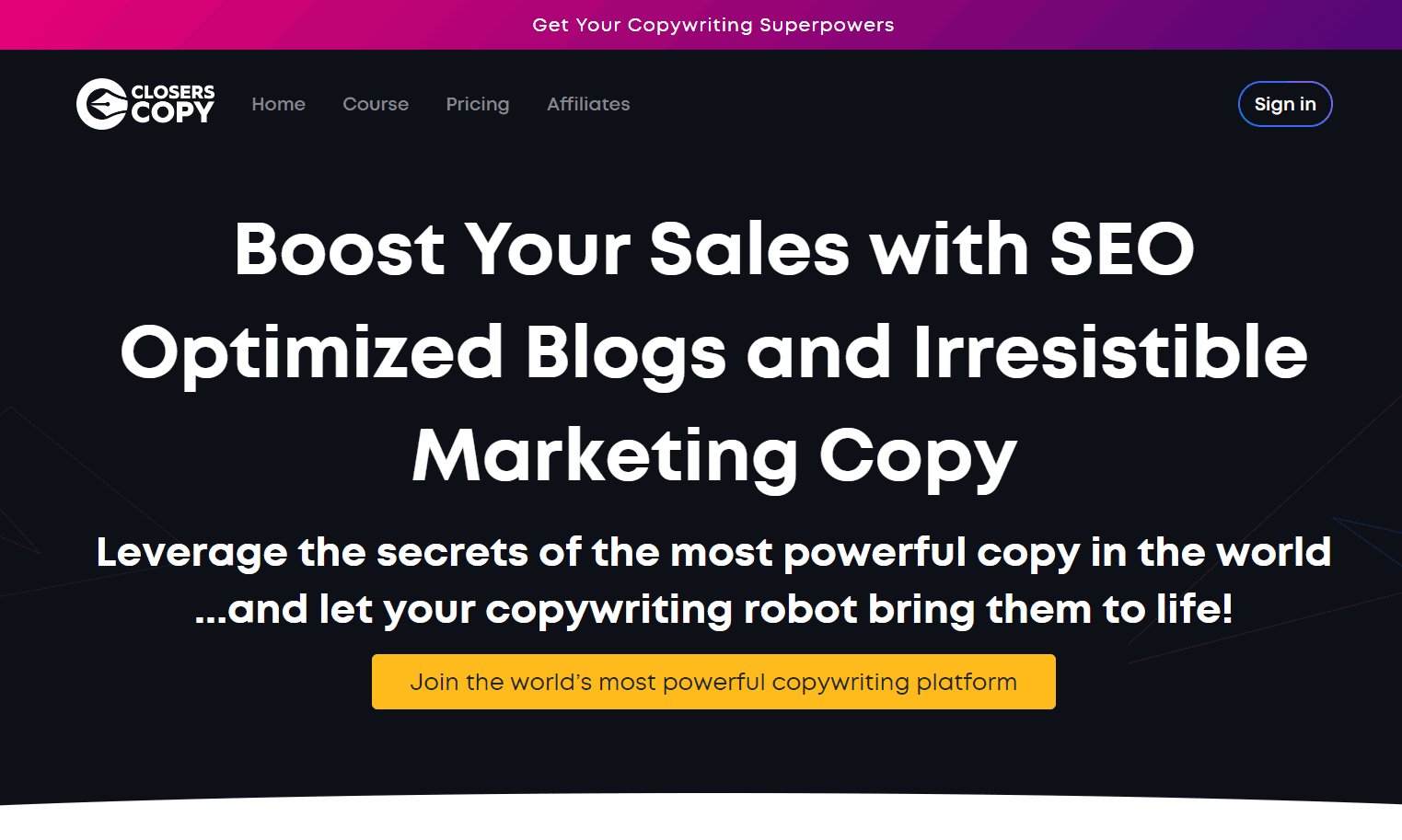 ClosersCopy is also an AI copywriting tool that lets you generate SEO-friendly blog posts and marketing copy. You can generate content for your sales pages, ads, and email campaigns. The company gives you a 14-day trial and if you're not happy with the way the tool performs, they offer you a full refund.
Key features on ClosersCopy include –
SEO audit
SEO planner
Long-form content
Frameworks
Insights
Email support
Pricing: ClosersCopy paid plans start at $49.99 per month.
15. Writer.com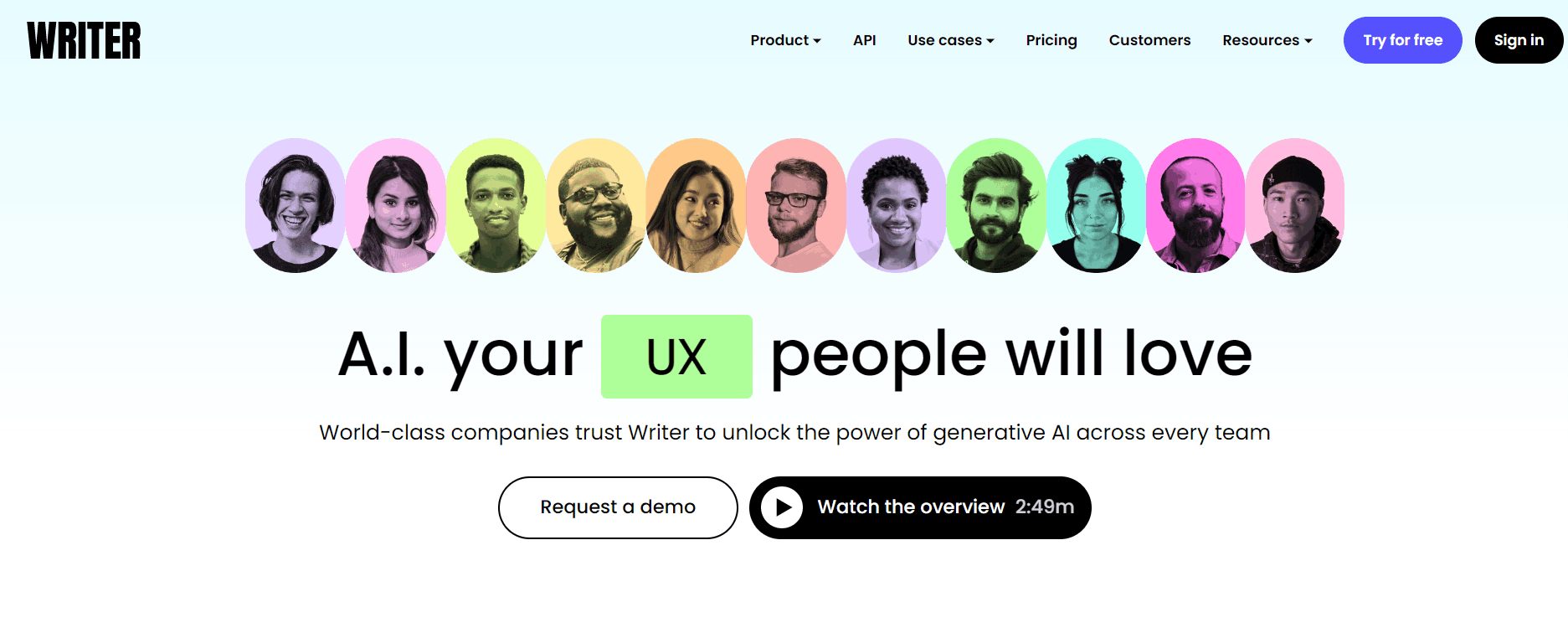 Writer is a generative AI tool that helps multiple teams in your business. Writer is trained on your brand to match your voice, style guide, key terms, and messaging. The tool can also generate content with inputs in the form of text, videos, audio, PDFs, spreadsheets, and databases.
Writer also ensures data privacy and security so that your enterprise data is kept safe. Writer caters to all your content needs in content marketing, demand generation, product marketing, brand marketing, and content design.
Key features of Writer include –
Styleguide
Terms
Snippets
Cowrite
Reporting and analytics
Pricing: Writer paid plans start at $18 per user per month
16. Writesonic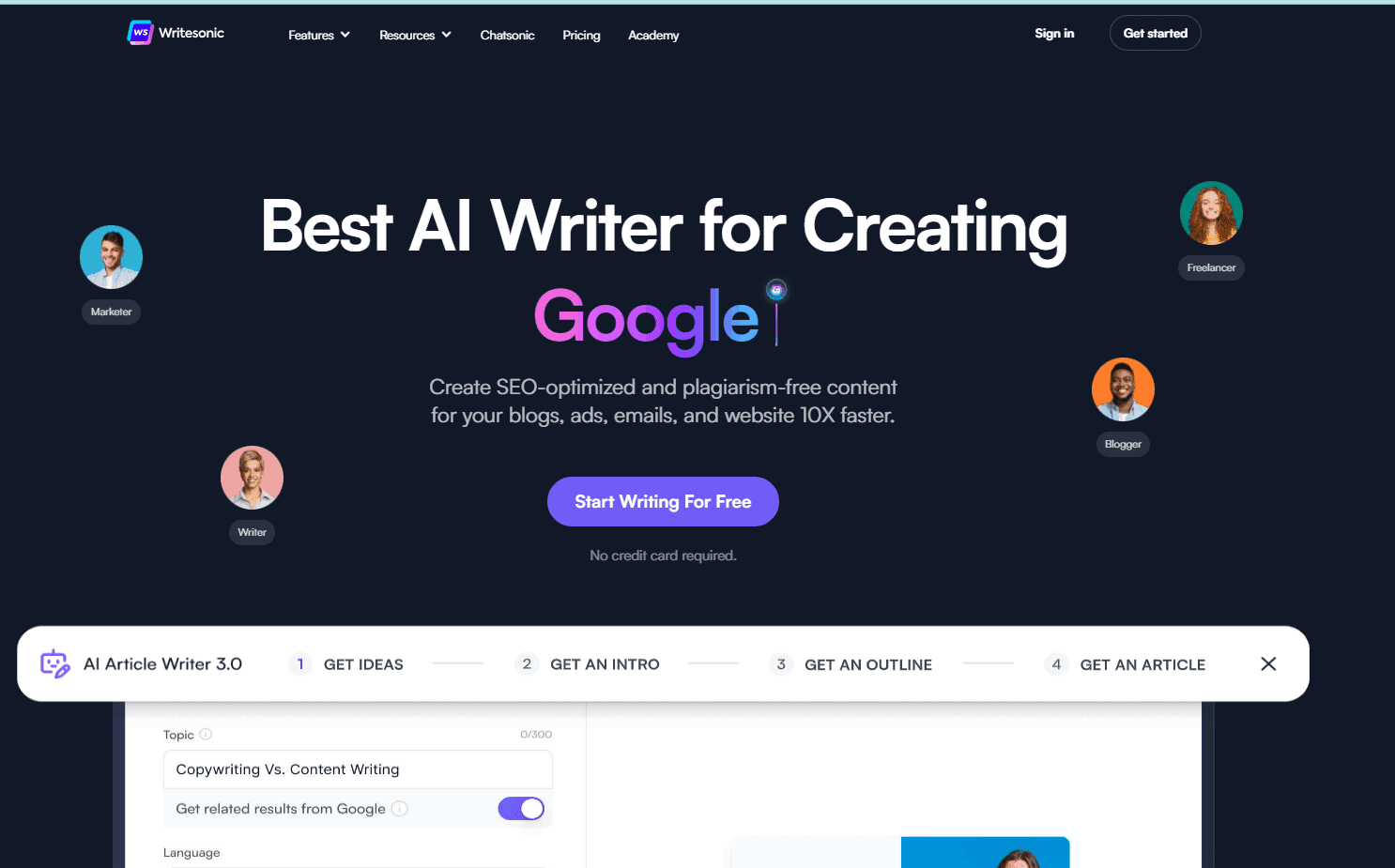 Writesonic is undoubtedly one of the most popular Copy.ai alternatives and a rather popular AI writing tool in itself. Writesonic helps create SEO-focused, plagiarism-free content for your blogs, website, ads, and emails. The platform primarily caters to writers, marketing teams, entrepreneurs, and e-commerce stores. You can generate long-form blogs and articles and even e-books with this AI writer. Marketing teams can use it to generate highly-targeted content for landing pages and ads.
The user-friendly platform requires you to simply describe your topic in as few as 5 words, specify target keywords and your language, and generate content. There are AI-powered editing tools as well that can speed up content editing and publishing.
Some of the notable features of Writesonic are –
AI article and blog writer
AI article outlines
Content rephrase
Sonic editor
Sentence expander
SEO metatags
Pricing: Writesonic offers a free trial but the paid plans start at $19 per month or $12.67 per month billed annually.
17. Nichess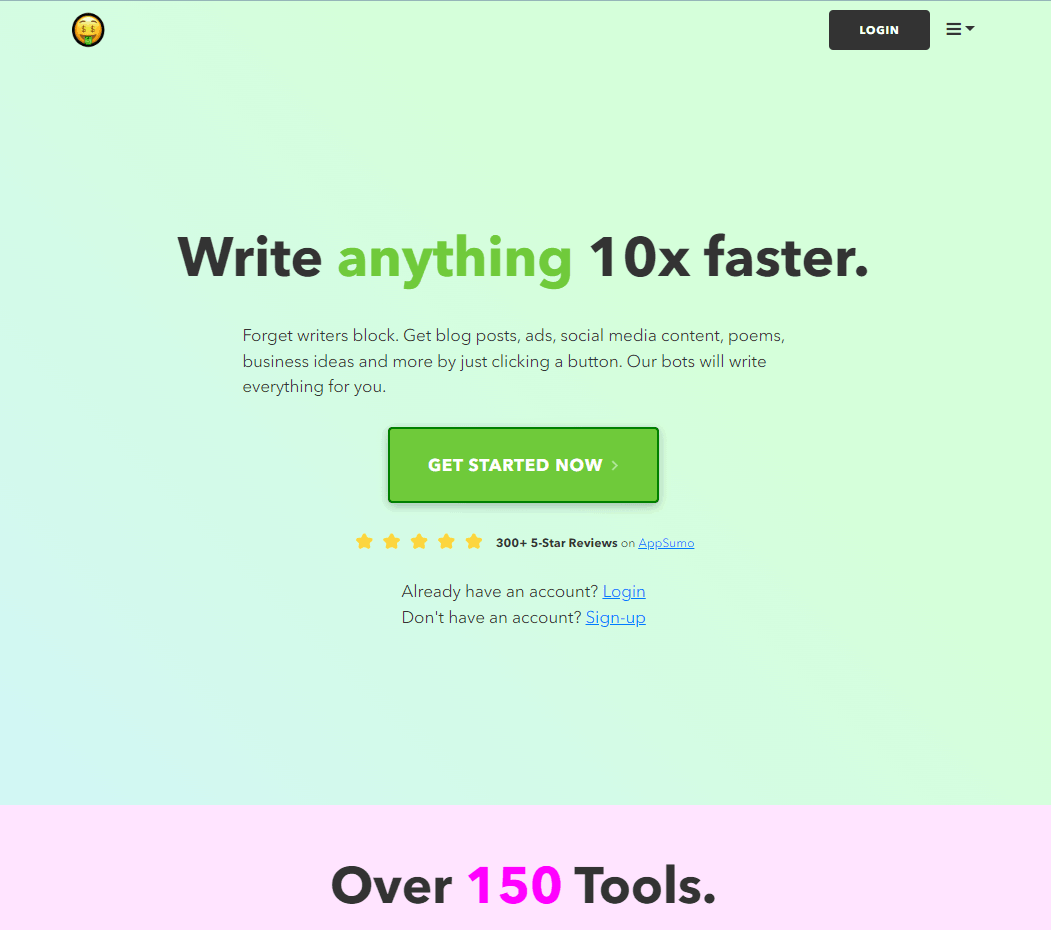 Nichess is one of the lesser-known AI writing tools, but still a deserving contender on this list of Copy.ai alternatives. Nichess helps with generating blog posts, ads, social media content, business ideas, and even poems. The platform has over 150 tools. You can generate long-form content of 500 words or more in a matter of seconds with the superfast AI content generator.
Some of the noteworthy tools for marketers on Nichess include –
Active to passive voice converter
AI story
Analogy
AppSumo style app description
Blog listicle items
Book ideas
Book title
AI images
Pricing: Nichess pricing plans start from $19/month.
Wrapping up
Copy AI might be a great AI content generator tool. But like most AI tools, it lacks in some aspects and can be slightly expensive for small businesses or individual writers. If you're looking for something with more features, different capabilities, or a more affordable option, then these 17 Copy AI alternatives are definitely worth checking out. Most of these would be easier on the pocket too. Let us know which Copy.ai alternative you liked most.