If design is the body, content is the soul of a website. Content plays a crucial role in converting leads into customers and making a website SEO friendly. For web design and web development agencies, a major challenge often ends up being gathering content from clients or copywriters to add to the website. This leads to project delays, time-consuming follow ups, and numerous 'back and forth'.
Narrato makes gathering content for websites easy for web development and web design agencies. Here's how.
How Narrato helps web design agencies collaborate with clients/ copywriters?
1. Create a project
Under the Projects tab, click and create a "New Project". Or you can do this by clicking on "Create" button in left menu.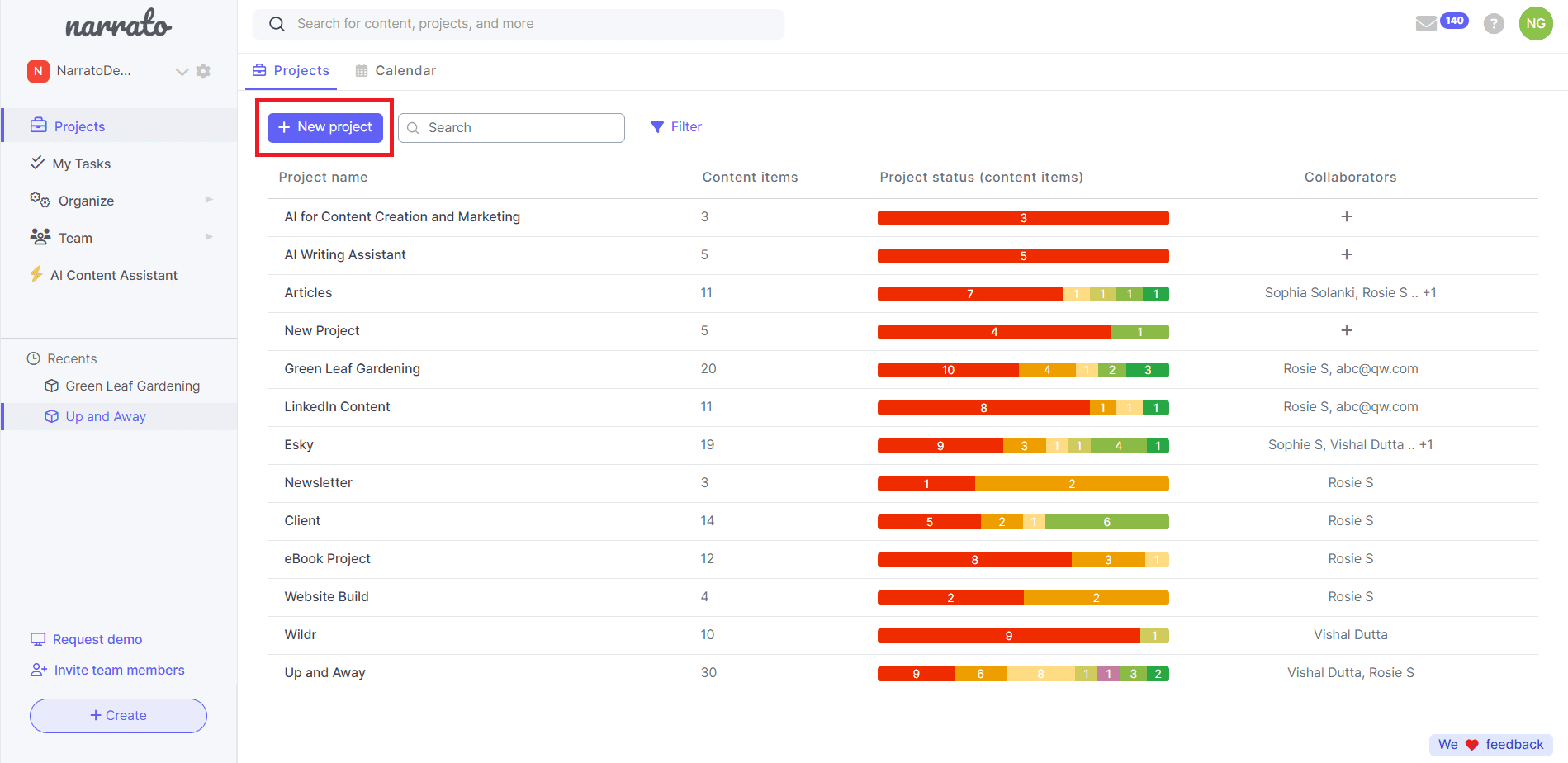 2. Create content items for all pages
The next step is to create content tasks (or content items as we call them) for every page on the website. You can even organize your pages in folders if it's a large website project.
To create content items, go to the Content tab under the Project. Click on '+New' > 'Content'.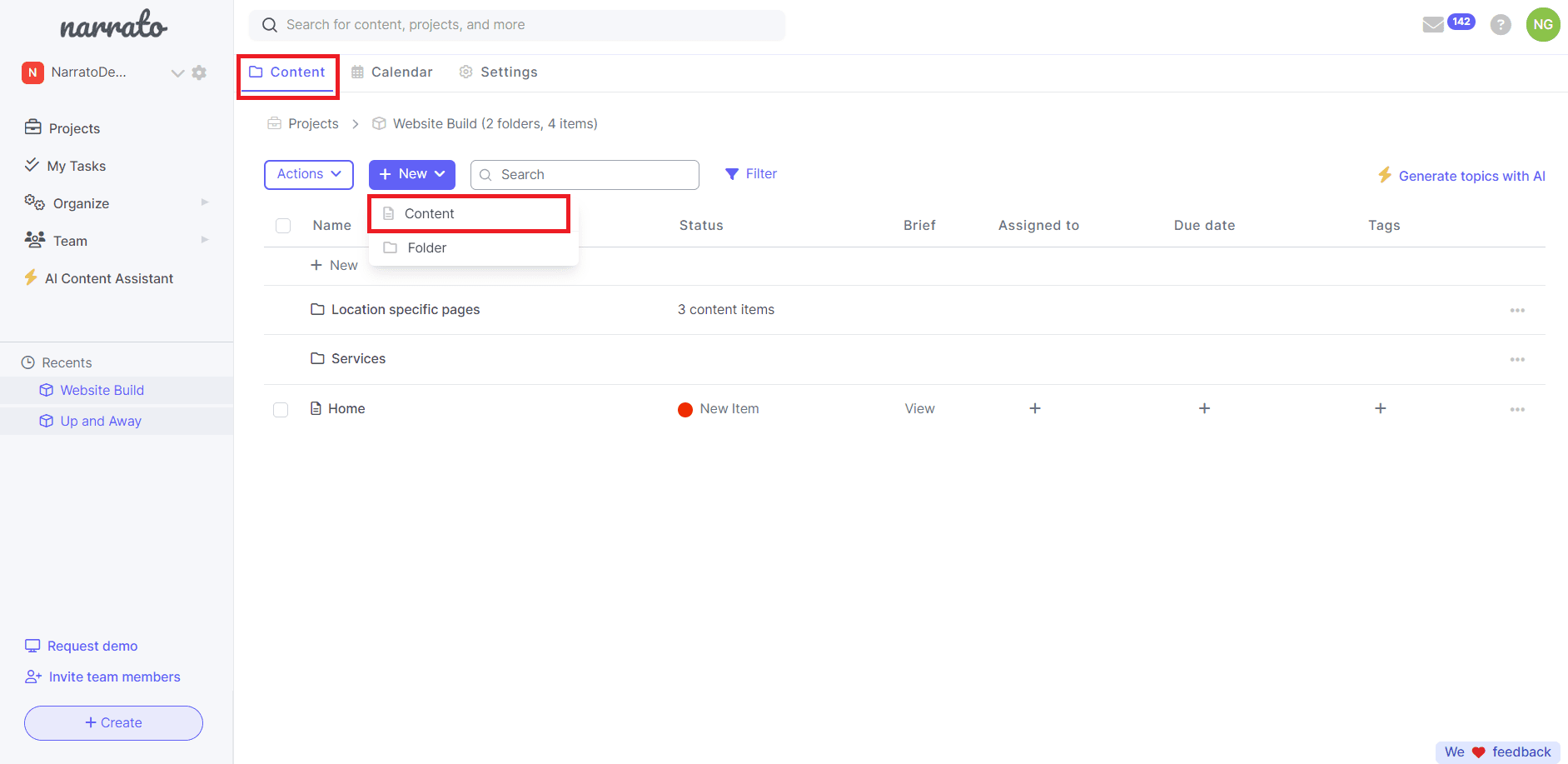 You can add multiple pages together. You can also copy or import multiple tasks from a list.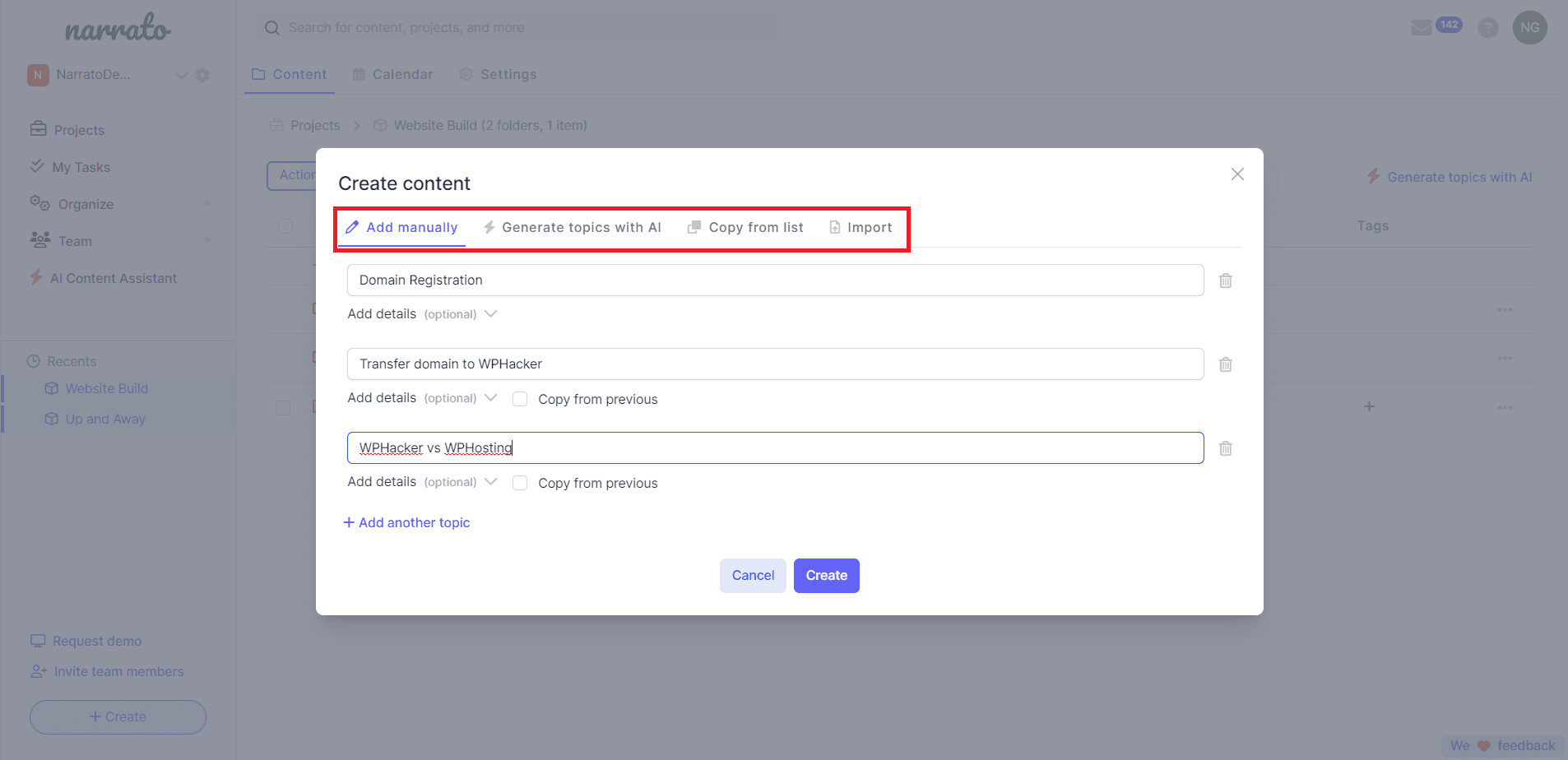 3. Create templates for each website page and apply templates on corresponding content items
To ensure that content creators stick to the structure and format of content for each page on the website, you can use the Templates feature on Workspace. Create a new template for each web page.
To create the templates, go to the Templates tab under the 'Organize' drop-down.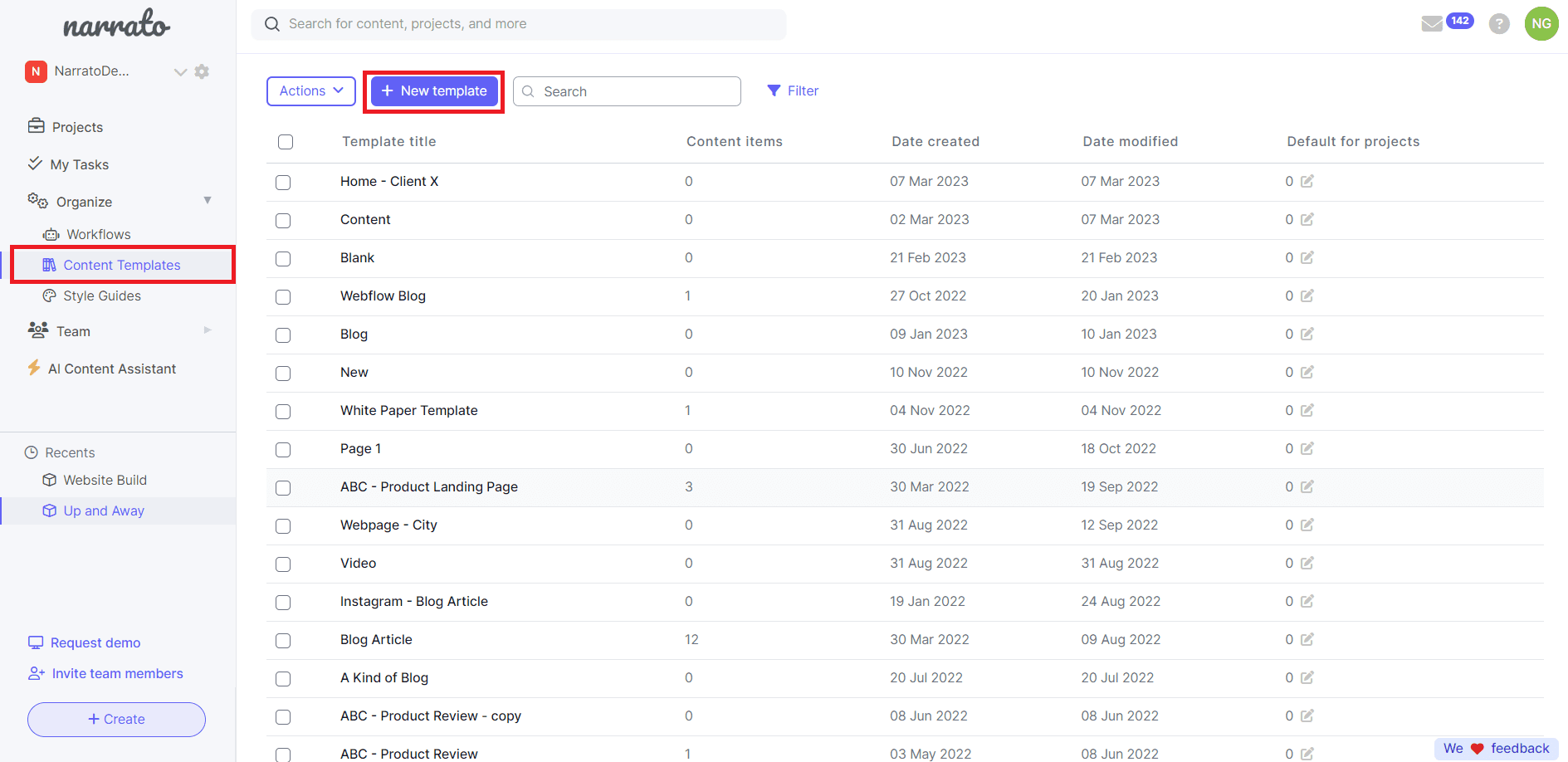 Click on 'New Template' and create a template for each page. Some already created templates are available for inspiration here.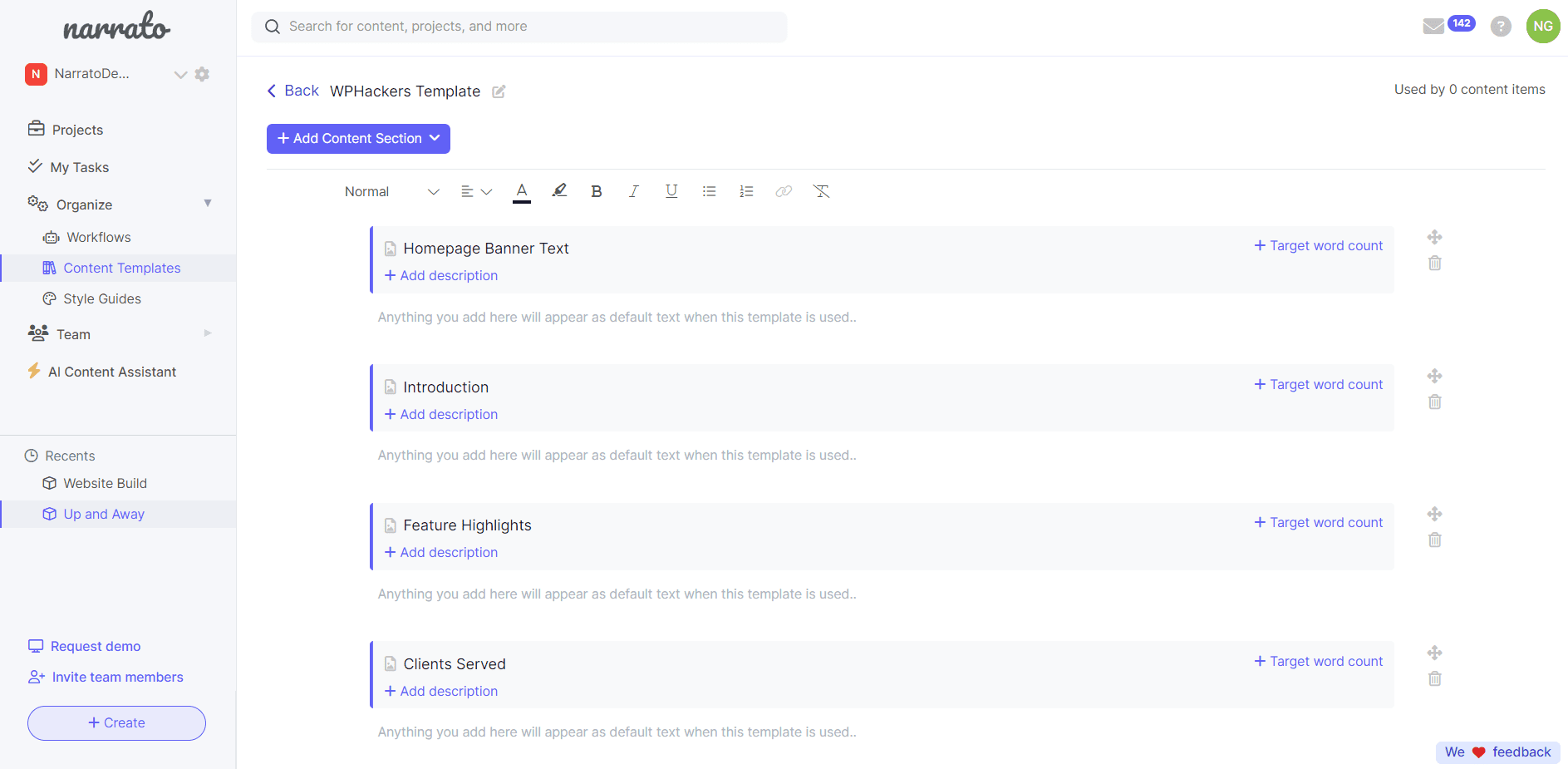 Once templates are created, you can apply them to the respective pages on the "Content" tab. You can do this using the Actions button or from the content page. Check out this explainer video on Narrato templates.


4. Invite the client or copywriter (or team) to join your Workspace
Invite the clients or copywriters from the Team tab.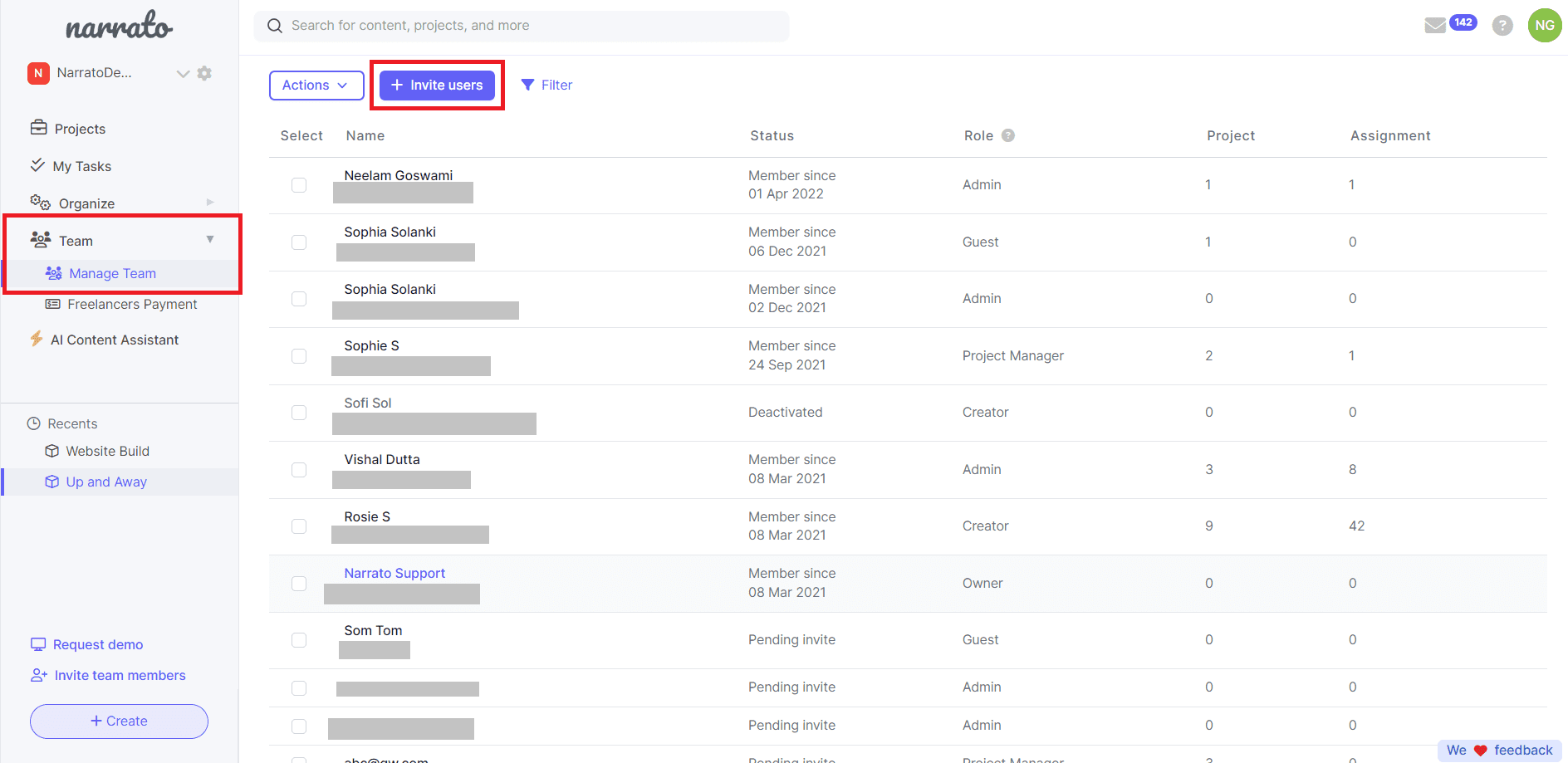 5. Assign the pages to your clients or copywriters to collect webpage content
Now you are all set up to gather content for your website project. Simply assign the pages from the Content tab to your client or copywriter to gather content and bring the website to life.
You can assign multiple pages together from the Actions dropdown.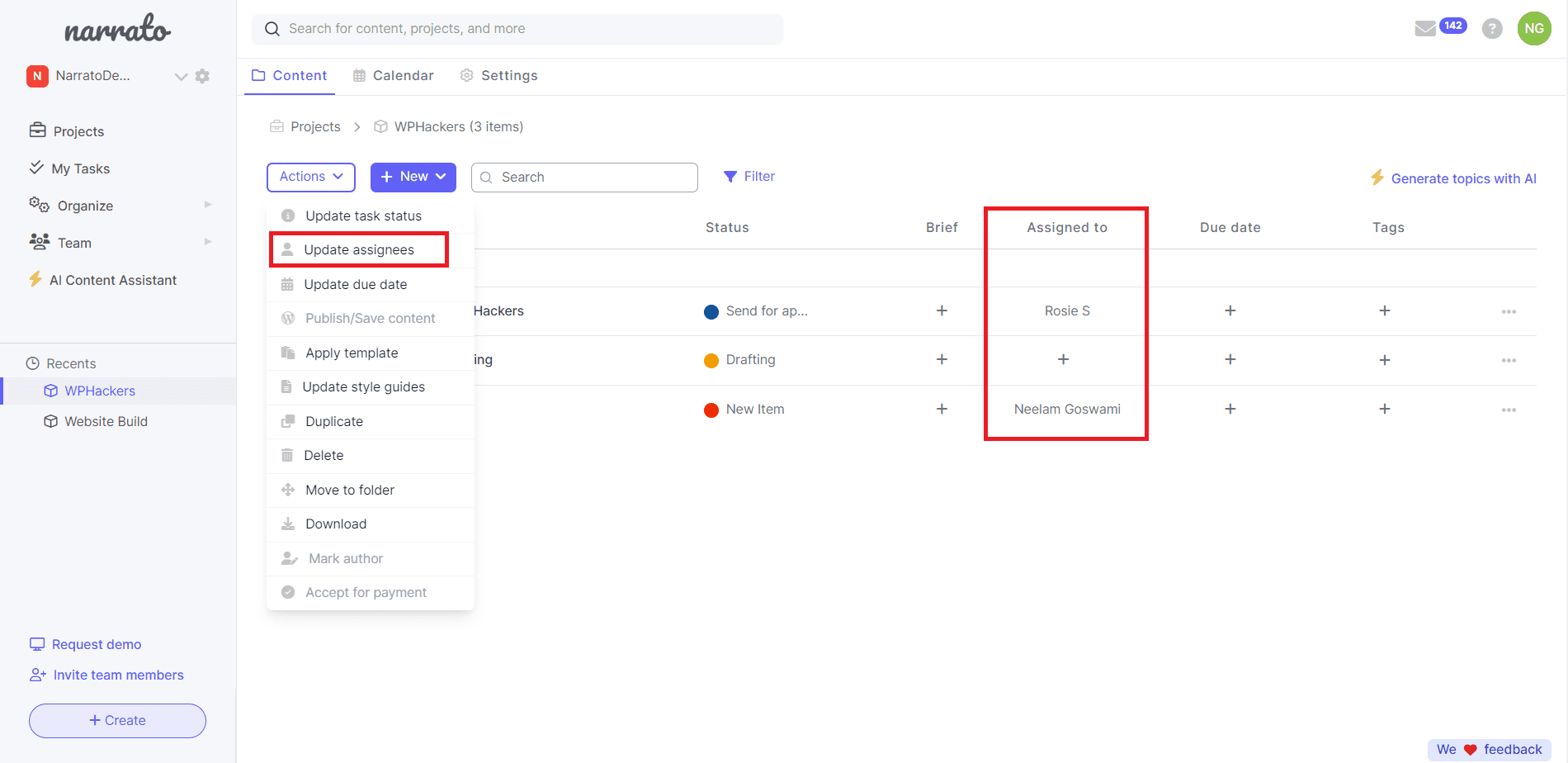 You can even assign a content task to more than one person on your Workspace.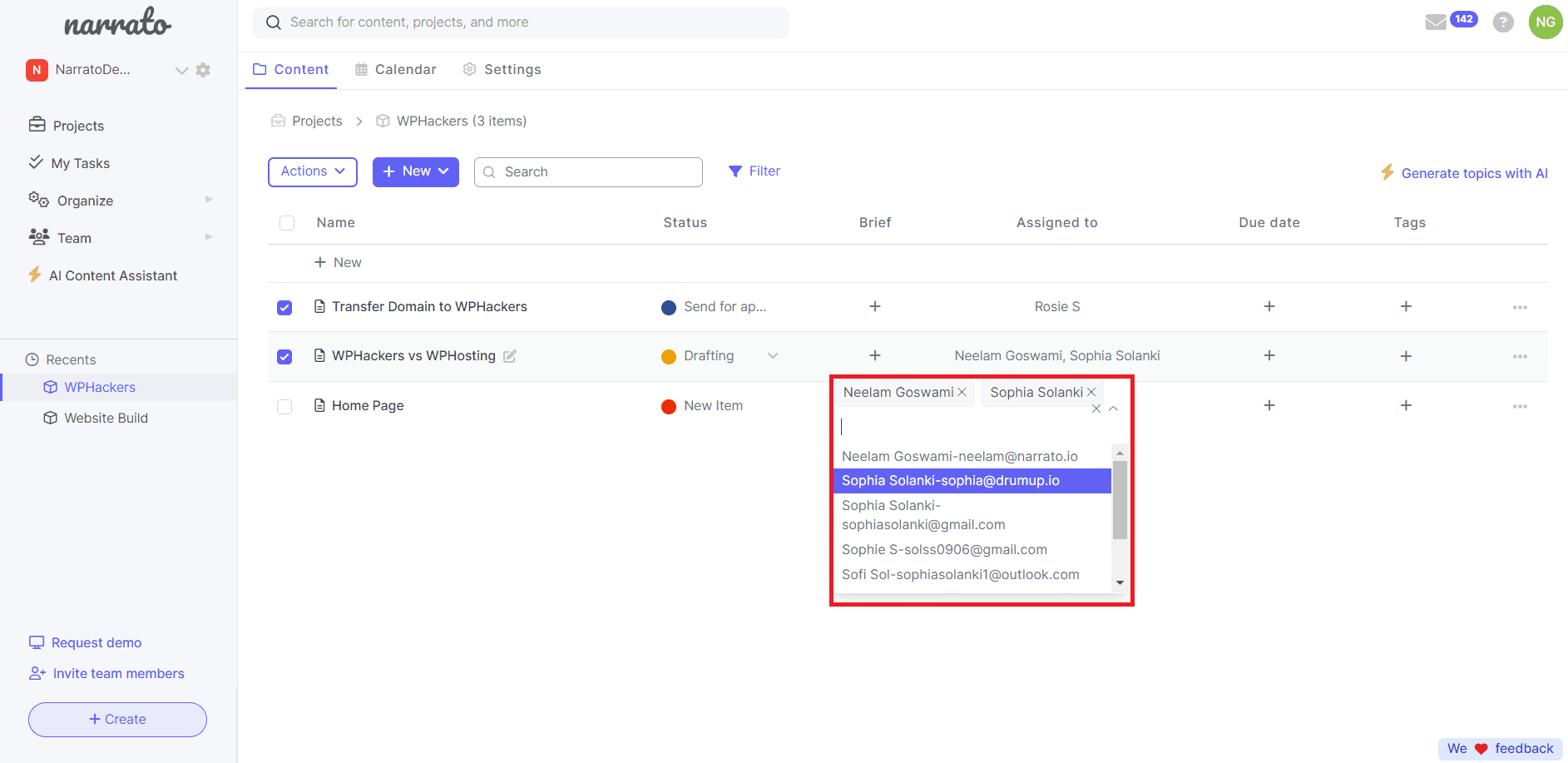 6. Collaborate on content using in-line comments or messages
In-line comments on content and direct messages from content tasks can be used to collaborate on content. Email notifications ensure everyone concerned are notified in time.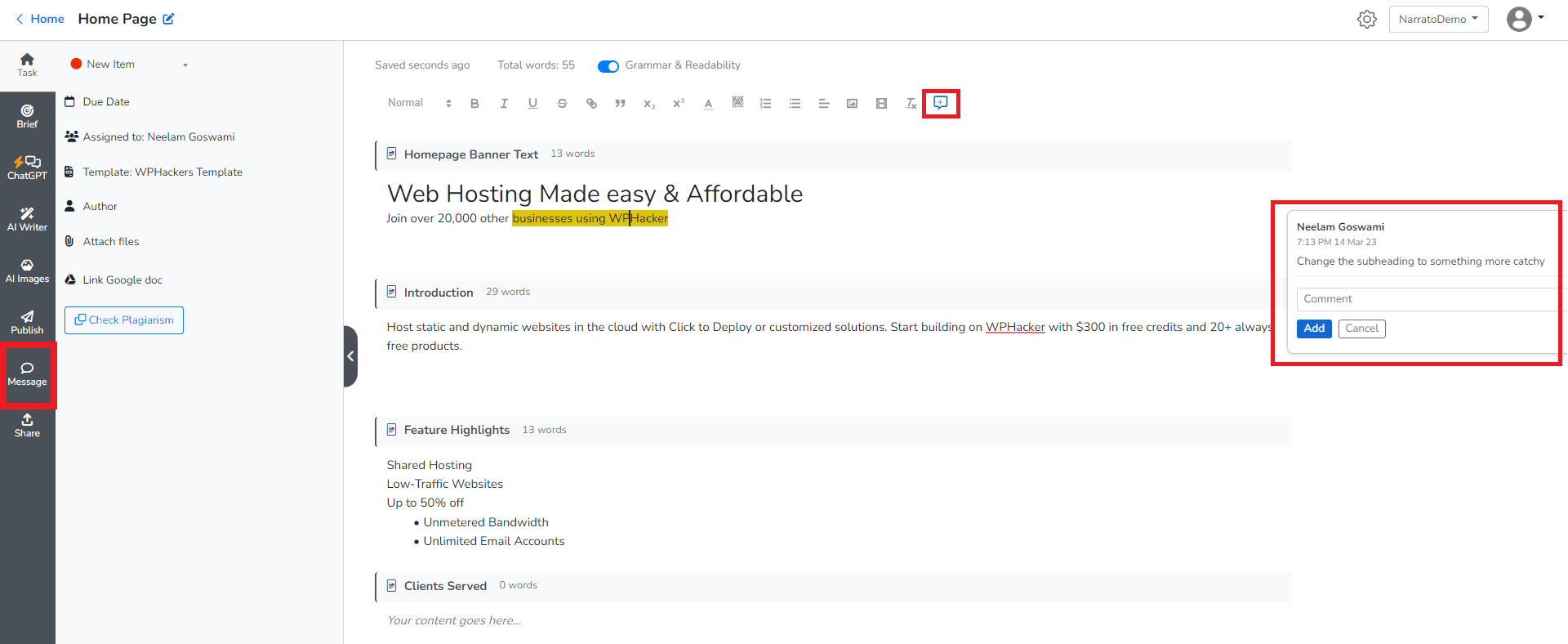 Narrato Workspace also has a messaging feature, using which your clients can share more detailed inputs on a content task.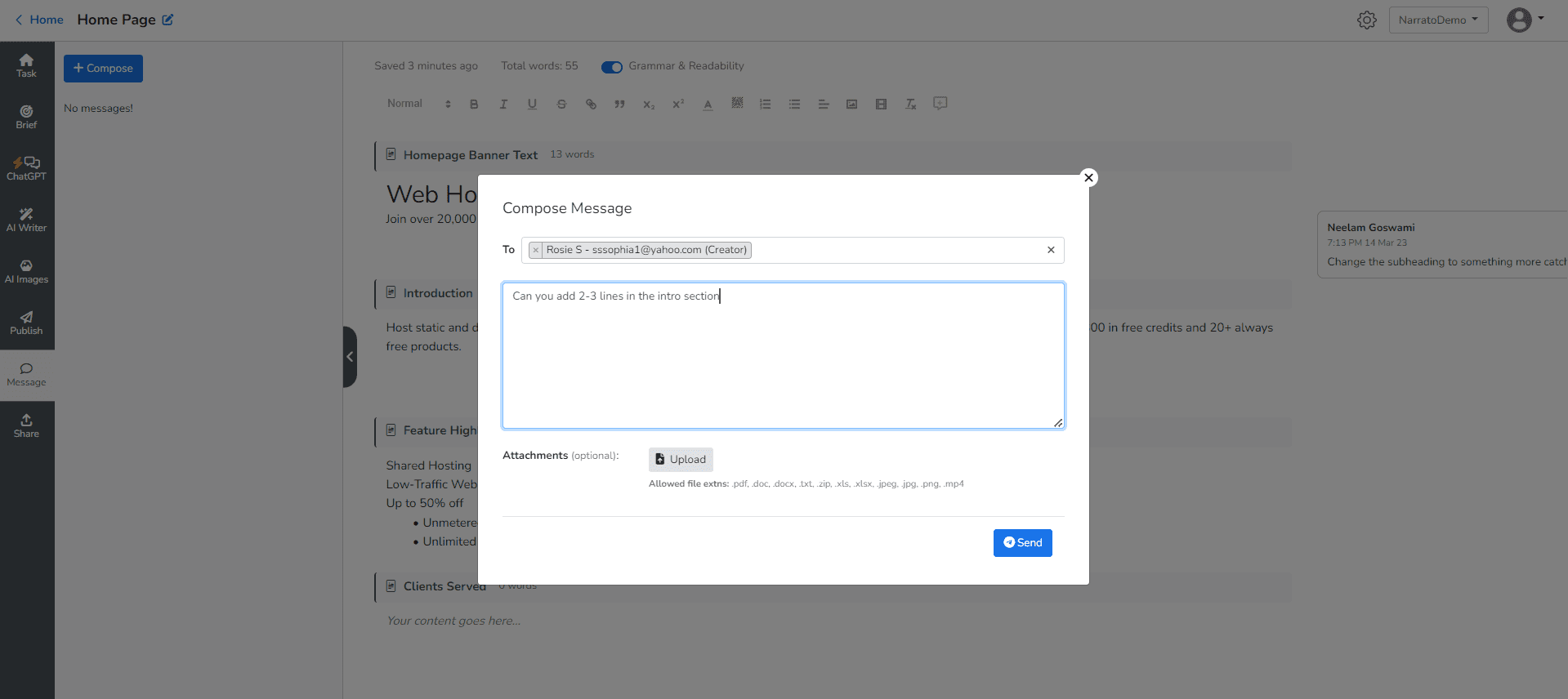 Clients or Copywriters not keen to come onboard your Workspace? No problem, share a public content page link.
You can always consider sharing content items as publicly shareable links (chain icon on content page) with 'Edit Plus' access. Anyone with a public link in 'Edit Plus' access can edit/add content or attachments. This is another easy and viable way to gather content from clients or copywriters.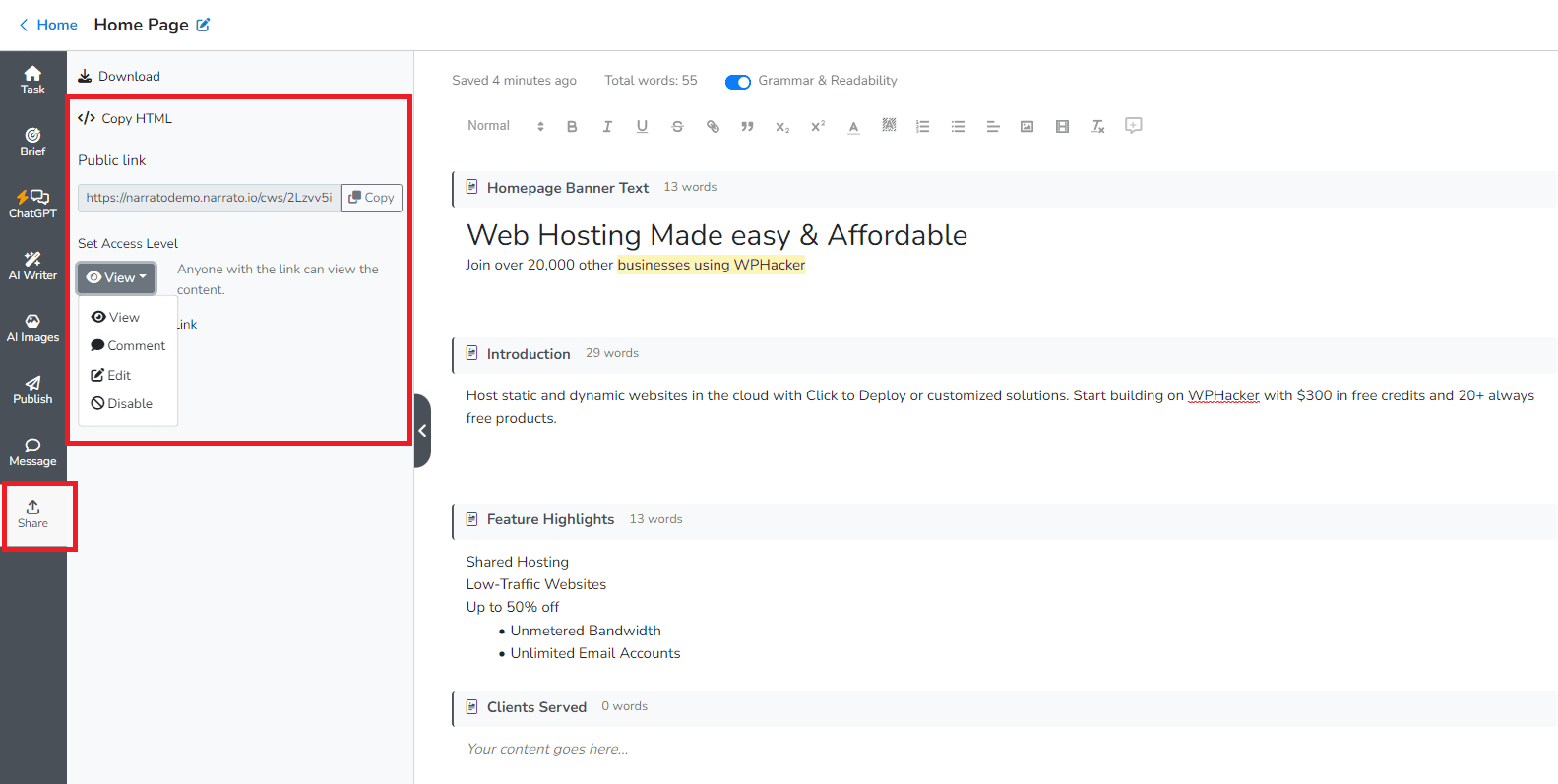 Stay organized and do more with Narrato Workspace
With Narrato Workspace, organizing client projects becomes a breeze for web design agencies and website development firms. Under projects, you can use Folders, Calendar and Kanban Boards to stay on top of your workflow and content.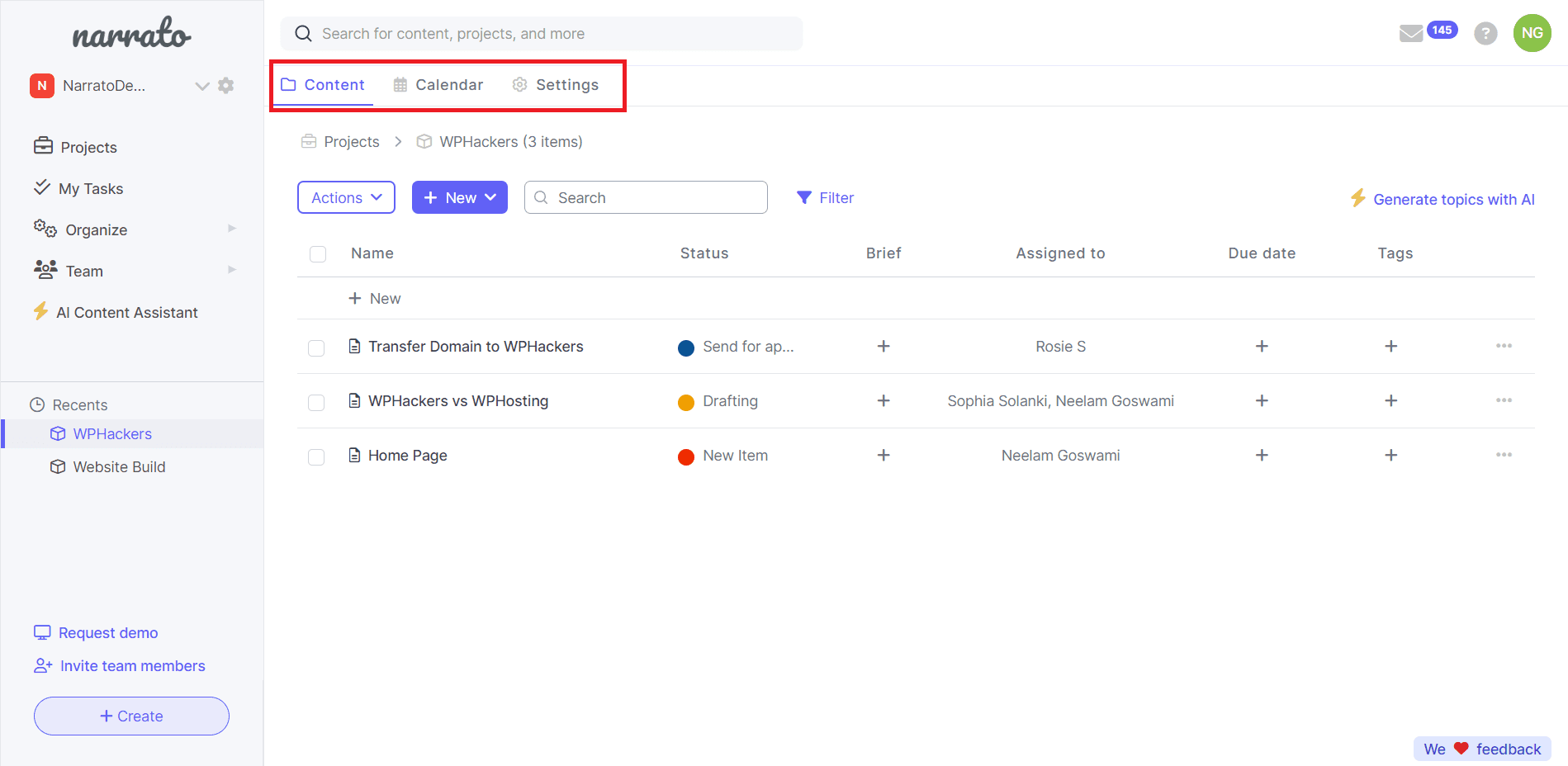 How website design agencies can benefit from Narrato Workspace
Using Narrato Workspace can dramatically change the content collection and management process for a website design or development agency. Some of the benefits include:
Quicker turnaround of website projects
Better control over content structure and input
Simplified workflow, right from task creation to completion
Seamless collaboration with clients and copywriters
Content calendar and Kanban boards offer easy status tracking of individual content pieces
If you want to know more about how website development agencies use Narrato to streamline content collection, creation and management, Narrato pricing plans, or have any questions please get in touch. Or if you'd just like to go ahead and give Narrato a try, sign up here